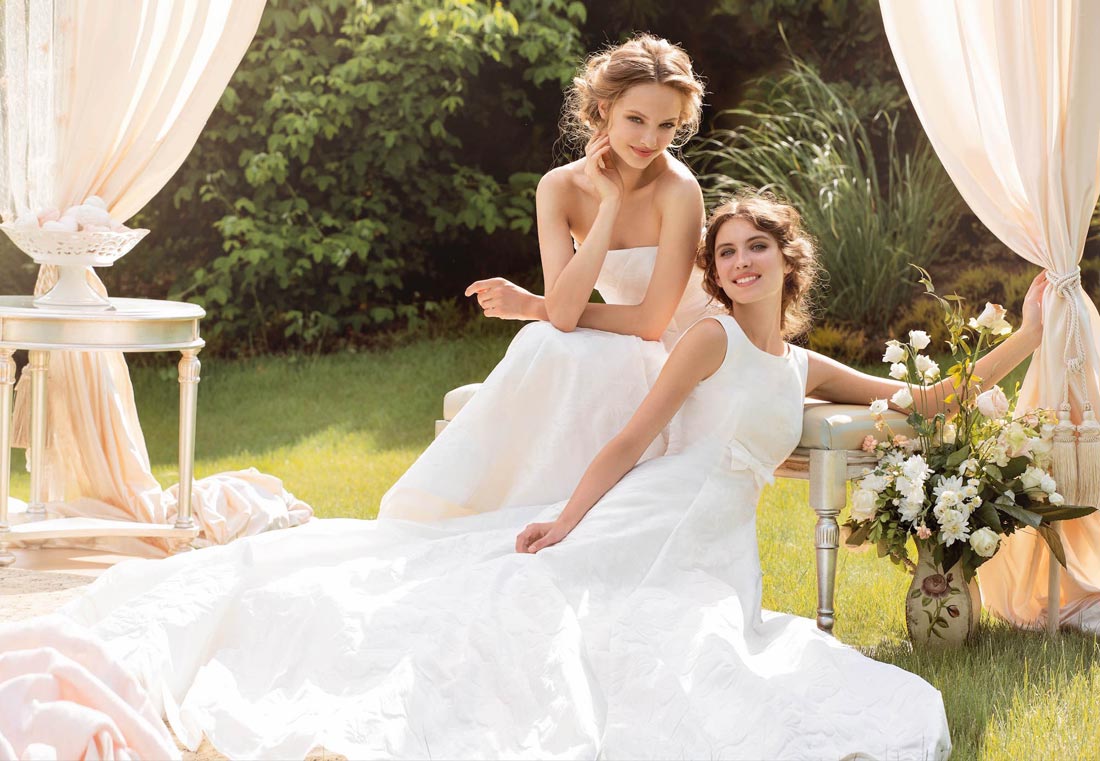 Changing after first part of the wedding ceremony is becoming more and more popular these days.  It is quite new trend for North America, but European brides have been playing dress up on their wedding day for a long time. You may ask why? Why would you want to change from your gorgeous gown into something else? The idea of having second dress actually has lots of benefits. Here is what we think about this trend!
How about a short dress? Many brides decide to change from their formal, traditional gown into a shorter style dress for their wedding reception and after-party. This usually happens because the first wedding dress is heavy and has a lot of tulle layers and elaborate embroideries. It may look fantastic on you but the comfort is just as important!  Choosing your wedding dress, remember you will be wearing it for many hours, on average at least 8-10. Sometimes it just becomes hard to be in it. Just imagine try sitting, standing, and dancing in a big puffy ball-wedding gown. Add a corset to it and long train and it may just be not what you are looking for on your wedding day.  Oh yes, princess dresses are not always comfortable!
Hello fashionistas!  Sometimes one look for a wedding is just not enough. Brides like to have two bridal outfits for their theme and take different style pictures. If you have a higher dress-shopping budget, then go for it!  You are going to be a bride once in your lifetime, so why not splurge on your lovely self? Plus, Papilio boutique always has plenty budget-friendly options, which will allow you to get your dresses and not sacrifice the quality!
For your second wedding gown we suggest to focus on simple designs. By simple we do not mean a completely plain gown, but more elegant and sophisticated choice.  Clean cuts, minimalism in details and extraordinary accessories will bring up your unique style and show off your beauty. Second wedding dresses usually have A-line, sheath, or tea-length silhouettes, which would be perfect for the evening ceremony on your wedding.
So, we already covered different silhouettes for second wedding dresses. They can be shorter, sexier and more informal.  But… What about colors? First of all, you want to make sure you stay The Bride for the rest of the night. That's why we will say champagne, pink, or blue will be your best options. Choose the color that is most suitable for your skin tone and hair color, to accentuate your best features during the beautiful dimmed lights of the night.
If this idea is for you and you decided to buy a second wedding dress, you can buy a piece that you could wear for any other occasion. For example, you can first use it for your engagement party, bridal shower or a rehearsal dinner. You can wear it as many times before and after your wedding as you wish! It could work well as an evening and cocktail dress for a friend's weddings, corporate events, a birthday party or a red carpet event! We are sure you will shine more than any other celebrity on that carpet!
Dear Brides! Don't forget and be very organized for your big day if you decide to have more than one dress.  Ask your sister or maid of honor to help you change your dress. You do not want to disappear from the celebration for more than 15-20 minutes. You may have to change everything about your appearance, your hairstyle, accessories and shoes that will be more comfortable and go better with the second dress.
All Papilio bridal collections have beautiful selections for any style reception dresses.  We offer lace, silk satin, or chiffon for your second wedding dress choices, as well as a great variety of evening and cocktail dresses from our Fashion Line, which are all available in white, ivory, and many other shades.
Here are 15 second wedding dresses to change into, from Papilio "Sole Mio" bridal collection.