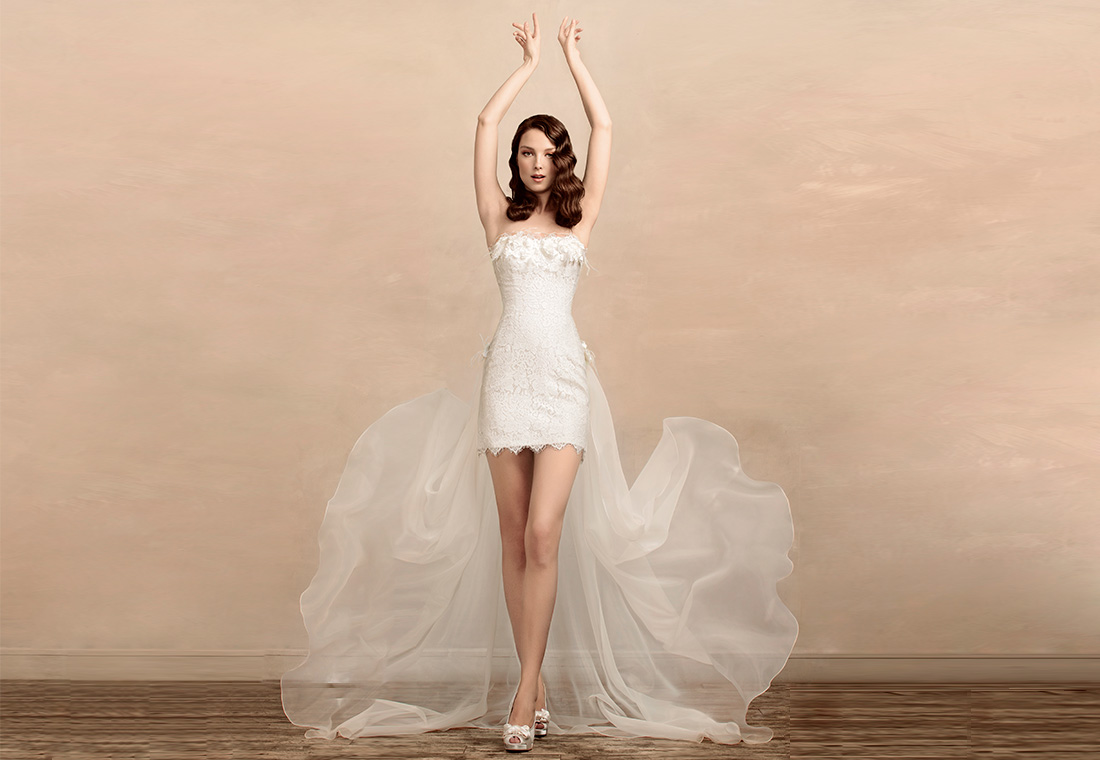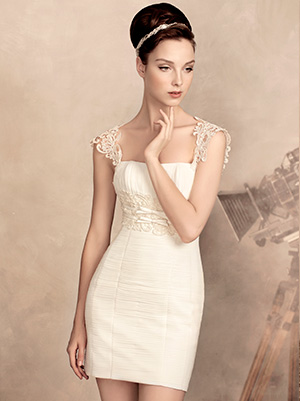 Shopping for a wedding dress – what could be more fun? The choices are almost endless. From full-train sweeping Victorian style wedding dresses to sleek and sexy mermaids, a bride-to-be can feel like a kid in a candy shop while weighing all her options. There is one option, however, that many shoppers often overlook – Short Wedding Dresses.
Short wedding dress came into vogue in the 1950's and continues to provide brides with a fun and practical choice. It can be perfect for many girls for a variety of reasons. First of all, short wedding dresses offer an ease that traditional long gowns do not. A short dress makes perfect sense for a bride who is being married in an outdoor setting for instance. Instead of worrying about having her movements limited by her dress, she can relax and enjoy the setting able to move freely around the beach, grass, or other area without dragging her dress through the elements. Plus imagine how much easier dancing the night away during the reception would be in a short dress!
Another benefit of short wedding dresses is that a shopper looking for a dress could potentially find a short dress within Papilio evening fashion collections. An appropriate semi-formal or cocktail dress can double as a wedding dress. An added benefit is that the bride may actually be able to wear her wedding dress again and again to an event or a party. This makes short wedding dresses a practical and economical alternative!
Just like their long counterparts, short wedding dresses come in a variety of styles. A bride-to-be has many options in both the design of the dress as well as the length. Short wedding dresses run the gamut from ladylike and demure to sultry and sassy.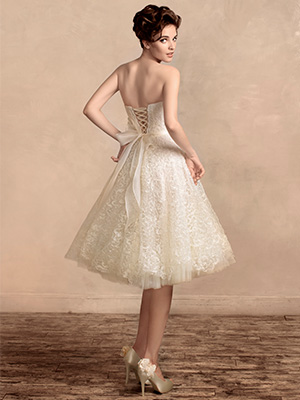 Tea-Length: This graceful, below-the-knee length is both classic and feminine. A tea-length dress gives off a 1950's vibe, and is perfect for the bride who is looking for something unique with a retro appeal and ladylike character. A tea-length dress offers sexy elegance at its finest.
Mini: If you are looking for a chance to show off your killer legs, a mini wedding dress is the perfect option for you. Perhaps your wedding is a destination event, in Vegas or somewhere tropical. A mini-dress is a sexy and playful possibility.
Knee-Length: A knee-length dress is the most versatile of the short wedding dress styles and may offer the bride the opportunity to wear her investment again on a variety of occasions. A short wedding dress that ends right above or at the knee is the perfect dress for a summer wedding. Dresses in this length range from simple and elegant to opulent and ornate.
Short wedding dresses offer a number of benefits for brides. If you are in the market for a wedding dress, don't fail to consider a short dress for your special day. You may find that the perfect dress is not a traditional one!