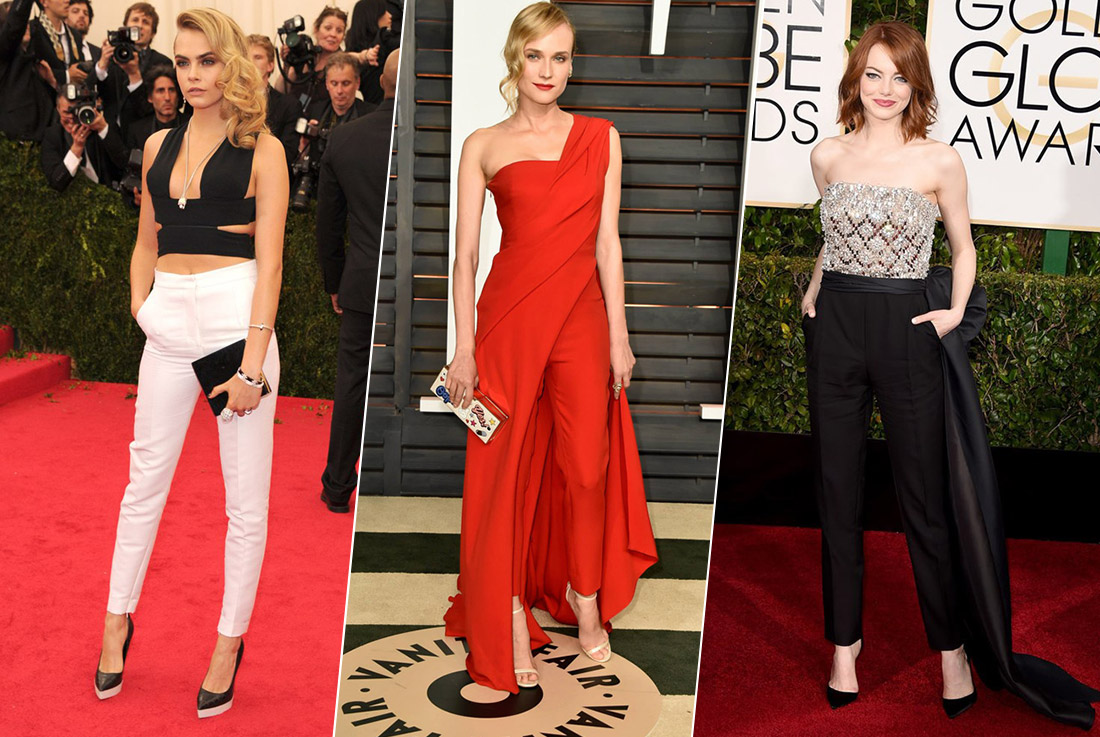 When it comes to evening wear, most women think about evening gowns. Yes, wearing a dress is the most common option when dressing up for a special event. However, a new trend hit all the runways in Europe last year – dress pants! An evening look that features dress pants became a stylish alternative to dresses.

Many celebrities embraced this trend. Lady Gaga, Sarah Hyland, Emma Stone, Octavia Spencer, and Evan Rachel Wood appeared wearing dress pants on the recent red carpets. Emma Stone paired funky patterned black and white cropped pants with the tank top for a chic outfit at the Venice Film Festival. Sarah Hyland rocks white wide leg trousers with a sexy white crop top on the Winter TCA Press Tour Party. These celebs show how versatile and feminine wearing dress pants can be.
Similar to evening gowns, fashion designers offered a variety of pant styles. One of the top 2017 fashion trends is wearing wide-leg trousers. These style dress pants are made of upscale fabrics and can be paired with a fitted blouse to create an effortlessly chic outfit. Wide leg pants are amazing because they are incredibly comfortable and easy to wear. They are ideal for warm weather because they are super light.
Another trendy style of pants is culottes. These flowy knee-length pants resemble a skirt. Wear culottes like a fashion pro by going casual chic or super feminine. If you are planning to wear culottes to the office, we recommend wearing neutral colors. This way you will add a fashionable touch to your Monday to Friday wardrobe. For a more feminine look, pair your culottes with heels and a silk blouse.
Last but not least trendy style of dress pants is cropped pants. This type of pants became a staple in every woman's wardrobe a long time ago. Choosing the right length of cropped pants is important. Find the place on your leg where the calf starts to narrow and keep your cropped pants close to that length. You can pair your cropped pants with a slightly shorter top for the perfect summer look.
When considering sporting this 2017 fashion trend, make sure to tailor your dress pants to ensure an ideal fit. If you think your dress pants look too casual, accessorize! A piece of statement jewelry or fancy shoes can quickly transform your outfit from an office chic to evening glam.
Wear pants for your next special occasion, channel your inner starlet and feel confident rocking this hot trend this summer!