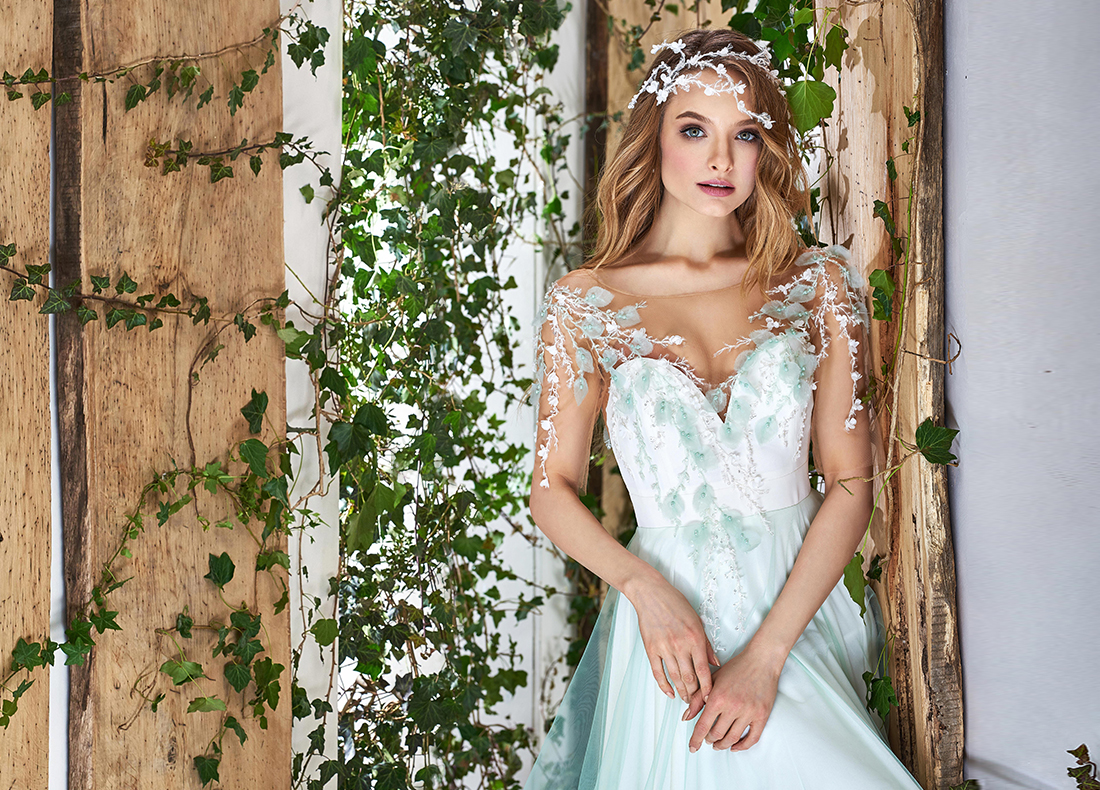 2018 will bring forward many new and exciting wedding dress trends. Although you may not be familiar with some of the new bridal trends, we guarantee you will be pleasantly surprised. We have highlighted some of our favorite trends to make wedding planning easier for every bride getting married in 2018.
Look out for colors other than ivory and white, floral details, big bows, high necklines, off-the-shoulder dresses, guipure laces, and gloves; these are the 2018 wedding dress trends you need to know.
Let's review the top 2018 wedding dress trends!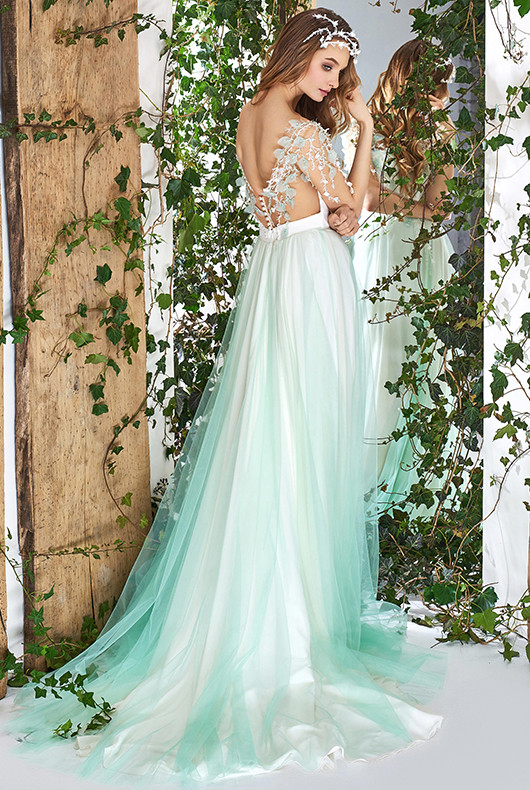 Papilio previous bridal collections have included many wedding dress options in champagne, ivory, blush and nude colors. The designers have added more colors while creating 2018 wedding dresses. Blue wedding dresses are becoming very trendy. Blue is a color of trust and loyalty, which are good attributes to bring forward on your big day. If you are a fashion-forward bride and thinking of wearing a blue wedding dress, Style #1829L has a layer of turquoise tulle for a stylish bridal look. If you prefer a richer color, you should check out Style #1828L.
A sweetheart neckline is a timeless classic, but a low V-neckline has that true wow factor. 2018 trends are all about accentuating the bride's features without showing off anything extra. Style #1800L is an impeccable example of this bridal trend. The designers added a layer of sheer fabric over its neckline for a more conventional look that will allow every bride to feel sexy.
Off-the-shoulder wedding dresses have been a big trend in 2017; it looks like the trend will continue growing in 2018. This craze is seen a lot in European wedding dresses offered for the next season. Stylish, yet effortless – brides can make a statement wearing one of the off-the-shoulder wedding dresses from Papilio new bridal collection. For example, Style #1831La is a gorgeous ivory gown with the off-the-shoulder lace bodice. The same lace trim is used on the bottom of the dress to create a superior bridal look.
2017 introduced us to the bohemian style and its beautiful designs made of light, soft fabrics. For the 2018 bridal collection, our designers offered new bohemian looks with illusion or low backs. For example, Style #1807L exhibits this trend wonderfully. This ravishing illusion back wedding dress has lace embroidery on the bottom creating a scooped low back. You are sure to make a grand exit on your special day. Another bohemian design to consider is Style #1805. Multiple layers of light organza create an angelic flowing wedding gown while lace sleeves add a vintage vibe.
One of our favorite European bridal trends is intricately detailed wedding dresses. Our designers took this 2018 trend one step further by strategically embellishing lace on almost every dress. All details on Papilio 2018 wedding dresses are thought through for maximum enhancement. Embellished wedding gowns will be fashion forward options. For instance, the front of Style #1833L has a beautiful white lace trim; its pattern gives off a chic and elegant vibe. Style #1811 is another great example of fine detailing. This wedding dress has beautiful beading placed vertically, all the way down to elongate the bride's figure.
3D flower décor and floral embroidery have been popular for many seasons. Floral wedding dresses look delicate, feminine, and sentimental. Handmade flower décor on the bodice of Style #1828 makes this European style wedding dress more distinct, and its décor will bring the complete bridal look. Style #1802L features a handmade 3D flower décor on its train adding a natural essence to it.
We would like to bring your attention to other significant 2018 wedding dress trends such as guipure laces, short wedding dresses, and retro bridal looks. Guipure lace is a high quality, bobbin lace. For example, Style #1810L is a mermaid wedding dress that made of luxurious lace. Its chic look and comfortable wear will be a faultless balance for all the brides who are thinking about this silhouette.
Short wedding dresses are back and making a statement in 2018. Style #1834 is the dress someone will unconditionally fall in love. This knee-length dress will allow a bride-to-be to show off some legs! On top of that, it comes in an eye-catching light blue color which is another big bridal trend in 2018.
Last, but not least have you ever thought about going retro on your wedding day? It does not mean wearing a dress similar to what your grandmother wore on her wedding day. The 2018 runways showed stunning 40s, 50s, or 70s styled wedding dresses. For example, Style #1838L is a great combination of retro with a modern twist.
Keep these 2018 wedding dress trends in mind when shopping for your perfect wedding dress. The silhouette, color, and design of your dress will say a lot about your personality. And remember that the biggest 2018 bridal trend is to be yourself.
Be different, be unique, be you!