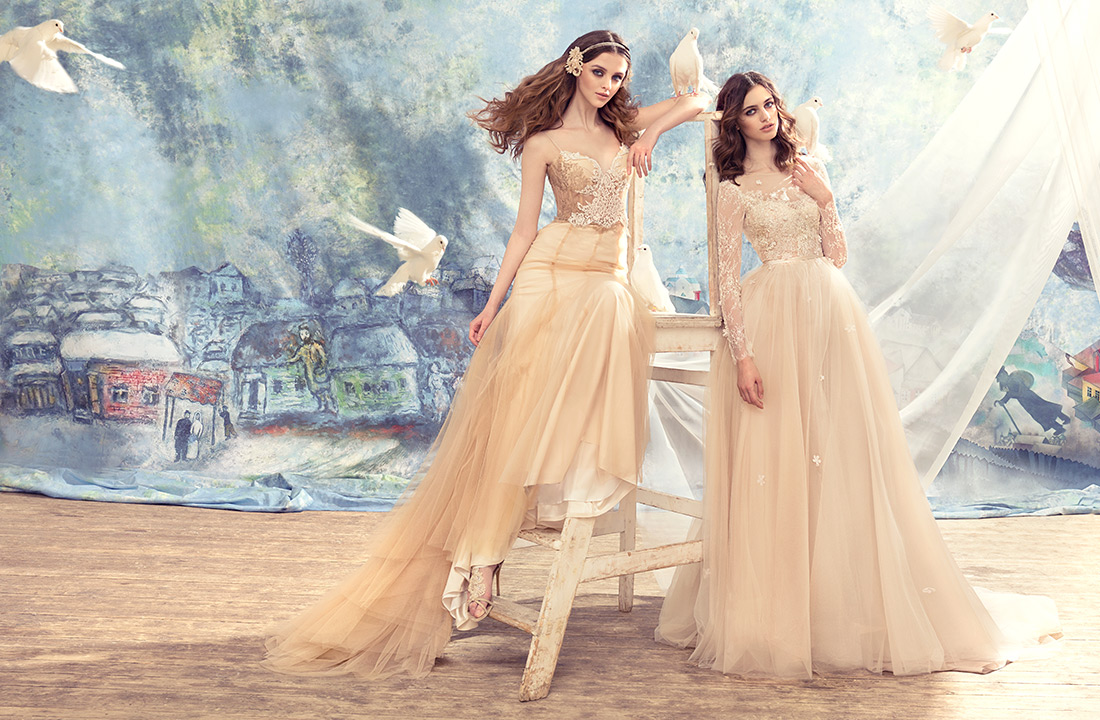 Where there is love there is life…there is happiness and joy! When you are in love, you feel you can hover and fly like the birds in the sky. Without any other thought in mind but with full heart inside.

This feeling of being in love gives us the chance to feel light like a dove, graceful like a modern woman which is ready to shine the light onto everyone else around!

This is what Papilio new bridal collection is all about! Nothing will stop you from feeling light like a butterfly and sensing the sunshine through fabrics because each dress from the collection has this special ingredient – Love.

For this look book we wanted to transfer you into that special feeling and we believe that our talented team perfectly captured our sense! We lightly highlighted the sense of love on our pictures through beautiful doves around our models. The background was taken from Marc Chagall's famous painting "Lovers float over the city" which ads that unique boho chic touch. Nothing transcends uniqueness of each relationship like our collection inspired by such a great artist.

This crazy love needs to be sensed everywhere… love for life, love for nature and love for ourselves and each other! It needs to be shared and we want you to feel it with us, with Papilio.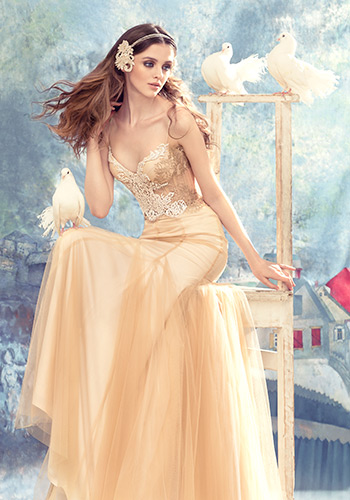 The incredible, world-renowned artist Marc Chagall and his amazing art became the next inspiration to Papilio new bridal collection. Chagall's paintings are exhibited at the most prestigious art galleries around the world, sold on auctions for millions of dollars. They have been the centre of attention in many Hollywood movies but despite such public love, art critics still argue over his bizarre, irrational and always deviant approach. His incredible use of distortion of physical forms and the lack of logic are the main reasons to his distinctiveness. Chagall is the genius! He was not just drawing people and panoramas. Through his brush strokes and different objects, he was reflecting their souls, feelings and thoughts in his own, very unique way. That's what separates Marc Chagall from others and makes him a true phenomenal artist. When looking at his work the powerful emotional association just magnetizes and astonishes our eyes. We couldn't just let it go from our minds and wanted you to be part of this kind of powerful art!
Drawing her inspiration from the remarkable painter and his famous picture "Au Dessus de la Ville", Alena Goretskaya presents Papilio new bridal collection of bohemian wedding dresses inspired by love. This collection is full of extraordinary, fresh styles. Many people would call Chagall's picture quite odd. At that time it created lots of controversies and questions. Coming from the same background and knowing his life story, on the opposite side Alena sees this image in a much lighter view. It is a view of pure love and innocent joy of two lovers who are spending time together after a long break. The painting is the fairy tale that chains together the dream and reality. Chagall presented the beautiful blend of fantasy, nostalgia, imagery; these were the poetry of his love.
This spring the couturier introduced her new collection of boho style wedding dresses – "Wings of love". Just like Chagall's canvas the collection is filled with love, happiness and optimism. Beautiful wedding dresses, doves as symbols of love, and Chagall's picture as a background is the reflection of Alena's vision:
Love is a sensitive, spiritual emotion that inspires, encourages and motivates us, sometimes it makes us act strange, do unbelievable things for our loved ones and become different, become unique! I want my brides to be unique, to not be afraid of expressing their true feelings and personality.
The designer offered a wide variety of boho chic, vintage-inspired and non-traditional styles of wedding dresses. Papilio bohemian style wedding dresses are without corsets or heavy "cupcaky" skirts and will make brides feel effortlessly beautiful, confident and eye-catching. Delicate lines, soft lightweight fabrics, mix of textures, nude colors make this collection super current, fashionable and exclusive.
Papilio Fashion House presented its new collection on the National Bridal Market in Chicago, Illinois on March 16-18, 2016. This beautiful event took place only for 3 days and allowed buyers from all over the world to admire our new, unconventional collection. We presented our dresses which quickly became the center of attention and took visitors breath away, leaving them in a good love-coma. Just stop and let your imagination go wild for a second. Avant-garde colour combinations for wedding dresses are so in right now! Not everyone wants the classic white, and this collection is just that – includes nude colours with hints of pink, see thru corsets accompanied by flowy skirts. The designer's carefully selected colour palette would not leave anyone uncaring and quickly became North America's favourite.
Our new concept is perfect for all brides that wish to stand out from the rest of the bridal world. "Wings of Love" bohemian wedding dresses are for women who believe in pure love which are perfect for boho chic garden, rustic and country wedding to name a few!
Keep your eyes open for other international stage appearances including Milan, Essen, Warsaw and Moscow. And stay tuned for the official launch in stores around September.