Temperatures are dropping, the snow is falling, and the winter coats are coming out of the closet. It is the perfect time to stay inside next to the fireplace and start imagining your dream wedding dress. If you are planning a wedding in the winter season, you should think of a wedding gown that is romantic, unique, but at the same time, fits chilly weather. 
Of course, a bride should wear whatever gown captures her heart, but keep in mind that choosing a bridal style that does not complement the season looks out of place. Luckily, there are many different wedding dress designs, as well as many bridal accessories that are perfect for the colder weather. Get inspired by these stylish trends in winter wedding fashion and start planning your one of a kind winter bridal look. 
Winter Ball Gowns
When we think of a winter wedding dress, immediately, our imagination goes towards ball gowns. You need to wear a spectacular wedding dress that can keep up with the dramatic winter weather, and a bridal ball gown will do it. This bridal style is glamorous, feminine, elegant, and pairs beautifully with the magic of winter. 
There are so many different options to choose from. For example, a sleek satin or silk mikado skirt contrasts beautifully with the icy sparkles of winter. Long sleeves and high neckline not only will bring modesty, but they will also bring warmth to your bridal look. On the contrary, a strapless sweetheart neckline can be paired with a mink shawl to keep you comfortable and cozy, even with a little skin exposed. 
See what designer ball gowns Papilio has to make you winter wedding-ready.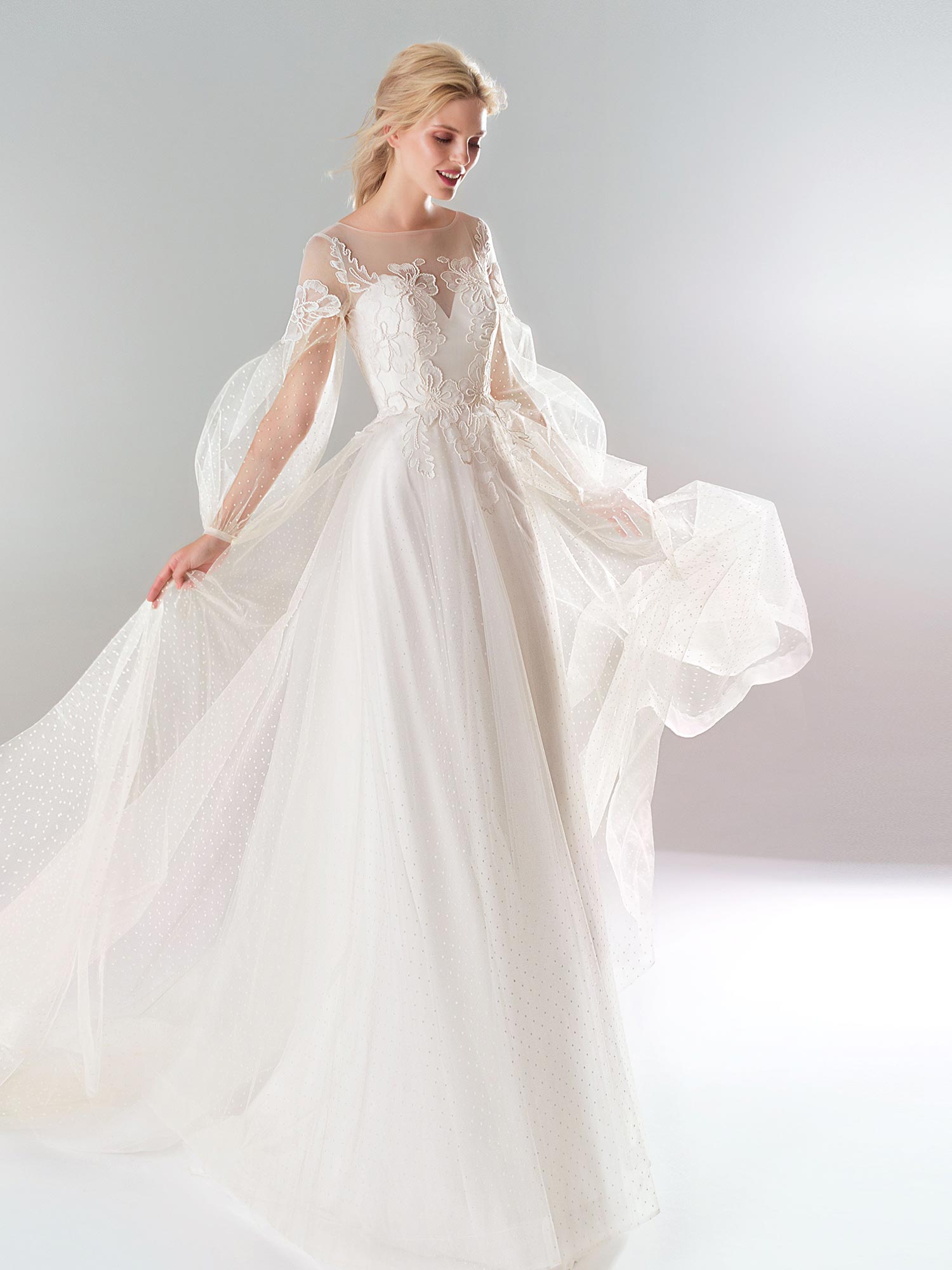 Style #18/1910L from the White Wind bridal collection
A modern dream, this ball gown wedding dress has playful bishop sleeves, full skirt, and fresh floral embroidery.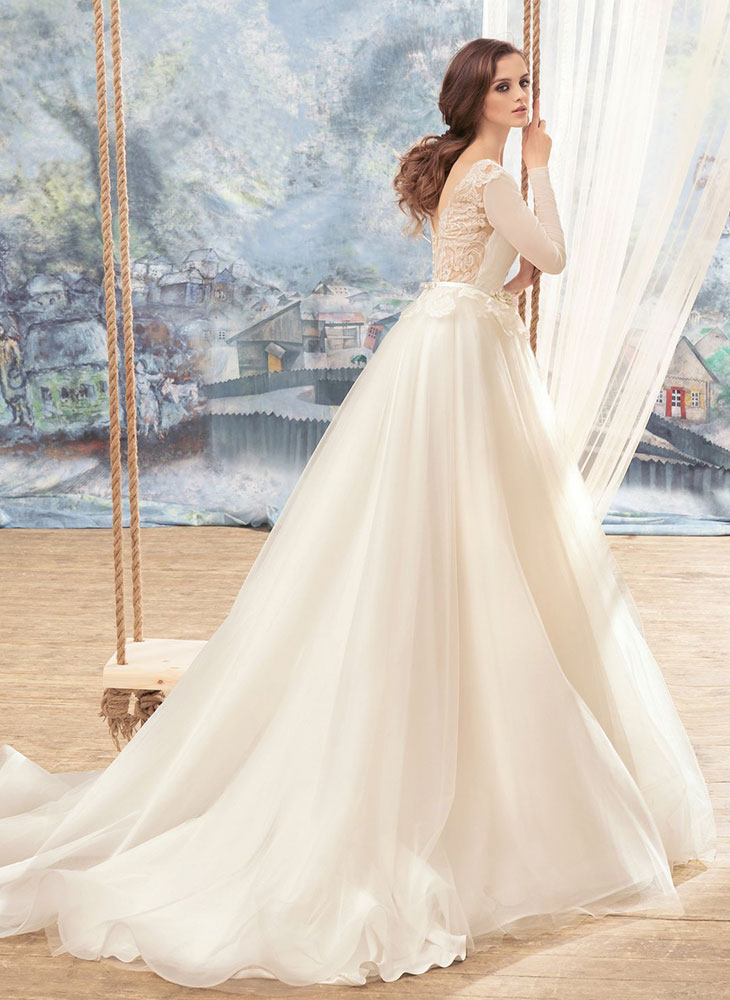 Style #1709L from the Wings of Love bridal collection
This winter wedding dress features a plunging back, long sleeves and beautiful embroidery. The whole bridal look is warm and winter-appropriate.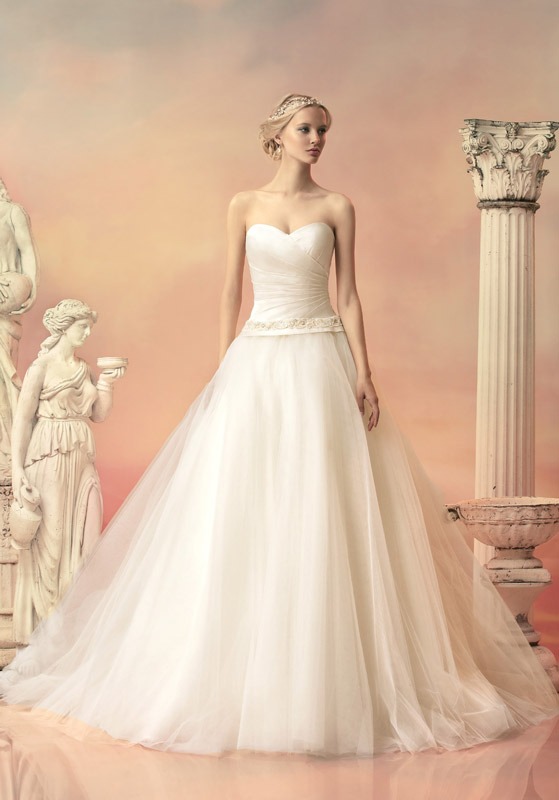 Style #1506L from the Hellas bridal collection
This luxury wedding dress has a sweetheart neckline, embellished drop waist, and full ball gown skirt. The only thing you will be missing is the perfect mink shawl.
Mikado Wedding Dresses
If you want a fabric that is both rich and royal, then mikado is the perfect material for your winter wedding dress. This fabric is thicker and often recommended for winter weddings. The finish on mikado has a soft and shimmering effect that ideally matches the bright sparkle of winter. 
Of course, a gorgeous bridal ball gown made of mikado is a dream winter wedding dress. However, mermaid or sheath silhouette made of this fabric can also be extremely flattering winter wedding options. The simple elegance of mikado wedding dresses allows you to be creative with your bridal accessories. You can add a jewelled belt, lace bolero, mink stole, or cascading cathedral veil. Let your imagination run wild! 
Papilio has amazing winter wedding dresses made of silk mikado that you can beautifully accessorized to create your dream bridal look.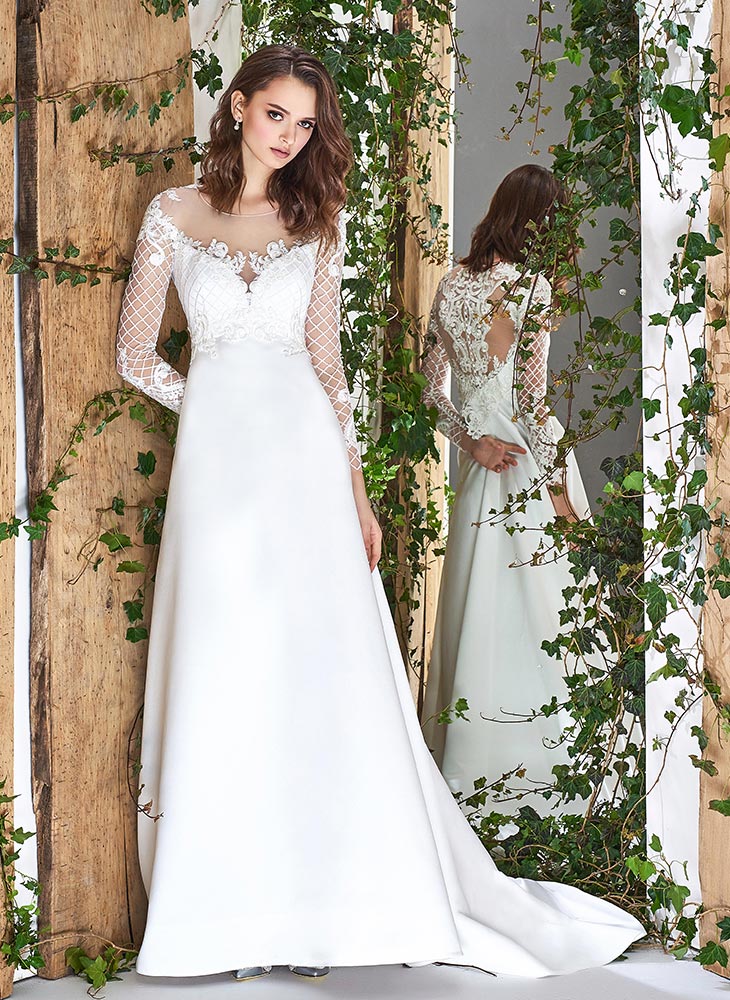 Live out your winter wonderland fantasy while wearing this sleek A-line mikado wedding gown with long embroidered sleeves and open back.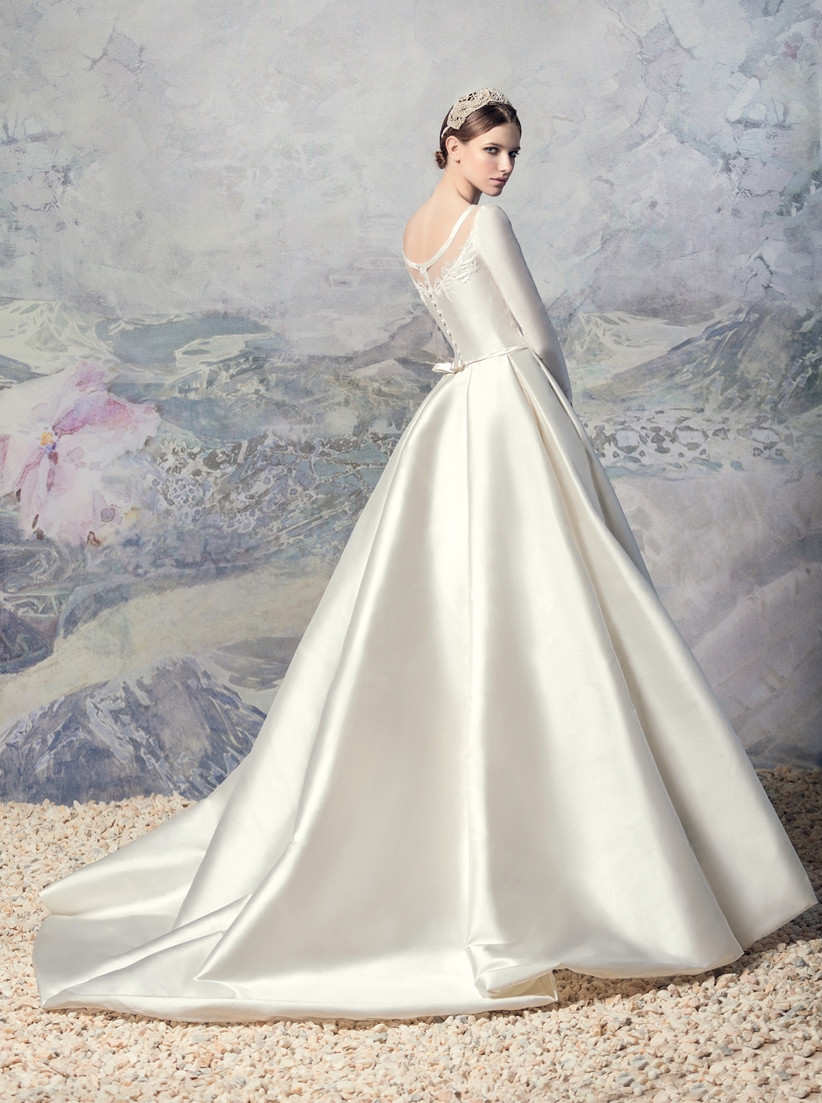 Style #1601 from the Swan Princess bridal collection 
From our Swan Princess collection, this is one of our most luxurious mikado ball gowns. Its structured skirt, high neckline, long sleeves, and embroidery cast this wedding gown as a winter wedding must-have.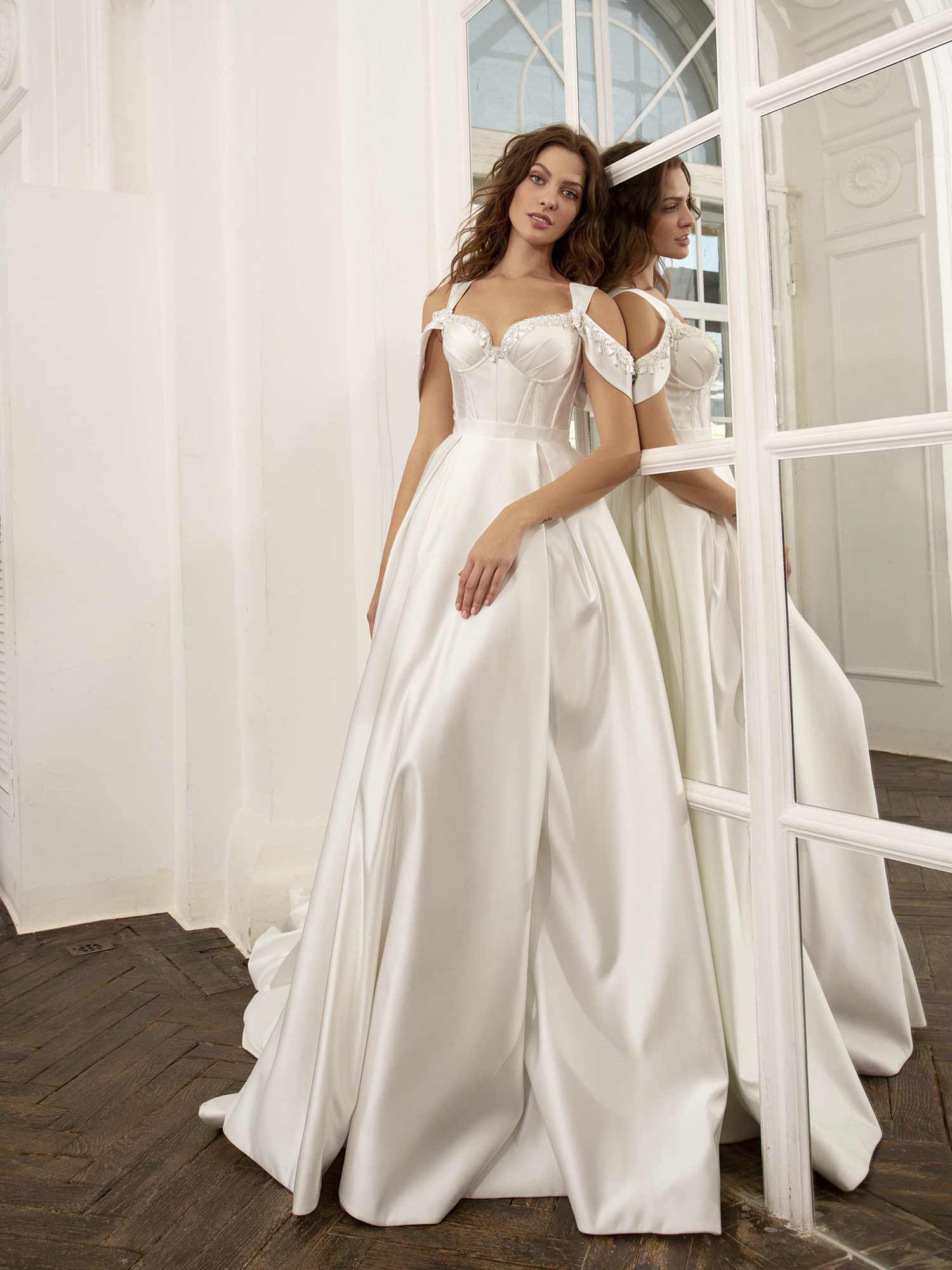 The structured cups, unique straps, and embellishments of this winter wedding dress will ideally flatter your figure and complement winter wedding settings. 
Wedding Gowns with Long Sleeves
If you want to set the tone for your special day visually, then long sleeves are a must-have for your winter wedding dress. Without a doubt, they are the best way to keep you warm. There are so many options for sleeves that you will find the perfect choice for your bridal look. 
You can wear sleeves that are long and extend over your hands, or you can keep short sleeves and have them end just below your elbow. There are also so many fabric options that you can use. For example, sleeves can be made of decadent lace, solid crepe, or sheer embroidered tulle. Wedding dresses with sleeves embody the feeling of a winter wedding and bring extra warmth to your bridal look.
Set the tone and turn up the heat on your special day with a pair of statement sleeves that match your style.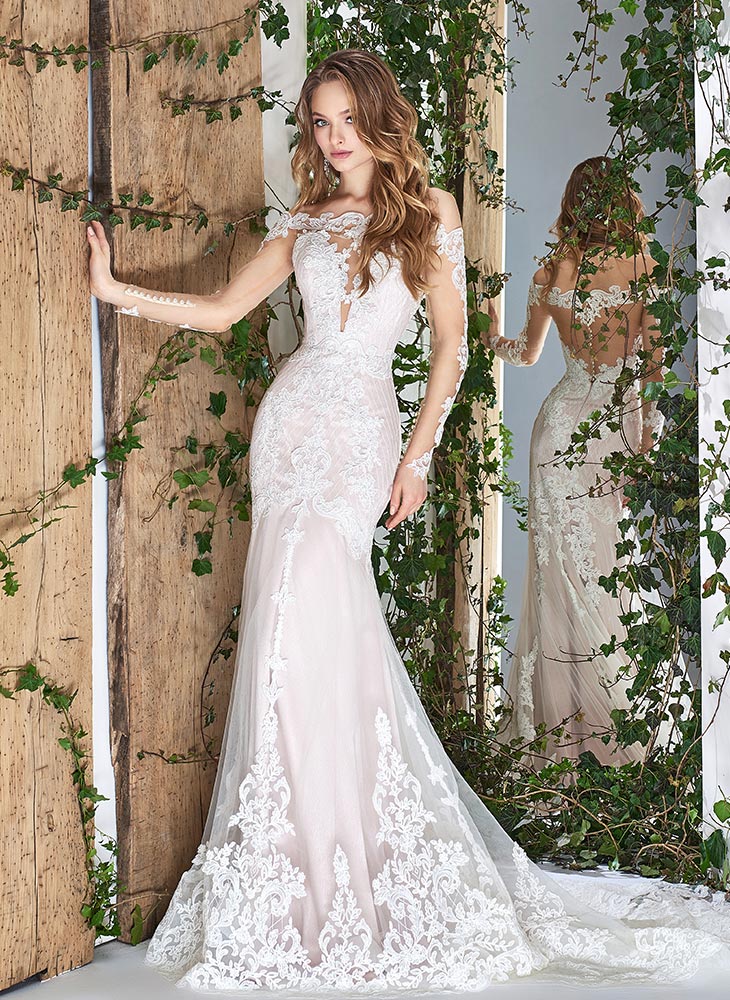 This sultry winter wedding dress has sheer off-the-shoulder sleeves with delicate embroidery and a long train for extra drama. You will have people talking about your wedding dress for a long time.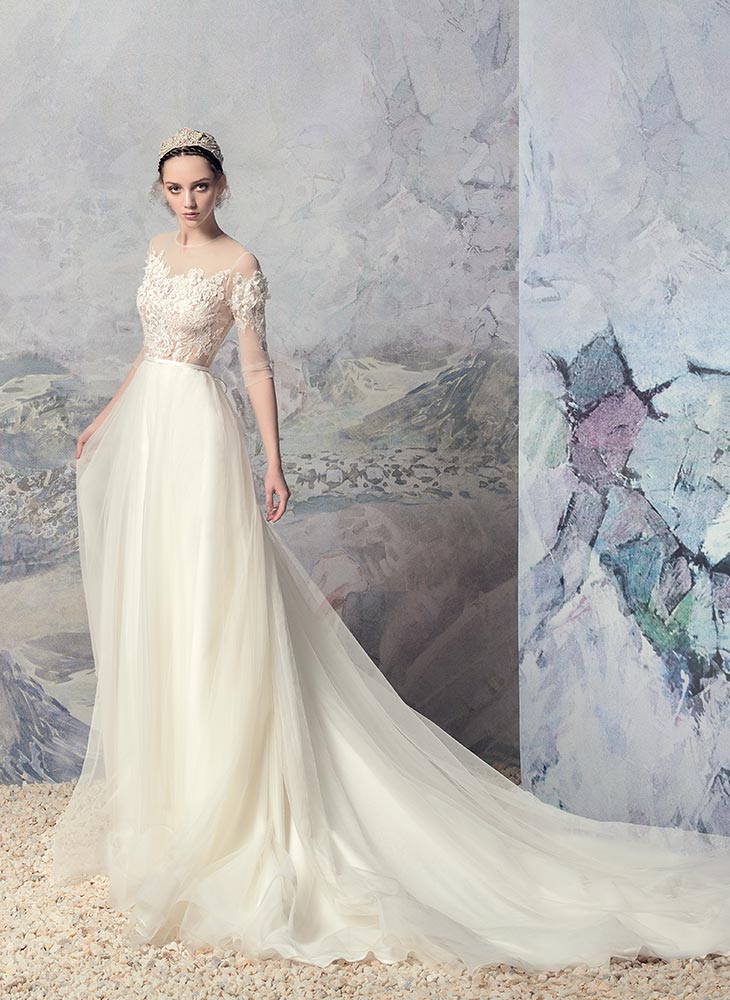 Style #1635L from the Swan Princess bridal collection 
If you are opting for three-quarter length sleeves with thick embroidery, this bridal design will still give a chic winter wedding look. The overall bridal look is overly romantic and princessy.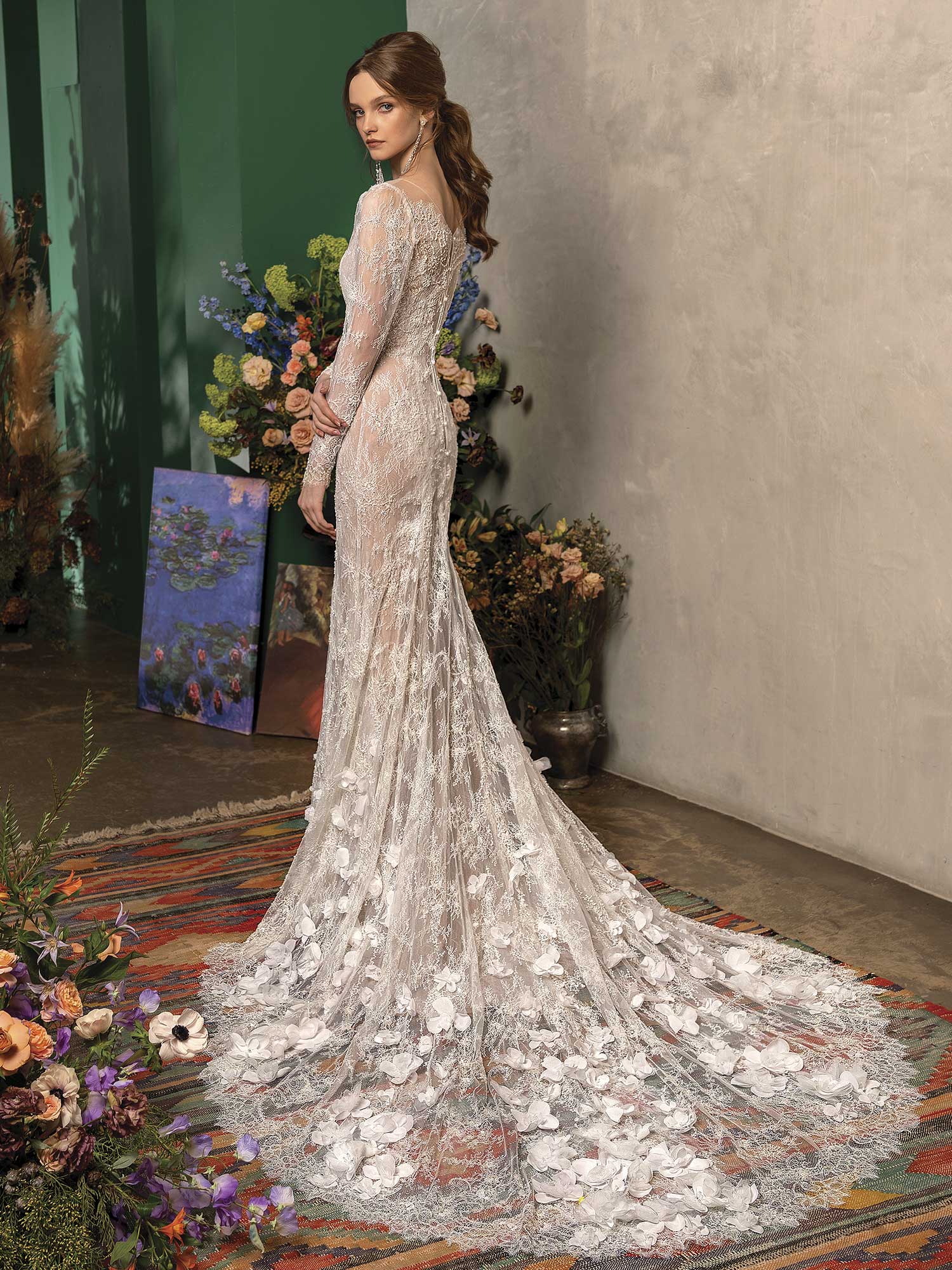 Sheer lace and pointed shoulders let these sleeves make a statement.  Wear this winter wedding dress walking down the aisle and feel like the snow queen.
Lace Wedding Dresses
The intricacy of lace will add beauty and grace to your bridal look.  Winter is the best season for this decadent bridal fabric. Lace adds pure romance and elegance to winter wedding dresses. It can be used in so many different ways to complement a winter wonderland wedding wonderfully.
If you are having a large wedding, then a full lace ball gown is the way to go. This style of wedding dress brings drama and elegance to your beautiful day. All of your guests will be mesmerized as you walk down the aisle. If you want a look that is sleeker and more seductive, select a full lace mermaid wedding dress. A modern lace print on this silhouette creates a stunning bridal look that will set you apart on your big day. There are also ways to incorporate this gorgeous bridal material on a smaller scale if you are not a bride who wants a pure lace wedding dress. Consider adding lovely lace sleeves to your bridal daydream, or maybe even lace accents throughout your wedding gown. 
Let the elegance of lace embrace you on your winter bridal moment when you say your vows in one of these wedding dresses.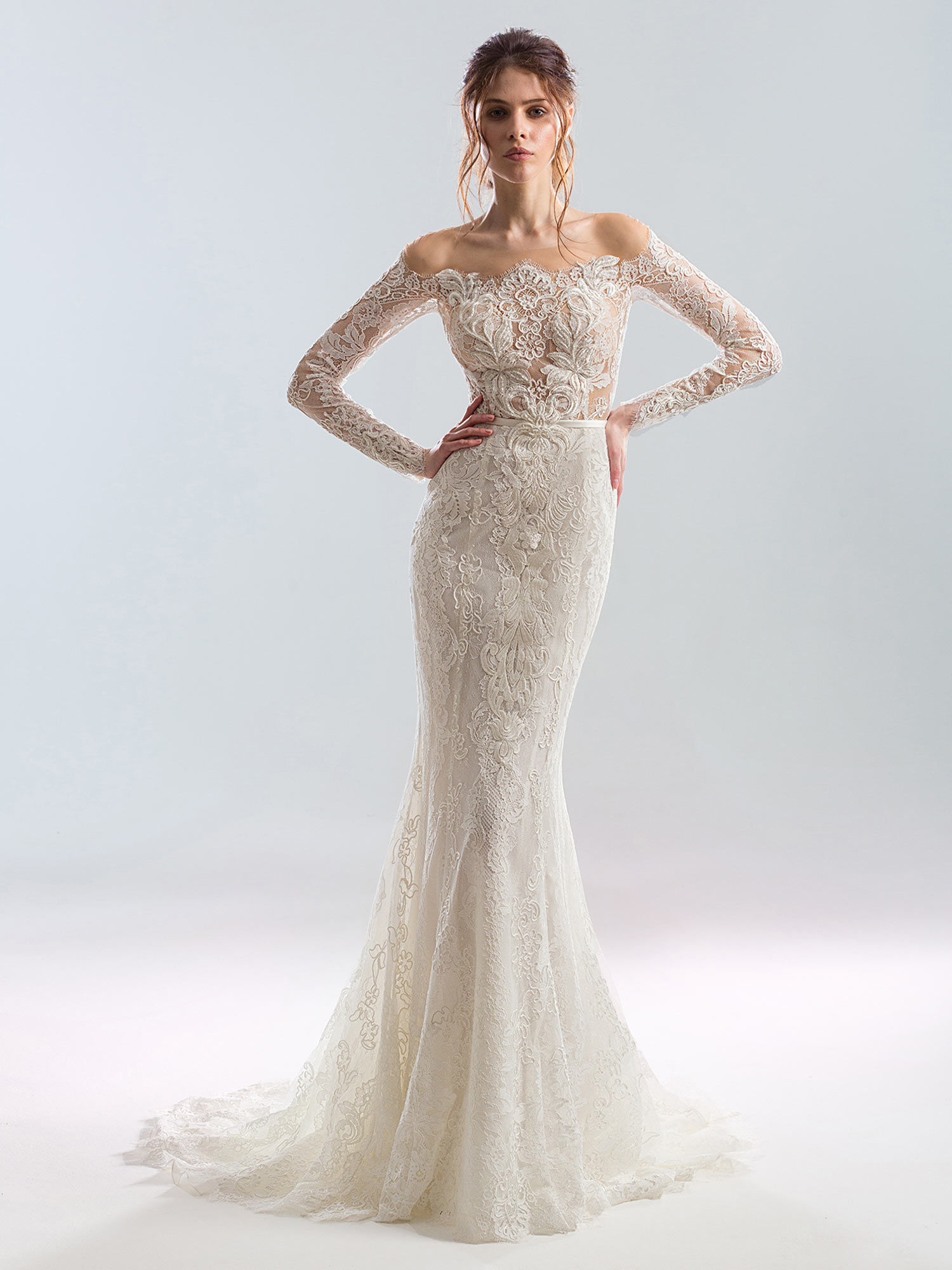 This winter wedding dress is made of modern lace. Its bare shoulders and long sleeves give the dress an excellent winter feel. You will never go wrong choosing this figure-hugging dream bridal dress.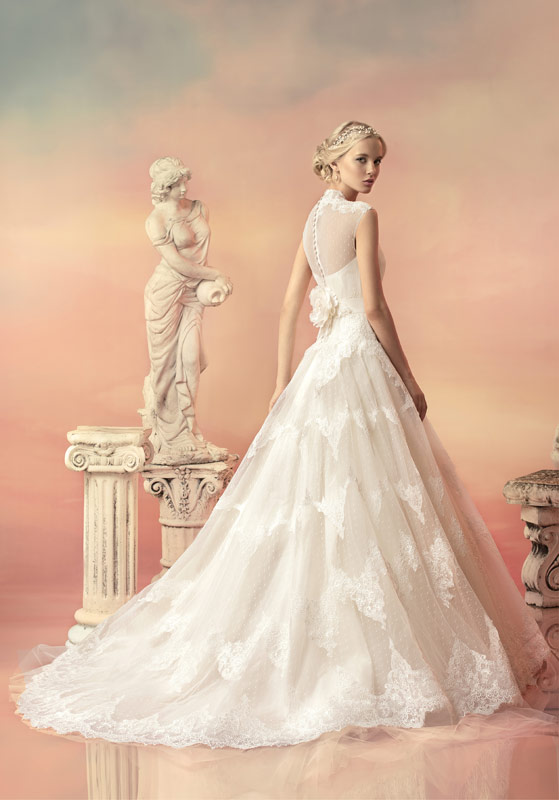 Style #1512L from the Hellas bridal collection
This wedding gown is complete with a high neckline, layers of elegant lace, sheer polka dot fabric, and is available in a dazzling white so that you can embrace your winter surroundings.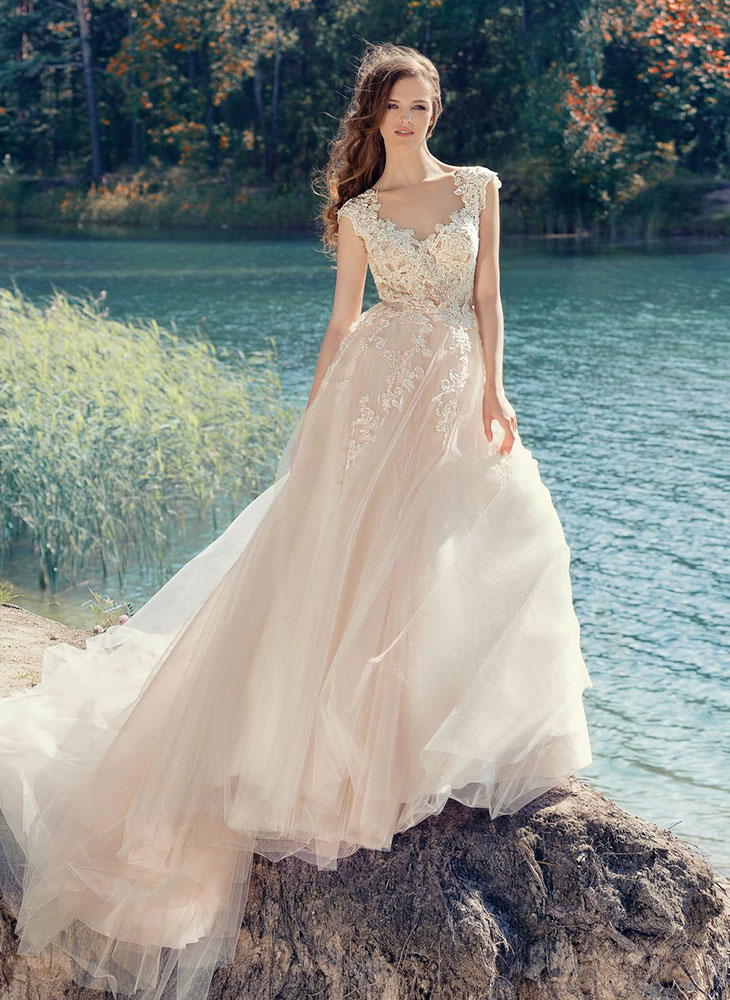 Style #1748L from the Wings of Love bridal collection
The lace bodice with off-the-shoulder cap sleeves makes this bridal gown an excellent romantic choice for your special winter wedding day. Its blush colour will look stunning against a super white winter background.
Coloured Wedding Dresses
A colourful wedding dress is not for the faint of heart. Embracing colour in your bridal look can be such an attractive and captivating choice. The snowy winter weather is the perfect backdrop for a lovely pop of colour on your wedding day, and the ways to incorporate colour are endless.
When adding colour to your bridal dream dress, choose a wedding dress that is made entirely of a soft neutral tone. A beautiful caramel, gold, or even deep ivory would look so breathtakingly stunning against the stark white of the winter landscape. If you are not so bold on wearing a fully coloured bridal gown, there are ways to add just subtle pops of colour. Add a colourful lace, bright embroidery, or vibrant accessories to bring a little extra added glamour and excitement to your winter wedding look. 
Whichever way you add some colour to your wedding dress, you will undoubtedly stand out and look stunning at your cold weather ceremony in one of these Papilio originals.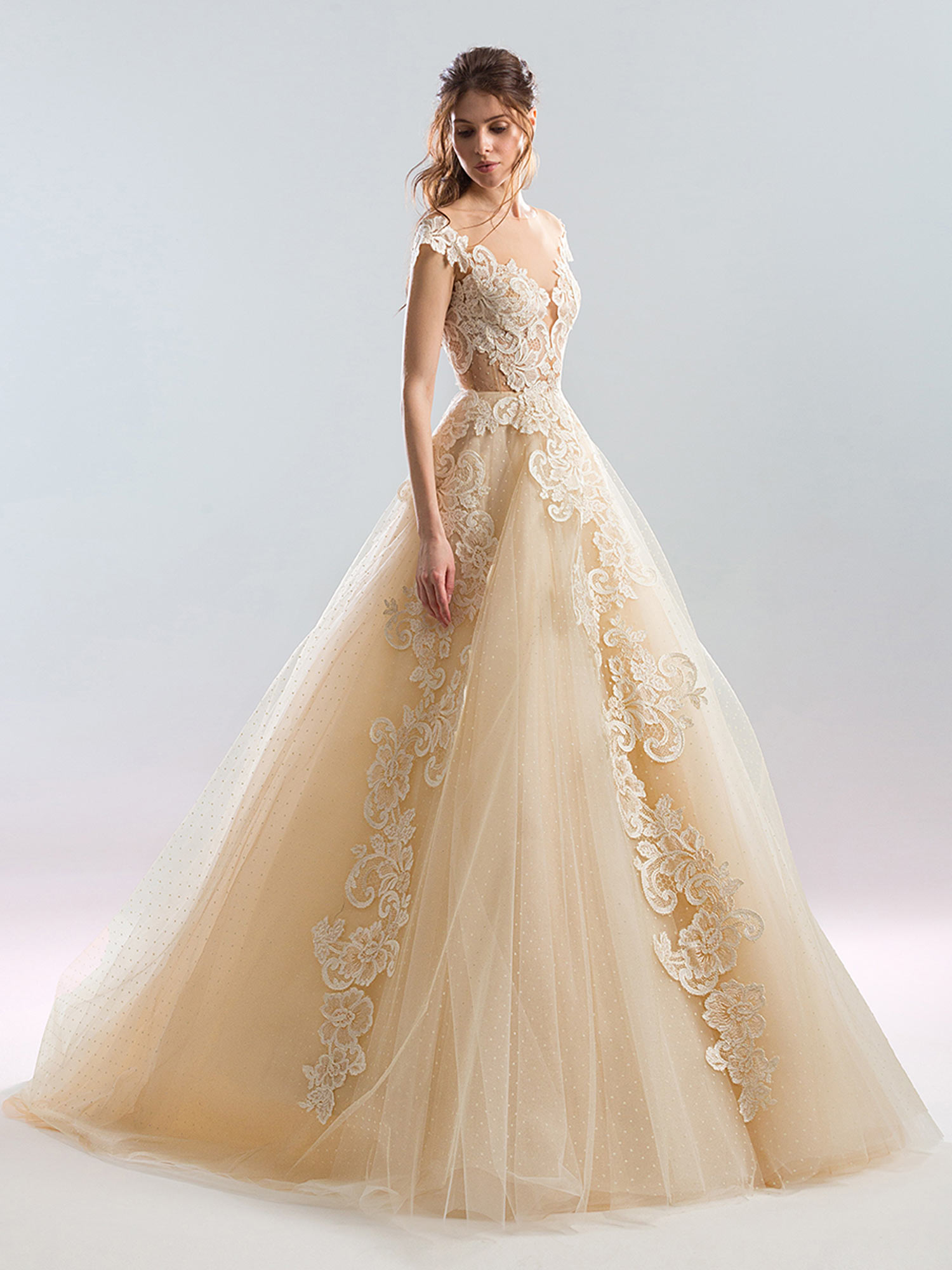 This caramel cutie will look so stunning against the crisp white of winter. Its thick straps and heavy embroidery on the skirt add gusto and glamour to the bridal look.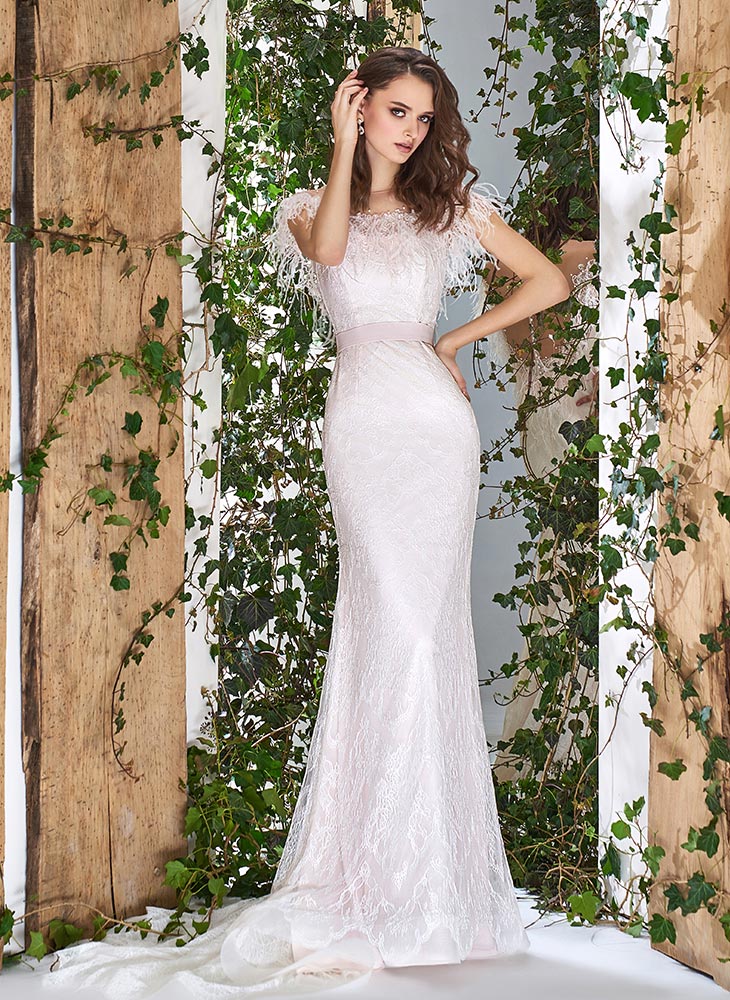 Feel pretty in pink as you walk down the aisle in this fitted lace bridal gown with open back. The feathers add extra volume and make this designer wedding dress glamorous.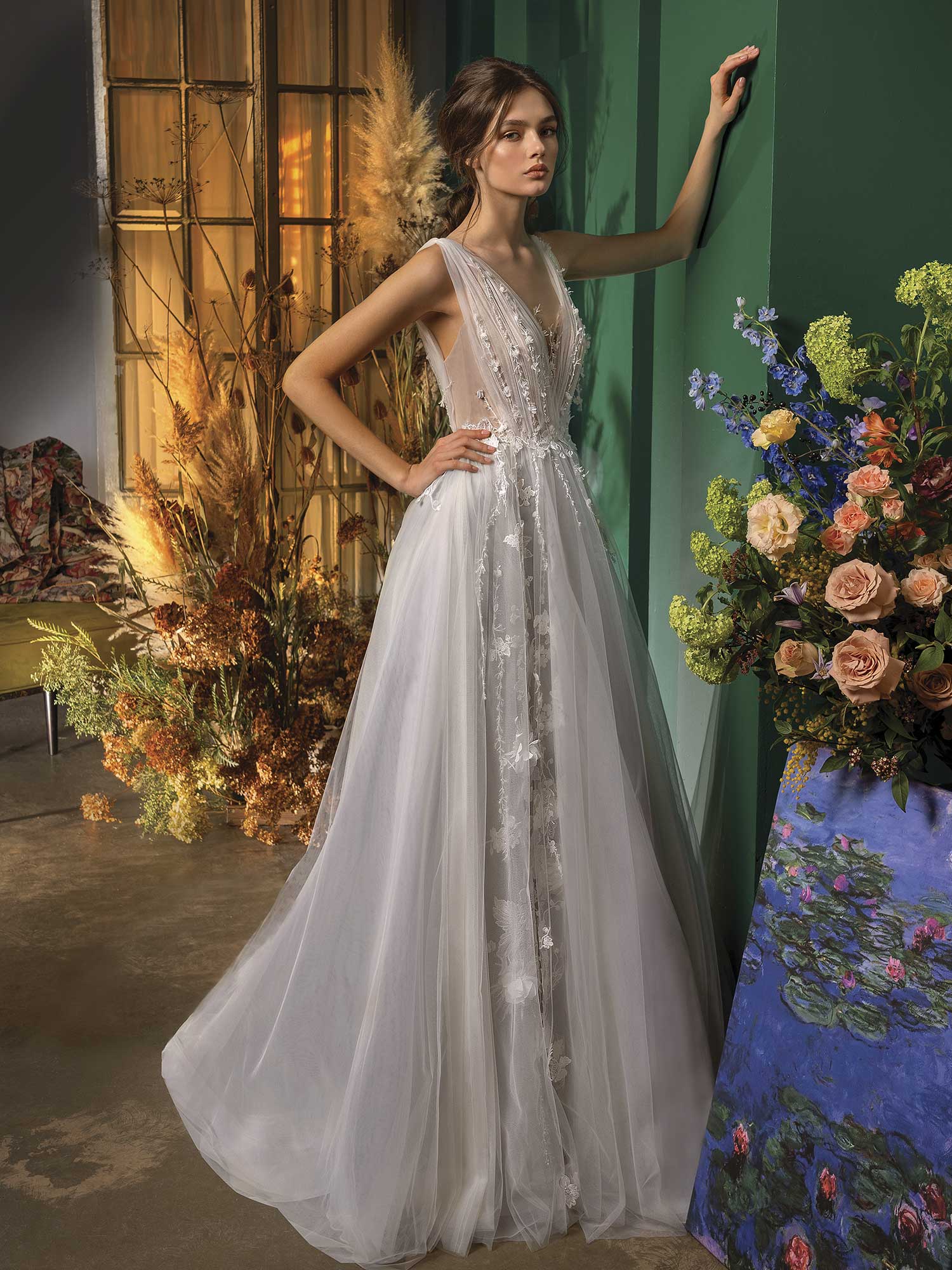 Match the blue winter sky wearing a wedding dress in a delicate blue colour. The cascading floral embroidery on this winter wedding dress is adorned with embellishments that give it an icy effect. 
Winter Wedding Dress Styles
Now that you are armed with a little more knowledge of winter wedding couture, it is time to get shopping. Start dreaming about how you want to look on your special day and what bridal silhouette looks best on your body. Next, think about what fabric you want your wedding dress made of and how you want to accessorize it to keep yourself cozy. Before you know it, your dream wedding dress will begin to form in your mind. We hope that our wondrous winter wedding styles have inspired your search and that you are one step closer to saying – "YES to the dress."