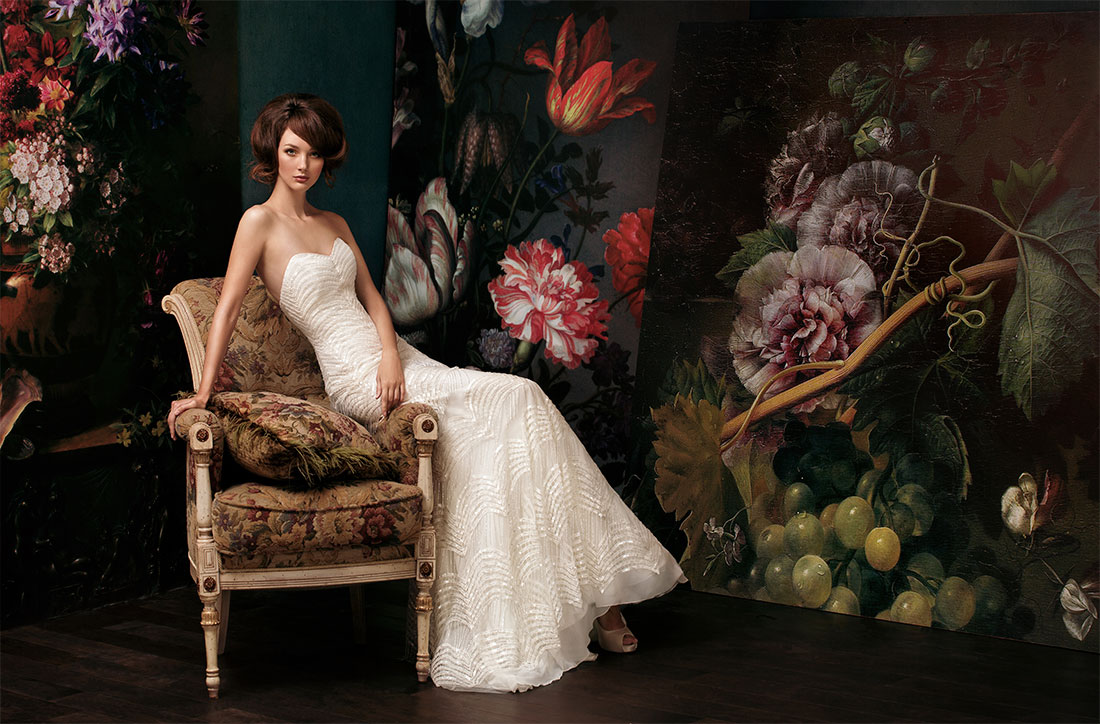 Your one and only wedding day is all about you and is coming up so soon! You want to feel and look your absolute best and love every single detail about this special day. One of the most important elements of your wedding is your dress, of course. Your grand entrance will be one of the first moments that will take everyone's breath away and leave a lasting impression on your guests. You definitely need to be certain that the dress you have selected makes you feel beautiful and confident from all angles.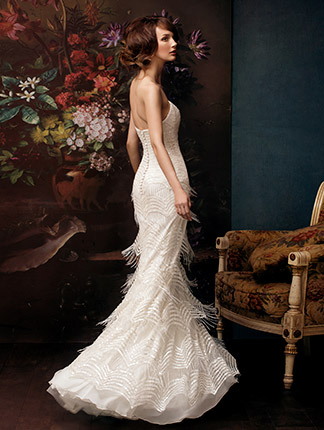 There are wedding dress styles that are flattering to every type of figure, and will make you feel radiant and look gorgeous.  Before you start shopping, take a little time to learn about the different styles and shapes that are most complimenting for different body types. You need to know your body very well; this way you can avoid getting your heart set on a certain wedding dress style only to find out that it will not be your most flattering option. Your mind may imagine yourself looking flawless in this style yet the reality may show the opposite. Papilio team suggests hitting boutiques already prepared and have an idea of what will work best on your body! This approach will also maximize and save your precious time. Get ready, brides!
One of the most popular wedding dress styles in the last decade undoubtedly has been a mermaid wedding dress. Mermaid wedding dresses are cut close to the body and flare out at the knee length, inspired by the actual mermaid's tail. These stunning dresses are best suited for brides who either have slender or hourglass shaped body types. The mermaid style wedding dress is perfect for brides who are not afraid to flaunting their curves. On the contrary side, mermaid styles do not work well for apple body types. Remember, visual proportion is very important! You do not want to overwhelm your figure and have a have accents both on the upper body and on the mermaid tail. Balance is the key.
One of the most versatile fall wedding dress styles is the A-line cut. The A-line dress is fitted through the top and waist, then flares out gently from the hips to the ground. This beautiful style is perfectly suited for almost any body type. It can help creating curves for slenderer body types, and also accentuate them for brides who already have them. Make sure to give it a try, you would be surprised how great it may look on you.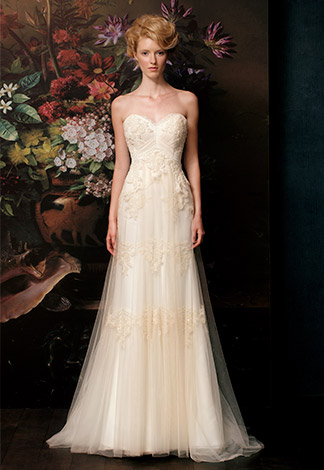 We have more options for you as well, especially if the A-line dress was almost "it". Try a version of modified A-line wedding dress! It is exactly what it sounds like: a slight modification of the A-line style.  It is fitted through the body and hips, and then flares from the hips to the ground. The key of this dress is the point where the flare starts. It can hide and accentuate the exact part of the body that you may want. Again, this is a dress that will flatter almost any figure.
If you are still debating and want a skirt that is somewhere in between a modified A-line and a mermaid style wedding dresses, then the trumpet style will definitely take your breath away. This lovely cut is fitted through the body and hips, and then flares mid-thigh. You just need to make sure your dress is altered specifically for your body, this way it will look effortlessly flawless.
Another classic and elegant cut that you may want to consider is the sheath cut. It is absolutely perfect for women with slender figures. The sheath style is a narrow pattern that is cut straight down from the neck to the ground with very little, or no, flare. This, most likely, will not be the dress for you if you are worried about a hip-hugging style, or one that is tighter around the stomach are.
From what you saw in this article, walking into the bridal boutique armed with this basic knowledge will help you to narrow your search and find the dress that is just perfect for you.
These are just simple guidelines that we recommend to our brides, this also does not mean that they would work for every person. You are unique and so are our wedding dresses, so do not hesitate to try a style the does not fit into these "rules", you may be surprised with the outcome and finally say Yes to Your dress.