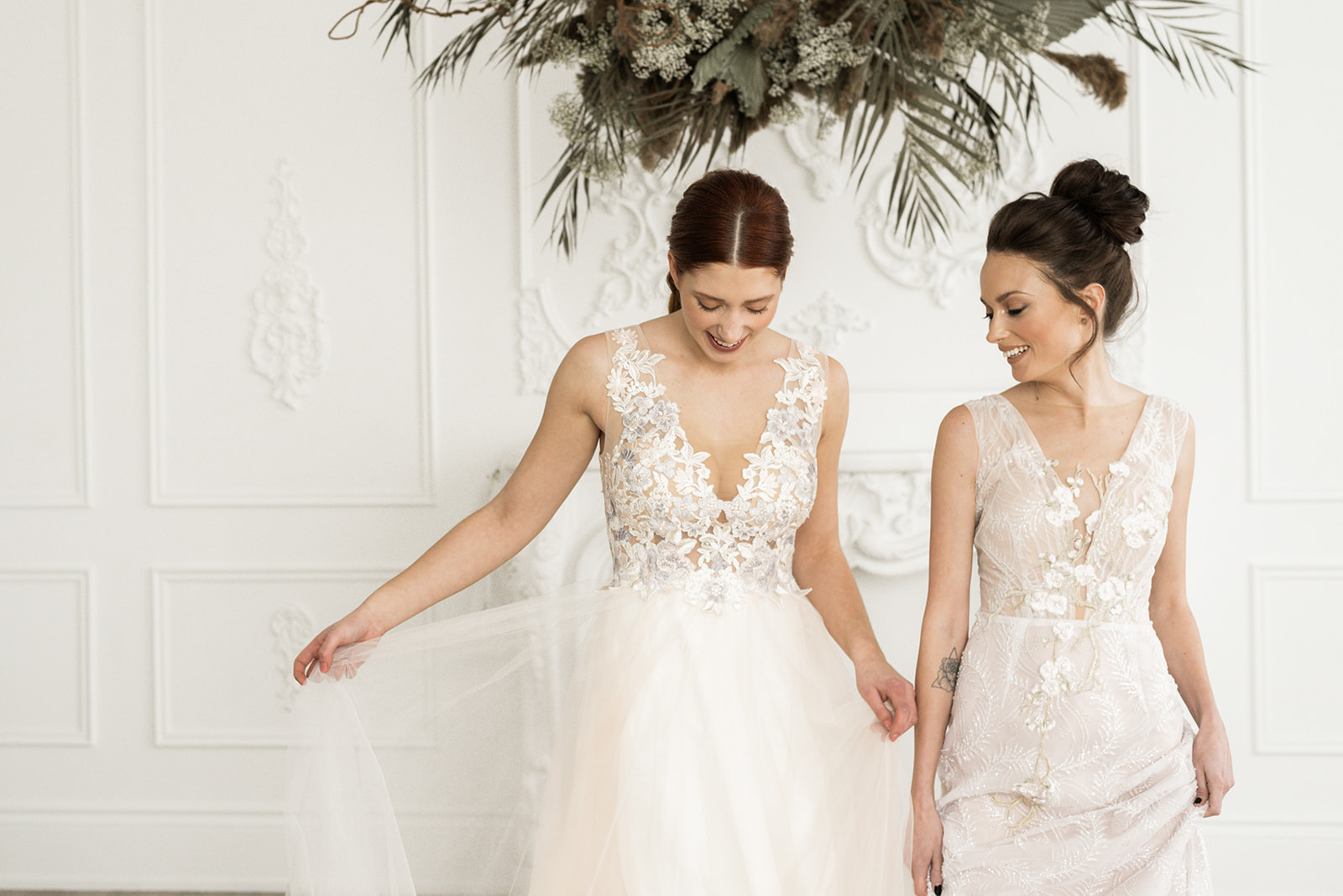 Wedding Dress Shopping: Find the best silhouettes of wedding dresses for your body type
How can I find a wedding dress with the best silhouette for my body type?
This is one of the most critical questions you should ask yourself at the beginning of your wedding dress shopping journey. Some of you may have already figured out your body type and know what dress silhouettes you should be trying while wedding dress shopping for the first time. At the same time, some of you may feel lost and need to identify a shopping strategy to find your dream wedding dress. In any case, it is essential to know how to compliment your natural body structure before heading to your first bridal consultation. Do not worry if you do not have your exact measurements. Bridal consultants will assist you in taking and understanding those numbers. Knowing your proportions will help narrow down your wedding dress search and choose the best silhouettes of wedding dresses that will look flattering and make you feel beautiful. 
Hourglass, small chested, petite, pear-shaped, apple-shaped, tall and slender, athletic, full chested…
– What shape do you have?
To guide you, we have prepared tips for finding the perfect wedding dress for your body, along with some ideas and recommendations for different shapes. You can easily start combining tips and suggestions from each category to find the wedding dress of your dreams. All brides are different, and understanding your unique features, combined with your personal aesthetics, style, and wedding day vision, will definitely help you succeed in your wedding dress search. 
Keep on reading, ladies! After this blog post, we promise you will feel 100% armed for your wedding dress shopping.
Wedding Dress Shopping Tips:
Popular body shapes and Papilio's ideas & recommendations:
Wedding dresses for hourglass figures
The hourglass shape is one of the traditional female body types. Girls with this structure usually have a smaller waist and bigger hips. Luckily for you, you can try every silhouette of a wedding dress.

Corset-based wedding dresses are the best choice for you, Ladies! It can be a mermaid wedding dress or fit-and-flare gown with a built-in corset. Both of these silhouettes will gracefully accentuate your beautiful curves.

If you dream about a ball gown, choose a strapless structured top with a full skirt to show off your cinched waist and enjoy your Cinderella moment.

A sweetheart neckline will compliment your feminine figure, especially paired with mermaid or fit-and-flare wedding dresses.
Wedding dresses for 

small chested figures
Just like a runway model, you can pick any wedding dress with the latest fashion trends and most stylish design elements.

We also recommend adding structure and form in strategic places for smaller chested brides. For instance, ruching and draping can help visually complement your bodice and neckline.

Wedding dresses with 3D flower decor or rich embellishments are an option that can enhance the overall look.

We also suggest trying wedding dresses with sexier options, such as a plunging V-neck and a low back.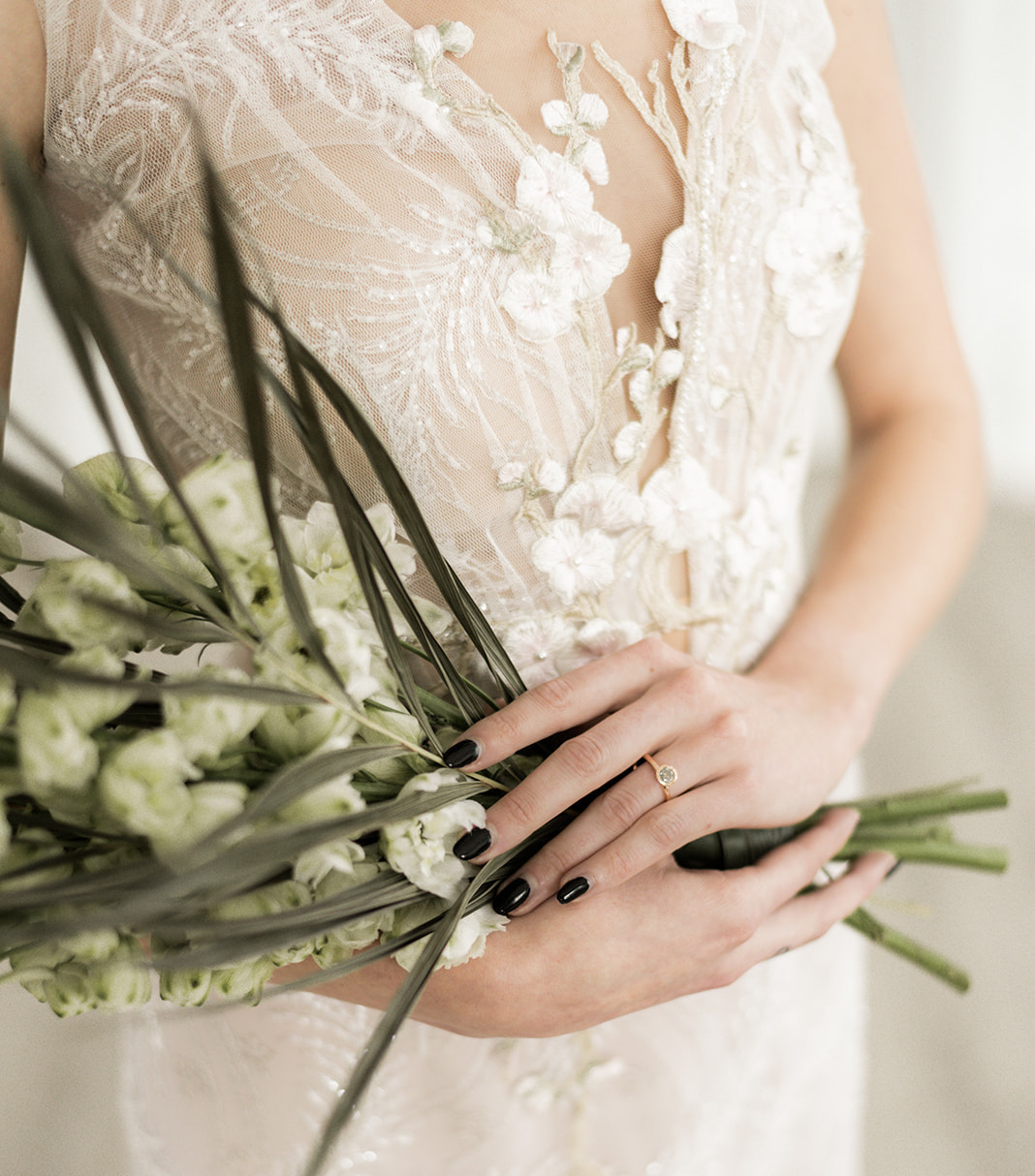 Wedding dresses for pear-shaped figures
A pear-shaped body has a smaller chest and shoulders with wider hips and thighs.

A-line dresses or ball gowns with corsets will look absolutely dreamy for pear-shaped body types. Add an embellished top, and that will help accentuate your décolletage and waistline and even out the curve of your hips.

If you like a fit-and-flare look, it is definitely worth trying. This wedding dress silhouette may flatter your best assets, depending on your proportions.

Wedding dresses with a sweetheart or square neckline will draw the eye to the toned shoulders that those lucky pear-shaped brides have!
Wedding dresses for petite brides
You can start your wedding dress shopping by trying wedding dresses with clean lines and monochromatic fabric. It is a fashion-trending silhouette right now, and it will show off your body in the best way.

We would not recommend a lot of ball gown dresses for more petite brides, but an A-line wedding dress can definitely be a winning option that elongates your frame and add some curves. Adding a V-back to an A-line wedding dress is also a must to try on!

Another silhouette that you should try is a fit-and-flare, without heavy embellishments that tend to overpower.

Please stay away from wedding dresses with dropped waistlines. They will visually shorten your frame. Your best choices will be a high or natural waist.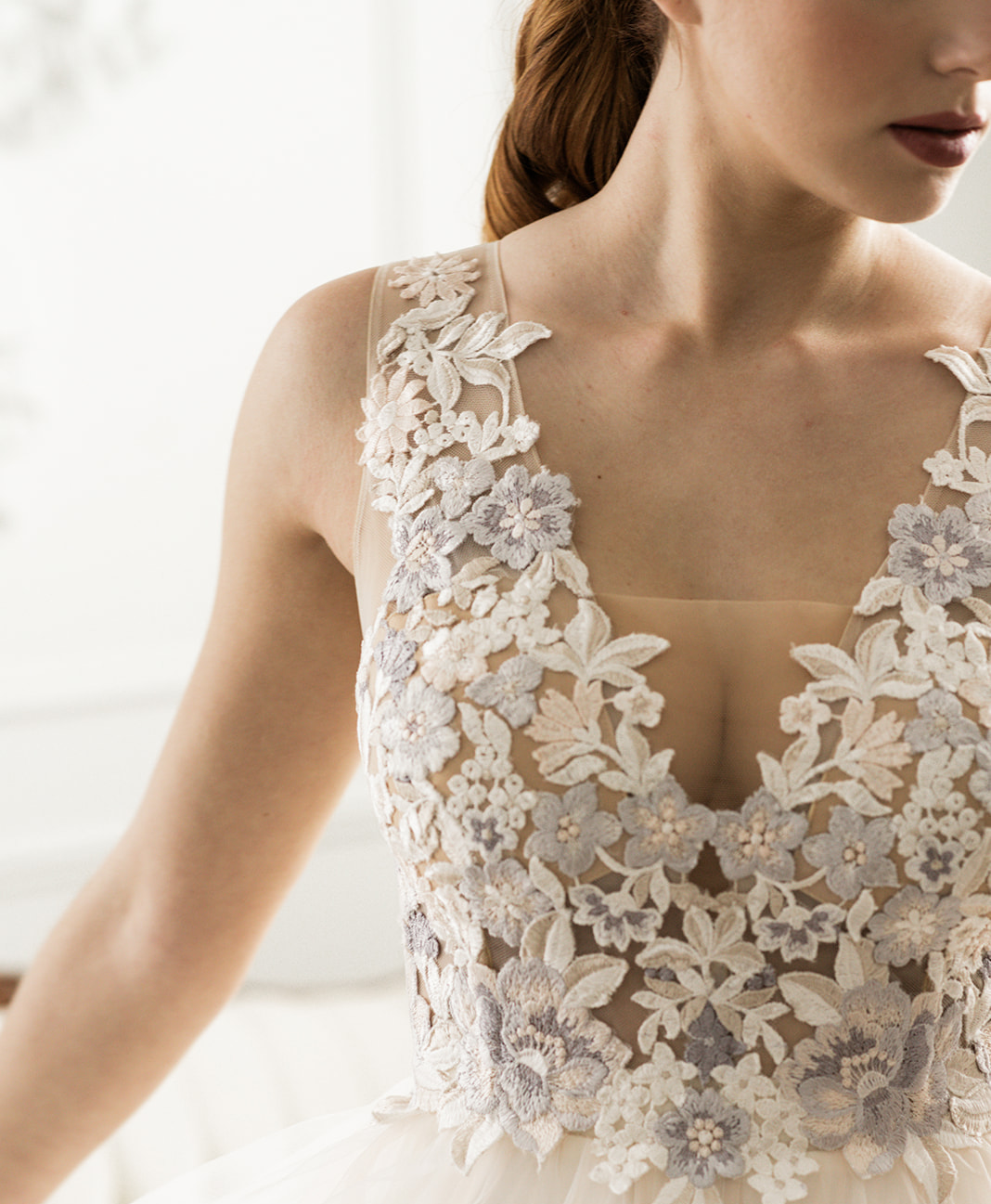 Wedding dresses for full chested figures 
You should indeed consider wedding dresses straps and sleeves. It will help support your bust and feel confident and secure on your wedding day.

In terms of a neckline, we recommend trying wedding dresses with sweetheart, square, and off-the-shoulder necklines.

We recommend trying dresses with a corset structure and high back for extra support. This way you can even wear a bra.

Brides with a bigger bust generally avoid strapless. Nevertheless, choosing wisely can actually be the most complimentary option. At Papilio, we use couture techniques that allow enough structure to feel secure and comfortable during the ceremony and on the dance floor at night.
Wedding dresses for 

athletic figures
Sometimes it is also called rectangle body shape. Women with this body type tend to have shoulders, busts, and hips roughly the same size, and their waist is not much smaller.

If you are fit and toned, you can show off in a strapless fitted wedding dress, exposing your neckline and featuring your perfect shape.

Any wedding dress with sexy cut-outs will add visual interest to your body. Think of a unique neckline, open back, leg slit,… or everything together in one dress.

Also, your go-to silhouettes would be a classy A-line wedding dress or ball gown with voluminous skirts. 
Wedding dresses for tall and slender brides
We recommend starting your wedding shopping journey by trying flowy wedding dresses with elegant details. For example, a light chiffon dress will compliment your graceful frame.

Ideal silhouettes of wedding dresses include an airy sheath, romantic A-line, or classy fit-and-flare. Those shapes will help to downplay your height and look utterly stunning.

Details like a low waist, open back, off-the-shoulder sleeves will help you look gorgeous and confident on your big day.

A textured and thicker fabric is also guaranteed to create a flattering look for a tall and slender bride.
Wedding dresses for apple-shaped figures
Ladies with an apple-shaped body usually tend to have a fuller bust, broader shoulders, a full waist, and an upper back with thinner arms, legs, and hips.

Many celebrities with an apple body type, including Adele, Catherine Zeta-Jones, Drew Barrymore, are rocking it! So can You!

You will look most flattering in a wedding dress with a deep V-neckline because it will take attention upward while flattering the bustline. 

Some of our off-the-shoulder wedding gowns will suit you. Especially bridal designs with a suitable corset and a wide sash at the waist will help to create a balanced proportion of your body.
While choosing a wedding dress, there are many other aspects to consider. Before starting your wedding dress shopping, seriously think about your style and aesthetics. Your wedding dress must compliment your body type and feel natural, be true to your personality, and, of course, help you look the best version of yourself. It must be the perfect balance of body type, personal style, and overall vision of your big day. 
Happy Wedding Dress Shopping, Ladies!
Papilio Team