From Fabric to Fit: Decoding the Factors That Determine Wedding Dress Prices
Planning your wedding can be an exciting but daunting task, and one of the biggest decisions you'll make is choosing your wedding dress. However, it can be challenging to determine the price of a dress by just looking at pictures online. At Papilio Boutique, we understand the importance of transparency and a better shopping experience, so we list all our prices online. We encourage brides-to-be to browse our online bridal boutique and consider what will be a reasonable price for the styles they like. This will help with budgeting and ensure a confident decision when saying yes to the dress!
Wedding dress prices are determined by various factors, such as fabric and decor quality, the complexity of silhouette, construction, amount of handwork involved, and labour cost for a particular design. It can be difficult to determine the price and quality of a dress by merely looking at pictures online. Trying on wedding dresses will make all the difference in feeling and seeing the quality of the dress.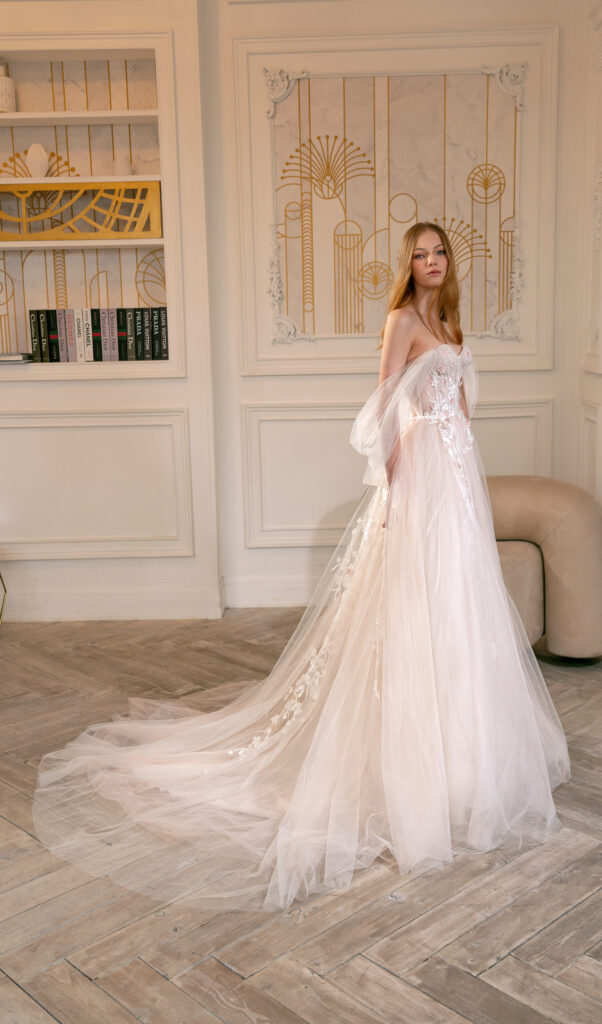 Here are the main factors that determine wedding dress prices:
Designer: wedding gowns created by well-known and established bridal designers are typically more expensive due to their brand reputation and high demand.
Fabric & Dress Decor: The type and quality of the fabric used to make the dress can significantly impact its price. High-quality, luxurious fabrics like silk, French lace, tulle or Swarovski crystals are more expensive than synthetic materials.
The Complexity of Design: wedding dresses with intricate details, such as beading, embroidery, or applique work, require more time and skill to create, which can drive the price up.
Customization: The cost will likely increase if a bride-to-be requests custom alterations to a dress, such as changing the neckline or adding sleeves.
Accessories: Accessories such as veils, belts, and jewelry can also add to the overall cost of the wedding dress budget.
Retailer markups: retailers may add a markup to the wholesale cost of a wedding dress, which can vary depending on the store. At Papilio Boutique, we make wedding dresses that allows you to skip the "middleman" and get a designer wedding dress at a better price.
We often see brides fall in love with a dress that fits them perfectly, but they struggle to justify the cost. While a wedding dress may not be a regular clothing item, it is undoubtedly the most important article of clothing you will ever wear. Some brides may purchase a simpler and cheaper gown online to save money. However, this can be risky, as more clients end up returning poor-quality dresses or simply lose their money. In such cases, brides spend more than if they had purchased the gown they love that was over their budget. Nothing is worse than wearing something you don't love down the aisle!
Invest in Your Happily Ever After – Quality Really Matters in Wedding Dress Prices
It's essential to remember that bridal fabrics, decor, and labour costs are more expensive than casual clothing. It may take weeks to produce a single wedding dress, so it's worth investing in a gown that makes you feel confident and beautiful on one of the most important days of your life.
Shop with Confidence: Check out our online bridal boutique for a better shopping experience!
Papilio Team