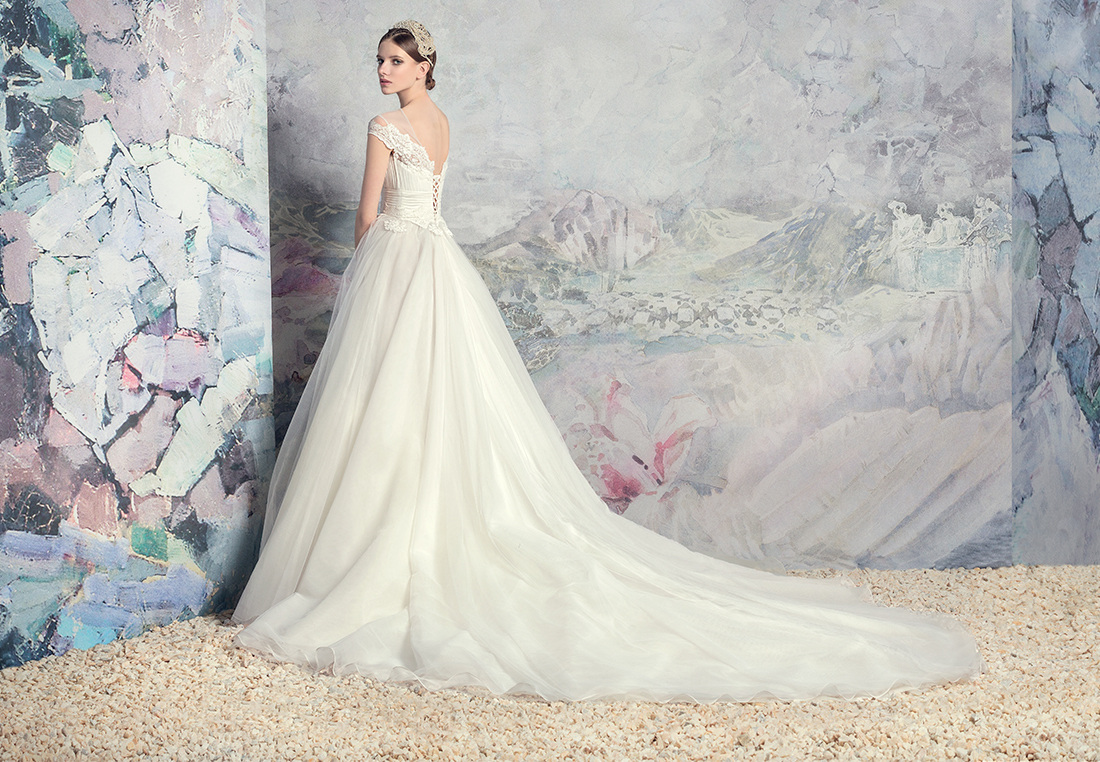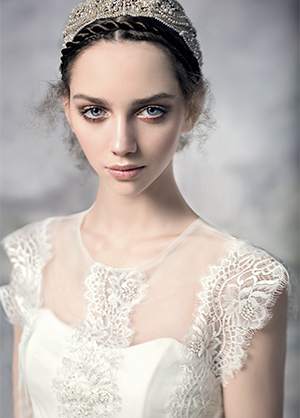 Being a bride is a memorable moment in every woman's life. She gets to marry the love of her life dressed in the gown of her dreams. Some brides dream of their perfect dress since childhood, while others simply only have a vague idea of what they want. All women know of the different dress silhouettes and necklines, however, not many know about the variety of wedding dress fabrics available in the world of fashion.
We have come up with a guide of popular wedding dress fabrics to help brides navigate the world of bridal textiles. The list is broken down into Solids and Sheers. Although our guide is broken down into two categories, many gowns have a mix of wedding fabrics from both categories to create truly unique designs.
The Solids category of bridal textiles includes heavier fabrics that are opaque, or not see-through. These fabrics give bridal dresses a more regal feeling as they are more traditionally used in the past. Although they can give dresses a vintage feeling, modern silhouettes are commonly used to keep the designs relevant. Brides wanting to be the Queen of the ball should opt for one of these when choosing a wedding dress.
The Sheer category, on the other hand, is made up of lightweight wedding fabrics that are transparent, or semi-transparent. As the fabrics are quite sheer, several layers of material are used to make a bridal gown look less sheer. Often bridal designs mix a few of these textiles together to create romantic feeling dresses. Brides who are planning beach, destination, or outdoor weddings should consider these fabrics for their wedding dresses as they are more breathable and allow brides to bear the heat better.
The Solids: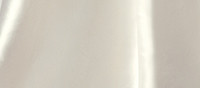 Taffeta: Taffeta is one of the stiffer and heavier fabrics used in wedding dresses. It is common due to its unique sheen. In certain lighting, taffeta can appear matte, however in other lighting it can appear quite luminous. Due to its stiff texture, this wedding dress fabric is more common for evening formal affairs.

Satin: Satin is a woven fabric whose lustrous and glossy texture is created when the fabric is run through hot cylinders. This fabric is used in elegant wedding dresses to give the bride a feeling of royalty. Although similar, satin is a lot more common wedding dress fabrics than taffeta as it can be draped and pleated easier.

Damask/Brocade: Both of these fabrics are woven with raised designs. Brocade is a better fabric for winter weddings as it is heavier, while damask is a lot lighter in weight. These wedding dress fabrics are extremely ornate and give the bride a vintage Victorian feel.

Jacquard: Jacquard is one of the most luxurious fabrics available, perfect for eveningwear and wedding dresses. The pattern in the jacquard can be a subtle yet striking detail in a wedding dress.

Shantung: One of the more popular fabrics used for wedding dress, shantung is quite unique. With its rubbed texture, it slightly resembles raw silk, although it is slightly smoother and thinner. Like dupioni silk, it also has a similar kind of shine to it.

Mikado: This is a stiffer, heavier bridal textile perfect for winter and cold weather weddings. The fabric has a subtle sheen, resembling that of peau de soie, and its weight makes it ideal for more structured wedding dresses.

Cady: This is a finish commonly used on cotton fabrics. Cady has a good balance of stretch and structure allowing it to hold its shape well. The matte finish on cady fabrics makes it ideal for more casual weddings.


The Sheers:

Lace: The best known and classic of wedding dress fabrics, lace is perfect for brides that want romantic or vintage inspired gowns. Many wedding dresses made of other bridal textiles include details in lace to add a classy touch. For example, lace is being used to include interesting details on a wedding dress such as a keyhole and see-through back. Lace can be simple, detailed using metallic threads, or finished with luxurious beading. It is such a timeless bridal material. Today designers are using it to create more contemporary designs for the modern bride.

Chiffon: This fabric is sheer with a simple weave and a slight shine. It is perfect for eveningwear because of the ease in which it drapes and flows to create a variety of silhouettes and designs. Chiffon is great for beach weddings as it will blow nicely in the breeze and not be too warm.

Organza: Organza is similar in weave to chiffon, except it is heavier wedding dress fabric with a more pronounced shimmer. It can be draped, however it is more often used to make skirts that are a little simpler.

Crepe: This fabric has a unique crinkle-like texture. Crepe is a great bridal fabric for dresses that are draped as it can cling to, and hug a bride's curves perfectly.

Tulle: Tulle is very fine, lightweight netting. This fabric is what is commonly used for veils due to its sheerness. In bridal gowns, tulle is commonly used to make large ball gown skirts with lots of texture. For brides wanting a princess feel, tulle is the way to go.

Mesh: This fabric is not typically used as the basis for the whole dress. Mesh is a finely made net-like fabric used when creating an illusion neckline, sleeves, or back. It is extremely sheer and allows for see-through areas on a wedding dress, yet still allowing the bride to feel covered.
There are many wedding dress fabrics to consider when choosing your dream dress. The feel that you are going for on your wedding day should help you to decide on the perfect bridal fabric for you. For a more romantic feeling, opt for lace and tulle. However, if you want to more regal feeling taffeta and satin are better options. Be sure to consider the venue, weather, and season when deciding on wedding dress fabrics.