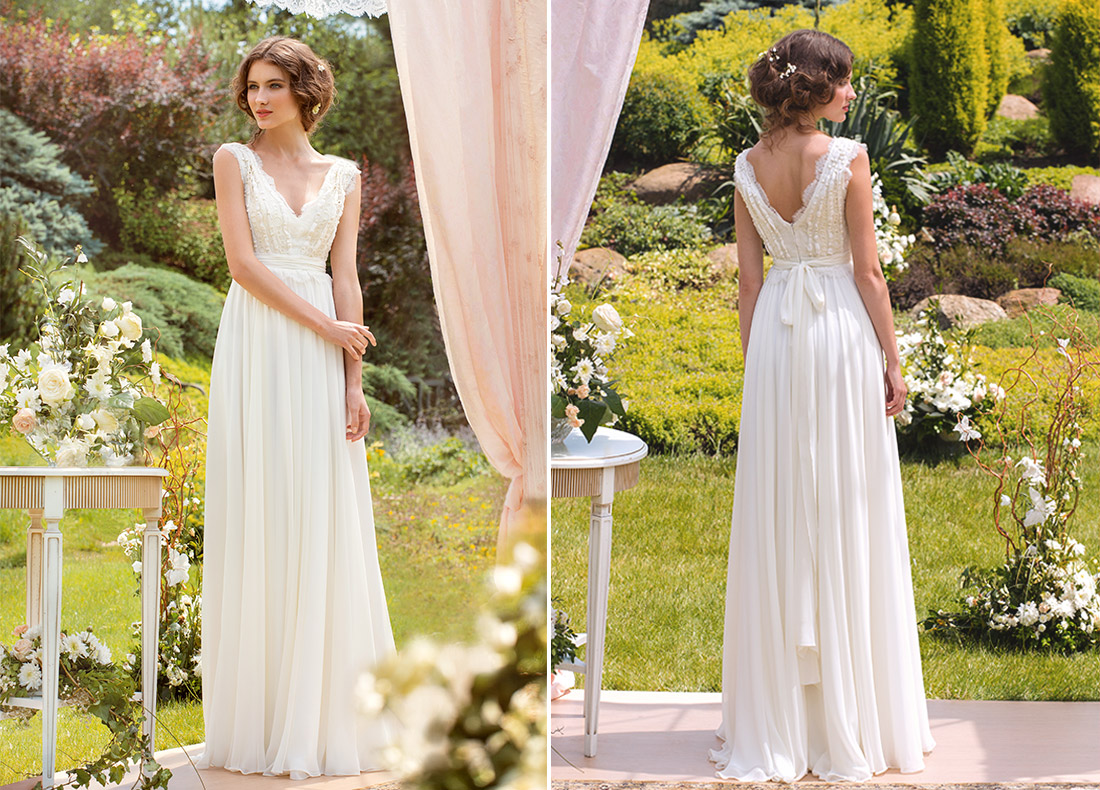 «Simplicity is the ultimate sophistication» Leonardo da Vinci.
For artists, sculptors and other creative individuals of the art culture, the main features of Renaissance period were simplicity and clarity. There was no space for anything that did not belong; simple and simpler were the ways to go.  Even famous Michelangelo said himself when asked about the process of creating his phenomenal sculptures he said: "It is easy. You just chip away the stone that doesn't look like David."  At Papilio, we do just that. We carefully "chip away" our fabrics to create our own version of David but in a simple wedding dress.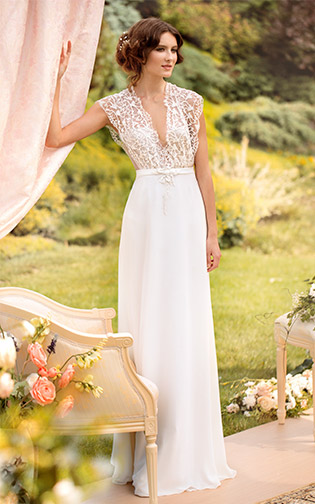 Many women dream to look light, simple and unique during one of the most important days of their lives. Therefore, each bride is faced with a very difficult question of how to choose the right wedding dress. Our team understands the importance and complexity of this question, so we are here to educate and help to find the right dress just for you. A simple wedding dress can help you recreate that classic image of the bride. Usually, a simple gown is straight and is outlined by very simple, subtle geometric lines. But not all of us want to own basic gowns; some of us want to add just a touch of complexity and originality which comes with a variety of elements. Papilio Fashion House is famous for creating simple wedding dresses with that extra touch which gets everyone to turn their heads when you pass by.
A simple wedding dress pared with delicate and almost magical lace will be ideal for the bride who wishes to appear more romantic, soft yet elegant. Just like a fairy. This dress could easily come with unusual shape of collar made of delicate lace or a belt, cuffs or even full sleeves to name a few. Some simple wedding gowns are fully crafted of lace, complexity of which varies on the silhouette of the dress. Thus, the lace will give the entire look a very pure and clear feel.
At the same time, a simple dress could have an original neckline or an open-leg detail which can be a great option for the bride, who would like to show some skin. While more popular open back and shoulders, as always remain that empowering touches for the bride to feel like the queen.
Here at Papilio we think that you do not need a complicated wedding dress to show your unique personality, sometimes it just does not represent you. Our team of designers left some dresses very clean, almost without any details for those who love to add other accessories.  Simple and elegant may need that extra cheery on the top, which could include classic pumps, pearls and, of course, a wedding veil that is an integral part and one of the most important accessories.
All of these elements let you decorate your own simple wedding dress and will not make it unrefined or ordinary. Ask anyone at Papilio Fashion House and we will find the right accessories just for you. Our in-store specialists are trained to read your mind and pick just the right pieces to complete your look. Just come and see for yourself!
You should always keep in mind, that this kind of dress will be appropriate for any ceremony of your choice. Whether it is boho, classic, chic, vintage or literally any other style your wedding dress will be perfect without any doubts. And no matter where you have decided to celebrate your wedding, whether it's an ancient castle or a romantic ceremony on the beach, your dress will always be relevant and our team will make sure you are comfortable with your choice 100%. This is what we do best! We connect with you, learn everything about you and then find that perfect, unique style that was designed for a beautiful soul like yours. So do not be afraid of simple wedding dresses, because they will always be in fashion and will resemble the old traditions of a wedding celebration just with a modern twist.