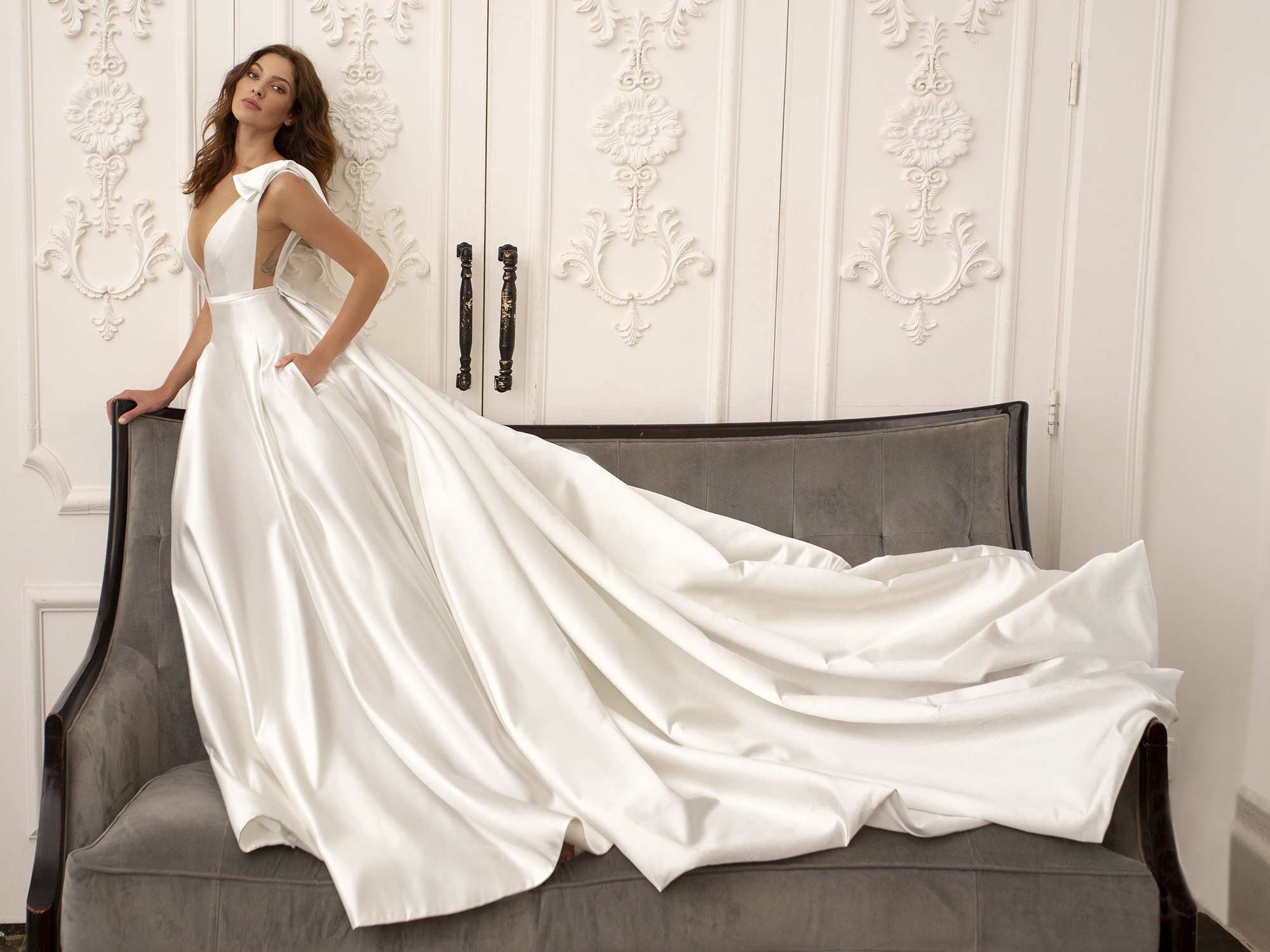 Silk Mikado wedding dresses with elegant yet understated silhouettes appeared across runways this season and became one of the most popular trends in the bridal couture of 2019. It was inspired by the bride of the most recently wedded royals, The Duchess of Sussex, who said her vows in the wedding gown made of beautiful silk Mikado. Meghan Markle's gown was designed in a precise, simple, and exquisite silhouette. Her simple yet sophisticated look encouraged countless bridal dressmakers to create beautiful silk Mikado wedding dresses with uncomplicated designs featuring clean lines all radiating pure elegance.
Silk Mikado is a regal fabric, known for its beautiful matte texture, glossy finish, and ability to give a dress the most structured and magnificent shape. The fabric is one major aspect of a wedding gown that brides forget to consider before shopping. Whatever fabric chosen goes a long way towards how the entire bridal look is going to be. Without a doubt it must compliment your skin tone and body type, and, of course, create the right silhouette for your body shape. Silk Mikado is a fabric that is very flattering to all skin tone and body type. This silk comes in many different hues, providing a range to accentuate skin tones that range from dark to light. Also, the structure that this silk can offer does wonders for giving any bride the most gracious and gorgeous silhouette. For every bride-to-be, there is a silk Mikado wedding dress that will fit her like a dream, and have her looking like the next Duchess.
Besides, silk Mikado is made of a nylon silk blend, creating a thicker and more durable type of silk. It is great for weddings that are taking place in cooler temperatures. The nature of silk Mikado is what creates the defined lines and shapes of these types of wedding gowns and is what allows for striking and unforgettable styles. The finish of Silk Mikado is gorgeous and allows for glamour and gloss to add enchantment to a modest design.
If you are a bride who wants a gown with a little more regality, these silk Mikado wedding dresses from Papilio Collections that will help you release your inner royal.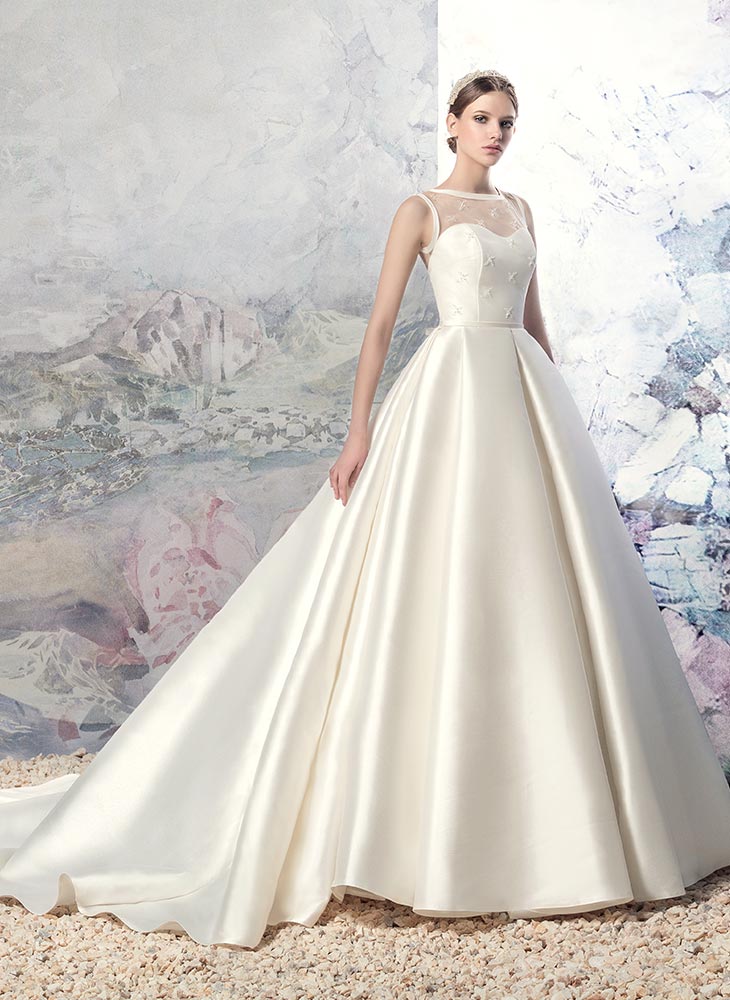 Style #1605L, from Swan Princess Collection
There is no time like your wedding to feel like a princess. This is a regal Mikado ballgown with a cascading train, sweetheart bodice, and high neckline that features embroidery across its bodice and neck. You will instantly feel like a true queen. Say yes to this truly royal wedding dress!
Style #M2, from Esperanza Collection
Here is another ballgown made of silk Mikado. This breathtaking dress is truly one of a kind. Leave your guests in awe with your walk down the aisle. This gown that features a boat neckline, deep v back, long sleeves, and a train that is taller than a bride-to-be. The simplicity and understated beauty of this gown are impeccable, and you will feel radiant on your big day.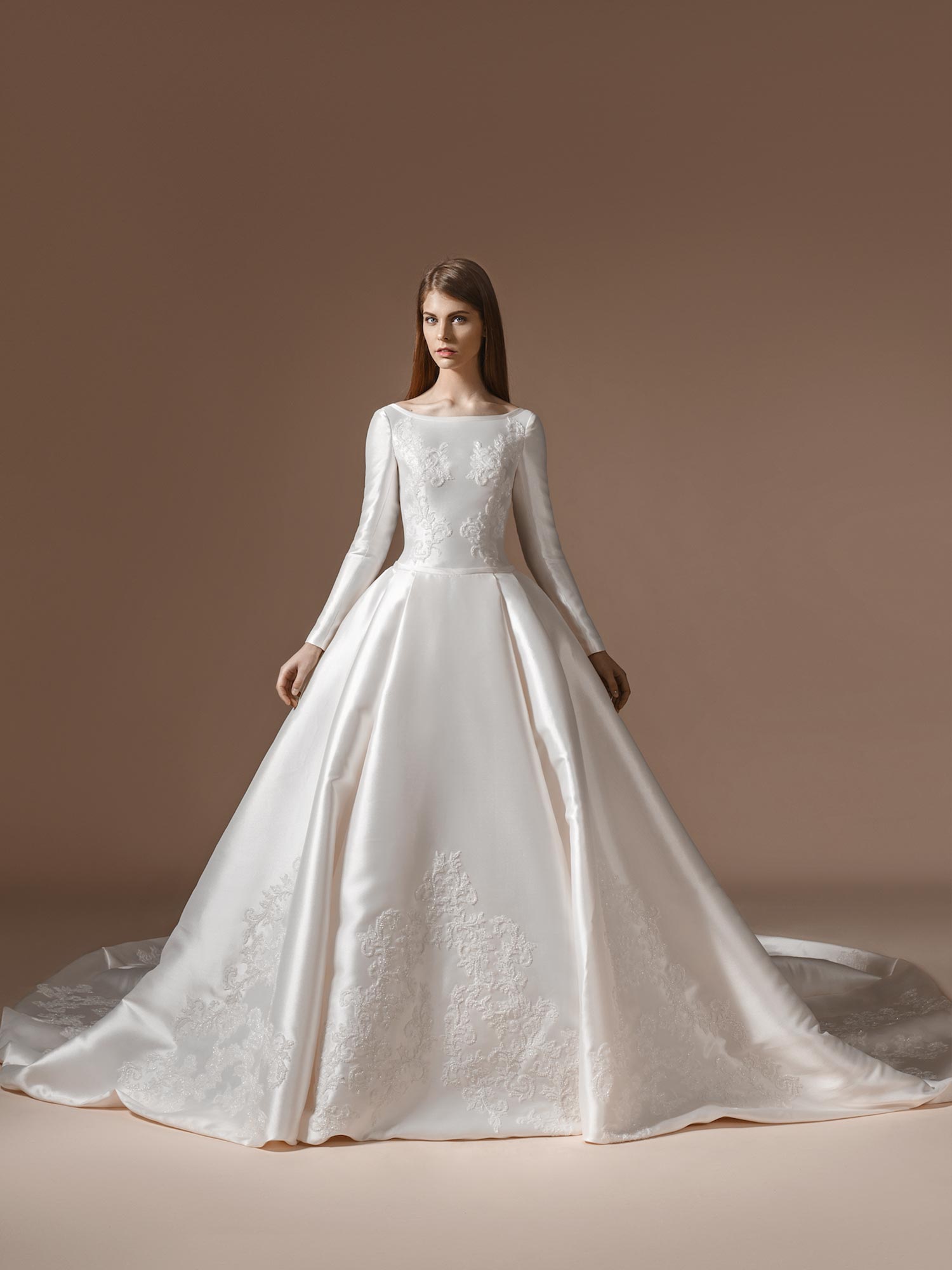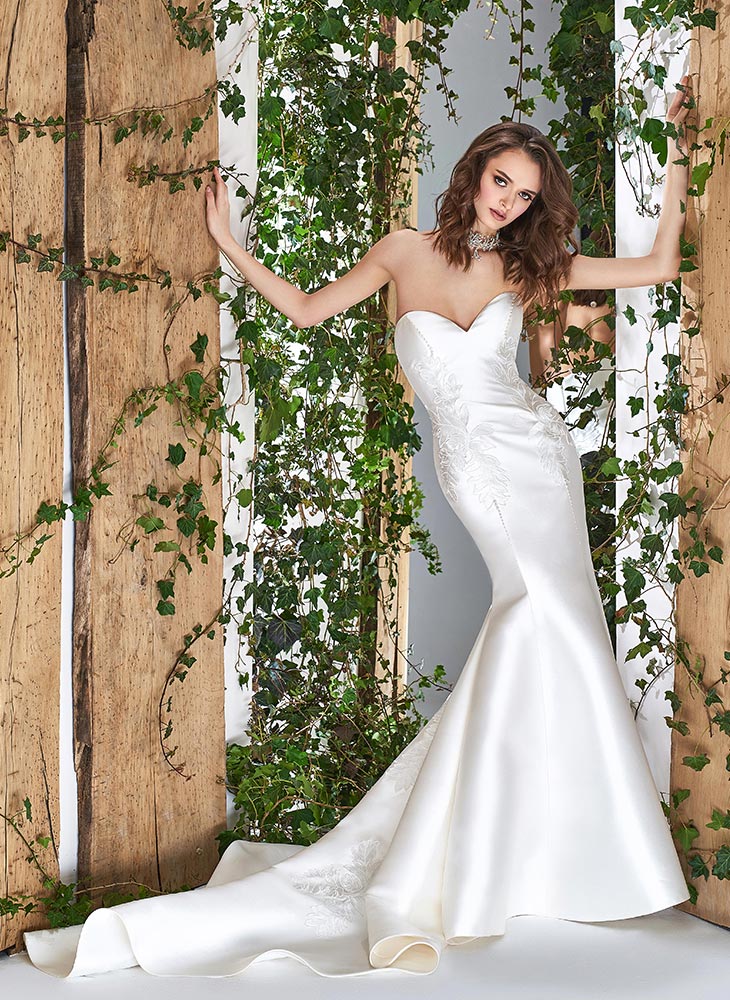 Style #1801L, from Wonderland Collection
Say your vows in a mermaid gown that radiates elegance. This is a structured look that is layered with sultry details. With a sweetheart bodice and embroidery on the hips and train, this simple wedding dress is just stunning.
Style #1714L, from Hellas Collection
 
An elegant A-line for the bride who wants a modest yet striking gown. This dress features an illusion neckline and illusion sleeves, with intricate and delicate embroidery on the arms and sweetheart bodice. Feel regent and ravishing at your wedding.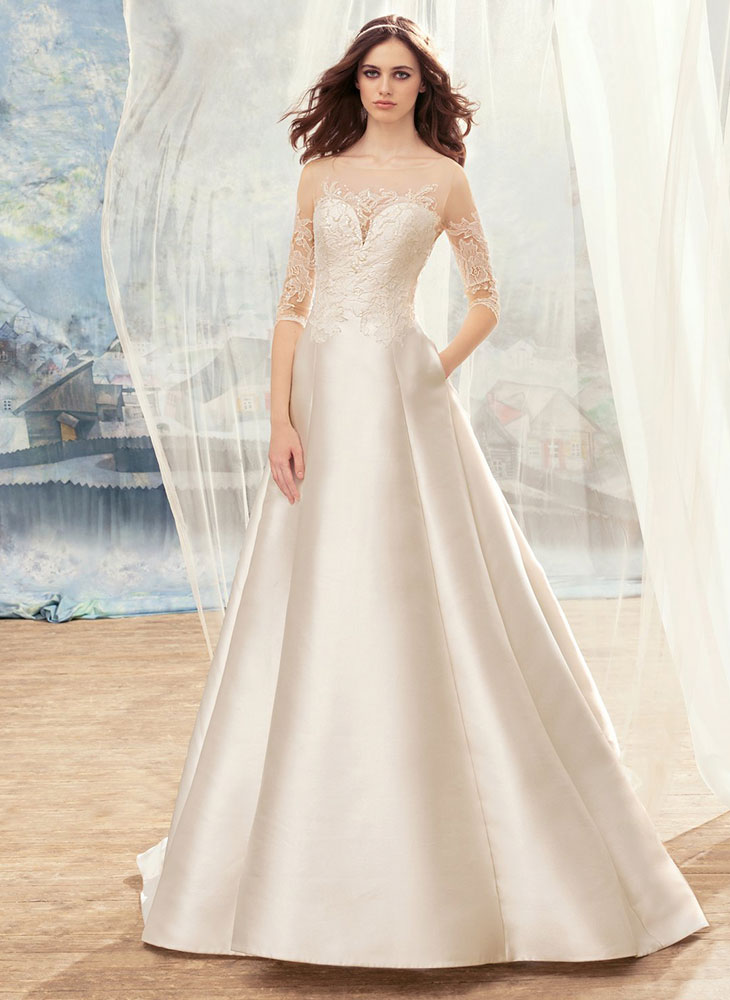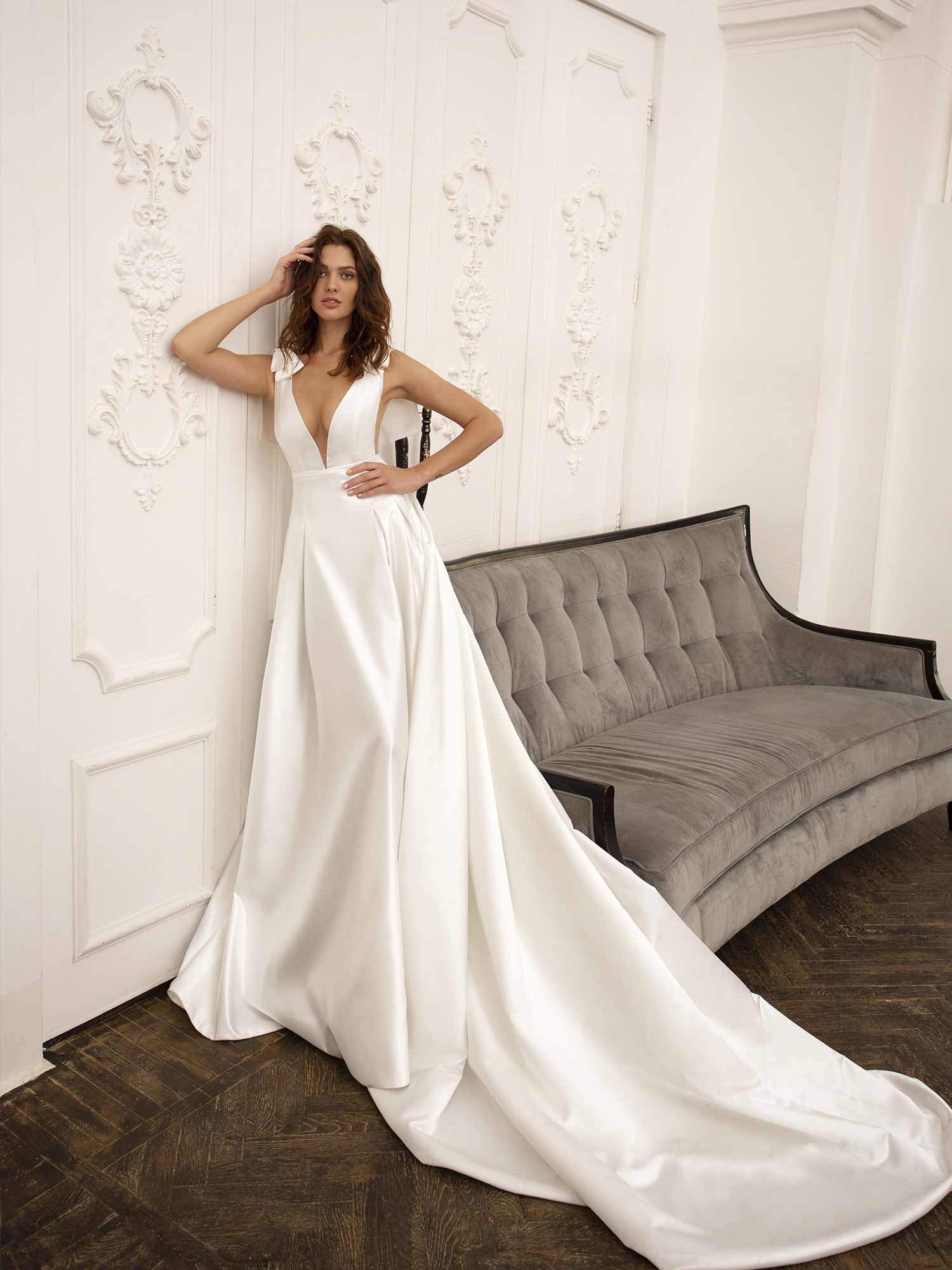 Style #11948, from Cosmopolitan City Collection
Here is a bold and beautiful option from one of our newest collections – Cosmopolitan City. Feel nothing short of spectacular in this A-line wedding gown that features a deep v neckline and back, illusion sides, and a sweeping train of glossy and glorious silk Mikado. This is a romantic look for the modern bride and will have your groom swooning at the altar.
Style #1903L, from the White Wind Collection
This style is for the bride who craves a wedding gown that features a structured design. This unique Mikado wedding dress from our White Wind Collection rivals all royals. It has been created with such care and detail. Its beautiful off the shoulder neckline, precise bodice, and brilliant ballgown skirt will help make your princess dream come true!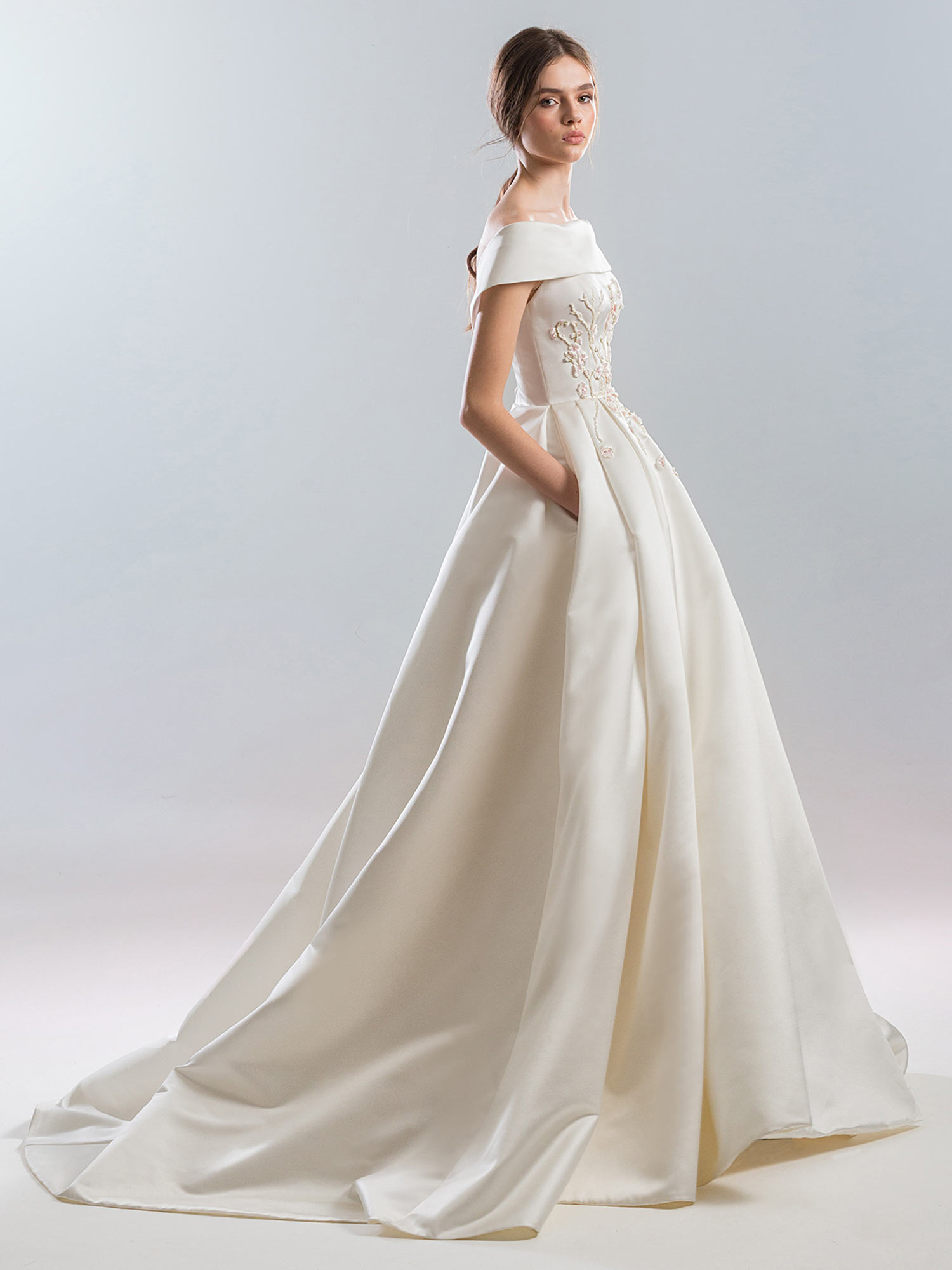 For more ideas of silk Mikado wedding dresses, check our bridal collections. We think that this trend is here to stay for many years. The shape and look of this fabric are so unique and glamorous, and it can be created into so many different, one of a kind wedding gowns. Most importantly, each silk Mikado gown has its own individual personality and flair that lets it stand out proudly. A silk Mikado wedding dress is timeless and has a beauty that is never out of style. It looks like Papilio designers love working with this fabric, and will continue to surprise us with gorgeous styles.