10+ Most romantic wedding dresses from Papilio bridal collections
Are you a romantic bride who is looking for the dreamiest romantic wedding dress?
Are you a romantic bride who is planning a dreamy wedding filled with charming details in a castle? Have you been thinking about your big day since you were a little girl? Do you fall in love with beautiful features that fit your fantasy of a fairy-tale wedding? Did you fiance fall in love with your romantic soul? Are you looking for lovely floral arrangements, gorgeous venue, and, of course, the most romantic wedding dress? If Yes, continue reading and get inspired by the most romantic wedding dresses from Papilio bridal collections.
Your romantic wedding dress can be classy and elegant, but at the same time, it should be fashionable and trendy. The romantic wedding gown does not mean old-fashionable and traditional. It is the wedding dress style that expresses a feminine side of a bride. Remember that the dress you are going to wear on your special day should reveal your personality and style. Here are the top three most graceful and romantic wedding dress styles based on the bride's personality:
1. Playful and free-spirited bride:
This romantic bride is interested in flowy chiffons and sheath bohemian styles with the most exclusive decor. Her love is adventurous and unique.
2. Reserved and traditional bride:
This romantic bride gets inspired by such conventional wedding dress silhouettes as A-line wedding dress or ball gown, made with floral lace and light tulle. You can bring your romance with a soft touch of 3D flowers.
3. Sophisticated and classy bride:
This romantic bride shows her love to the classic style in confidence. She likes her shape and shows off her curves with a fitted lace mermaid dress.
What silhouettes are the most suitable for a romantic wedding?
Ball gowns, A-lines, and fit-and-flare silhouettes are more suitable for a romantic wedding. Ball gown will make you look like a Princess meeting your Prince charming. The extravagant puffy skirt, whether made of soft tulle or delicate organza, will accentuate your waist delightfully. A-line features the more modest skirt style. It will flatter your shape wonderfully and make you look super sweet on your big day. Ultimately, Fit-and-Flare is a graceful style usually made with a soft skirt and dramatic train flowing as the lace bodice drapes your curves. If you are a romantic bride who is looking for a "vintage meets modern" look, you can wear a sheath style wedding dress with a lot of embellishments such as flowers, or lace appliques. Alternatively, it can be a classic wedding dress made of luxurious lace and a twist of vintage décor.
What wedding fabrics look the most feminine, romantic? What wedding dress decor gives a romantic feel?
No matter what style of a romantic wedding dress you choose, it must be light, comfortable, made of exquisite fabrics, and decorated with the most lavish decorations. The romantic wedding gowns are usually airy, made of light materials. Without a doubt, the most feminine fabrics to match with the bride's romantic style are natural organza, delicate lace, flowy chiffon and soft tulle. These textures are light-weight and look dainty. Florals, exquisite embellishments, and lace details will add a dreamy touch to your wedding gown.
For example, a classic wedding dress made of organza and decorated with elegant floral appliques will add a sweet romance to your bridal look. Or a little sash with Swarovski crystals will provide a more poetic feel to romantic lace wedding dresses. Gradient floral embellishments on the bodice of a flowy chiffon dress will create a super trendy romantic style. Finally, a lace border on the bottom of a tulle ball gown will give a royal bridal look that is timelessly elegant. For a whimsical classic fairy-tale look, pair a romantic wedding gown with a beautiful floral crown.
In addition to that, you can experiment with blush or dusty rose colors of wedding dresses for a bold romantic style. Or following new bridal trends, you may even choose nude-lining over sheer lace to show off your romantic side in a sensual way.
Here are the dreamiest romantic wedding dresses from Papilio bridal and evening collections: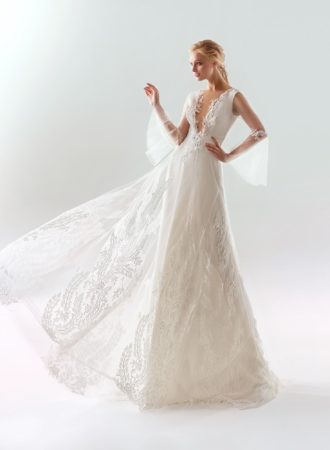 Style #1908 from Papilio new bridal collection is a lace wedding dress with deep V-neckline and illusion sleeves that will show off your confidence and illustrate your romantic side
Style #1538  from Hellas collection is a sheath style wedding dress with the lace skirt tiered down to the floor. Fall in love with its sheer removable top you can use for a ceremony and take for a party.
Style #1703 from Wings of Love collection has a flowy crepe skirt that makes this wedding dress look whimsical. The delicate touch of blush flowers on its top unquestionably adds a romantic vibe.
Style #1748 from Wings of Love collection is an A-line wedding dress with beautiful lace top and lace applique on its skirt embroidered with beading. These exquisite details give a romantic personality to this wedding gown.
Style #1804L from Wonderland collection is a classy lace mermaid wedding gown with sweetheart neckline. The blush lining gives a fashionable touch to this dreamy silhouette.
Style #202 from Nightglow collection, blush is a stylish color for a romantic wedding dress. This evening gown is the perfect combination of soft tulle and elegant lace applique. Just about right!
Style #1803L from Wonderland collection is a stunning wedding gown with lace applique on its bodice and lace border on its skirt. That will give any romantic bride a sweet and tasteful bridal look.
Style #1654 from Swan Princess collection is available in blush and ivory colors. Its classy A-line silhouette with long sleeves will make you look sophisticated and add genuinely noble character to your bridal look.
Style #1631L from Swan Princess collection is a ball gown that features lace bodice with off the shoulder neckline. It is not only sexy but passionate and super romantic. A crisp of its tulle skirt will add a feeling of sensation while you are walking down the aisle.
Style #1534L from Hellas collection is a ball gown with the pleated bodice and tiered skirt made of organza. A little bling on a waistline combines a romantic feel and royal look that feature your happily ever after.
Our advice to a romantic bride who is looking for the wedding dress of her dreams.
If you are a romantic bride looking for the dreamy romantic wedding dress, keep in mind the dress style, its decor, and fabrics used. Make sure the combination of detailing of your wedding dress emphasizes "romance." For example, lace and tulle wedding dress represents the most traditional, fairy-tale and romantic style. However, 3D flowers and appliques will soften the style and make it more playful and sweet looking.
Good luck in finding your perfect wedding dress!
With Love,
Papilio Team