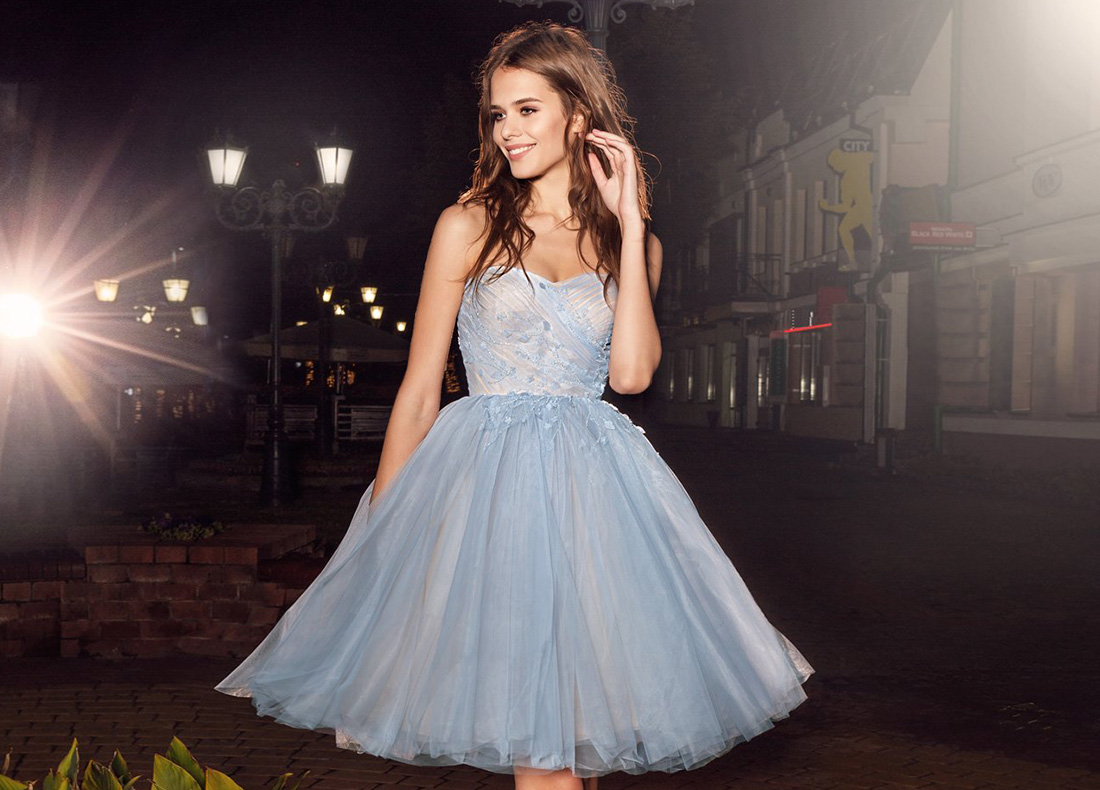 Hopefully, you have already done some work on the prom dress style that works for your body type. Here are some additional considerations. If you are a petite girl, think about cocktail dresses. Any short cocktail dress with a full skirt will make you look adorable on your prom night. If you are slim and tall, then a sheath style evening gown will be perfect. Girls with curves, we will recommend a-line evening dresses that accentuate waistline and hide hips and thighs.  As soon as you have narrowed down the prom dresses styles, try them on in a variety of colors.
Choosing a color for your prom dress depends on your personality. It is all about what image or mood you want to express. If you are bold and like to be the centre of attention, a vivid red color will be ideal. If you want to look classy and sophisticated, consider wearing a black or burgundy maxi dress. Do you want to look confident on your graduation night? – Think of all shades of blue. Pink or purple colors will always be fun; you will look cute and bubbly. Gold and silver are extremely fashionable when it comes to party dresses and outfits.
However, the color of your prom dress must complete and flatter your hair color, eyes, face shape and figure. Some girls look amazing in yellow, but some avoid this color. Blond girls with blue eyes will look amazing in red, pink and black. Girls with brown hair and brown eyes will stand out in blue, purple, and green. Black and white prom dresses and outfits are universal, everyone would look elegant and classic.
After buying your prom dress, start looking for a good seamstress in advance. It will allow you to do the necessary adjustments without rushing and stressing out. Remember if needed, alterations may require up to 4 weeks.
Accessories play an important role in your graduation look! The key is to maintain a good balance between the color of your prom dress and accessories. Bright prom dresses are very attractive, eye-catching! Do not pair bright color prom dresses with bright color shoes, purse, or jewelry, you will just end up looking funny. For example, a red prom dress will look perfect with gold earrings or bracelet and pastel color shoes. If you have a bright purse, jewelry, or a pair of shoes, consider a neutral shade of graduation dresses.
Start shopping for accessories at least 2 months before your prom. Try your shoes, bag and accessories with your dress all together. If you do not like something, you will have enough time to search for alternatives. When it comes to shoes, a nice pair of high heels will make your look a bit taller, slender, and graceful. But do not wear heels that are too high for you, you can easily trip and fall. Having a pair of flats you can change into later will allow you to dance all night.
Be careful with your jewelry; try to find the right balance. It is easy to ruin the look of your prom dress and make it look cluttered with extra ornaments. For example, if a prom dress is simple, a statement necklace will help to finish the graduation look, and make you look stylish and sophisticated.
Dreaming about the prom dress you think no store will have? Check Papilio evening fashion collections! You will find the most fashionable styles available in the hottest colors. And remember, have fun on your prom and take a million pictures to capture this special moment in your life.
With Love, Papilio