Alena Goretskaya is talking about the process of creating designer wedding dresses and evening gowns as well as her inspiration for Papilio latest bridal collection – Wonderland. Reading this interview, you will find out more not only about the timelines of developing new collection but also about trends, fabrics, and quality control at Papilio. Being the chief designer and the owner of Papilio Fashion House, Alena transformed the company from its humble beginnings to the brand with the world recognition. At the moment Papilio is represented in more than 170 cities and continues growing. More and more women all over the world choose the brand for its unique style, impeccable quality, and reasonable prices. Alena Goretskaya is exceptionally talented, hardworking and extremely dedicated. She sets high standards and gains success with every new line of designer evening gowns and wedding dresses.
What is the process of creating a new fashion collection?
The creation of new designs usually begins with a careful selection of fabrics and materials. Every year we attend one of the biggest textile fairs in Paris to get inspired and visualize our ideas and current trends. After that, we work in our design lab on sketching for a particular fabric, developing a prototype, and selecting its best furnishing and decor. As soon as the new style is finalized, we redraw its sketch and make the first sample. Every design gets approved by the team of designers. If we think that it must be improved or changed, we start the process all over again. Overall, it is complicated and laborious work. That's why it takes from eight to ten months to launch a new collection of designer wedding gowns or eveningwear.
How do you select fabrics and materials for your collections?
First of all, we only work with fabrics we like and want to create using these textiles. Quality, texture, and color play the significant role because they usually determine a design, style, fit. Price is also important to us. Papilio's philosophy is 'design and quality should be sacrificed for a price!' That's why we spend almost from three to six months finding the best fabrics and materials to offer high-quality garments that are still affordable to the average bride.
How do you select furnishings and decor for each dress?
It is determined at the stage of creating the first sample of a particular design. It can be lace appliques, hand-made flowers, unique embroideries, or beading. All Papilio designs feature an exclusive decor that is made by hands of our talented decorators. That makes Papilio collections to stand-out and be truly unique.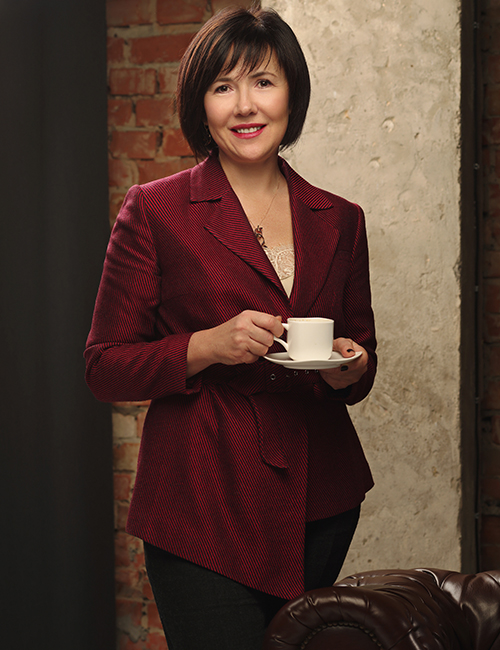 Talent hits a target no one else can hit. Genius hits a target no one else can see. – Arthur Schopenhauer
Where do you find inspiration/vision for new styles?
It depends. Sometimes it can be solely a beautiful fabric. For example, delicate Frech lace I want to use. Or it can be a pretty girl that I would like to dress up. I also get inspired by different forms of arts and cultures. I love classic painting, theater. At the same time, I admire modern photography and contemporary design.
How long does it take to launch a new collection?
At Papilio, we have a big team of designers. However, it takes from eight to ten months to introduce a new collection. We try to offer minimum 25 designer wedding gowns and 25 styles of designer eveningwear every season. At the moment, we have already started working on 2019 bridal collection. The full preview will be soon available for brides-to-be.
How long does it take to make each dress? Can you describe the process in more details?
As I've mentioned, we make the first samples in the design lab. As soon as we have a detailed sketch, the whole process takes approximately up to six weeks. Further, a particular design can be changed or improved. After the style is finalized and approved, our production team will start developing patterns, gradate sizes and prepare technical documentation for future production. This process must produce the detailed specification for each design to ensure the superior quality of each garment by Papilio. Before launching a style into production, we test it on mannequins and real models. It is quite a lengthy process, but it makes our lives more excited every day.
How do you control quality?

First of all, we do not mass produce. Every single dress is handmade for a client. That's why we only work with special orders. We require high professionalism and more attention from every employee.
Most of them have been working in the industry for more than ten years, and have an enormous experience in making designer wedding dresses and designer evening gowns. After a garment is made, it is sent to the quality control department. It is a separate team that is 100% responsible for the quality of Papilio dresses before they get shipped to clients worldwide.
What styles/trends are reflected in the latest collection Wonderland?
The source of inspiration for this collection was unification with the nature and magical transfer to the world of Wonderland, full of beautiful flowers and plants and filled with the magic of girls' dreams. Wonderland is dedicated to all romantic girls, 'Alices in Wonderland,' dreamers with a subtle feeling of beauty and harmony. It features a lot of luxurious textures, voluminous flower decor and pastel colors that are so popular for the second season. Floral elements make intricate patterns on dresses. 'Tree branches' descend gracefully from top to bottom. 3D flowers with petals softly tremble with every move. We used warm pastel hues: nude, caramel, blush, as well as light green, and smoky blue, and, of course, offered every style in favorite ivory and classy white colors. The collection wants to relocate us in magical, breathtaking, fantastic world with natural life-giving force and impressive flora, which the designer tried to transfer on all dresses.
Checking Papilio bridal and eveningwear collections, you will notice a right balance of different styles of designer wedding dresses and evening gowns, from classy to fashion-forwarded and super couture bridal styles. Stay tuned, because we are working on something incredible!