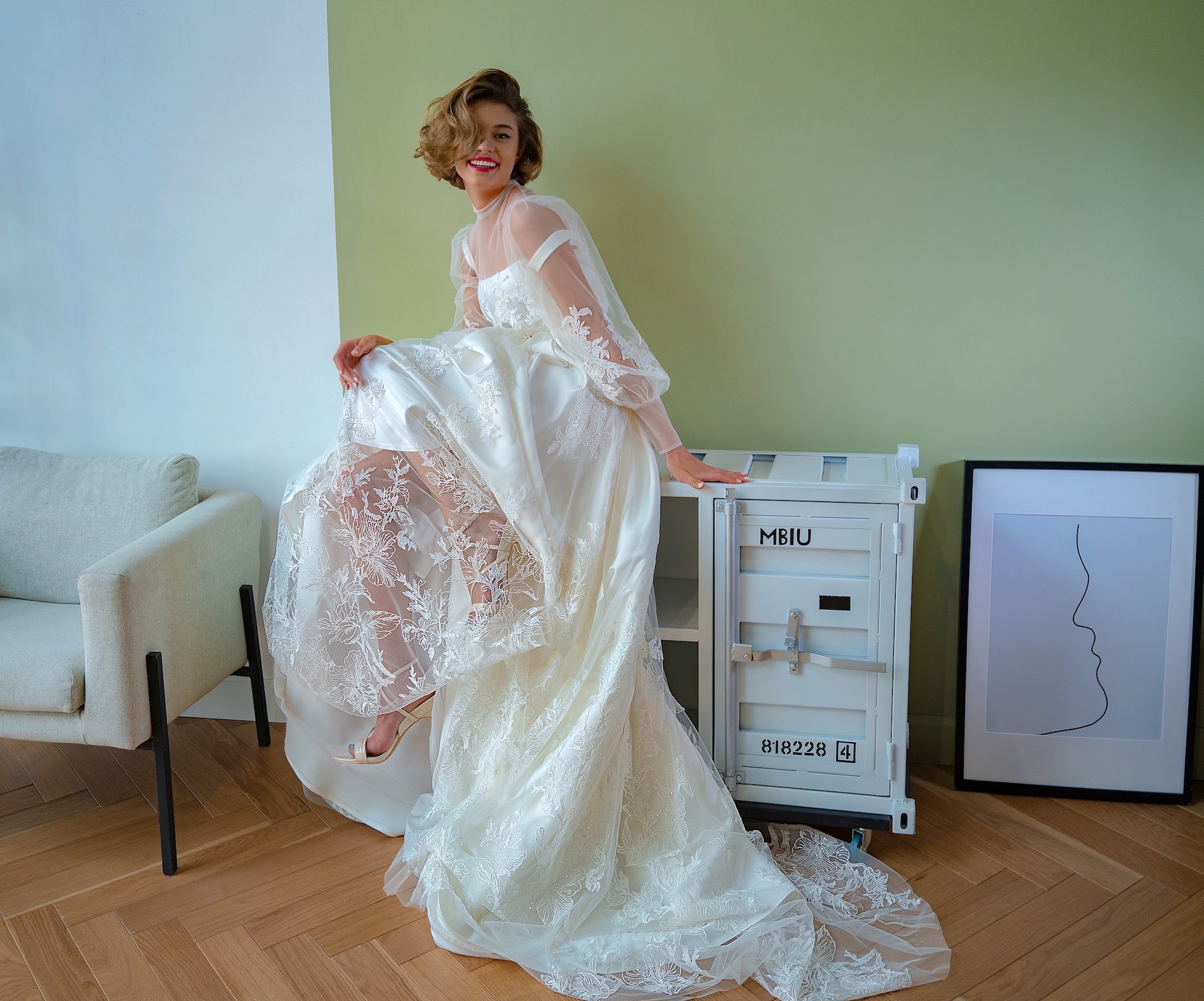 FROM CLASSY, TIMELESS WEDDING DRESSES TO VINTAGE LACE GOWNS,
our bridal collection has a wedding dress to suit every style.
Lace has been and still is one of the main component materials used to create luxurious wedding dresses. From a full lace wedding gown to only a dress with lace sleeves, bridal designers have used a variety of creative ways to incorporate this remarkable fabric into their works for a very long time. This blog presents more than 20 different styles of lace wedding dresses from our current and previous bridal collections. Enjoy!
LACE BODICE WEDDING DRESSES
Lace wedding dresses are trendy among Papilio brides and all brides, for that matter. A lace bodice is one of the most common ways used in lace wedding dress designs. At Papilio, we have a lot of unique designs featuring lace bodices. We selected our top picks from our bridal collection. From long sleeves to sleeveless, wedding dresses with lace bodices accentuate a bride's top and create an ultra-romantic look and feel. To find out the best bodice for their dresses, our brides usually try on a couple of different styles and choose the one that flatters their upper body the most. 
LACE SLEEVES WEDDING DRESSES
A classic and chic addition to your wedding gown can be lace sleeves. One of the recent hot trends in wedding dress fashion is puffy lace sleeves which can come in various shapes and lengths. Below we have provided a good range of styles if you are looking for a wedding dress with lace sleeves. Some examples are stylish balloon sleeves, bishop sleeves, and cap sleeves made of lace or decorated with lace. Despite new trends, a wedding dress with a classic fitted sleeve is still one of the most sought-after bridal styles. We hope these designs of lace sleeves bridal gowns inspire you on your wedding dress shopping journey.
LACE SKIRT WEDDING DRESSES
Lace skirt wedding gowns come in a variety of combinations with other elements of dress design. Bridal designers can pair it either with lace sleeves or only with a lace skirt alone. Over time, we have seen that lace has been used in a less crowded manner and mainly as decor on a plain skirt. Yet, there are many different ways our brides can express their fashionable taste and personality through their wedding dresses. For example, style #2206 from our 2022 Vanilla Life bridal collection has an all-lace skirt with a simple plain top. It allows this wedding dress to stay true to its classical nature yet adds a modern take to its design and fits the taste of any stylish bride. Below, you can find more lace skirt wedding dresses that are divine.
The world is your oyster when it comes to lace, so explore and discover the perfect lace wedding dress for your special day!
ALL THE WAY LACE WEDDING DRESSES
Speaking of timeless, let's look at classical lace wedding gowns. All-the-way lace wedding dresses are made for all traditional brides out there with a special love for this luxurious material. You can experience luxury and quality wearing one of our detailed and elaborated all-the-way lace wedding dresses. Such gowns come in various bridal styles, from ballgown lace dresses to A-line to fit and flare. All lace wedding dresses exude class and are perfect for big weddings in a church or banquet hall.
FLORAL LACE WEDDING DRESSES
Our designers are obsessed with floral lace wedding dresses. Floral lace is the epitome of femininity when used on bridal dresses. Floral lace wedding dresses have become extremely popular with our brides in the past years. Some bridal gowns can have 3D lace flowers decorating the skirt, like Style#1812 from the Wonderland collection. However, floral lace can be used as many different elements of a wedding dress design. It can be a lace corset, sleeves, sash, etc. For example, in Style#2227L from the Vanilla Life collection, designers incorporated floral lace while creating the dress's sleeves. This simple and elegant wedding dress became a statement right away.
BOHEMIAN LACE WEDDING DRESSES
Lately, many brides have been looking for bohemian wedding dresses. One of the famous bridal fashion trends is lace wedding dresses with an old-fashioned, vintage vibe. Bridal designers use more and more lace to create one-of-a-kind trendy boho wedding dresses. Easily detachable through their flared sleeves, ruffled skirts, or beadwork, bohemian lace wedding dresses are perfect for many different bridal locations like a farm, barn or beach wedding. Due to the flexibility of this bridal style, our brides tend to pick and choose bohemian lace wedding dresses for their weddings effortlessly.
A lace wedding dress is a true labour of love, and our collection truly shows commitment of our designers to bring unique styles every season.  
LACE APPLIQUE WEDDING DRESSES
A modern take on the all-the-way lace wedding dresses is just using lace appliques. Through the pandemic, the fashion industry has favoured simple bridal looks. Many of our clients tend to search for simple wedding dresses. If you are not looking for an elaborate wedding dress, prefer the uncomplicated bridal design, and like a little bit of spice on your dress, wedding dresses with lace applique will be the way to go. You can aim for floral lace applique or beaded lace applique. In any way, bridal designs with lace appliques always look absolutely sophisticated.
MODERN LACE WEDDING DRESS
Modern lace wedding dresses usually have a classy feel with a trendy twist. These types of wedding dresses showcase all the current bridal trends. It can be a lace wedding dress with a square neckline, pockets, or a lace cape. Lace plays an essential role in romanticizing such wedding dresses. If you choose a modern lace wedding dress, you will look fashionable and stylish and at the same time elegant and romantic. For example, style #13005 is a simple, modern wedding gown with a lace design. The significance of this style's design is its hidden pockets and the layer of beautiful lace on its skirt. Check out our other styles below to better understand the essence of modern lace wedding dresses.
SIMPLE LACE WEDDING DRESSES
Some may mistake simple lace wedding dresses with modern bridal gowns. Thus, it is essential to understand that simple wedding dresses are true to their simple lines and tend to avoid complicated design elements. They are usually sheath or A-line wedding dresses, with flowy chiffon or tulle skirts. The bodices of such dresses often embrace beautiful lacework in order to add more character to those simple lace gowns. We have created a small lookbook for you to see the importance of lace, no matter how minimal it is, on the look of the dress since it is a lace that genuinely separates a simple wedding dress from a white dress.
VINTAGE LACE WEDDING DRESSES
In terms of style, vintage lace wedding dresses are the exact opposite of simple lace gowns. Vintage lace wedding dresses may use a lot of lace, and the lace itself has a very intricate floral or another pattern. Moreover, such wedding gowns tend to be more conservative. Some may have fitted sleeves and covered necklines, and others can be sleeveless A-line designs. Get inspired by these vintage lace wedding dresses.
No matter how you choose to wear lace, we guarantee that the minute you step into one of these gowns, you will feel like the beautiful bride.