We launched our new collection of evening gowns and decided to prepare a blog post that consists of special occasion dress ideas and some tips on finding the perfect evening dress for your next event. Whether you are looking for a simple evening gown to celebrate your anniversary in style, or an engagement dress that gives you a glamorous and sexy vibe, or a modern mother of the bride or groom design that will make you look glowing and perfect, get inspired by our new fashionable designs from Galatea Collection. Your closet must have at least one or two, or maybe three, unique evening dresses you can wear for special occasions in your life. 
Galatea Collection features evening gowns in different colours, textures and styles. Every design comes in multiple colours and lengths, from mini skirts to maxi evening gowns. Browsing this fashion line, you will notice that this time there is a dress to go with whatever occasion you are attending in the future. Our designers thought about every special event and offered various beautiful prom dresses, charming engagement gowns, and fashionable designs of mother of bride/groom outfits. They also provided an extensive selection of pretty cocktail dresses that you can wear as a wedding guest. In terms of colours, there are so many options that it will be hard to decide which shade of your favourite evening dress to pick. Classy black, rich navy blue, forest green, bright red, or light pastels… – so many versatile choices!
Tip #1: Opt for a classy and elegant evening gown design!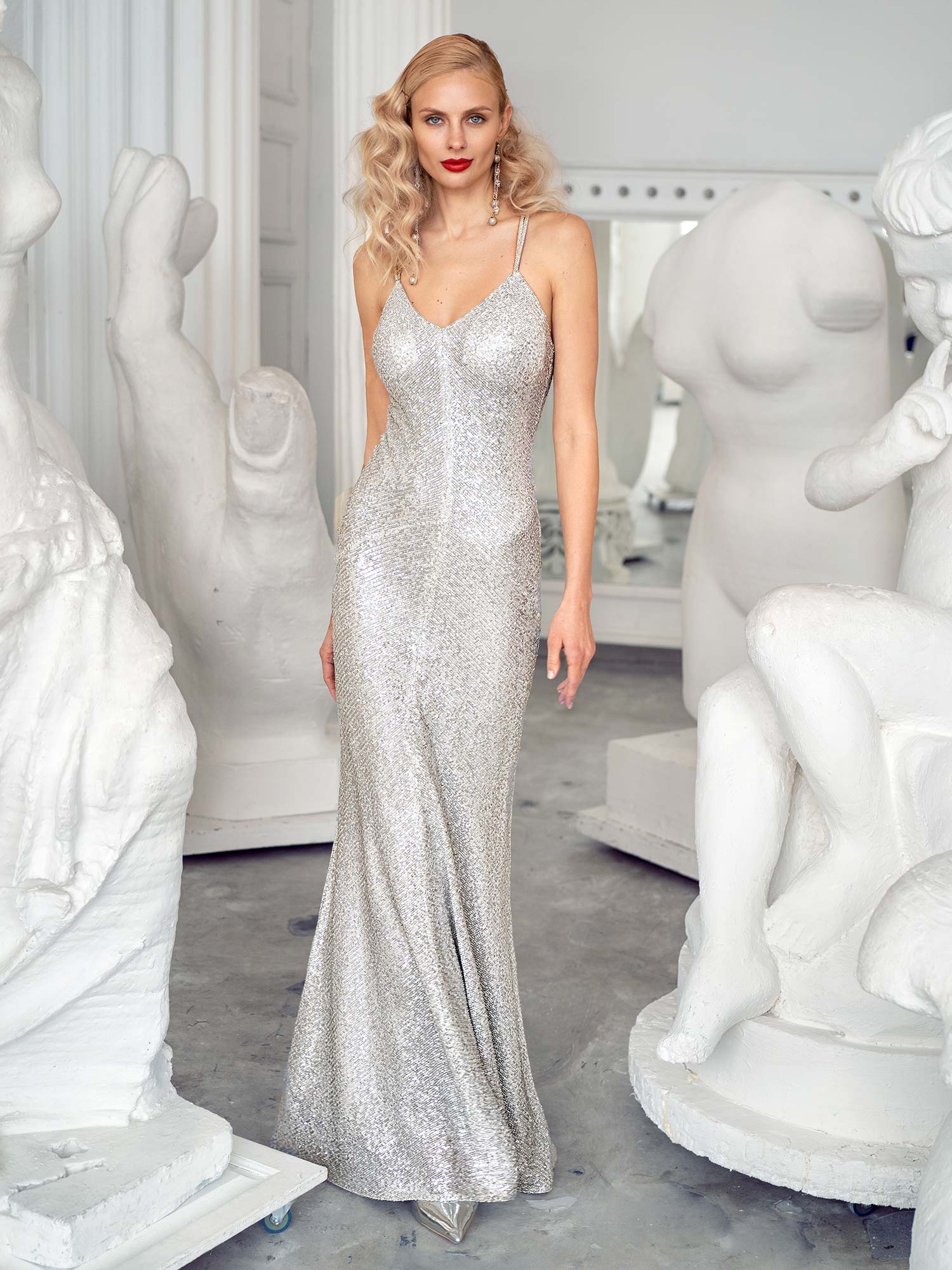 When choosing the right evening dress, we recommend picking a classic and timeless one. First of all, your dress will never go out of style. Secondly, it will give you a more graceful and elegant feel. All the designs in this collection are genuinely flattering formal evening gowns that are both chic and sophisticated. They are timeless and, at the same time, modern and stylish. Without a doubt, you will be able to wear one of these gowns often. That's why it is worth investing in good-quality designer evening gowns. 
While choosing an evening dress, it is all about these focal points: occasion, your figure and complexion.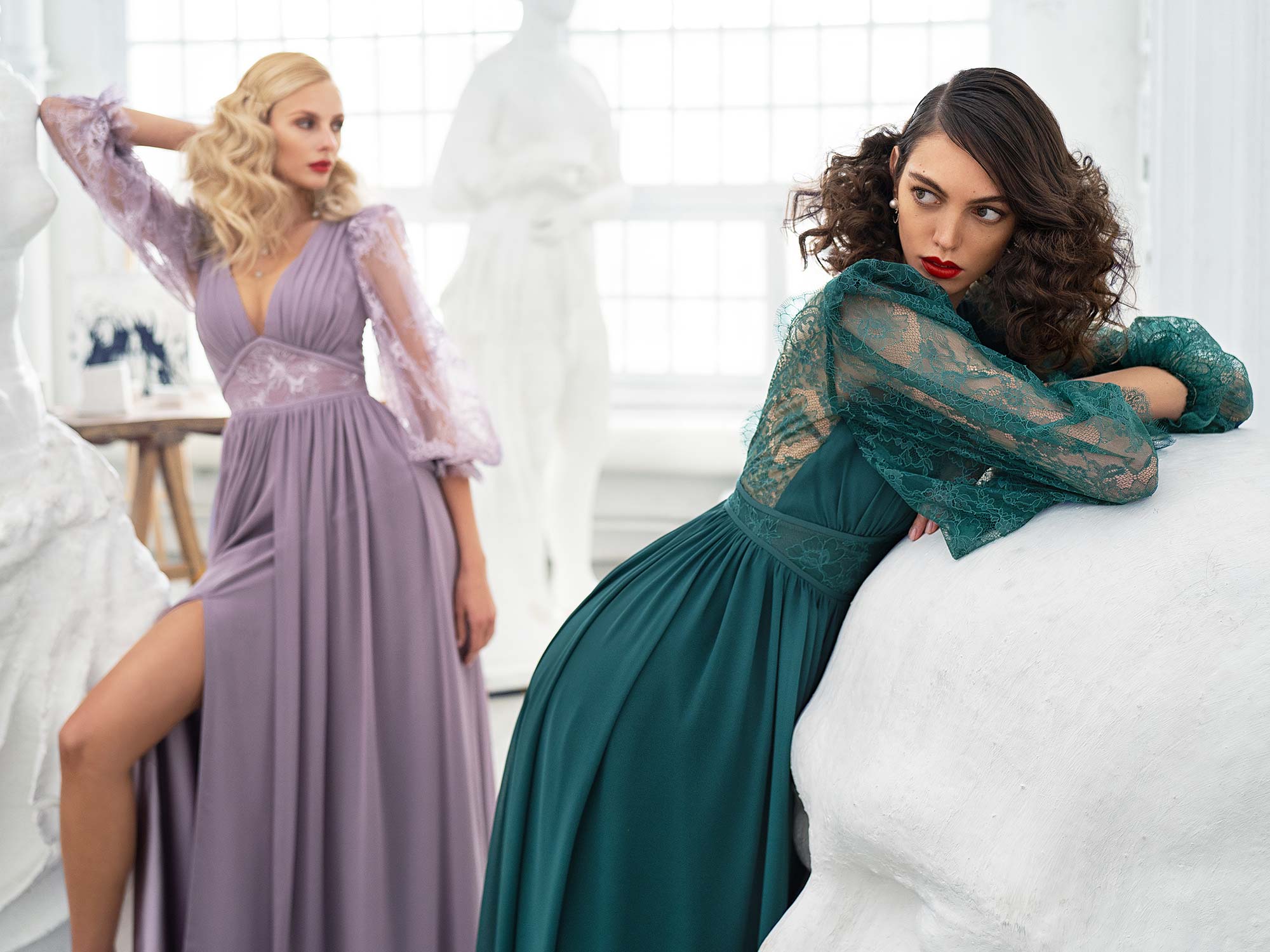 Tip #2: Ask yourself – "Are You Wearing The Dress or Is The Dress Wearing You?"
It can often happen that an evening gown gets more attention than the woman wearing it. Do not try to choose something fashionable without considering your figure and complexion. The dress you pick must be flattering and accentuate your best features. If you have fair skin, bright colours like yellow will not suit you. However, you will look stunning in dark red or burgundy. You can also try a fuchsia evening dress or gowns in vivid cool colours like emerald green, cobalt, or midnight blue. 
Our experienced consultant will guide you on choosing the best possible fit for an evening gown.
Tip #3: Pick a dress style that flatters your body shape. This way, you will look and feel confident and attractive.
If you have a rectangular body shape, you will look great in an A-line evening dress. You can also choose a sweetheart neckline to add an emphasis to your upper body. If you are apple-shaped, you can try on a cocktail dress made of soft, flowy material, and we will also recommend avoiding loose and shapeless evening dresses. In case your upper body is smaller than your lower body, you have a so-called pear shape. You can emphasize your upper body by wearing an evening dress with a corset or having eye-catching decor on the top of your gown. For ladies with an hourglass shape, it is all about flaunting their assets. We suggest looking for an evening dress with a defined waistline and showing off your cleavage by not wearing high necklines. 
There are so many things to consider! Do not worry – at Papilio, we work by private appointments, where our trained consultants can help you choose a perfect dress that will make you shine.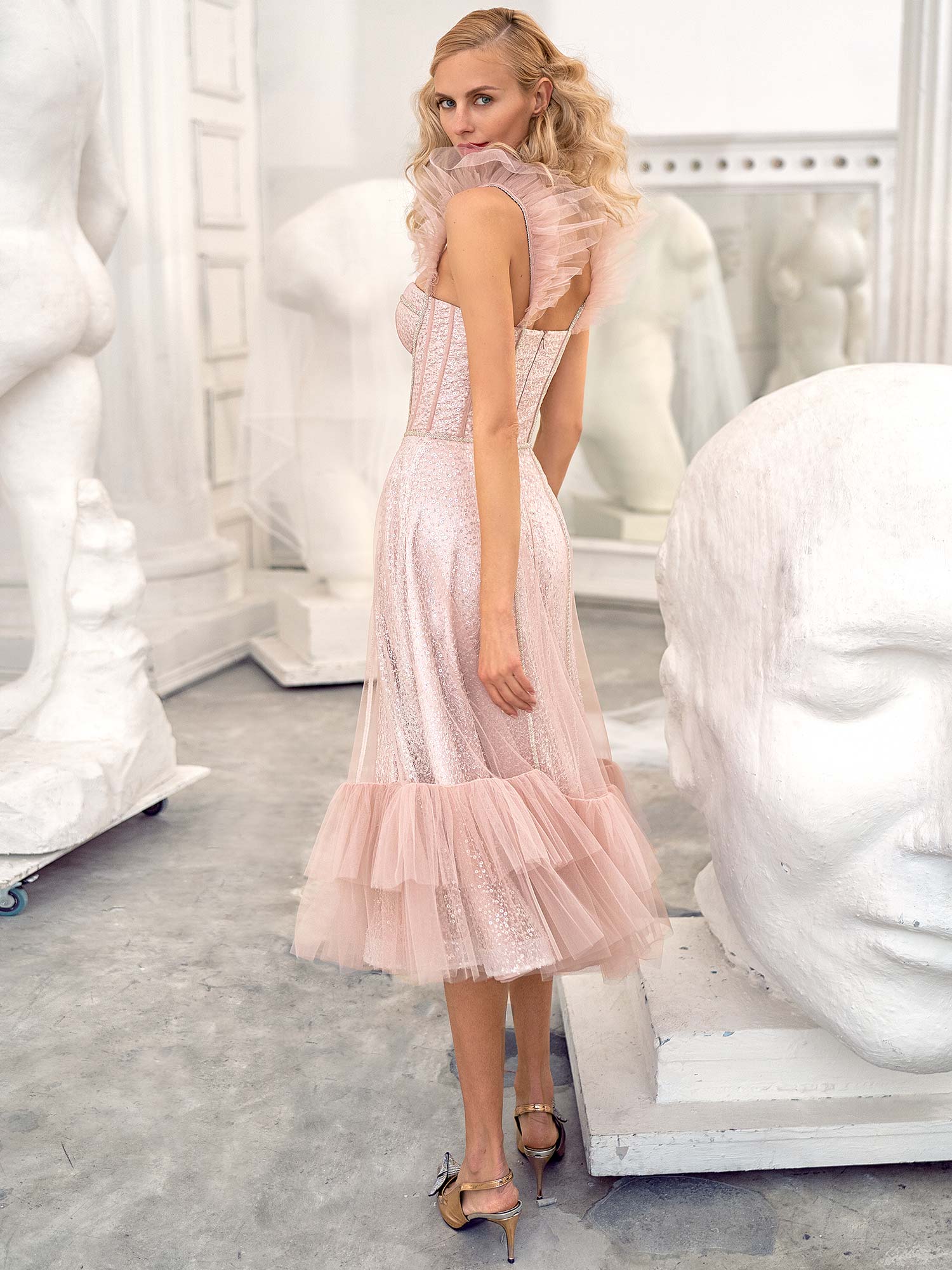 Tip #4: Find a suitable formal gown with your next big social event in mind!
It is vital to choose an evening dress appropriate for the event at hand, reflecting your taste and following etiquette. For example, if you attend a wedding, you should not wear a white or ivory dress. When you are searching for an evening dress, find the one that has the suitable cut and fits the occasion perfectly. No matter how elegant the dress you like is, not every attire is proper for all events. If you are going to an office evening party, select a sleek pantsuit rather than a mini dress or an evening gown with bareback. A lot also depends on the company in which you will be spending your evening.
Tip #5: Consider your accessories while buying an evening gown. You can choose to dress it up or down with accessories!
Accessories are a woman's best friend! They are a great way to add sparkle to your look. For example, a pair of edge earrings and shimmering heels will give a simple evening dress a boost of style. It is wise to think of your accessories while shopping for an evening gown. This way, your entire assemble will work wonderfully together, and you will not need to buy anything extra. 
While shopping for an evening dress, a general rule is if an evening gown has elaborate details, stick to simple accessories to avoid a cluttered look. On the contrary, if your evening dress is modest, you can add a touch of drama by wearing, for example, statement jewellery. Remember, accessories can change your entire fashion appearance. The same dress will look completely different paired with a new pair of shoes, other clutch and shawl. However, do not be afraid to experiment!
Tip #6: Always give priority to designer evening gowns!
While browsing online, you may find a lot of cheap options for evening gowns. Trading off design-quality evening gowns for more inexpensive dresses can lead to a big disaster. We had a few clients who ordered evening dresses from an unknown dress website in the past and received their garments that looked nothing like their pictures online. It caused a lot of stress to find a new evening dress urgently. Be aware of this factor while shopping for evening dresses online. 
At Papilio, evening gowns are designed by an experienced team of professionals and superior in style and quality. Our dresses feature flattering fits, neat seams and a beautiful overall structure. Evening gowns in our collections take months to develop and are made of higher quality fabrics and embellishments from Europe. On average, evening gowns at Papilio range from $500 to $1500, depending on the material used. If the price is your primary concern, we recommend checking our sample sale section.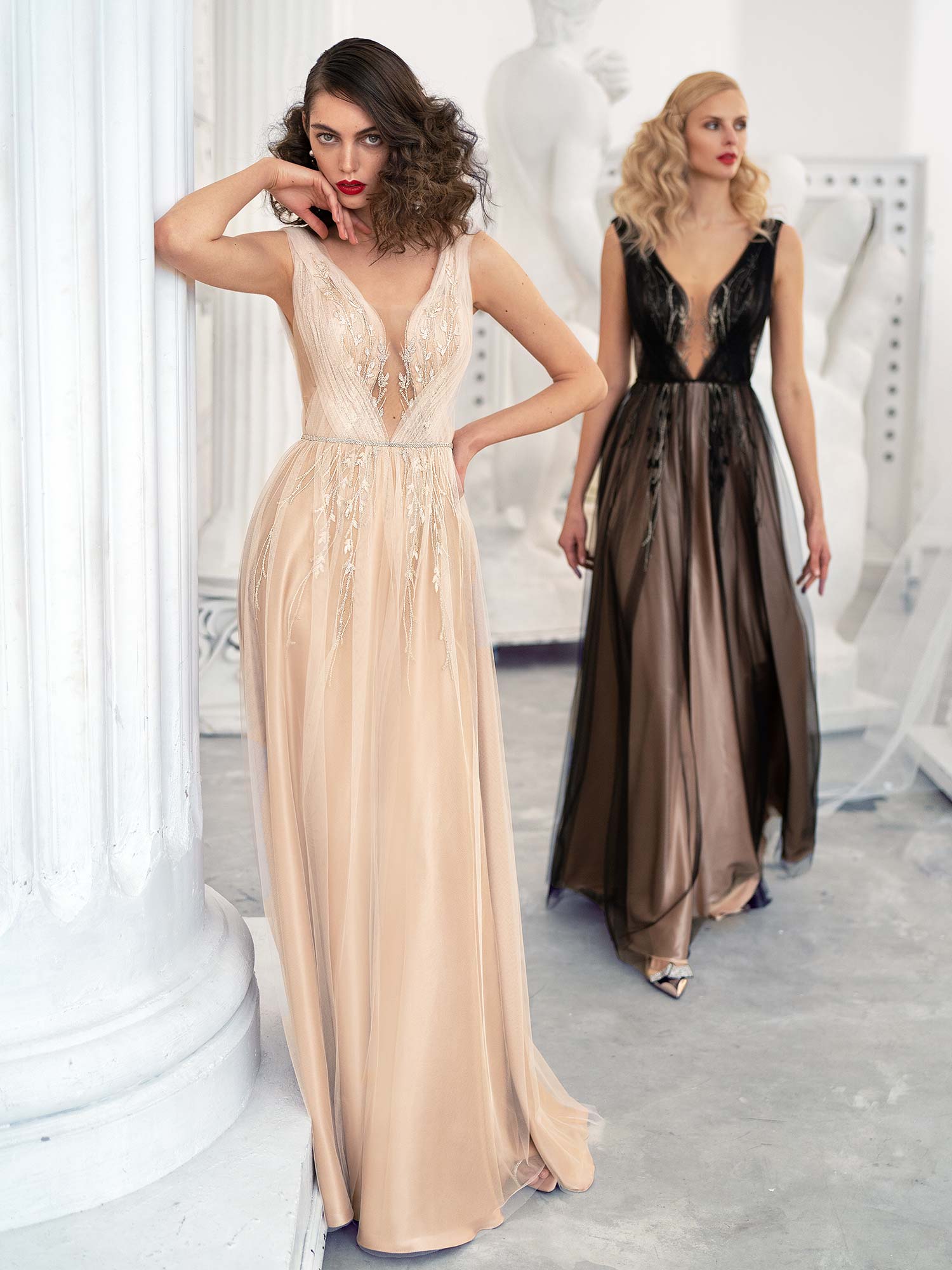 Tip #7: Recognize that alterations are pretty much always necessary when you purchase formal attire. 
It is hard to find an evening dress off-the-rack that will fit you perfectly. You will need to do alterations for the best possible fit and adjust your dress to your actual measurements. Sometimes clients are surprised by this requirement of alterations. It is simply because they are not used to buy formal evening dresses. We offer in-house alterations. During your alterations appointment, our tailors will make the process as easy as possible. 
At Papilio, we will help you determine the maximally comparable size to your actual measurements. We offer a detailed size guide on our website to help you buy our dresses online. You should never purchase an evening gown that is too big or, especially, too small in size. Make sure to buy your exact size, and if you shed a few pounds, you can always alter your dress. If you choose a fitted evening dress, we also suggest that you invest in a good quality shape-wear to smooth some bumps and look fantastic instead.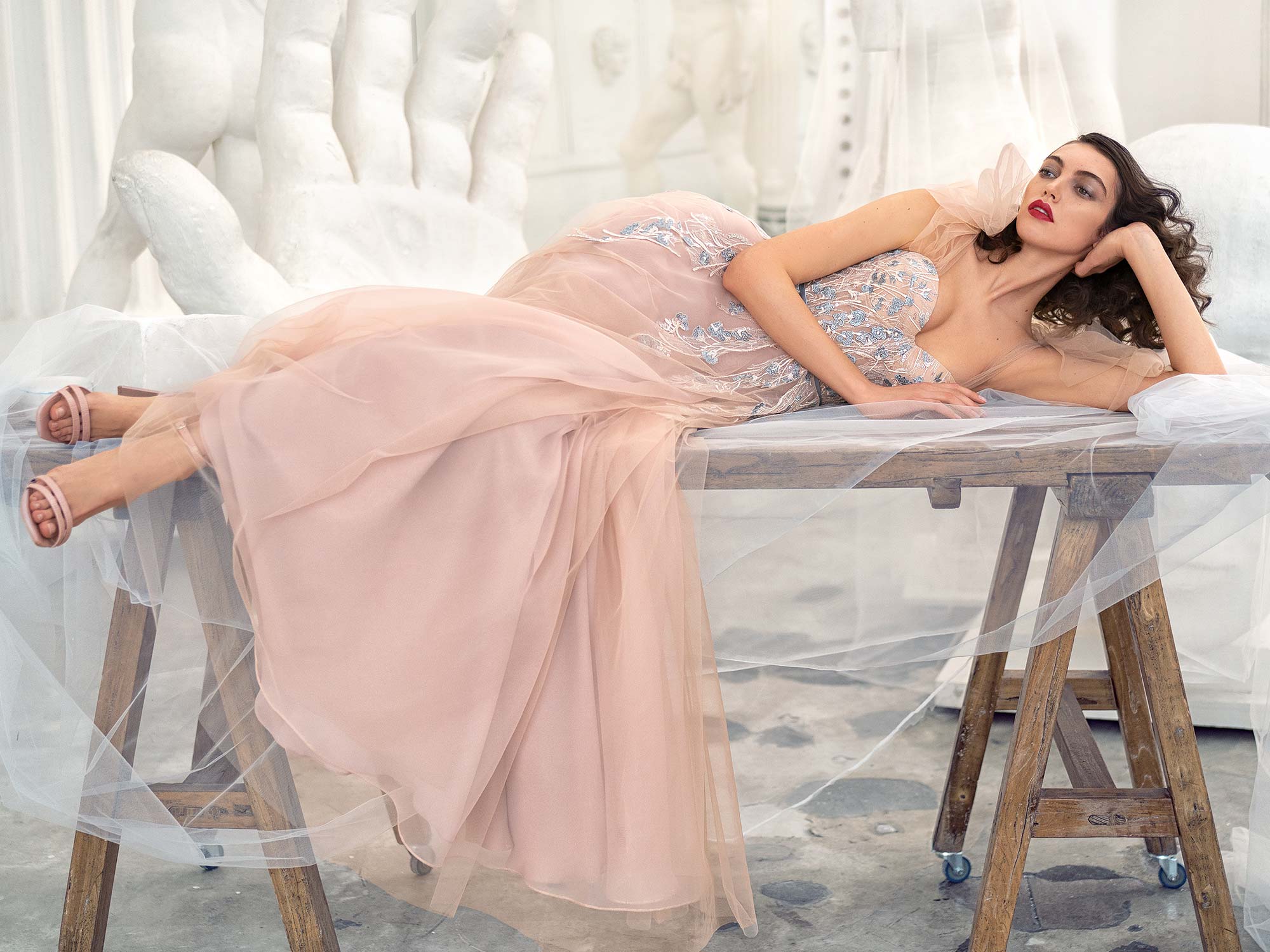 Tip #8: Consider dress fabric while selecting an evening gown. 
The way a dress fabric drapes around your figure and falls naturally will impact your overall fashion look. While tulle is more crisp and firm, chiffon is softer and flowier. Our skilled consultants will advise you on what fabric is more suitable for your structure and height. For example, if you have a slimmer body type, you can certainly choose a tulle evening gown. On the contrary, if you have a heavier structure, tulle may add extra pounds to your look and make you seem bulkier. One more factor to consider while looking for an evening gown made of suitable fabric is the weather when you plan to wear it. Think of heavier, thicker (and warmer) fabrics during colder months, like satin, taffeta, brocade, and velvet. During the spring or summer, go for lighter, thinner (and cooler) fabrics, like silk, organza and chiffon. Each fabric will create a unique look and feel for any evening dress. It also can set the fashion tone, feel and mood for your entire celebration!
At Papilio, we offer evening gowns for all ages and sizes. Our evening fashion collections feature more than 500 designs. If you feel confused about choosing a perfect one, give us a call at +1 (647) 748-1908, and we will guide you. When you find the right dress, you will feel beautiful and confident because it will bring out your best features and make you happy to show them off.