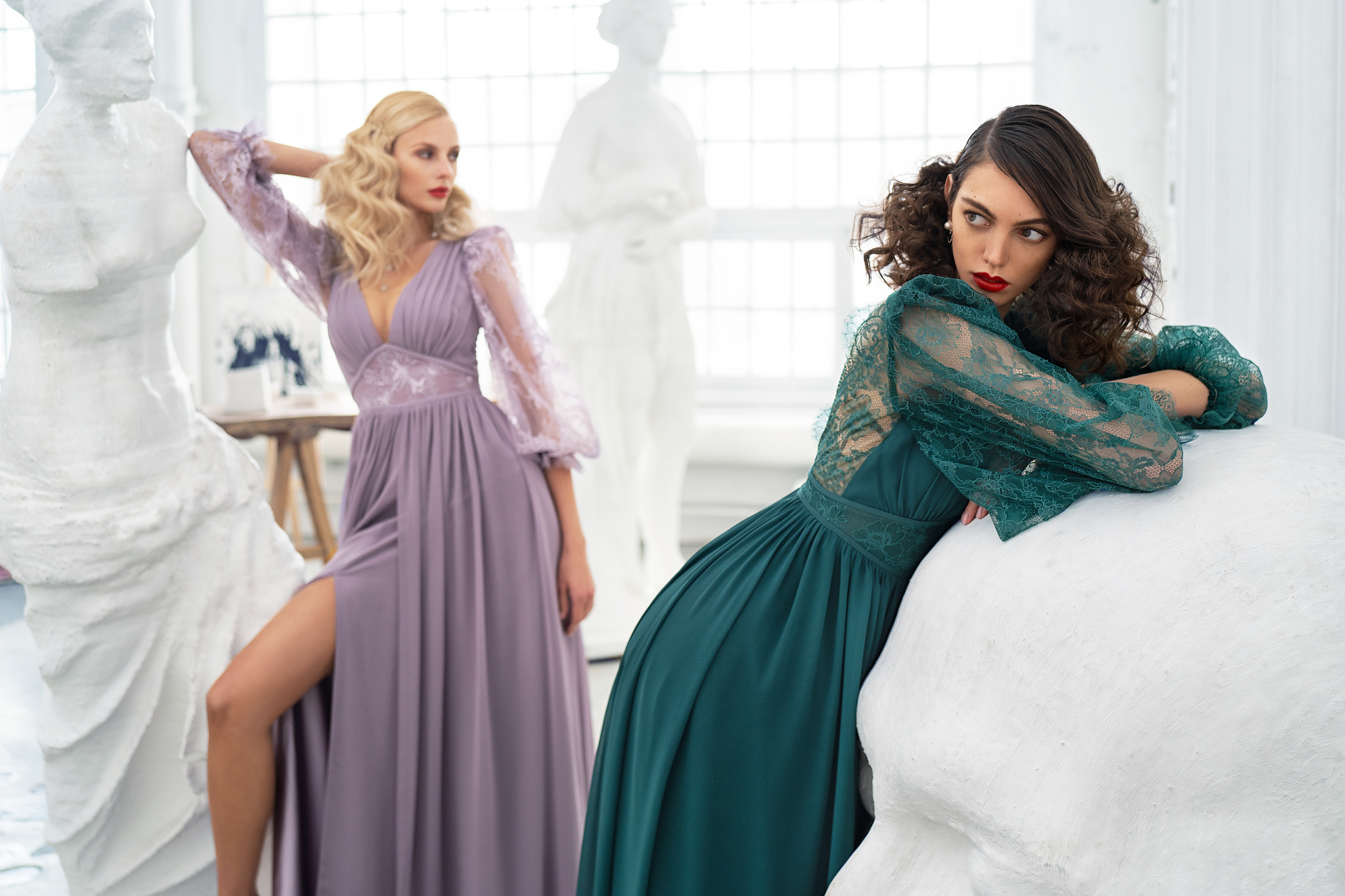 Many women may get frustrated while shopping for formal dresses to wear to a special occasion such as a wedding or Prom. We are not surprised because our designers use so many fabrics to create women's formal dresses for weddings, Prom, and other important life events that you can easily get lost. Choosing a suitable material may definitely help you to decide on a flattering and comfortable dress silhouette that will be appropriate for your upcoming celebration. Our 'Guide to Fabrics' will help you learn about different fabrics and find a perfect formal dress, including wedding guest dresses, prom dresses, bridesmaid dresses, evening gowns, cocktail and party dresses.
Remember to select a dress fabric that complements your shape, fits your personal style, and works for the setting of your special occasion and, of course, the season of your event. 
There are a few things to remember before we dive into different dress fabrics. First of all, think of the time of the year before buying a formal dress. For example, are you attending a winter or a fall wedding? Consider heavier, thicker, and 'warmer' fabrics like Italian lace, satin, taffeta, or Velvet. Those materials will be more suitable for a colder season. If it is a spring or summer wedding, you can choose a formal dress that is made of lighter, thinner, and 'cooler' fabrics, like French lace, silk, organza or chiffon.
Moreover, it is essential to remember that each fabric creates its unique look and feel for a formal dress. The same design will never look the same when it is made of two different materials. Besides, each fabric can also set a fashion tone and mood for your entire celebration or night out! Another crucial thing to recognize is your dress's budget. Your fabric choice will 100% influence the price of the formal dress you like. In general, two main factors that drive the cost of our formal gowns. The first one is fabrics and decor we use to produce a particular dress, and the second is the amount of handwork evolved in creating embellishment and dress furnishings. Please note that manufactured fibres like polyester, rayon, nylon etc., are usually cheaper. On the contrary, natural fibres, like, for example, silk, always cost way more for formal dresses.
Formal Dresses – 'Guide to Fabrics,' from A to Z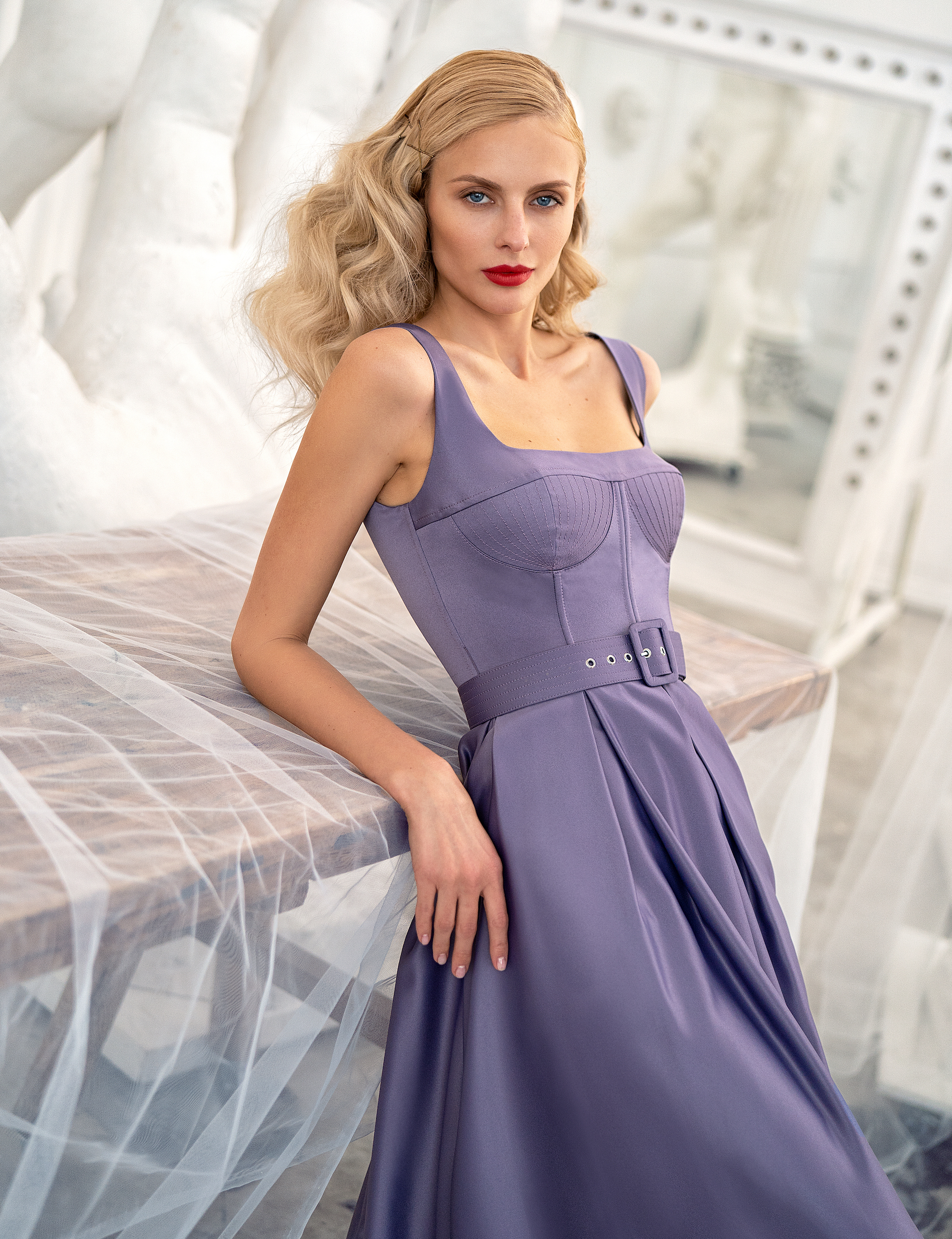 Charmeuse
: At Papilio, we often use this fabric as a dress lining. It is a lightweight material made of polyester, or it can have silky threads. It drapes gracefully and creates a soft feel.
Chiffon: 
Here is one of our favourite dress fabrics. It is light, soft and delicate, and ideal for romantic formal dresses, which we love so much. Chiffon flows freely, smoothly hugs your shape and creates an ultra-flattering fit.
Crepe 
includes a wide range of synthetic and natural fabrics and deserves a separate blog post (LOL). Whether designers decide to use its shiny or matte side, formal dresses made of crepe have gorgeous clean lines and always look sophisticated. 
Damask 
is an excellent example of thicker and heavier fabric. This distinctive material with a soft sheen and woven pattern usually has a floral design, looking beyond classy and elegant.
Jacquard
 is a heavier, thicker-looking fabric with an overall interwoven pattern or floral print raised on its surface. It gives a formal dress rich texture and exquisite look as if it is made for royalty.
Do you desire a classic look for your special day? Then we recommend embracing formal lace dresses!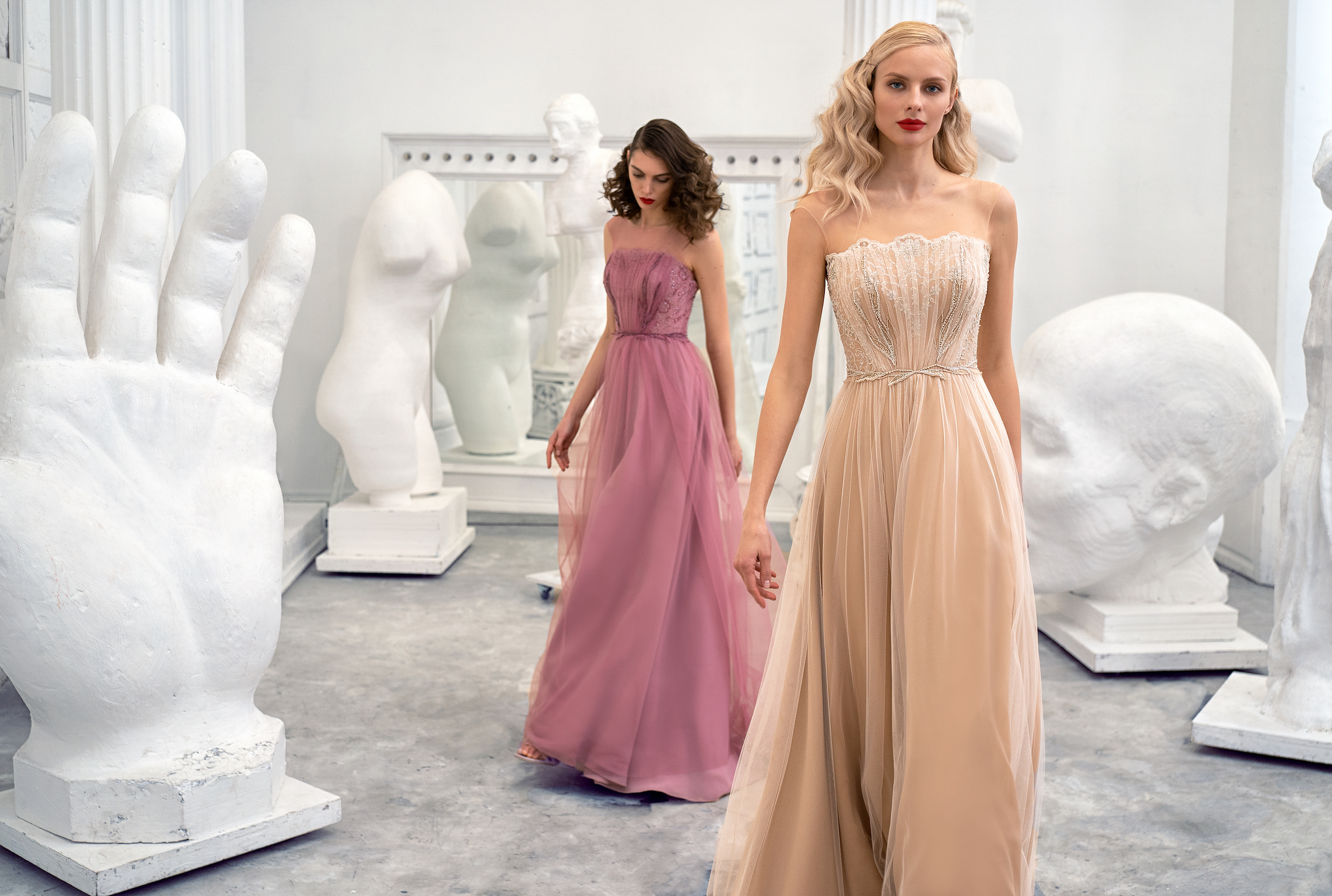 Lace:
 Handmade or machine-made, lace, without question, is a timeless choice. It is ultra-romantic and feminine and sure to lend a polished elegance. Designers often embellish this classy fabric with flowers, sequins, beads or pearls. There are a few types of lace worth mentioning here.
Chantilly Lace:
 This kind of lace is a luxurious french lace that is a wonderfully fine material and has been admired for centuries. It often has a delicate floral pattern and looks exquisite.
Alençon Lace:
 It is an Italian lace that has a thicker and bolder pattern. This lace features a heavier silky cord that creates a raised print on its sheer net background. It works wonderfully combined with other fabrics.
Guipure Lace
 is heavy, woven lace that has become so popular in the past years. You will definitely make a fashion statement if you choose a formal dress made of this lace. Remember, such dress is a statement on this own, so do not over-accessorize. 
Linen:
 Made of flax fibre, this natural material is often used for more casual-looking dress designs. Be aware, linen dresses wrinkle easily and are pretty tricky to pack. We strongly advise using professional dry cleaning services to prepare those dresses for events.
Organza: 
This crisp, lightweight fabric can be made of silk, nylon, or polyester fibres. It works so well in formal dresses for skirts that flow spectacularly. Organza is also widely used for wedding dresses.
Satin:
 This beautiful, super smooth fabric is made of natural or synthetic fibres in a tight weave, creating its opulent shine. It is broadly available in silk, polyester, acetate and rayon. Similar to organza, fashion designers love to work with it for bridal gowns.
Shantung – 
very haute couture! Shantung is a type of silk plain weave fabric. It is medium-weight and can be in silk or polyester with a nub feel and textured effect.
Silk
: There are quite a few variations of silk. At Papilio, our designers love to use Shantung silk, mentioned above. Its heavier and thicker texture gives formal dresses a genuinely chic look and a great silhouette. 
Taffeta:
 It has been trendy for wedding and formal dresses for a long time. Nowadays, designers prefer to use only some elements of design made of taffeta. It adds stiffness and structure to full skirts on dresses.
Tulle
 is a very light, transparent and delicate mesh material often layered to make a formal dress. It is also used to create an illusion bodice of a dress. At Papilio, we use only soft tulle that feels nice, does not itch, and looks airy and romantic.
Velvet:
 This woven fabric is quite hot and suitable to wear during Fall and Winter. Fashion for Velvet is back, and velvet dresses have an elegant, smashing look.
We have covered the main fabrics for women's formal dresses our designers use in their studios. Whichever material you prefer, you are sure to look stunning. Pair your formal dress with your favourite shoes, accessories and a soft up-do, and you are sure to be a picture of perfection.