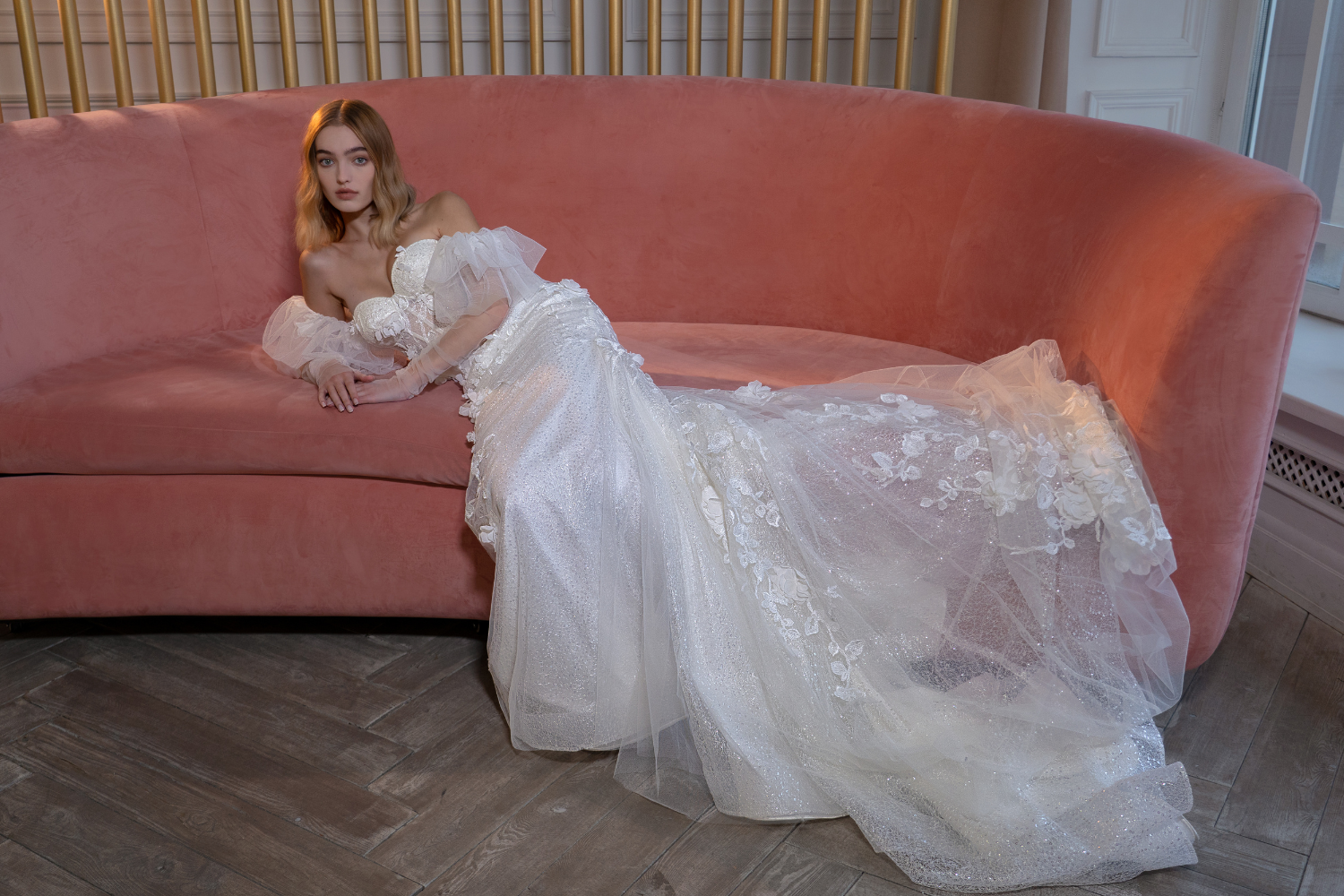 What are the different wedding dress silhouettes available, and how do I choose the right one for my body type and style preference?
Planning your wedding is an exciting journey filled with numerous decisions, and one of the most important choices you'll make is selecting the perfect wedding dress. With so many stunning options available, finding a wedding dress silhouette that flatters your body type and reflects your personal style is essential. To help you navigate the world of wedding dress silhouettes, we have created a quiz to guide you toward your dream wedding gown. So, let's embark on this adventure and discover the shape that suits you the best!
Take a quiz to discover your dream wedding gown!
Question 1: How would you describe your body shape?
---
a) Hourglass – Curvy with a defined waist
b) Pear-shaped – Narrower on top, wider hips and thighs
c) Apple-shaped – Fuller around the midsection
d) Petite – Small and delicate frame
e) Athletic – Toned and well-proportioned
Question 2: What is your fashion style preference?
---
a) Classic and timeless
b) Romantic and feminine
c) Modern and sleek
d) Bohemian and free-spirited
e) Glamorous and show-stopping
Question 3: Which body feature would you like to highlight?
---
a) Bust and waist
b) Shoulders and back
c) Legs
d) Neckline and arms
e) Figure as a whole
Question 4: How formal do you like your wedding to be?
---
a) Ultra-formal and elegant
b) Semi-formal with a touch of casualness
c) Chic and contemporary
d) Relaxed and intimate
e) Opulent and extravagant
Question 5: What is your preferred wedding venue/location?
---
a) Grand cathedral or ballroom
b) Garden or outdoor setting
c) City loft or rooftop
d) Beach or destination wedding
e) Historic mansion or luxury hotel
tally up your answers and discover different wedding dress silhouettes!
Your wedding day is a magical occasion that deserves a wedding dress as enchanting as the love you and your partner share. The perfect wedding dress silhouette can enhance your natural beauty, highlight your best features, and express your fashion style and personality. Choosing the right shape will make you feel confident and look radiant. Check out the results below as we will explore the different wedding dress silhouettes and help you find the one that resonates with your preferences and body type.
Mostly A's:
The Ballgown – If you chose mostly A's, then the classic and elegant ballgown silhouette is an excellent match for you. With its fitted bodice and voluminous skirt, this silhouette accentuates your bust and waist while creating a fairytale-like effect. Perfect for formal and grand celebrations, the ballgown silhouette will make you feel like a true princess on your special day.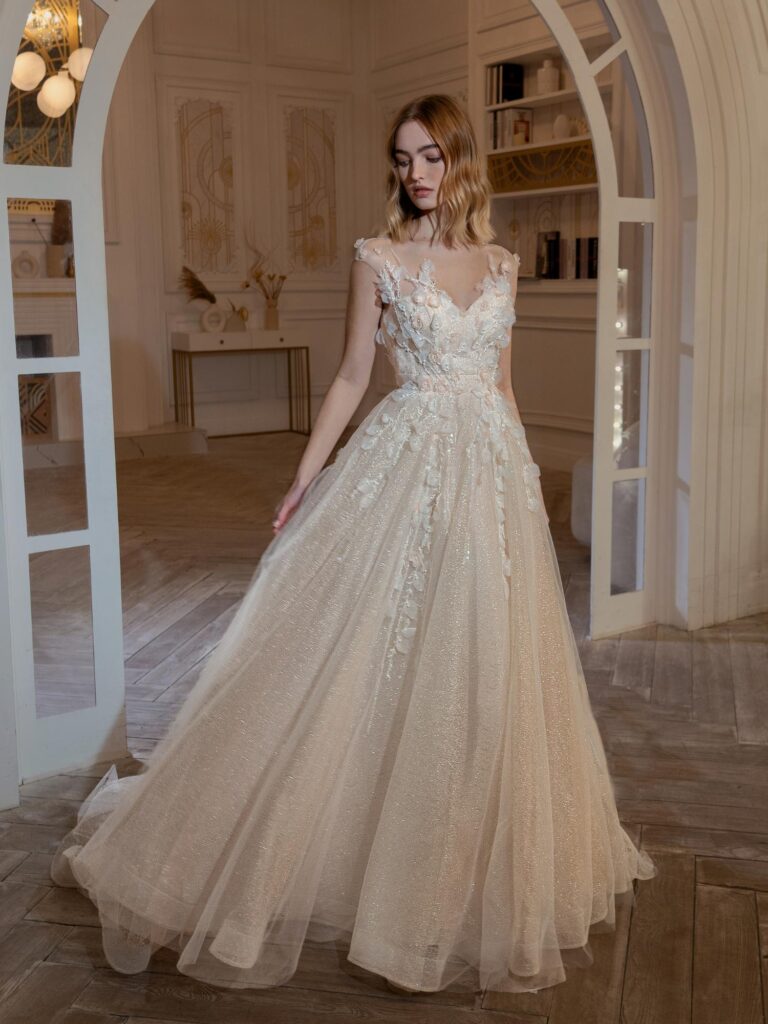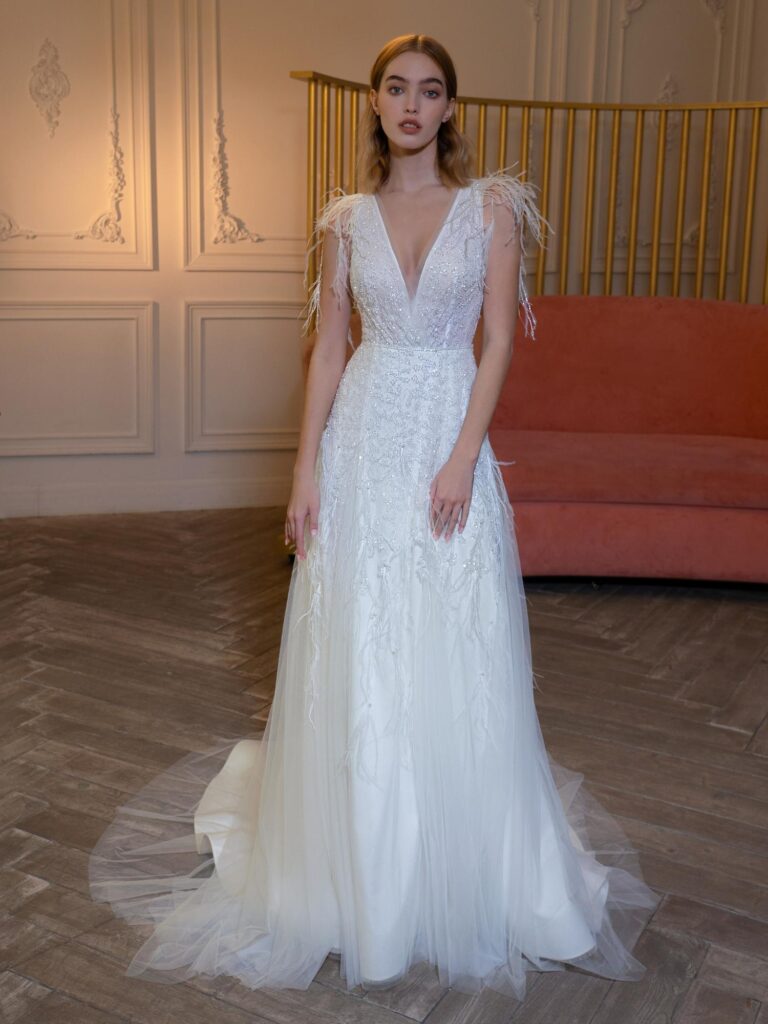 Mostly B's:
The A-line – The A-line silhouette is the ideal choice for those who prefer a romantic and feminine look. This silhouette is fitted at the waist and gradually flares out, creating a timeless and flattering shape. The A-line shape is versatile and suits various wedding themes, from garden weddings to traditional ceremonies.
Mostly C's:
The Sheath – If you lean towards a modern and sleek style, the sheath silhouette is made for you. This figure-hugging silhouette skims the body's curves and exudes effortless elegance. Perfect for city weddings or contemporary venues, the sheath silhouette highlights your natural shape and creates a sophisticated, minimalist look.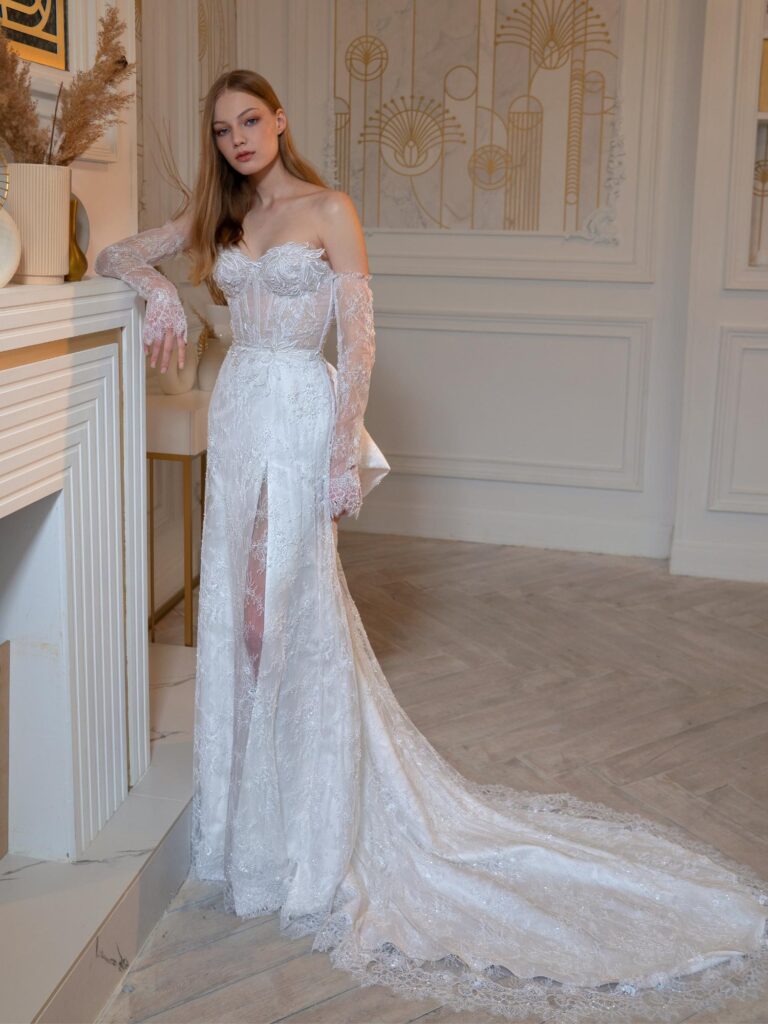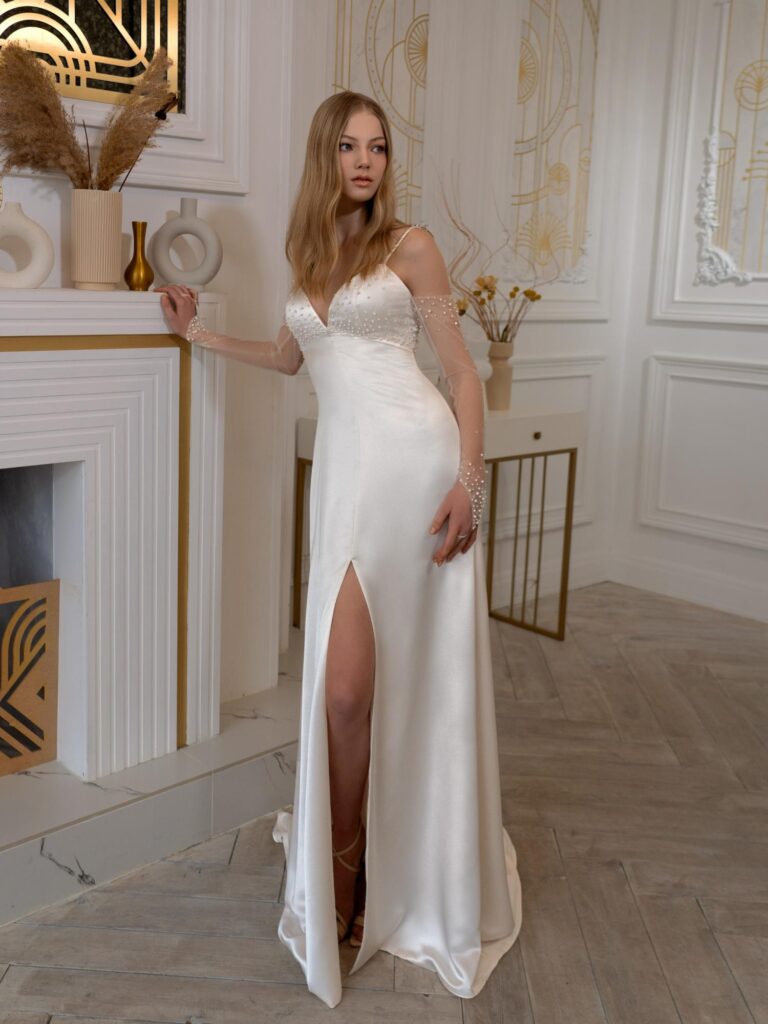 Mostly D's:
The Empire – If you have a petite frame or prefer a relaxed and bohemian aesthetic, the Empire silhouette is your go-to choice. This silhouette features a high waistline just below the bust, flowing into a loose and flowing skirt. The empire silhouette is flattering for all body types and offers comfort and freedom of movement, making it perfect for beach weddings or intimate gatherings.
Mostly E's:
The Mermaid – For those who want to make a dramatic entrance and showcase their curves, the mermaid silhouette is the ultimate show-stopper. This fitted style hugs the body from the bust to the knees, flaring out at the bottom, creating a wow look. The mermaid silhouette is ideal for formal and glamorous weddings.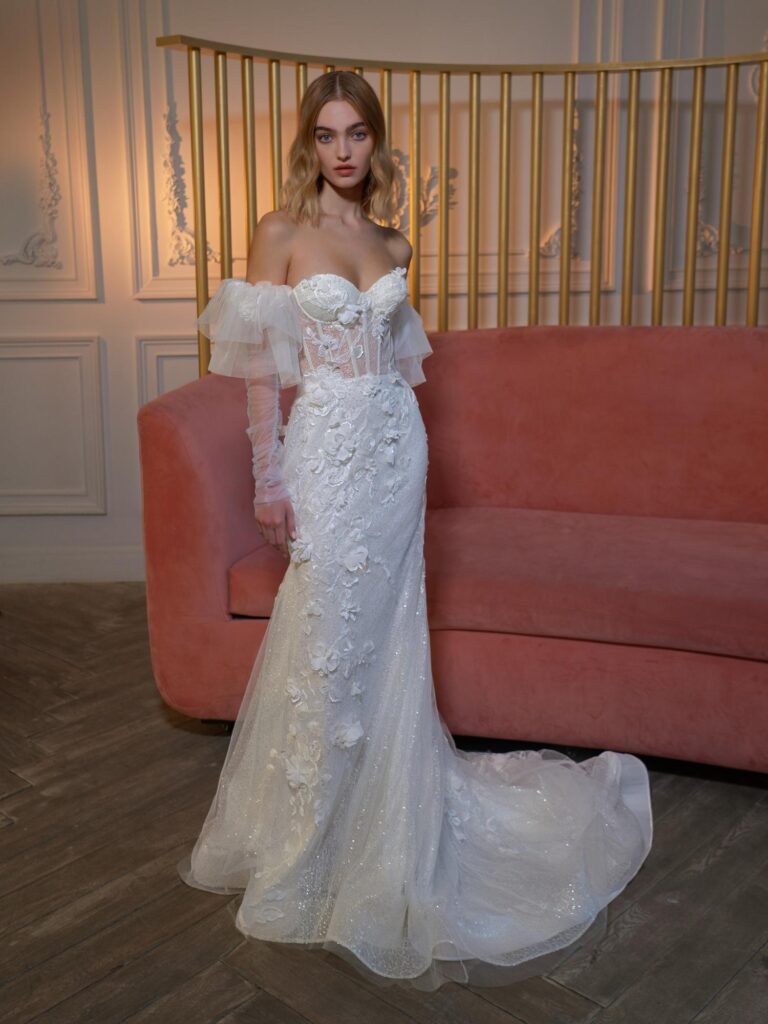 As you embark on the quest to find your perfect wedding dress silhouette, we hope this guide has shed light on the options available and helped you uncover the style that reflects your individuality. Remember, the journey of finding your dream gown should be as delightful as the moment you say "I do." To further explore the world of exquisite wedding dress collections and receive personalized assistance, we invite you to visit our boutique in Toronto. With our extensive selection of breathtaking designer wedding dresses and attentive staff, we are committed to making your wedding dress shopping experience magical. Discover the wedding dress silhouette that speaks to your heart, and let us turn your wedding day dreams into a reality.
Get ready to walk down the aisle in style—visit Papilio Boutique in Toronto and say "yes" to your dream wedding dress today!
XOXO,
Papilio Team