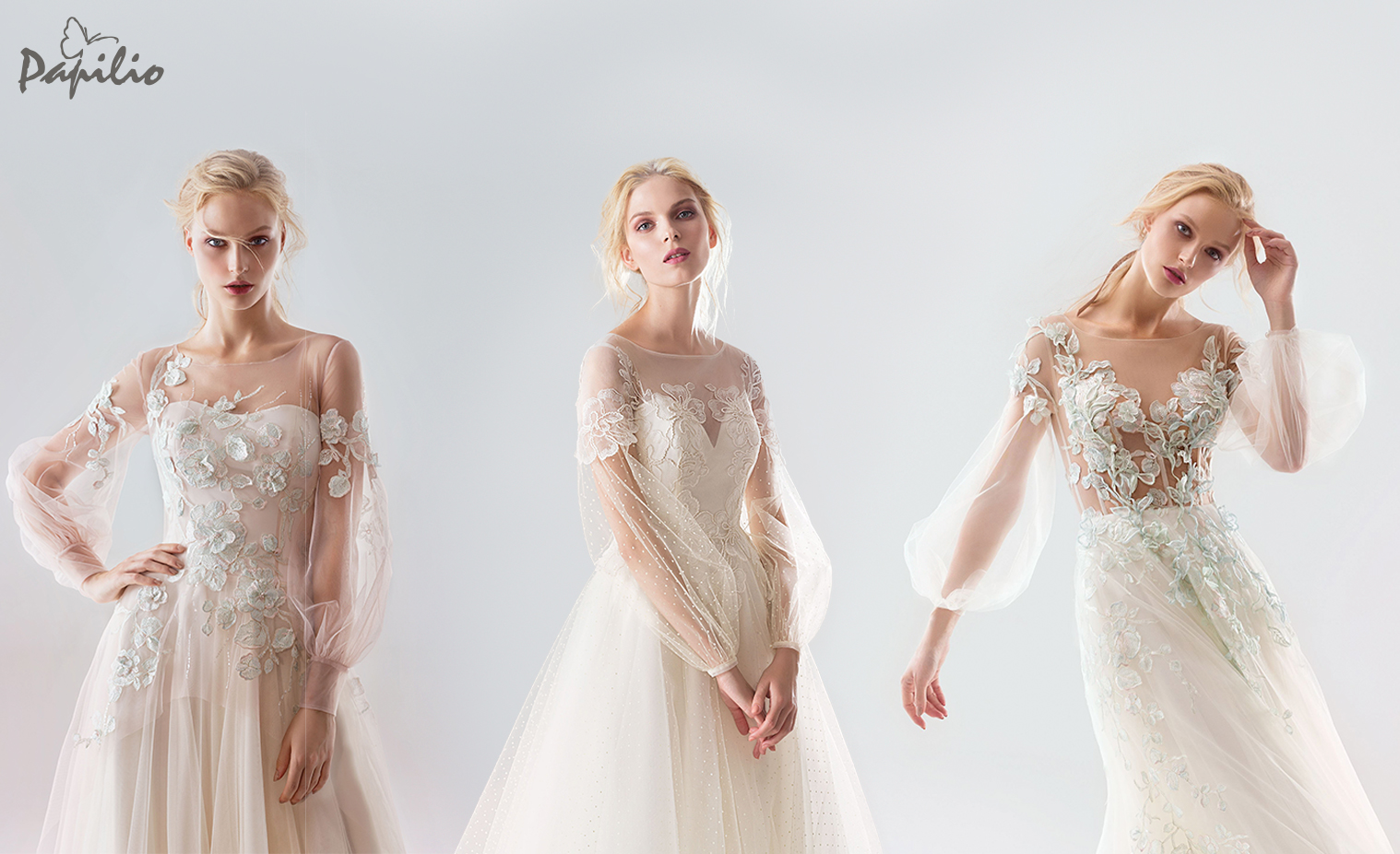 Papilio launches its first online store of wedding dresses and evening gowns in North America.
We are incredibly proud to announce the launch of our new online store – Papilio Bridal. For the first time, brides can browse and buy Papilio wedding dresses online! The newly launched website is the exclusive online representation of the brand in North America, specifically, for Canada and the United States. Over the years we have received a lot of requests from Canadian and American women asking to shop Papilio wedding dresses online. Many of you were not able to visit our showroom in Toronto or one of our official representatives and were looking for a way to find and wear Papilio on your special day. We have heard your cries, sophisticated ladies, and are happy to offer this possibility for all future brides-to-be.
While creating Papilio Bridal, it was essential to think of our customers and what they were looking for, whether that was to browse our online store and get inspired before making an appointment at the showroom in Toronto. Alternatively, maybe you can't travel to Toronto and would like to purchase a wedding dress online. A primary factor in the creation of the online dress store was to make Papilio designs, which we are proud and confident in, available to all women in North America.
Not only Papilio wedding dresses will be available online, but its latest collections of evening gowns.
Our online dress boutique features two categories: bridal gowns and evening dresses. The two categories overlap. Please note that a lot of evening gowns come in white, champagne, blush or ivory colors. For example, if you are looking for a simple, but sophisticated bridal look for your civil ceremony, we would recommend checking 'Shop Evening Gowns' section first. You will find a lot of beautiful styles available in perfect bridal colors. If you want to wear a stunning red dress on your wedding day, Papilio offers a fantastic selection of evening dresses in a variety of red shades, from orange-red to dark burgundy.
Be confident in what you want!
For confident women who know exactly what their dreams look like, the online wedding dress shop makes browsing and choosing wedding dresses a quick and easy process. If you are the type of a bride who knows what silhouette, style, and color work best, shopping for wedding dresses online should be very beneficial. Not only can you save money but also score something truly unique that is not available in any of the local bridal stores near you. Once you have selected the one, the only thing left is to do your measurements correctly! Our main advice in this process is to take your time, get some help and use the size guide available on our website. Having a friend or partner help you ensure that the sizing is done accurately. Besides, sometimes maneuvering a measuring tape can be a little tricky.
If you are the mother of the bride, mother of the groom, or maid of honor giving her sister away, you will want to look extraordinary on this important day. Papilio Bridal offers a stunning selection of evening dresses online. Keep in mind that knowing your body measurements will make you feel confident and stress-free while shopping online. Please note that when shopping for formal wear or wedding dresses, most of the time you will require alterations to make your dress fit perfectly. That's why it is necessary to ensure you have enough time to make those changes, even if it is simple hemming.
Papilio designs are only available by special orders, no exchange or return!
All Papilio dresses and outfits are made for each, individual client. We do not mass produce which helps keep every design genuinely unique offering it only by special orders. All Papilio garments are handmade and hand embroidered. That's why it takes from four to six months to arrive. As soon as you place your order online, the Production department will put it in the queue and make your dress based on the fabric availability and production schedule. That being said, Papilio's quality and the final product is something that we are very proud of and can guarantee that you will fall in love with. Not to mention, wearing one of Papilio styles, you will receive a remarkable number of compliments. Girls around the world embrace Papilio for its one of a kind designs, exceptional quality, and fair pricing.
As of now, we ship purchased online wedding dresses and evening gowns throughout Canada and the US but stay tuned for future updates! Please visit our FAQ page, as it can answer most of your questions, but if you do have any questions that you want to ask, please do not hesitate to contact us. We are available for a chat about measurements, styles, colors, rush orders, appointments or even feedback on the new site. We hope you will take some time to explore our new website, the collections, blog posts and have fun finding your ideal wedding dress, remarkable evening gown or maybe the prom dress of your dreams at Papilio Bridal. The options of styles and colors, we believe, are endless!
Happy Shopping,
Papilio Team