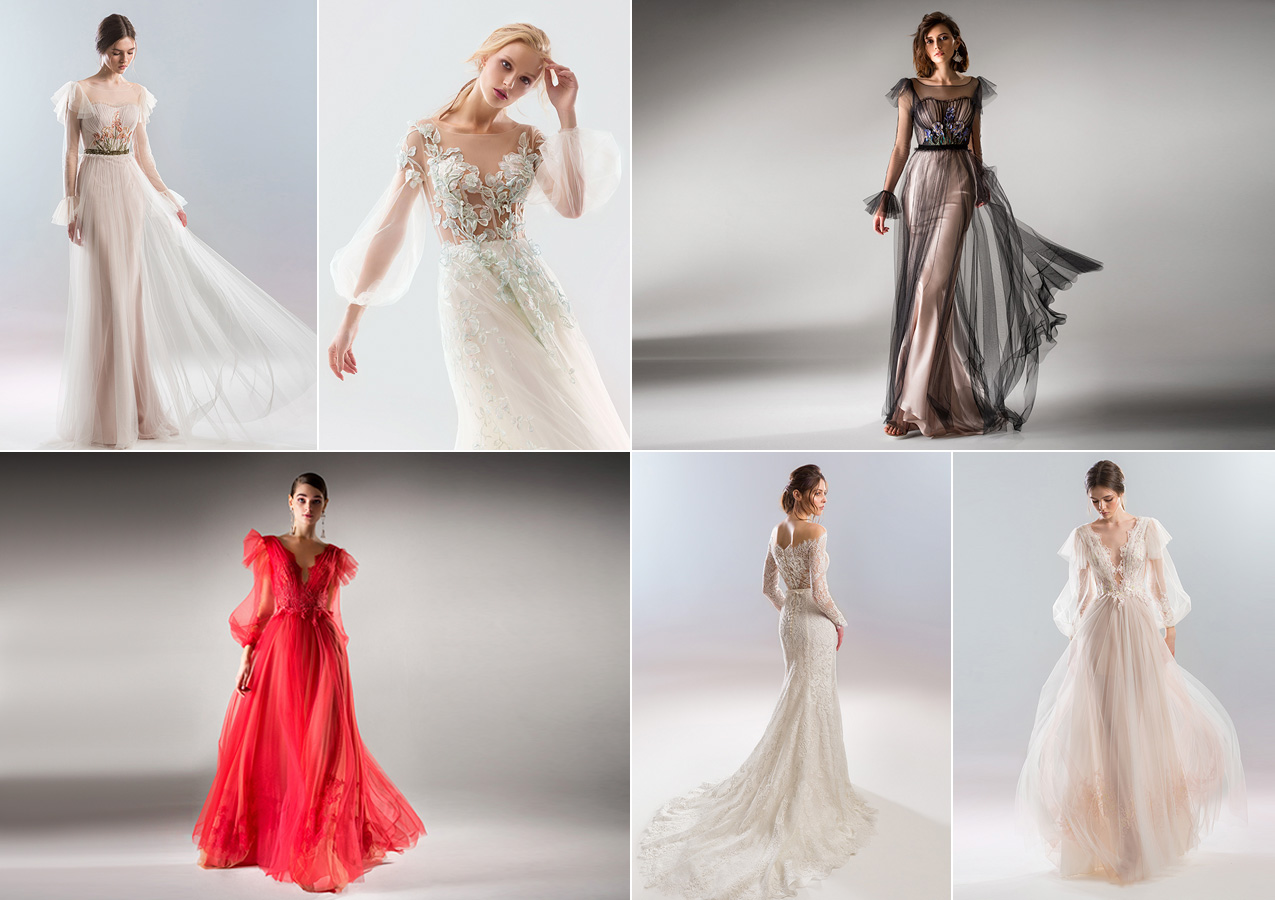 Wear it on your sleeve!
Check our hottest styles of evening and wedding dresses with sleeves.
Without a doubt, wedding dresses with sleeves are elegant and timeless. They can add a magic touch even to the simplest wedding dress elevating its modest design and graceful silhouette. Besides, a wedding gown with sleeves will make you look classy and effortlessly sexy by giving your arms a well-defined structure.
Just recently wedding dresses with sleeves have grown to a big bridal trend. Today many brides choose wedding dresses with cap sleeves, long illusion sleeves, off-the-shoulder sleeves, 3/4 sleeves or so fashionable now bishop sleeves. When looking for your dream dress, you will find so many styles of wedding gowns with sleeves to match every girl's personal style. We have to admit that our designers at Papilio admire sleeves. They presented many extraordinary collections of wedding dresses and evening gowns with different types of sleeves. Each design is stunning and unique in its own way giving you a bridal look you have always been dreaming of or making you look super stylish on your big day.
In addition to that, Papilio designers always have something fresh to offer which will bring out the inner fashionista in you. Below, we have picked three hottest sleeve trends for you.
Wedding dresses with bishop sleeves:
Bishop sleeves bring back the 60s! It looks like it is one of the most exciting trends this season that will never fade away. These sleeves have a wide cut that narrows down at the wrists typically into a cuff. They look very feminine because of its flowy structure and billowed design. We, at Papilio Boutique, have many choices of bridal and evening dresses that feature bishop sleeves. They are all equally stunning!
Wedding dresses with illusion sleeves:
There are many types of illusion sleeves. For example, you can choose a wedding dress that features long illusion sleeves with a big lace cuff. These types of sleeves will gracefully cohere with your skin and look like they have been sewn into your arms. Lace on sleeves is always an exquisite piece of work and will not fail to mesmerize you. Some of our wedding dresses with lace sleeves can also come with delicate and intricate beadwork to add a little bit of glamour.
Wedding dresses with bell sleeves:
Bell sleeves are back in fashion, but they have been tweaked to add a modern touch and make them look more appealing. These sleeves, unlike bishop sleeves, have a looser fit. They do not have cuffs and give an illusion of volume. Wedding dresses with bell sleeves have their own charisma. It looks like just a small element of design, but it takes a wedding dress up a notch.
Get inspired by flaunting through our unique selection of dresses with sleeves from Papilio latest collections, both bridal and evening fashion lines. These frocks feel incredibly light, comfortable because sleeves have been added just to create one of a kind design. Here are our top picks.
Papilio wedding dresses with sleeves:
Style #1908 from our latest 2019 bridal collection  White Wind features bell sleeves. This wedding dress looks elegant and dreamy. Besides, lace and embroidery on the sleeves add a sensual touch making it perfect for a romantic wedding.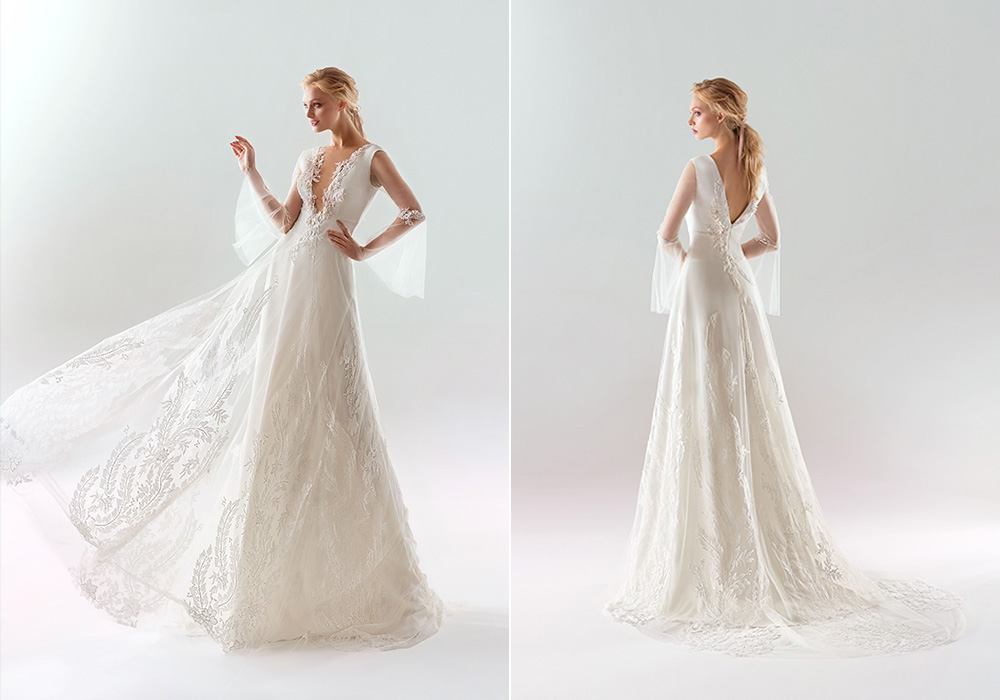 Style #1910 is another lovely choice from our latest collection. It is a truly gorgeous A-line dress with an illusion neckline and bishop sleeves. Similar to the style #1908, lace and embroidery on this dress add uniqueness to its design and elevate the beauty of its gorgeous silhouette. It will definitely leave any fashionable bride ecstatic!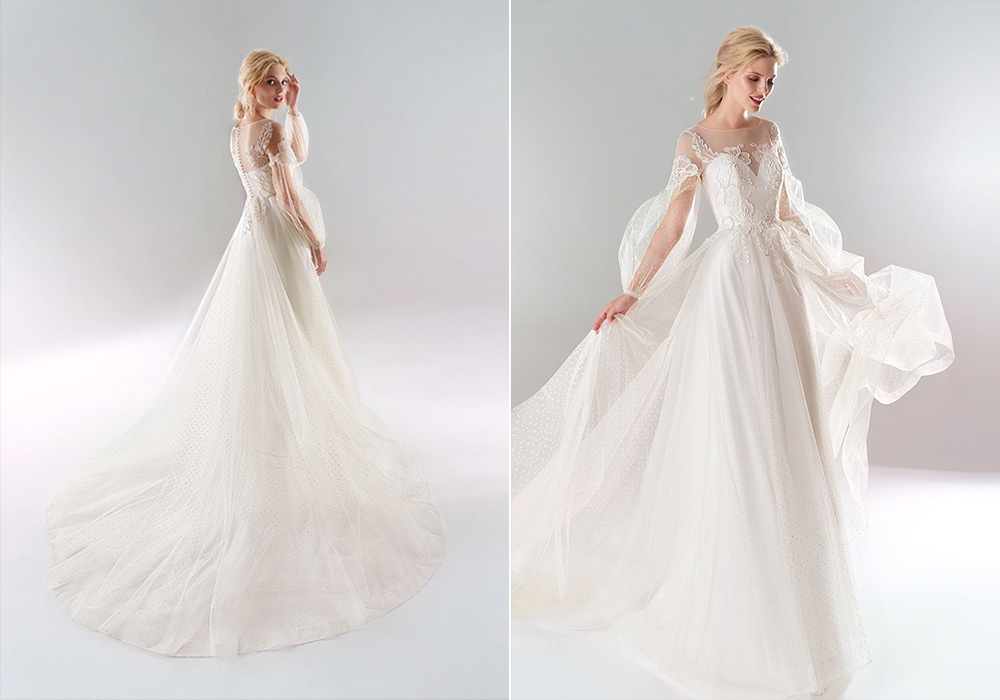 Style #1827 is a wedding dress with long illusion sleeves with lace applique. This awe-inspiring style from our Wonderland collection also features a sweetheart illusion neckline and beautiful lace embroidery. Its lace collar itself acts as a handmade jewelry piece. And as an additional benefit, this wedding dress with sleeves comes with a dainty belt that gives an image of a tiny waist.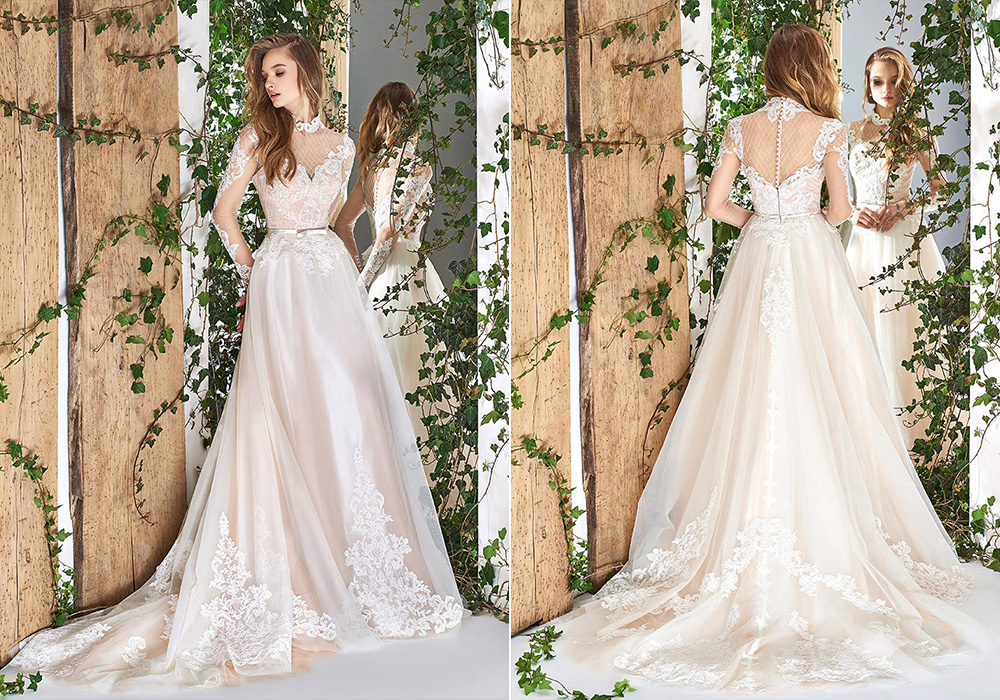 Style #1702 is a fitted sheath wedding dress from our Wings of Love collection. This wedding dress features an illusion neckline and 3/4 sleeves with exquisite handmade embroidery. Its top and skirt also decorated with sophisticated appliques that make this dress captivating. Flaunt your curves in this boho-inspired, feather-light wedding dress and dance around freely all night on your big day.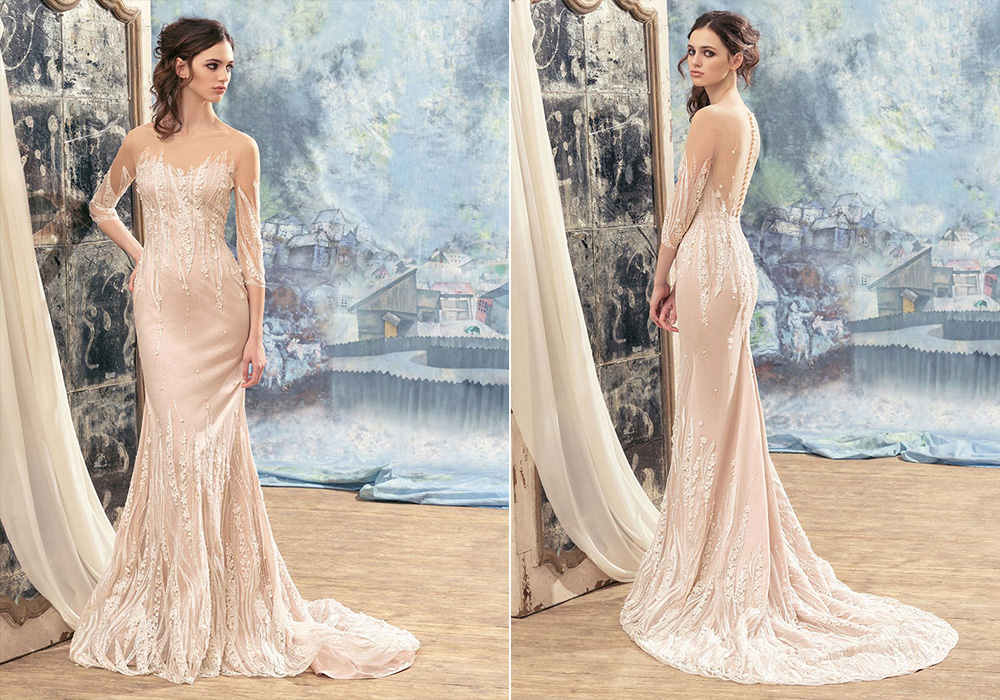 Style #M2 from our luxurious Esperanza collection has simple yet elegant long sleeves which is ideal for a bride who does not want lace or embroidery on her sleeves and prefers to keep it really simple. The ball gown is made of silk mikado that will keep you warm if you are having a spring or winter wedding. Moreover, the dress emphasizes delicate design work on its skirt and top, making it even more attractive!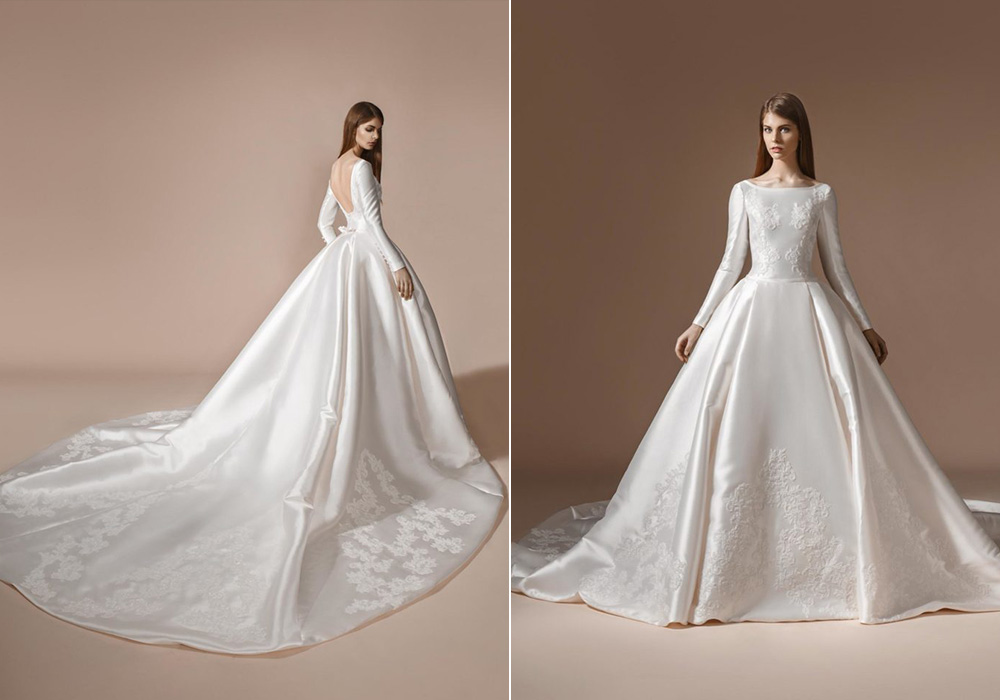 Papilio evening gowns with sleeves:
If you are a bridesmaid, mother of the bride/groom, or simply a classy lady who is attending a formal event, an evening dress with sleeves can be an excellent option for you. Create an unforgettable impression this season wearing a stylish dress that features statement sleeves! Papilio evening gowns highlight its unique European style, and every season our designers bring something fresh, and fashionable.
Style #338 from our Posh collection: How sexy do bishop sleeves look combined with ruffles? This dress is perfect for a modern, classy lady who loves experimenting. You can wear it for a formal party and turn heads with your stylish image. Do not be shy being the prime focus on your next special event!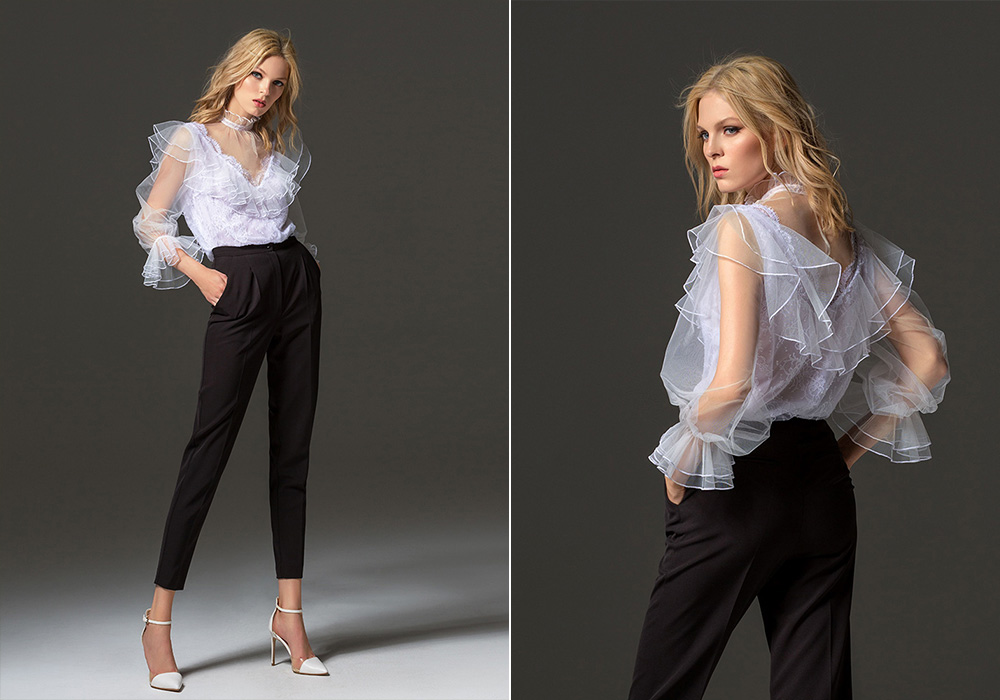 Style #211b from the Nightglow collection is a maxi dress that can be an all-season outfit. The designers incorporated illusion lace sleeves to make it look sensational. Imagine this dress without sleeves. Not so good, right? This dress also features illusion button-up high neckline and super flowy chiffon skirt.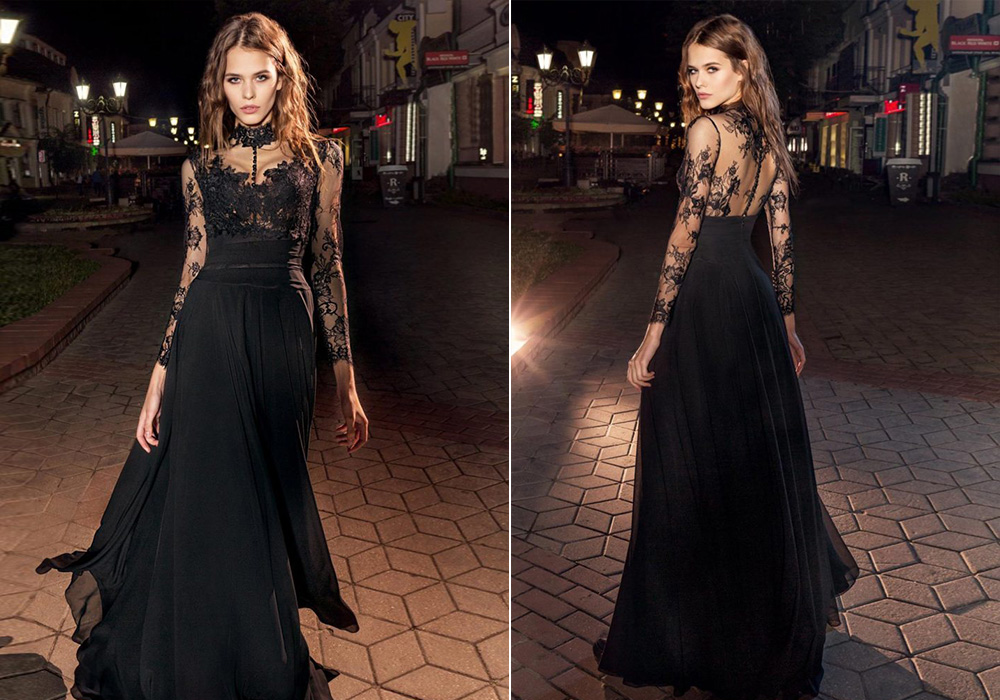 Style #339 is another beautiful style with sleeves from our Posh collection. Its 3/4 length bell sleeves complete this chic dress. It also features a floral embroidery top over a fit and flare tulle skirt. You can attend any occasion with panache wearing this evening dress and will undoubtedly receive a million compliments.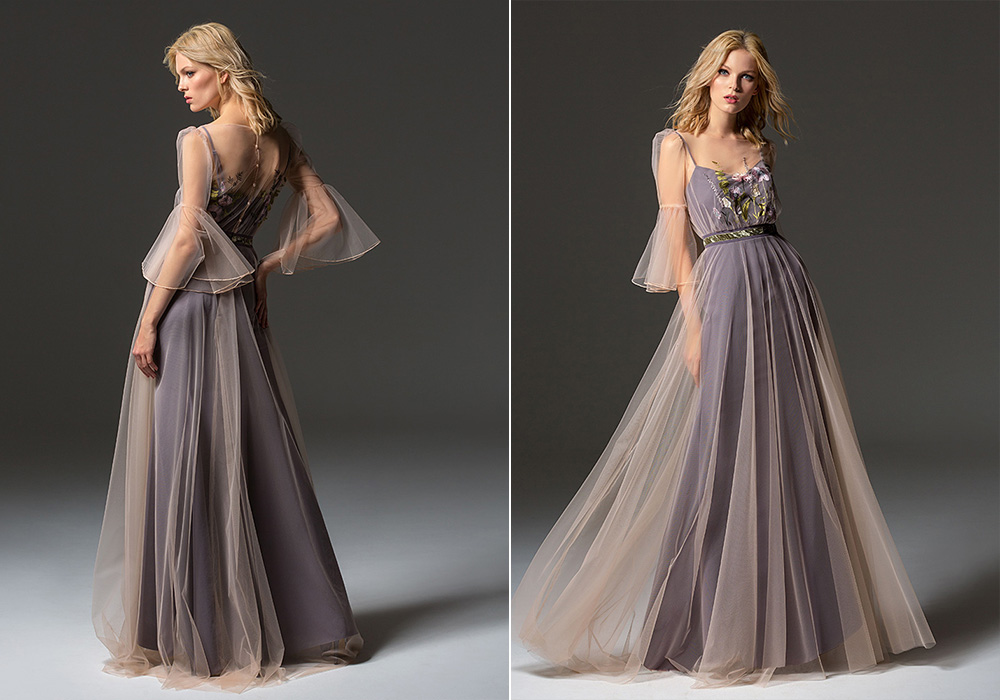 Style #432 from our new evening fashion collection is an evening gown with long sleeves made of soft velvet. This purple dress has a more vibrant color on its top and smoothly transitions to a lighter shade of purple at the bottom, showing an attractive attribute. Besides that, it features low back with buttons and can be worn for various occasions this winter.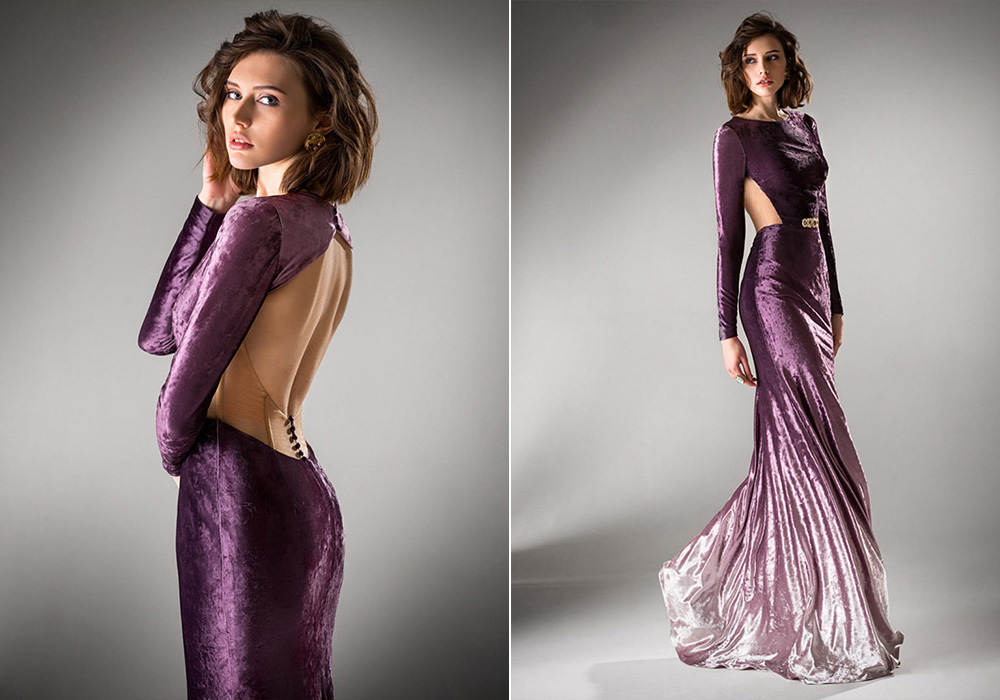 Style #354 from Fashion Chemistry is a sexy choice. This see-through gown features open back, illusion long sleeves and 3D flower embroidery on its top. If you are looking for a red carpet outfit, this dress will be just perfect.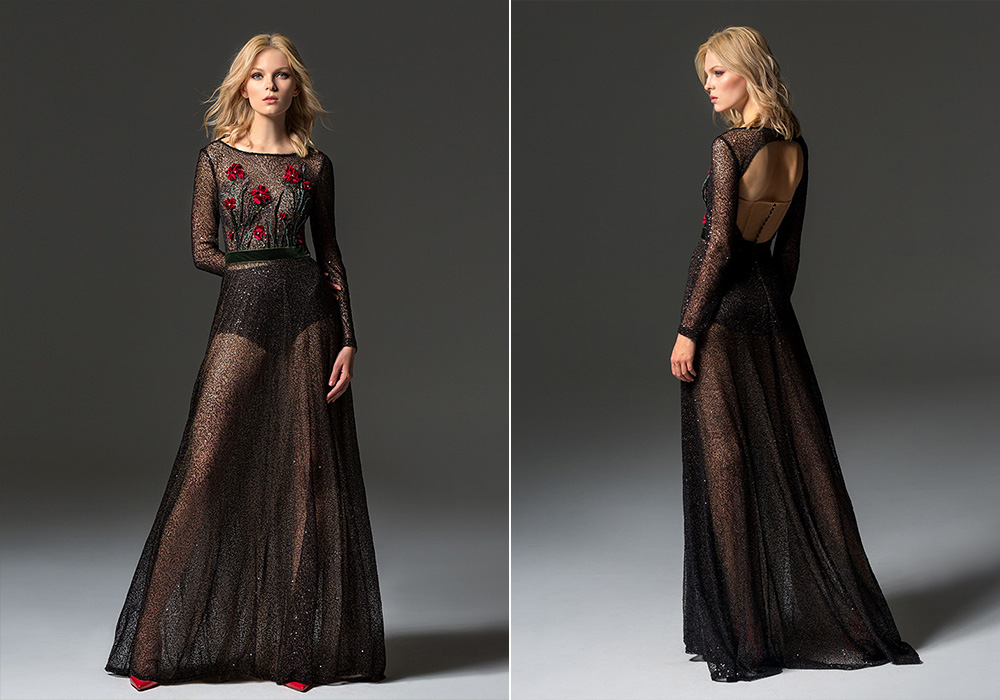 We believe that sleeves look incredible with any style, silhouette, and fabric. If you are getting married, consider a wedding dress with sleeves to look elegant and stylish. An evening dress with sleeves will definitely be one of the favorites in your wardrobe. Do not hesitate to try new sleeves because experimenting gives you a clear idea as to which sleeves make you look your best. Find more unique and exceptional dresses from other collections by browsing our bridal and evening fashion collections.