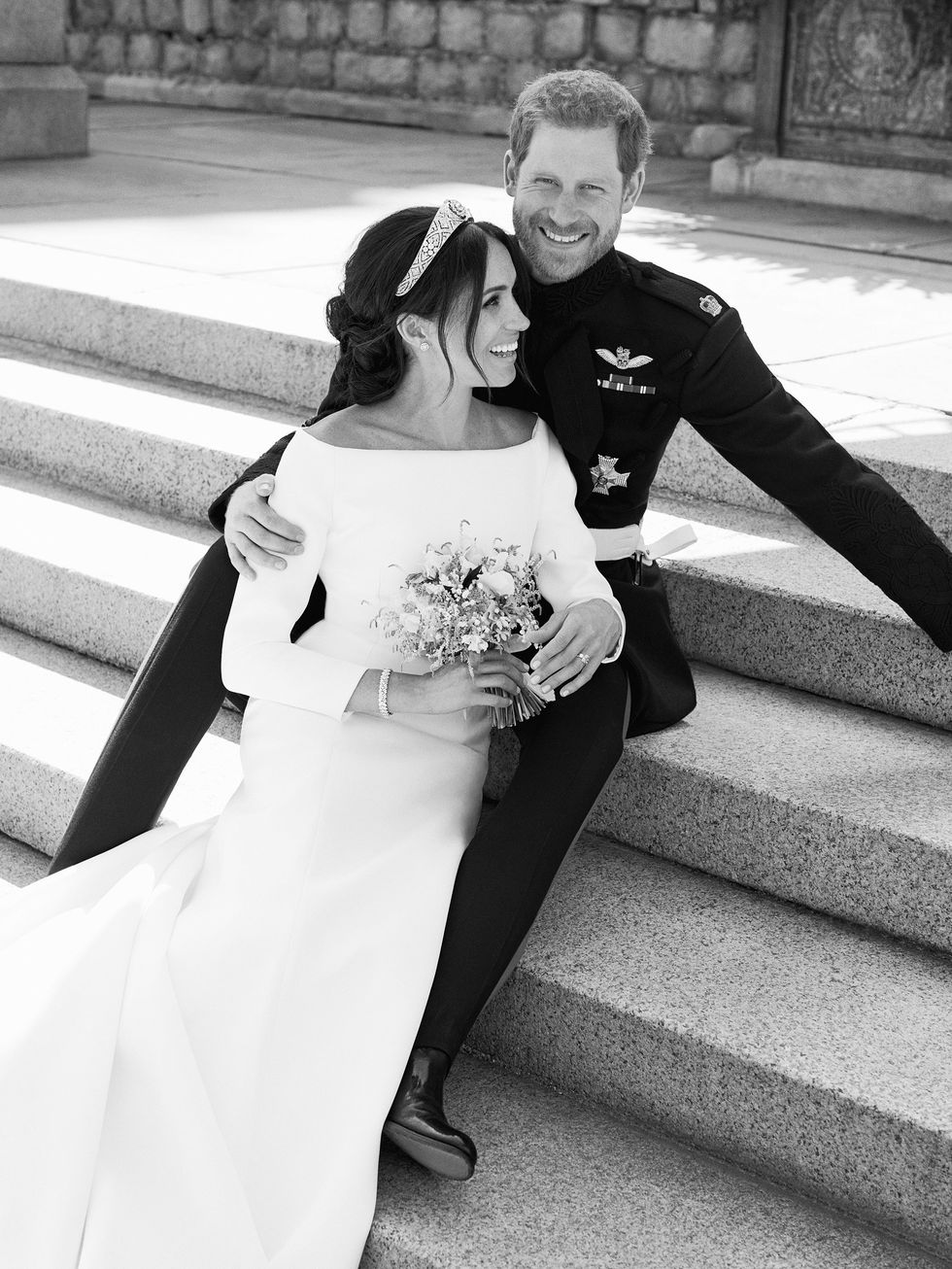 10 Celebrity Wedding Dresses That We Love
Without any doubt, celebrities inspire fashion designers daily. When it comes to their weddings, they definitely make our jaws drop and leave us talking for years. We have rounded our favourite celebrity bridal looks that will be relevant for the 2023 wedding season. Scroll through to see the most unique and memorable celebrity wedding dresses in recent years for your wedding dress inspiration and some entertainment while doing your wedding planning. 
Check out these very gorgeous and sometimes extravagant celebrity brides. 
 Hailey Bieber Wedding Dress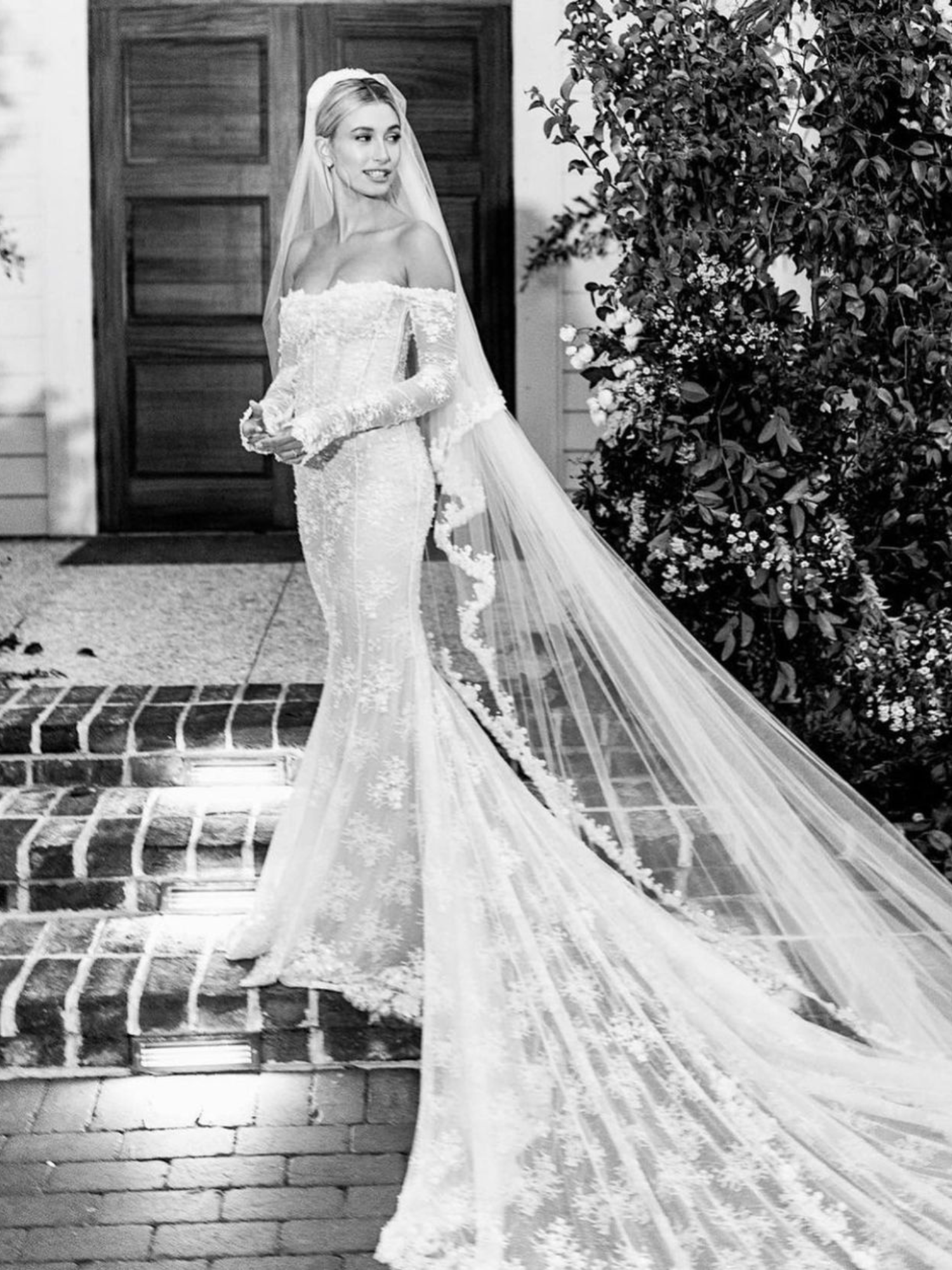 Hailey Bieber's wedding dress is about traditional bridal with a MODERN twist. While this celebrity wore a very classy fit-and-flare lace wedding dress with an off-the-shoulder neckline and long sleeves, she made sure it had edgy accents we cannot stop marvelling over. The words "wedding dress" were embroidered with pearls on the back of her gown, and her legendary veil said, "TILL DEATH DO US PART." On top of that, she also added a leather jacket with "Wifey" scrawled on the back. How cool is all of that? It definitely showed the bride's funky personality and will dictate fashion trends for years to come. Hailey also had a second wedding dress, a sultry style and a high neckline that reminds us of Meghan Markle's reception dress. Both of Hailey Bieber's wedding dresses we absolutely adore.
 Kourtney Kardashian Wedding Dress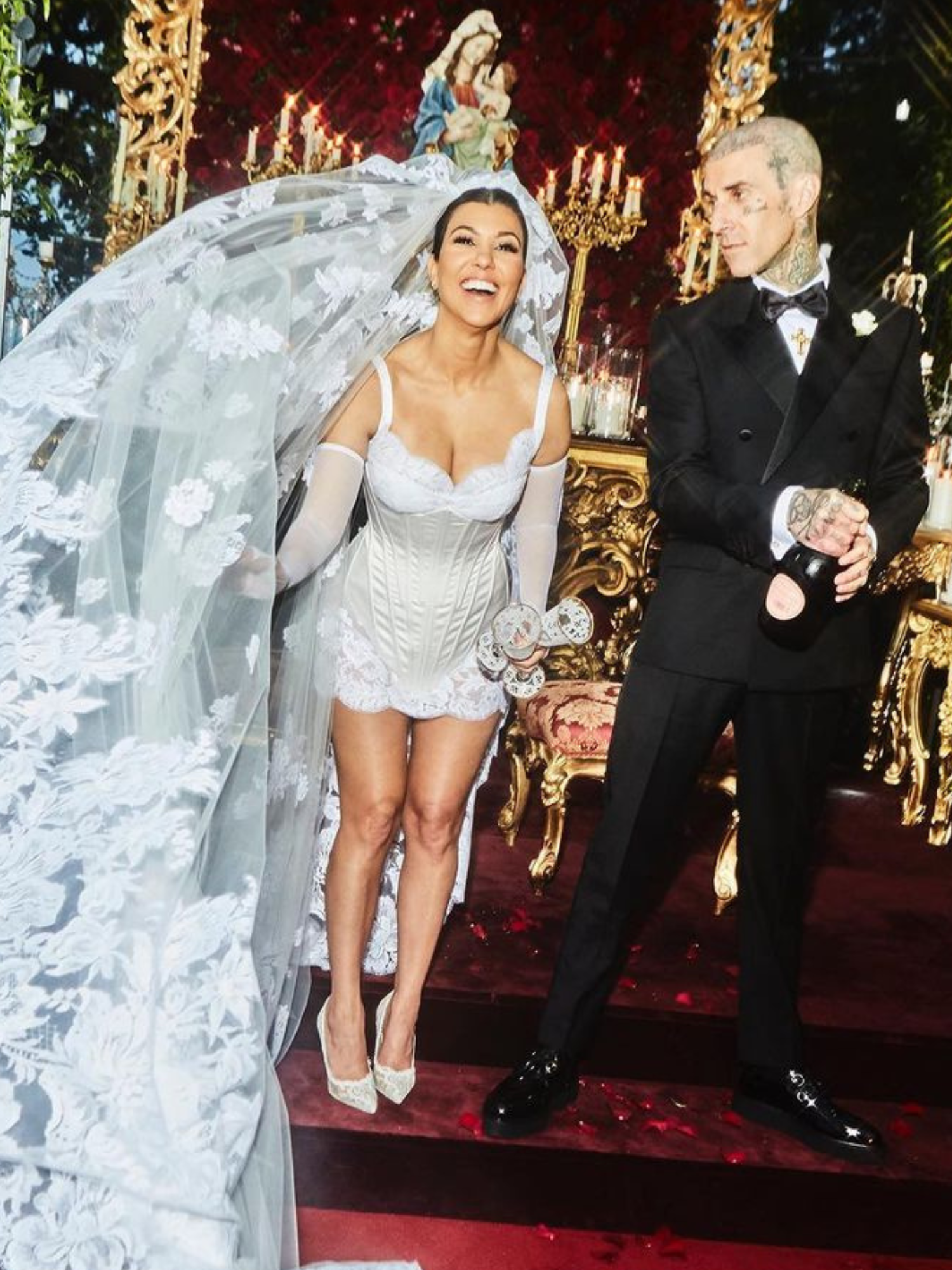 Instagram @kourtneykardash
When it comes to fashion and style, the Kardashian sisters go all in and impress the world of fashion. Kourtney Kardashian had a few wedding celebrations and wore several bridal ensembles. The wedding dress she wore in Italy for her main bridal affair was designed by Dolce & Gabbana and, indeed, became a major topic of conversation among our bridal designers in 2022. To say we admire her simple lace and satin mini wedding dress is an understatement. Kourtney Kardashian's wedding dress reinforced the trend of bustiers and lingerie-looking wedding gowns with corsets. And, of course, her provocative, simply stunning lace cathedral veil with Virgin Mary and words' family loyalty respect' will not let all the fashionista brides out there rest.
Jennifer Lopez Wedding Dress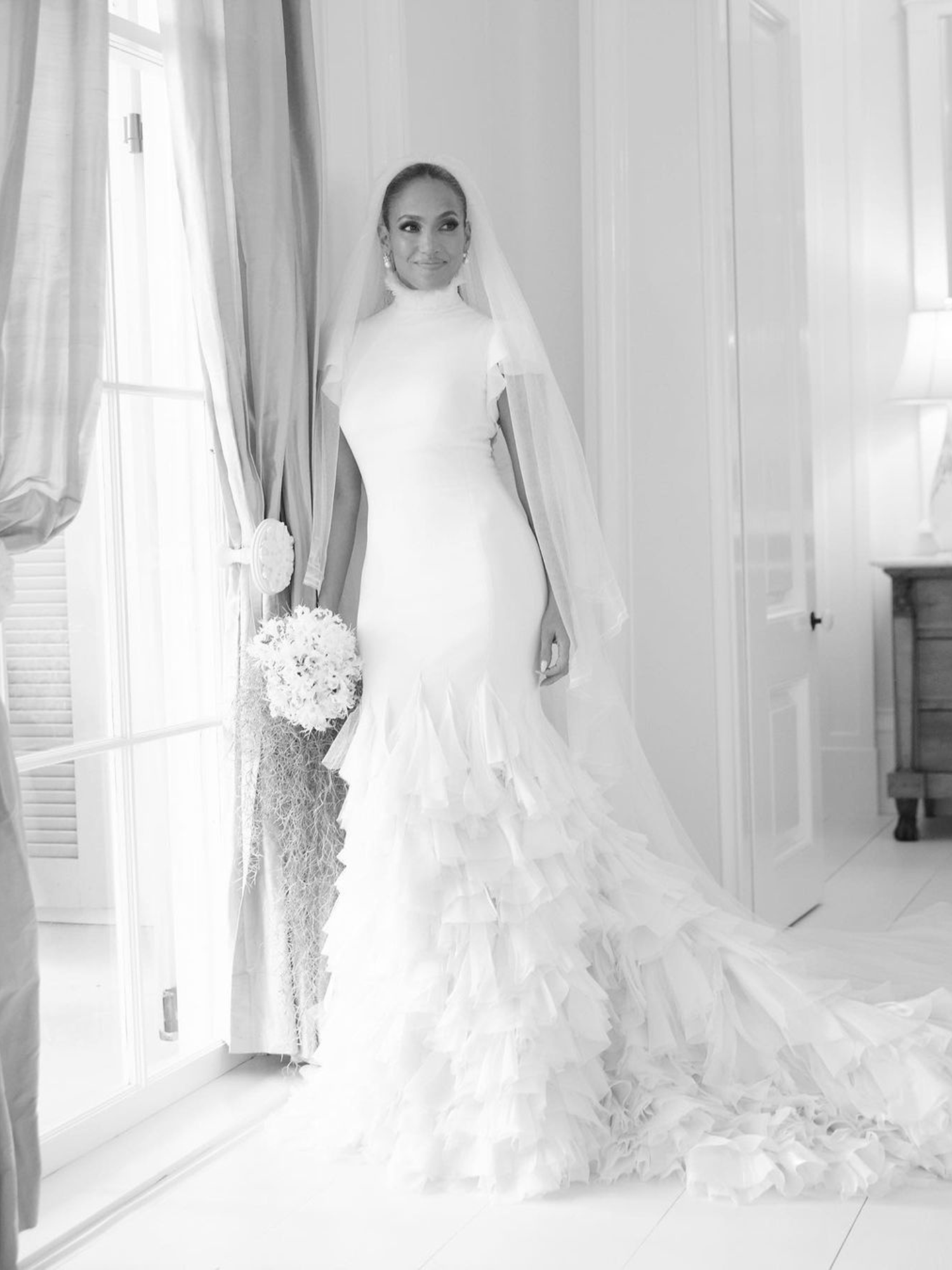 Instagram @johnrussophoto
We cannot go without mentioning Jennifer Lopez's wedding dresses. This iconic celebrity definitely knows how to put on a show and create drama on the fashion stage. For her wedding ceremony, the fashion diva wore a classic turtleneck ruffled column dress that was custom-made by Ralph Lauren. More than 1,000 handkerchiefs and 500 meters of fabric were cut into ruffles to make this ethereal wedding dress. These ruffles were hand-stitched to create a voluminous, romantic skirt. Undoubtedly, JLo's wedding dress is one-of-a-kind and will set 2024 wedding dress trends on fire. For the reception, she had two other gorgeous gowns from Ralph Lauren that beautifully represented the celebrity's personality and raised the bar seriously for all the bridal designers in our industry. Stay tuned for the 2024 wedding dress collections!
From radiated timeless elegance to edgy bridal looks, celebrity brides definitely know how to make headlines everywhere, flaunting their very best style when they say: "I do."
Nicola Peltz Wedding Dress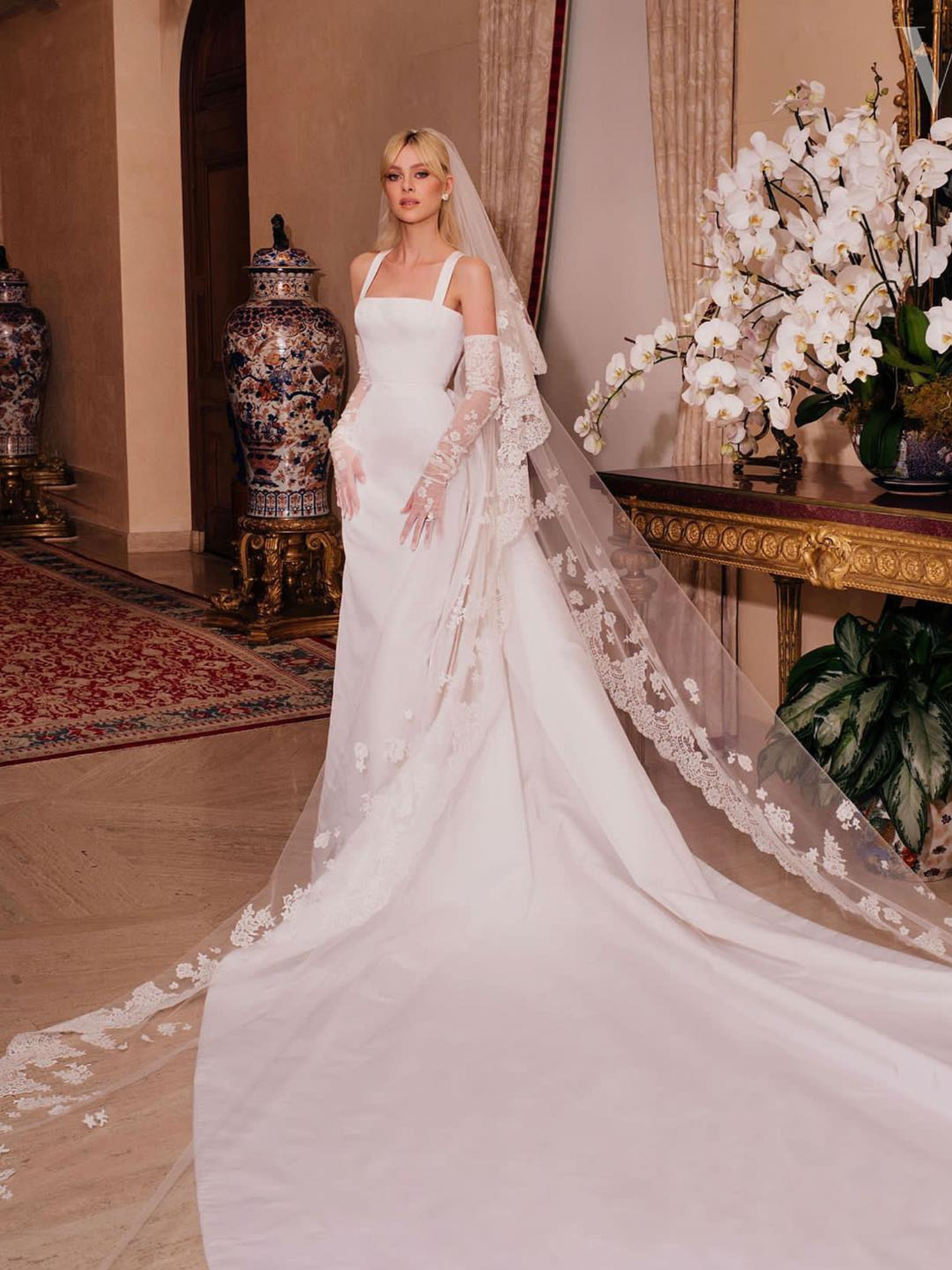 Instagram @nicolaannepeltzbeckham
Nicola Peltz's Wedding Dress set a big trend for simple, satin wedding dresses with a square neckline, thick straps and clean lines paired with a dramatic cathedral veil for all girls getting married in 2023. She said 'I do' in a custom Valentino gown that is all about minimalism and timeless chic. Detachable trains, bridal gloves, and platform heels are also trending this season, thanks to this fashionista bride. If you are looking for a simple satin wedding gown inspired by Nicola Peltz's Wedding Dress, Papilio Boutique has a gorgeous selection of stylish bridal designs.
Paulina Gretzky Wedding Dress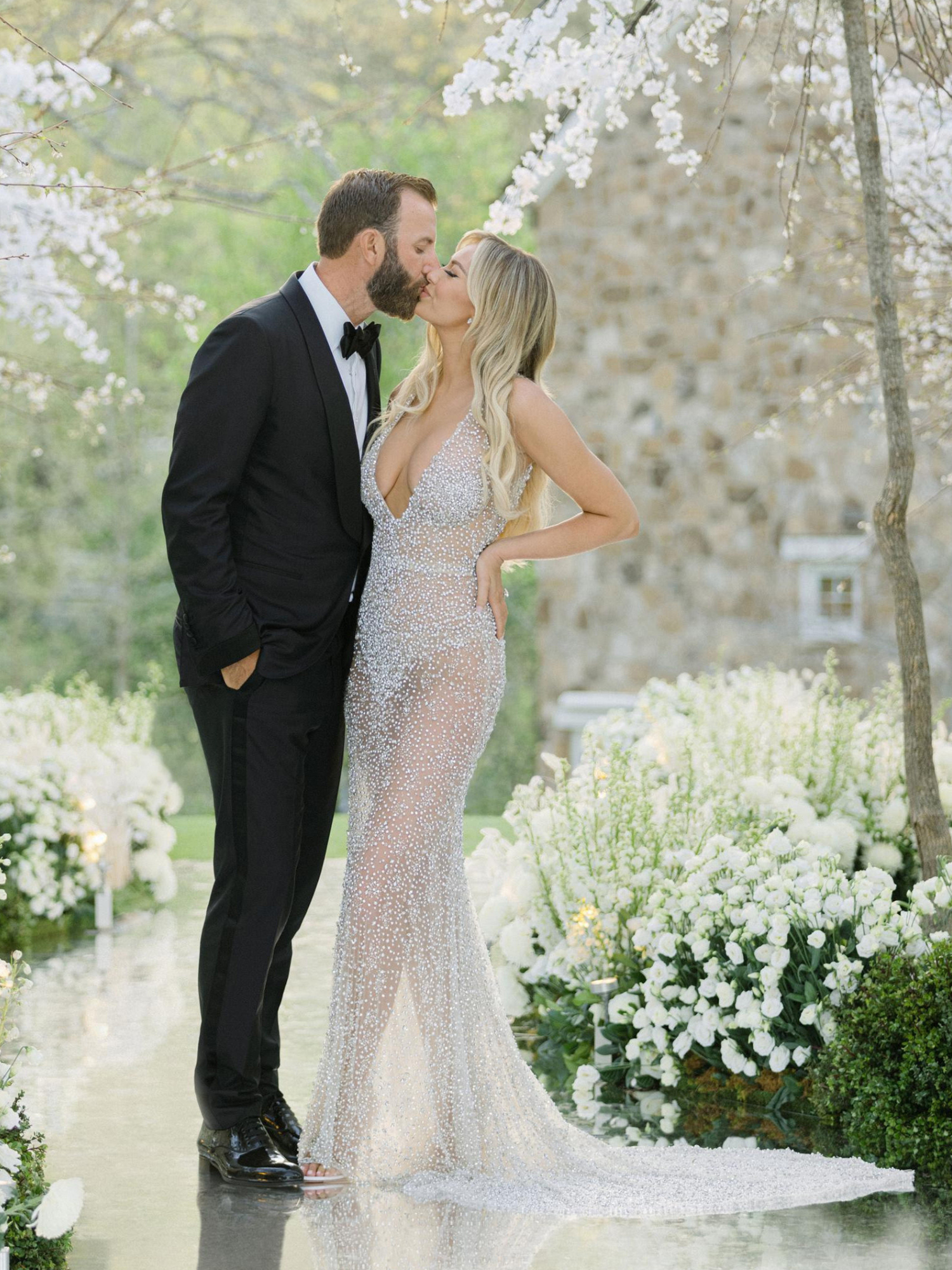 Instagram @paulinagretzky
Paulina Gretzky dazzled in her sheer wedding dress that is said to have included over 100,000 hand-embroidered Swarovski crystals and mini glass pearls. Paulina Gretzky's wedding dress is a 100% sexy frock designed by Vera Wang, which left people gossiping for months. If you are all about bling and sex appeal, book an appointment and come to try Style #2133L from Papilio's bridal collection 'Ballet', made of exquisite sequin lace, Swarovski beads and crystals. We promise – it will blow your mind.
Tiffany Trump Wedding Dress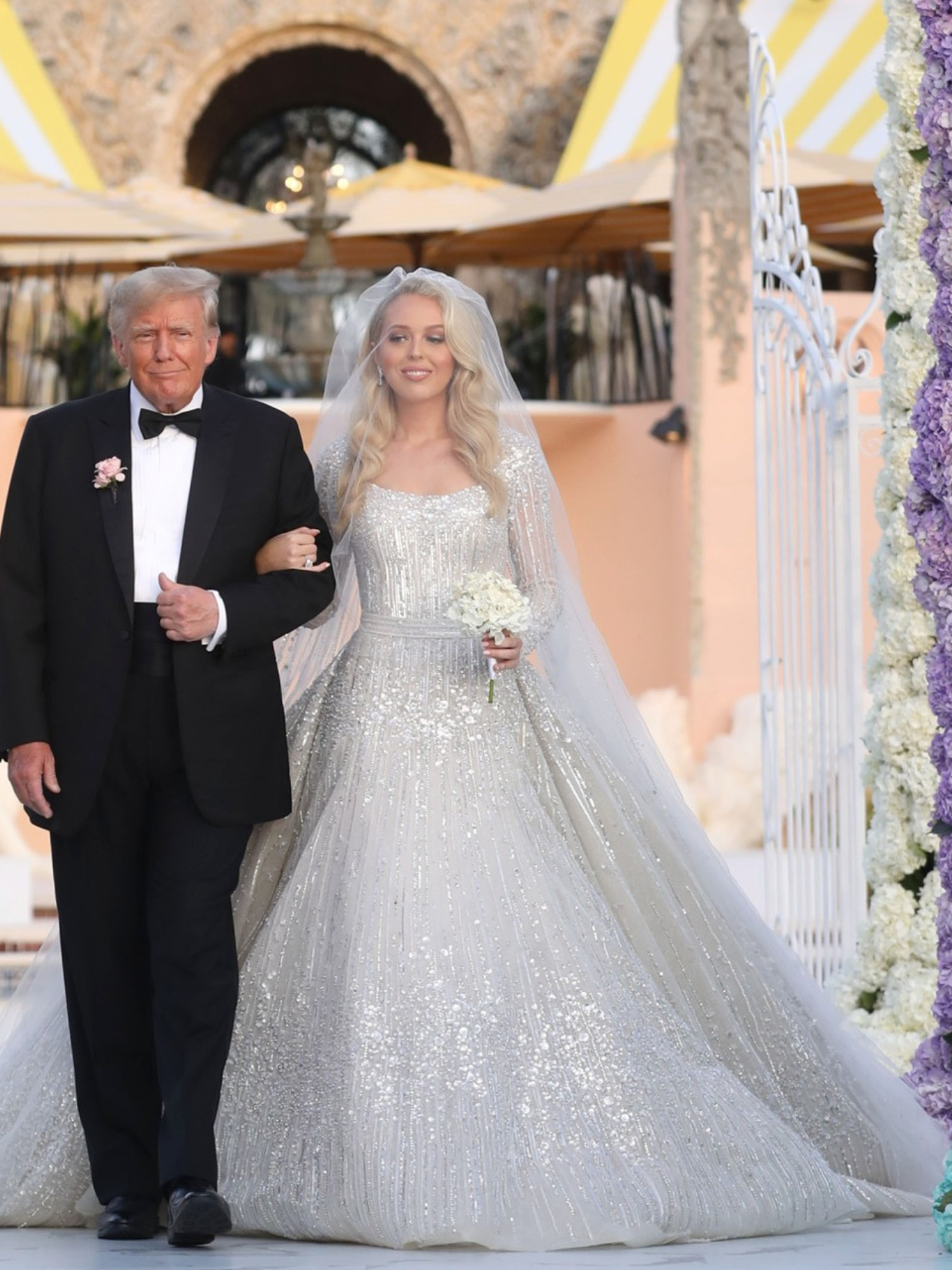 Tiffany Trump's wedding dress is a custom-made A-line gown with long sleeves by Elie Saab. This timeless wedding dress, made of all-over embellished fabric in a stunning shade of ivory, featured an impeccable fit and an ethereal vibe for a young romantic bride-to-be. This celebrity kept her accessories reasonably simple, choosing a pair of dangling diamond and pearl earrings and a simple cathedral veil. If Tiffany Trump's wedding dress inspires you, check out our Ballet collection, which offers a lot of similar ethereal wedding dresses.
Meghan Markle Wedding Dress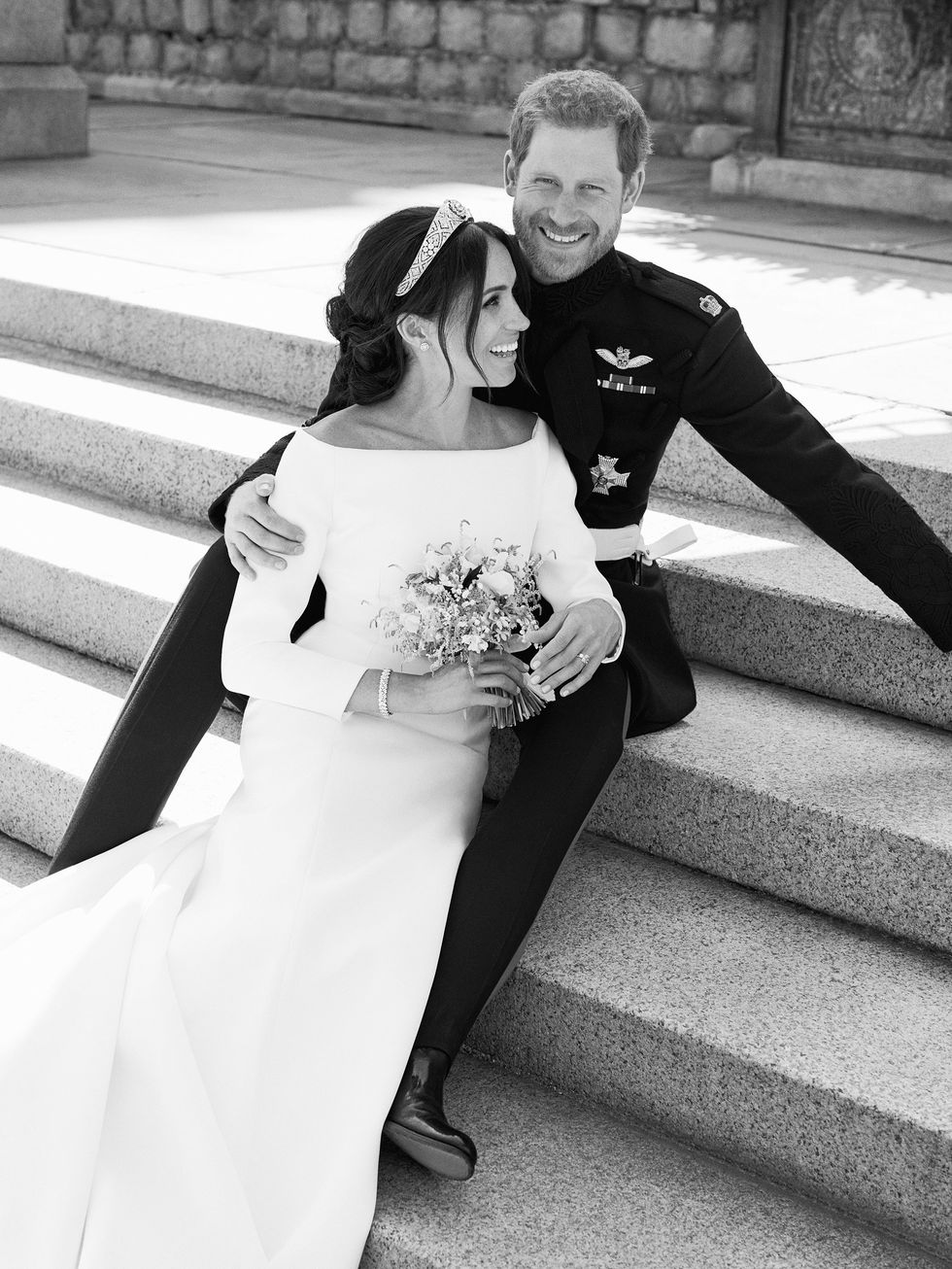 Meghan Markle's wedding dress is probably the most searched on Google. The fashion world still has not gotten over her timeless, minimal boat neck wedding gown designed by Givenchy. The simplicity of Meghan's wedding dress strategically highlighted her natural beauty and let her gorgeous accessories and veil do all the talking. Like many celebrity brides, Meghan Markle chose a statement lace veil with delicate romantic embroidery. Meghan Markle's second wedding dress, created by Stella McCartney, also deserves special attention among the 2023 brides-to-be. Crepe wedding dresses with a halter neck and open back can be a sexy and sophisticated option for summer weddings.
Celebrity wedding dresses continue to deliver the best big-day fashion inspiration worldwide.
Ariana Grande's Wedding Dress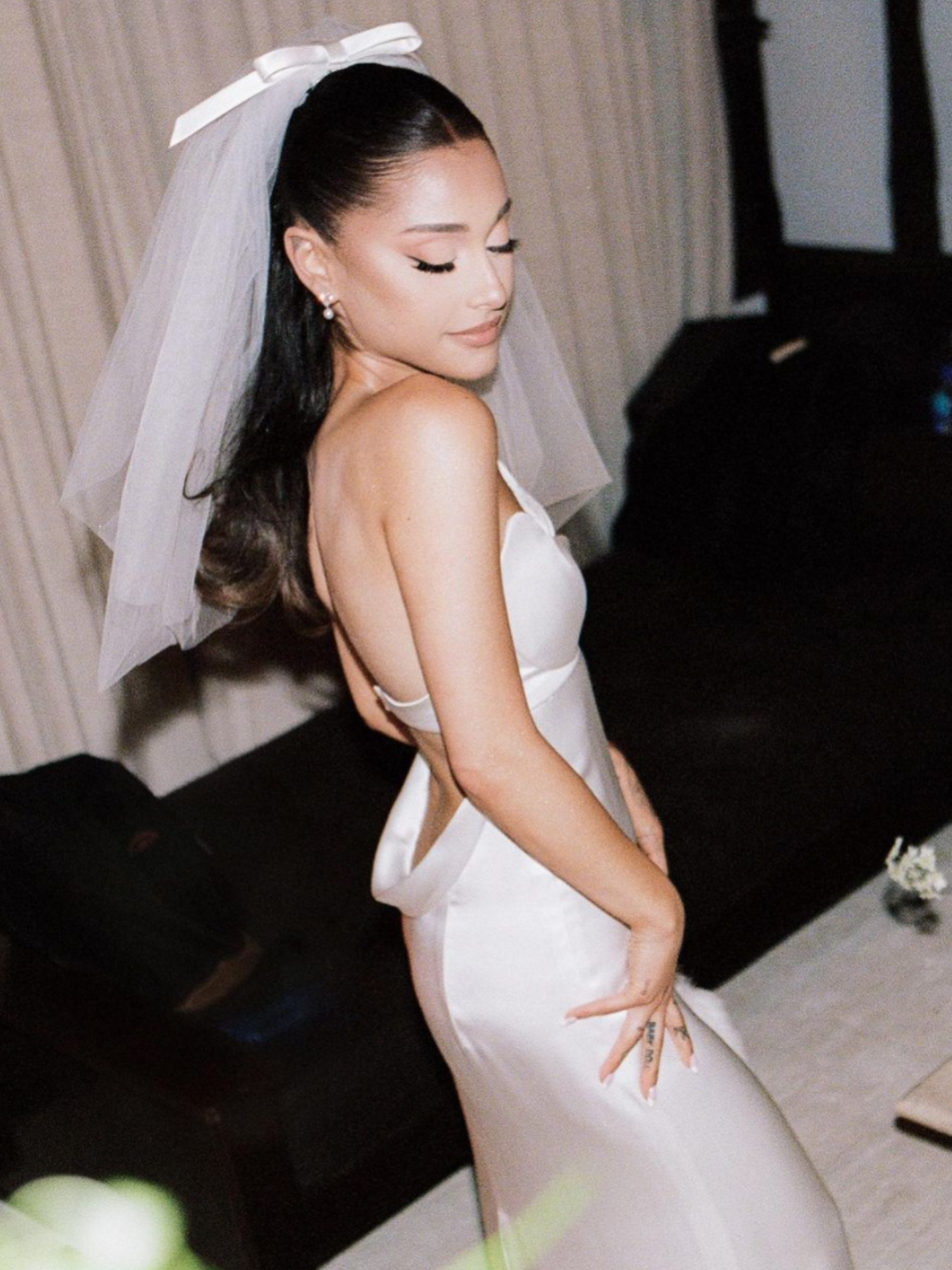 Another iconic bride, Ariana Grande, chose a custom silk empire-waist column wedding dress with a plunging back inspired by Audrey Hepburn and designed by Vera Wang. She used a shoulder-length bubble veil and a cute little bow to complete her trendy bridal look. Many of us will argue that this celebrity wedding dress will remain today's most famous bridal trend. What do you think, ladies? If you are shopping for a wedding dress in 2023, check out silk slip dresses and cute accessories like short veils or gloves. This bridal look will stay super trendy for this wedding season.
Paris Hilton Wedding Dress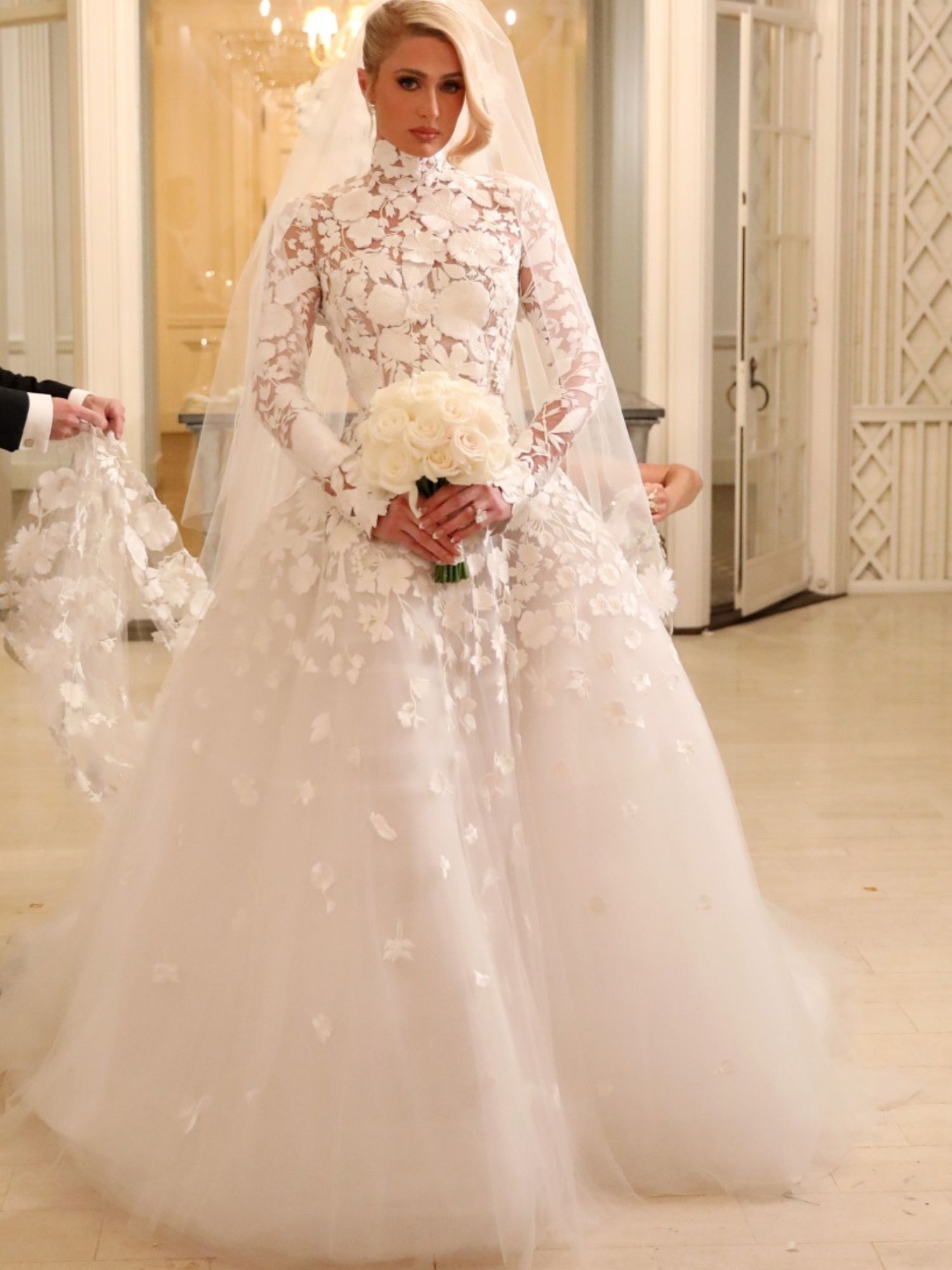 Paris Hilton had a total of 11 bridal looks. Can you believe it? Paris wanted to feel like an actual princess on her big day, and she sure did. Paris Hilton's wedding dress that we love the most is the one she wore when she walked down the aisle. This timeless long-sleeved lace wedding dress with a high neck was inspired by Grace Kelly and designed by Oscar de la Renta. She wore it beautifully with a long matching veil, reviving this timeless, elegant, chic, and iconic bridal look. For those of you looking for classy and timeless beauty, this might be the one bridal look to try on while shopping for your perfect wedding dress.
Sophia Bush's Wedding Dress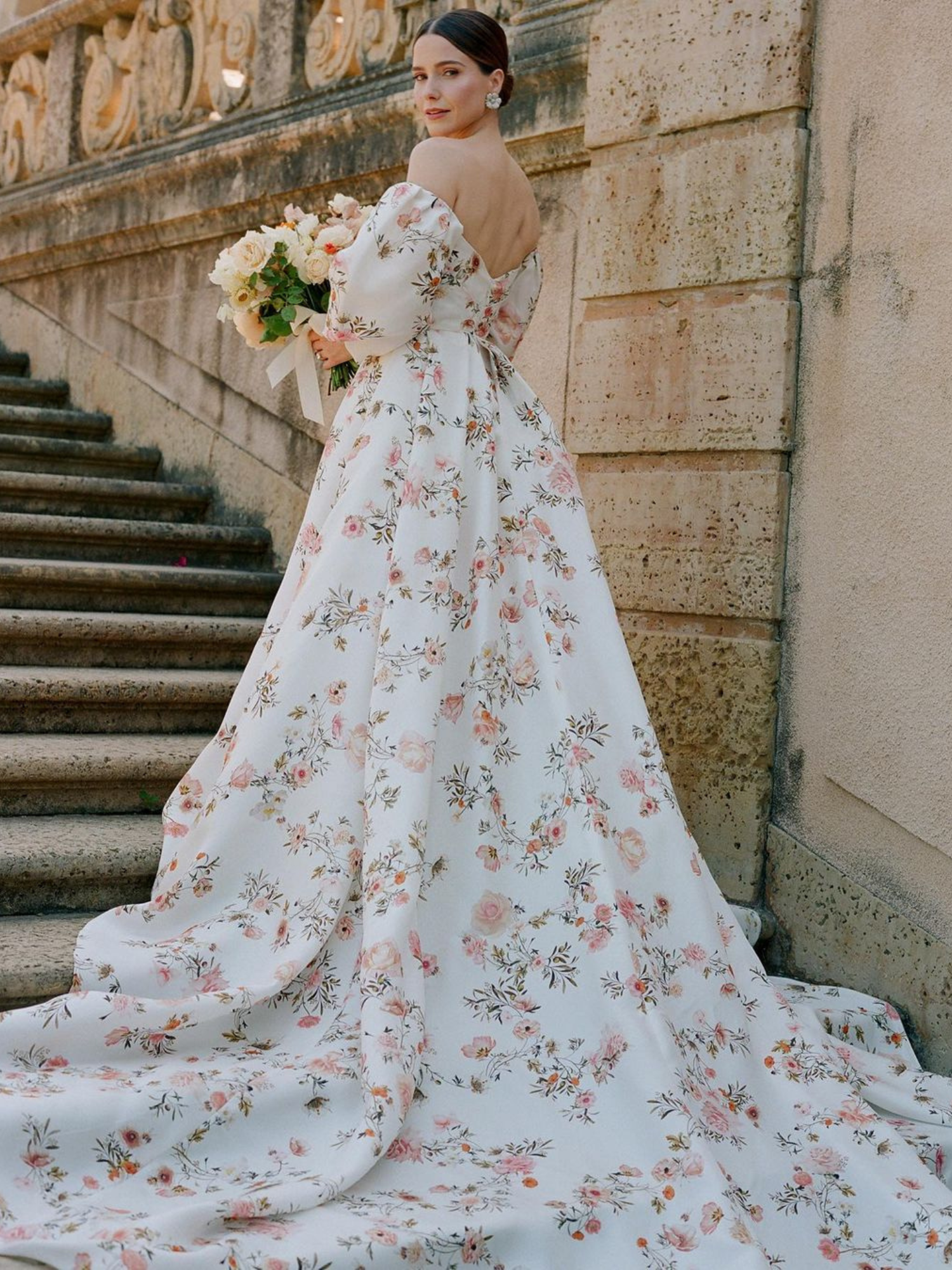 Here is one of the most romantic celebrity wedding dress looks we admire. Sophia Bush's wedding dress is a whimsical vision for any romantic bride getting married in a garden or, maybe, a winery. Designed by Monique Lhuiller, Sophia Bush's wedding dress features a fitted top, ball skirt and, most importantly, an unforgettable pink floral print. Thanks to Sophia and many other celebrities, floral wedding dresses have been trending for a long time. Get inspired by a feminine, one-of-a-kind bridal look!!! 
Celebrity wedding dresses represent a celebration of fashion, love and, more often than not, pure extra-nesssssss!