Celebrities Wedding Dresses
Celebrity influence
Of course, it is true that iconic Hollywood stars and celebrities heat up the bridal industry with unconventional trends. Their wedding dresses are without a doubt most unique wedding dresses. Most often, they start new trends and inspire girls over the world. Check out these celebrities wedding dresses to get inspired and maybe review your choices!
Solange Knowles:
Being a sister of the most famous pop star in the world, Solange wore all white jumpsuit with a flowy cape instead of a traditional bridal veil. No wonder her wedding attire represents a new generation of unique wedding dresses. She started off an edgy trend. A good example of this cool trend can be style #1725 from Wings of Love Collection. This sophisticated jumpsuit is meant for the high-fashion bride.

Gwen Stefani:
The sweet escape singer recently strutted the aisle in a fashionable wedding dress with colored accents. This unique style takes a traditional white wedding gown but dip-dyed pink gradient on its bottom. The color effect is a magnificent way to show off your favorite color. Colored wedding dresses came back in a big time after many celebrities wore some unusual colors. Many bridal designers offer unique shades for the next wedding season. Papilio is not an exception. Its collection 'Wings of Love' demonstrates this trend set by celebrities gracefully.

Olivia Palermo:
Make a new dream into reality by wearing a two-piece bridal ensemble. Olivia Palermo, the fashion icon, pulled off a soft cashmere jumpsuit with a detachable skirt. Two-in-one is the new big trend for brides who want to look different and feel comfortable all day long. For example, style #1739L from Wings of Love collection illustrates business in the front and party in the back with a stunning detachable long train.

Diana Argon:
Living the lavishing lifestyle, this actress and singer wore a unique tulle gown 100% embellished for her wedding day. On the one hand, it is a very non-traditional wedding attire. However, she looked amazing and joyful in this luxurious wedding gown. If you're looking for an 'all over-embellished' dress, check out style #1811L from Wonderland Collection. This dress will make you seem like a superstar at your wedding and inevitably separate from all the traditional brides.

Elizabeth Taylor and Amber Tamblyn:
These trend setters both wore the bohemian style sunshine yellow wedding dresses. Elizabeth Taylor shined through in a chic boho outfit with natural flowers in her hair. This romantic, but at the same time unique, one of a kind look will be fashionable for a couple of seasons. Amber Tamblyn had a whimsical wedding that matched her yellow mellow plunging neckline wedding dress. For the best example check out style #127 from City Lights Collection. You will be the sunshine on your wedding day!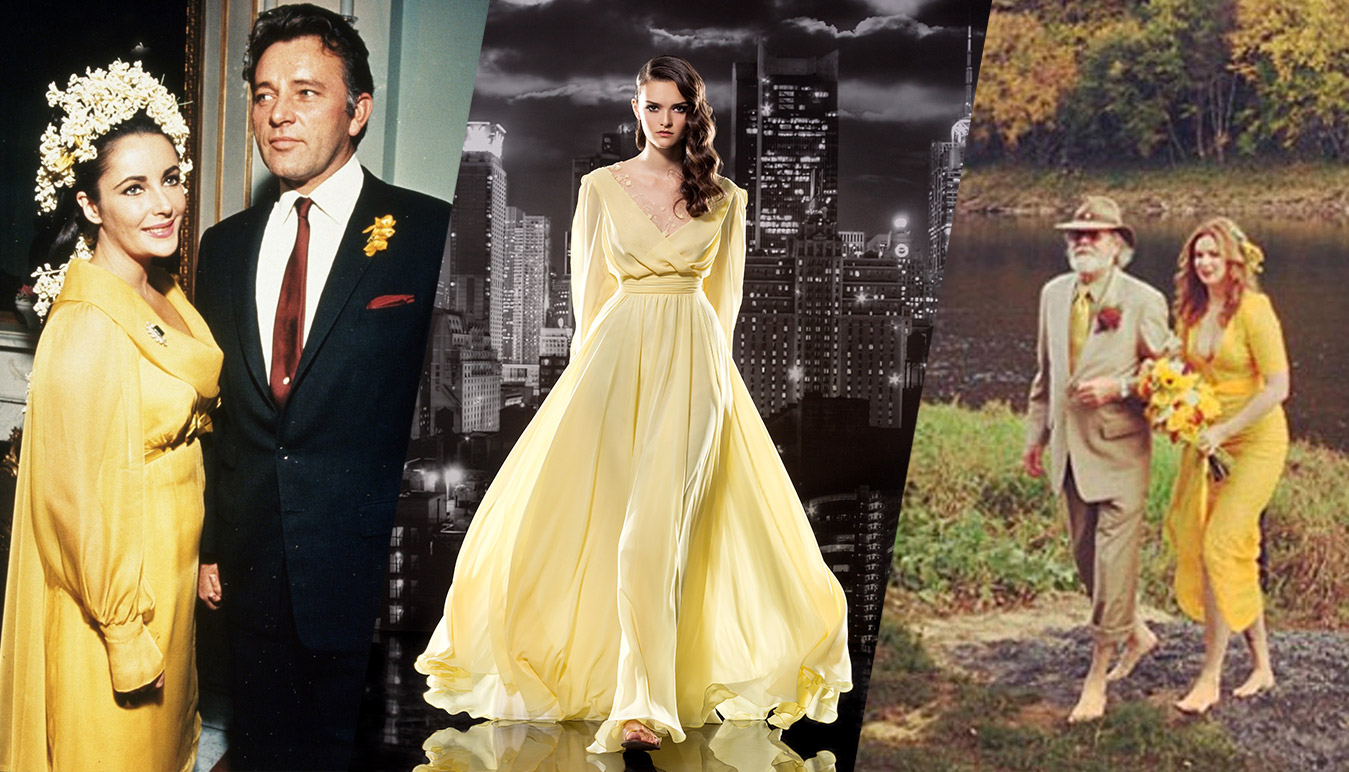 Whether you decide to wear a colored wedding dress, jumpsuit or two-piece bridal ensemble, make sure to choose what speaks to your personality! Remember you are wearing the dress, the dress should not wear you.
Be different, be unique, and be You!