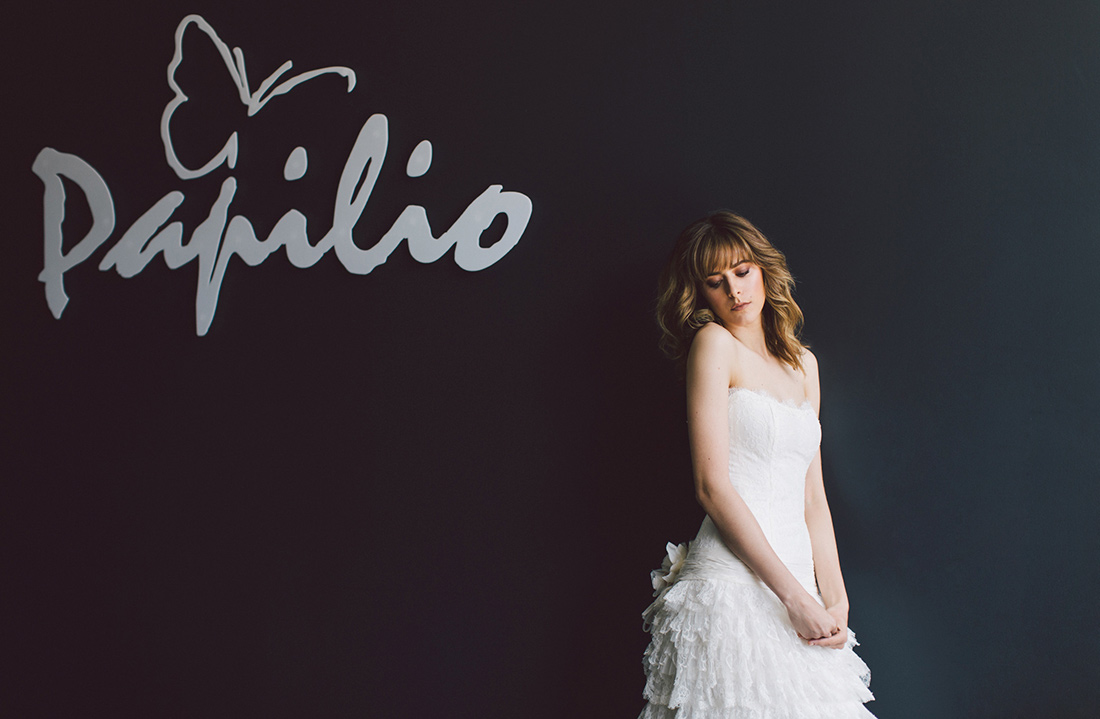 Papilio Fashion House signature bridal store in Toronto
We have all seen the scene in movies: the scene where the bride-to-be looks at herself in the mirror as she tries on the perfect wedding dress. With elation and possibly tears of joy she imagines herself walking down the aisle, a picture of flawless wedding day bliss.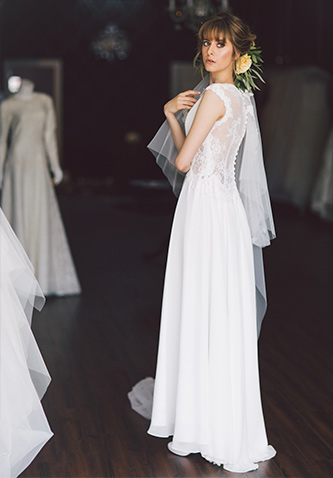 There are many Toronto bridal stores, but the easiest and most sure-fire way to make shopping for your dress just like that scene from the movies is to plan a visit to one of Papilio Fashion House bridal stores. Toronto is fortunate enough to be home to its signature boutique, one of a kind bridal salon featuring the most beautiful and unique wedding dresses on the market.
When planning a day of visits to bridal stores, Toronto is the place to go for the best service and selection available. Papilio Boutique strives to offer product and service that no other bridal store in Toronto will. First, the selection of wedding dresses: Papilio Fashion House produces 5 exquisite bridal and evening fashion collections. Every single dress is created by our designers, and by our team of specially trained dressmakers in Europe. Papilio dresses are not only lovely but of the highest quality possible. Our wedding and evening gowns are made of the finest and lightweight fabrics from Italy, France, and Spain. All embroidery, beadwork, and accessories, from the smallest to the largest, are incredible.
Wedding dresses at Papilio Boutique in Toronto are exclusive; you will not be able to find Papilio styles in any other bridal stores. Toronto brides can be assured that they will look completely unique wearing one of these timeless, yet modern and elegant designs. Papilio designers have created a wide variety of dresses to meet taste, body type, and needs of every bride. That's why you are guaranteed to find the dress of your dreams.
The service at all Papilio bridal stores is the second reason to make it your first visit. All Papilio stores are open only by private appointments. This ensures that you and your family will receive great service and all attention. You will not be standing among a sea of brides vying for the attention of a salesperson. At Papilio, our focus is on you and helping you to select the perfect dress for your wedding, no matter what the setting is.
Our inventory changes every 2-4 months, and we also have lookbooks, featuring wedding dresses from previous seasons to further widen your selection. Our salespeople can easily guide you through the types of dresses that will best suit your style and body type.
You would think that for dresses of the highest caliber of European fashion standards, at a boutique that operates by private appointments with the best and most individualized attention, a wedding dress would be out of your budget. You are wrong! Because we create our own dresses and do not resale other designers or rely on any outside sources, we are able to offer one of a kind wedding and evening gowns at affordable prices.
If you are planning a day of visits to bridal stores, Toronto has the one and only spot you will need to visit:  Papilio Boutique where you will find the dress of your dreams. Call +1 (647) 748-1908 today for an appointment!