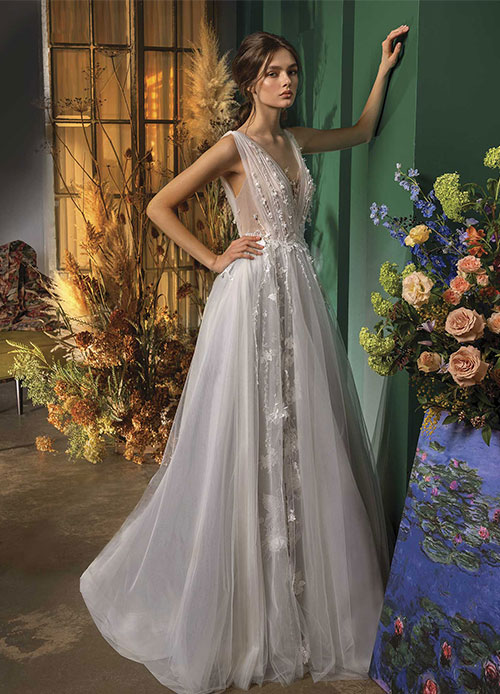 BRIDAL GUIDE: Wedding Dress Shopping
Thank you for your interest in Papilio, and best wishes on your engagement. You must be very excited but at the same time nervous about your upcoming wedding. Like any bride, you probably like to look your best on your big day. Besides, we do not know any other occasion when your dress will matter as much as it does on your wedding day. Many brides will agree that choosing the perfect wedding dress is one of the essential wedding decisions to make. It can make or break your entire bridal look. That's why it is crucial to do research and educate yourself. The better you plan it, the easier it will be for you.
Not to worry, we are here to help to transform you into the most radiant bride on your wedding day.  Our professional consultant will assist you in choosing the best wedding gown that you and your husband-to-be will remember for the years to come. We invite you to visit our signature bridal store in Toronto, and you will be surprised to find wedding dresses in every style, from classy wedding dresses to one of a kind glamorous outfits. All our designs are exclusive, and you will not be able to find them at any other bridal stores in Canada. You will fall in love with the attention to details, quality, and value we can offer. Please indulge this exciting experience of wedding shopping for your dream dress, enjoy being pampered by us and have fun with your friends and family.
In this bridal guide, you will find all the information you need before and while wedding dress shopping, from what to expect at your first bridal appointment to final touch-ups to your dream wedding dress before a wedding day. We encourage you to spend some time reading this bridal guide to have the most enjoyable, relaxing wedding dress shopping experience possible. If you still have questions, we are happy to answer them. Please drop us a line at info@papilioboutique.ca.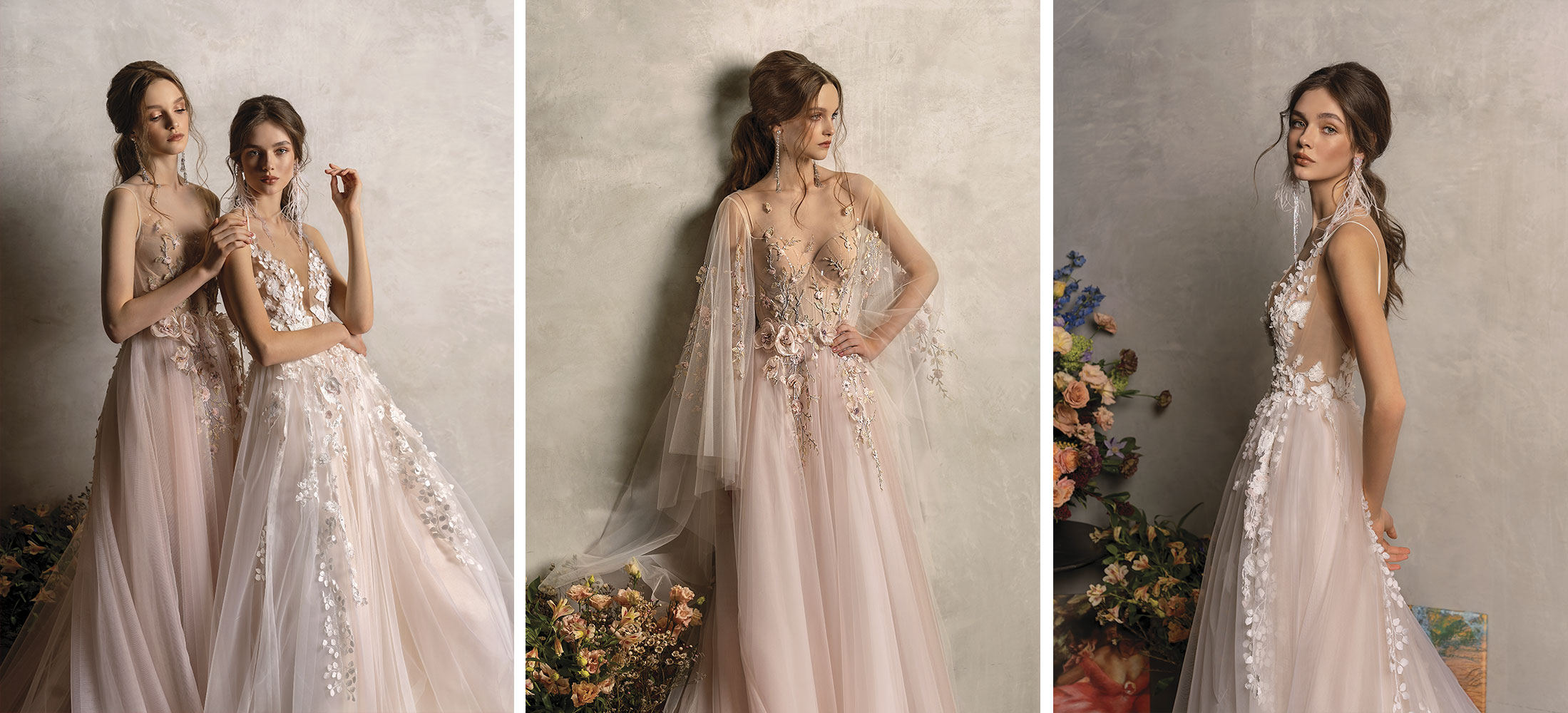 SMALL BUT SMART DECISIONS TO MAKE!
We believe that every bride is unique, and every wedding is different. And how you are going to look for your wedding dress will forever stay in your memory. It will become a bonding time with your friends and family that will create new memories and will bring you closer. As a bride, you have a lot of important decisions to make. First of all, you need to think about who will you invite for your wedding dress shopping. We recommend bringing only the closest friend and 2-3 family members. It can be your maid of honor, your mother, your mother-in-law, and your sister or cousin. Remember you do not want too many people to know what wedding dress you are going to wear, because it can ruin that special moment when a bride walks down the aisle and everyone has goosebumps because she looks so unbelievably stunning. Besides, when you invite more than four people for your bridal appointment, you have a chance of being overwhelmed with too many opinions and too much advice.
Also, you need to consider all the relevant factors when shopping for your wedding dress. It must look not only excellent but also appropriate for the occasion. Think about your venue, nature, style of your wedding, weather, decor, and many more aspects that must be accounted to make the whole wedding complete. Unless your bridal gown fit in your wedding setting, you may not be the gorgeous bride you wished to be. When our consultant starts working with you, they usually ask you a lot of questions. For example, what venue did you select? When is your wedding? How big is your celebration? What style do you think of wearing? What flowers do you like? Etc. We can offer plenty of wedding styles, and you can benefit from the professional expertise of our bridal consultants if you allow us to guide through the process. We will help you to find the right dress that looks fantastic and is just perfect for the occasion.
Make your wedding dress dreams come true by booking your first bridal appointment with us. You are on the way to looking stunning on your big day.
Steps to find the perfect wedding gown
The countdown to your big day has begun, it is time to start your wedding dress shopping. It will take time. Sometimes it may take longer when you anticipated. First, it is crucial to begin the planning process for your wedding shopping experience. Shopping without any idea on what you want can make you feel overwhelmed with all the choices offered to you. At the same time, it is good to stay open-minded and try different styles. Here are the steps on how you can plan your wedding dress shopping and make shopping for your dress easy and fun.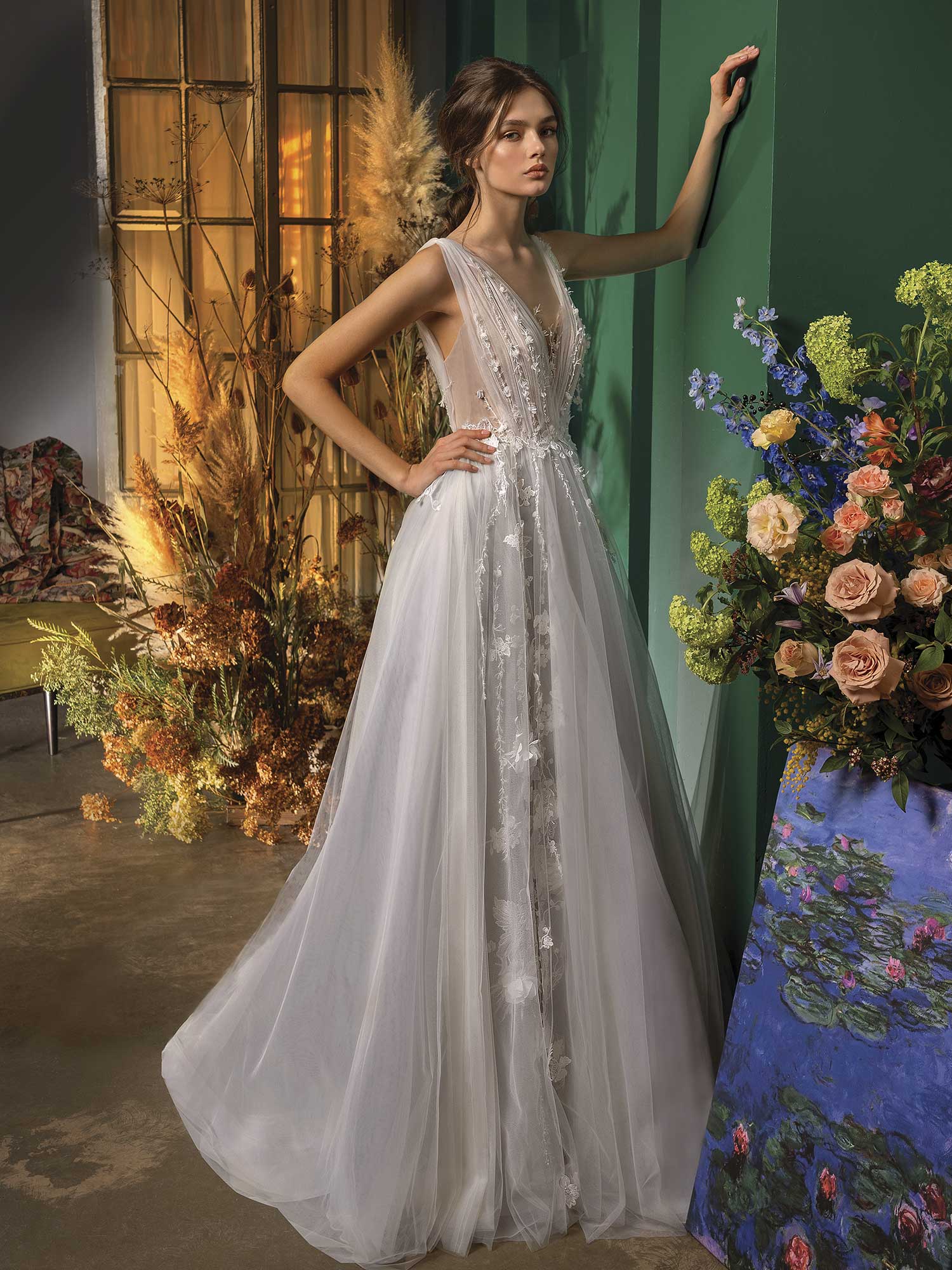 START WEDDING DRESS SHOPPING EARLY!  
Getting a wedding dress may take anywhere from 6 to 12 months depending on the design, fabrics availability, shipment schedule, etc. The earlier you start, the better off you will be. Starting from 8 to12 months will allow you to avoid paying rush fees and stressing out when you need to shop for your bridal accessories and shoes. You will have plenty of time.  The main factors that will affect your wedding dress shopping are finding the right bridal store, selecting your wedding dress and getting it altered in time for your wedding. If you have done your research, and have determined what stores you like to visit, it will be great to check the type of dresses you want to try beforehand.
RESEARCH  AVAILABLE WEDDING DRESS OPTIONS 
Bridal designers do not stop to surprise us with the enormous number of options every year. The variety of designs, fabrics, cuts, styles, prices, and sizes is endless. The bridal industry has never been that as advanced as it is today. That's why doing your research in advance and get inspired online is very important. Save pictures of wedding gowns that you think you will look great on you on Pinterest or Instagram for your future reference.
Browse our vast online collection of wedding dresses and shortlist the ones you like the most. Bring this list to your bridal appointment with us. Although not every single dress published on our website is available in store, we will offer you to try similar styles and show you lookbooks and fabrics. At the moment, we have over 200 samples to choose from. While looking through our bridal collections, do not get carried away, but always take into account for the location of your wedding, type of the event, and possible weather.
Consult with your friends and relatives on what you may look the best. Having a list of wedding dresses you like will not only help you save time when wedding dress shopping, but also allow the bridal consultant to suggest you the right options. And remember, the better you plan and the earlier you start, the more time will have for looking for your bridal accessories and doing fittings and alterations.
DETERMINE YOUR WEDDING DRESS BUDGET
Before you start your wedding dress shopping, set up your maximum budget, what are you ready to spend on your dream dress? It will stop you from falling in love with a dress that you cannot afford. Plan your wedding dress budget, do not forget to account for additional costs, such as accessories, e.g., veils, ornaments, shoes that complete your bridal look, and, of course, alterations costs. That will help to set aside an exact amount for your wedding gown.
You now have a better idea of what you are looking for. It is time to plan your visit to Papilio. The following steps will help you plan your bridal appointment and use your time at the store more productively.
WHEN SHOULD YOU BEGIN WEDDING DRESS SHOPPING?
We recommend starting your search for a wedding gown at least eight months before your wedding date. This way, you will have enough time to look around, find the one, choose your accessories, and perform the required alterations without any haste. On average, all bridal orders at Papilio arrive within six months. If you do not have eight months and need to order in a rush, we charge 300 dollars for all rush orders. The rush fee goes toward expedited production and shipment. If you have concerns, please email us at info@papilioboutqiue.ca, we will be happy to assist you.
PLAN YOUR COMMITTE FOR WEDDING DRESS SHOPPING WISELY! 
You will not stress it enough – be very smart who you are inviting for your bridal appointment. You can take along a trusted friend or two, and, of course, your mother, sister or cousin. Do not invite too many people as you will end up being confused with many different opinions. That's why try to take along people who are fair in judgment, have your best interest in heart, have a good sense of fashion, and can offer an objective opinion. Although your family and friends can provide valuable feedback, still remember it is your wedding, and you are the one who should carefully consider all suggestions and make the final decision. 
NOW, IT IS TIME TO GO WEDDING DRESS SHOPPING!
If you have not booked your bridal appointment, please do it here. If you have your date set up, all that is left is the actual hunting for your dream wedding dress. Get ready and enjoy this wonderful time with your friends and family. You will remember this special moment for many years to come.
What to expect at your bridal appointment?
At Papilio, we firmly believe that shopping for a wedding dress should not be stressful. We will make everything that you have a great experience and enjoy the process every step of the way.  All our communications with brides are clear and transparent. As any private boutique, we have in-house rules which we would like you to get familiar in advance. It will make your wedding dress shopping experience more delightful. If you have any questions, please address them by emailing us at info@papilioboutique.ca.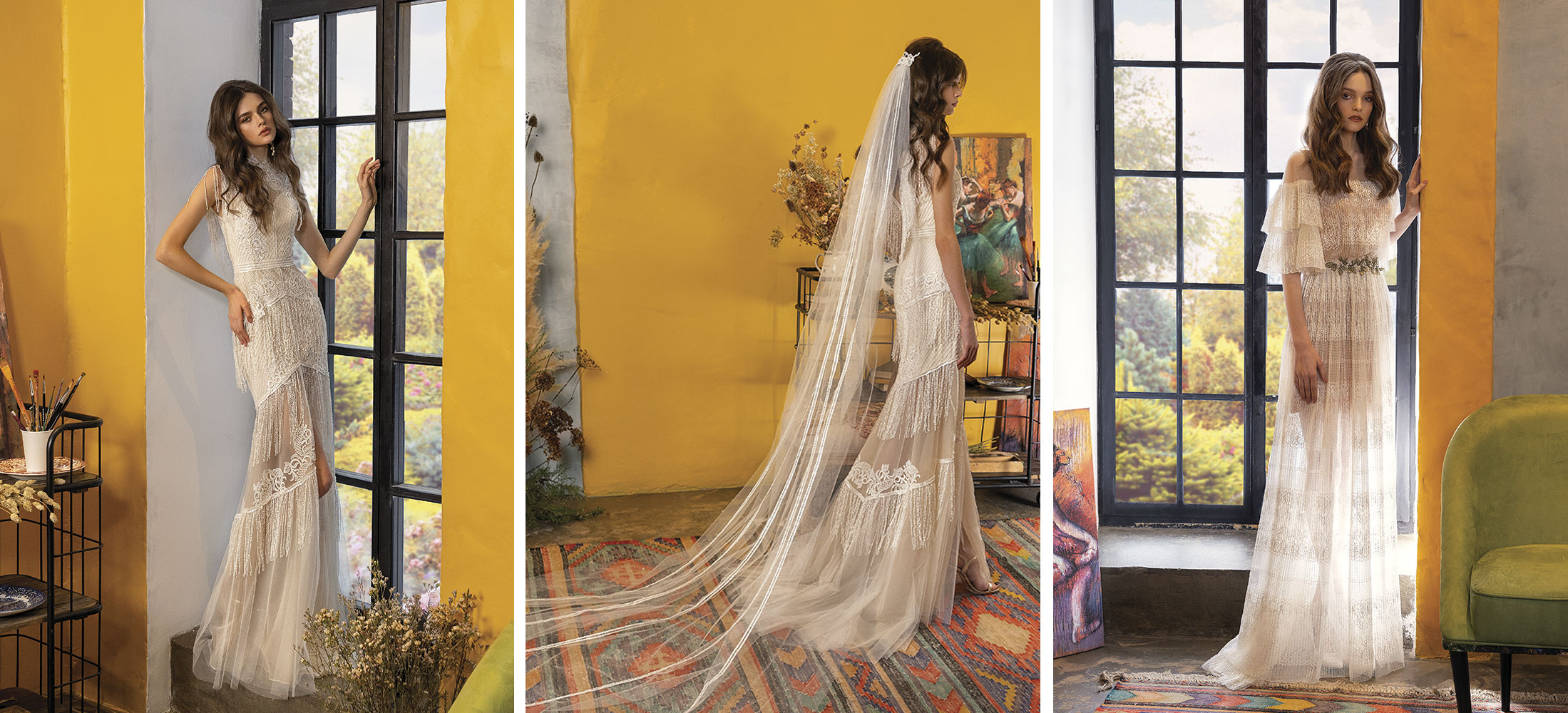 SHARE YOUR IDEAS WITH US, BUT STAY OPEN-MINDED
One of our bridal consultants will work with you one on one. Every bride is special and deserves to be treated like royalty. Hence, we work by private appoitments only and make sure that your wedding dress shopping is exceptional and unforgettable. When you arrive at the boutique, we usually start by reviewing comments on your file to understand your wedding setting and personal dress preferences. This process will help your consultant to identify what you are seeking in your wedding dress and learn more about your wedding theme. She will suggest the most appropriate options from our bridal fashion collections. And if you have a Pinterest board with specific ideas regarding cut, color, and fabric you like, this would be an ideal time to share with your consultant.
SELECT SAMPLES YOU ARE GOING TO TRY ON WISELY
Next, we will introduce you to our collections, different silhouettes and fabrics of the wedding dresses we have in stock or production. Your consultant will show you different styles and briefly talks about bridal materials and wedding dress construction. She will try to help to identify the wedding dress style that will suit you the best.  Please note that all of our staff is very knowledgable. They have been working in the industry from 5 to 10 years, and have a lot to share in terms of bridal fashion, practicality, and little details you have never imagined. Remember to stay open-minded! Sometimes dresses that do not appeal on a hanger may look fantastic when they drape on the body. That's why if a consultant suggests to try on a particular style, she knows how a gown would look on a frame. Believe us that you will be surprised if you let go of your preconceived notions and try our recommendations.
PLAY DRESS UP! TRY ON WEDDING DRESSES
After that, the fun part begins. You will decide what samples you are going to try on and we will assist you in changing into them and selecting the one you love the most. Every appointment lasts anywhere from 45 – 60 minutes. It is usually enough time to get familiar with our collections and try up to 10 samples. Use your time wisely and get as much information as possible. If you decide to come for the second appointment, we will be happy to book you another appointment* (*conditions apply).
Take your time to study how you look in each dress. Ask yourself: "Do I feel pretty in this dress?" "Does it accentuate my best features?" "Does it fit my personality and style?" It will help you to make your final decision. At the end of your appointment always re-try your top contenders. If you have found what you are looking for, smile and relax, because – you have done it, you got the ONE!
MEASURE, SNIP, AND MAKE IT FIT!
After you said yes to the dress, our bridal consultant will take your measurements and help you to decide what size to order. Our wedding dresses come in standard European sizes. It is not necessary that the one you like the most will fit you. Do not worry! Our professional tailor can make alterations that will make your dress fit you to your exact measurements. Please note that after an initial fitting you may require one or two fitting appoitments. At Papilio, we provide professional alteration services to our clients at discounted prices. On average, bridal alterations in Toronto cost anywhere from 500 to 1000 dollars. Our tailor charges from 250 to 850 dollars depending on the complexity of the work required and hours spent on a particular dress.
FINAL TOUCHES TO YOUR WEDDING DRESS!
Once your alterations are completed, you need to think about accessories to perfect your bridal look. Your shoes, veil, hair piece, etc. are chosen based on your dress to achieve the look you have been dreaming about. You may want to ask your consultant for suggestions on these final touches. We recommend bringing your accessories to your last fitting appointment and have your hair and makeup done in the style you will wear on your wedding day. This way, you will be able to see how your entire bridal look comes together. You worked hard and deserved to see what a splendid bride you are going to be!
10 things you need to know while shopping for a wedding dress
Now that you know a lot about wedding dress shopping and fully armed for your first bridal appointment, you may wonder "how I can be more confident when I say Yes to the dress." Choosing the One may be filled at the same time with anxiety and a lot of excitement. To make it more relaxing, here are the most important things we need to know before buying your dream wedding dress.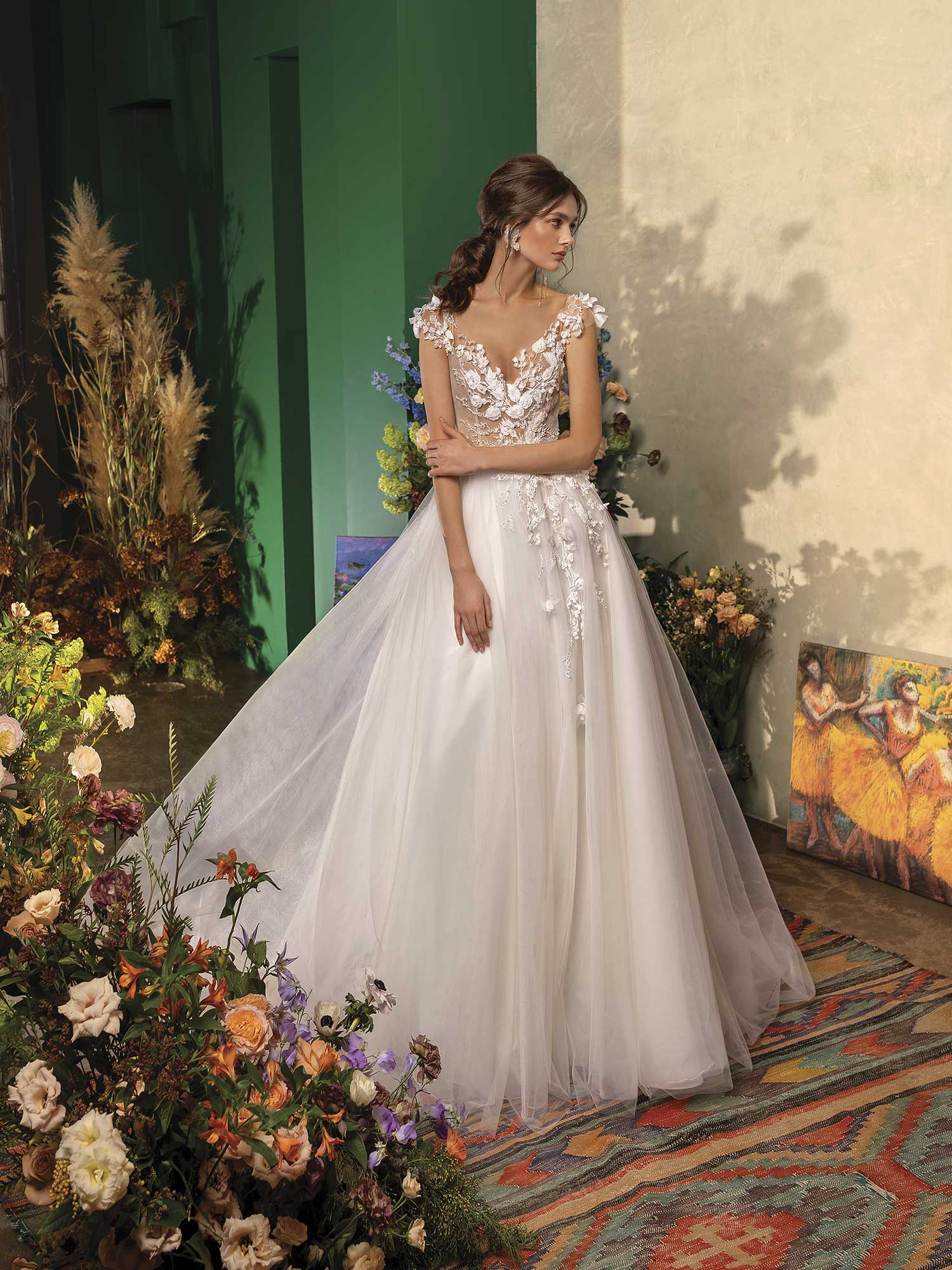 1. Picture your wedding day
How should your wedding day look like? Breath in, close your eyes and imagine your big day. What do you see? Who will you be walking down the aisle with? Do you want to get married outside or inside? Would you prefer natural light to the soft glow of candlelight? Do you see yourself in a puffy ball gown with your hair up and a long cathedral veil flowing behind you? Or are you dressed in a flowy romantic gown that comments your figure? Do you look like a princess or a sexy and sophisticated bride? Are you picturing a traditional wedding, or maybe modern and edgy?
Now take a piece of paper and write down all the things you imagined. It will help you to describe what you want to look and feel on your special day. So when you finally find a dress you are ready to say Yes, you will know that is the one, because it will fit your imaginations.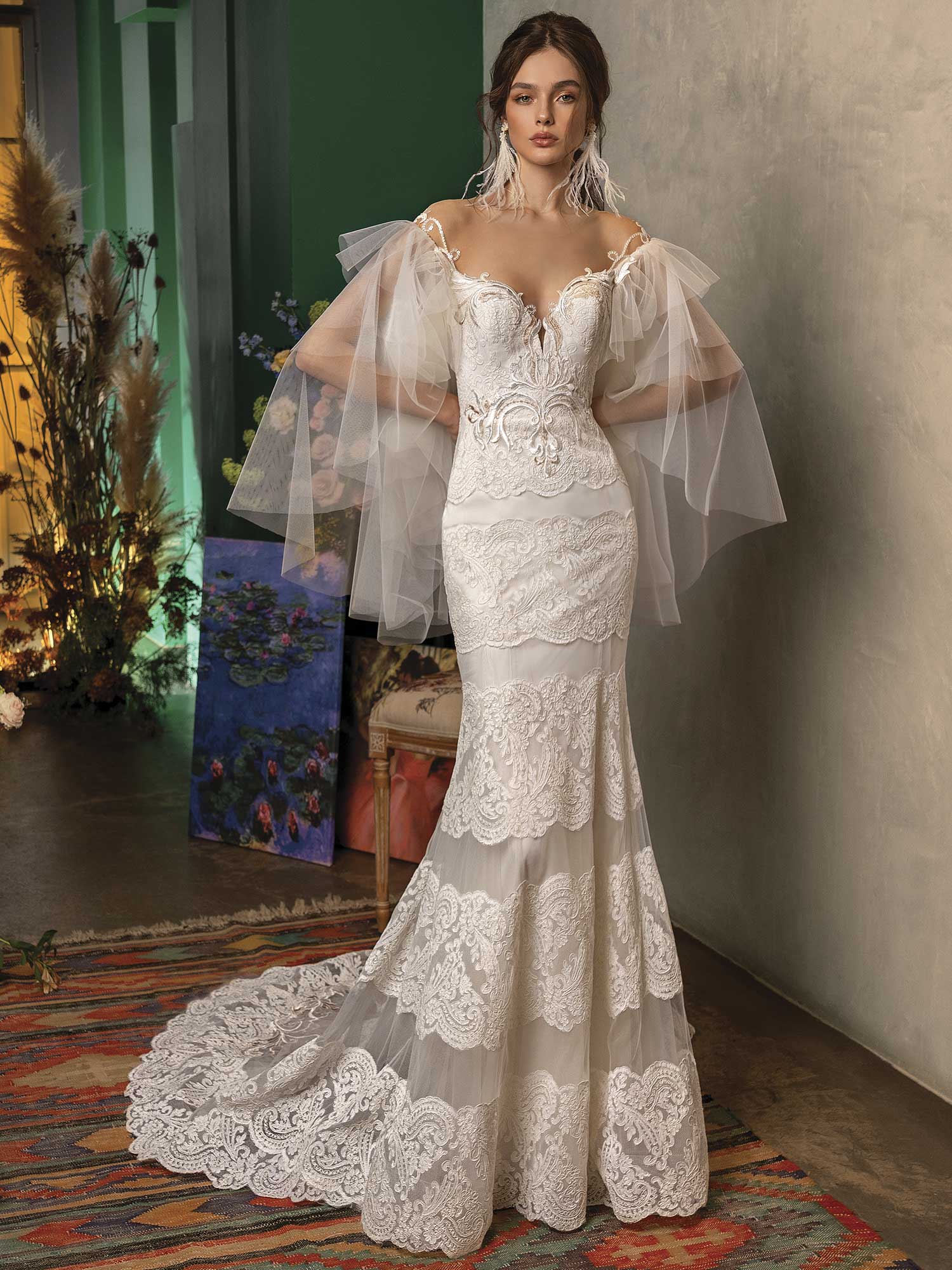 2. Try different silhouettes
At your bridal appointment, you should try different wedding gowns to find one that best suits your body type. There are four major silhouettes of wedding dresses. They are:
– Ballgown. It usually has a tight bodice and waistline that leads to a full skirt.
– A-line. The A-line wedding dress can have different types of bodice but always features an A-shaped flared skirt.
– Mermaid or fit-and-flare. This silhouette will follow your body lines closely.
– Sheath. This type of wedding dress may have a higher waistline which falls to a flowy, slimmer skirt.
Our bridal consultant will help you to identify your best features in each, and guide to find the right style that suits your figure and personality.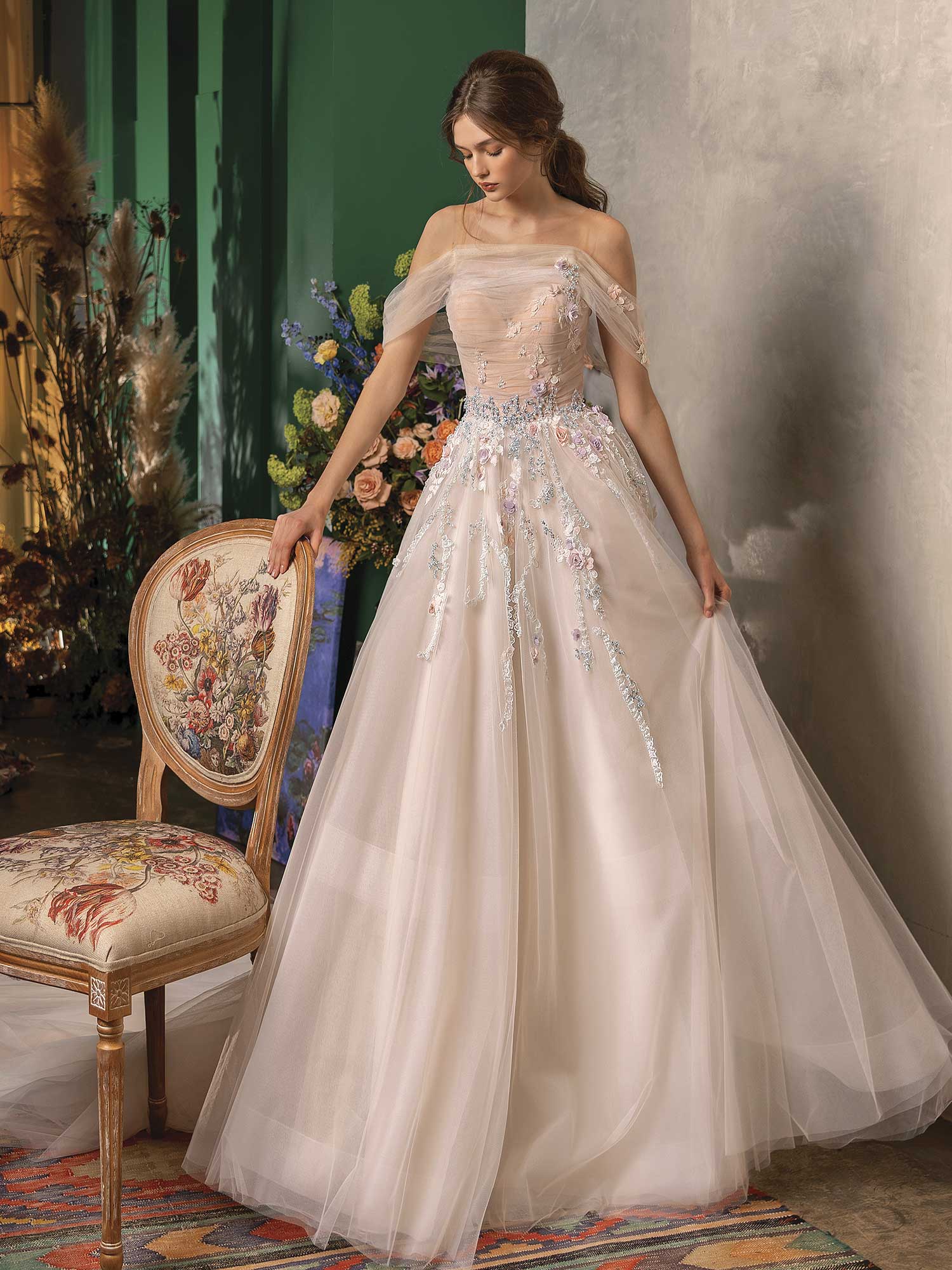 3. Check different bridal fabrics and colors.
The color and fabric of your wedding dress should be selected carefully. The same style can look and feel different in different colors or materials. For many years, white had been the favorite wedding color. However, bridal fashion has changed in the last couple of years. Now, light colors like off-white or champagne look softer and are very popular among brides. You should select color and fabric that suits your personality and your complexion.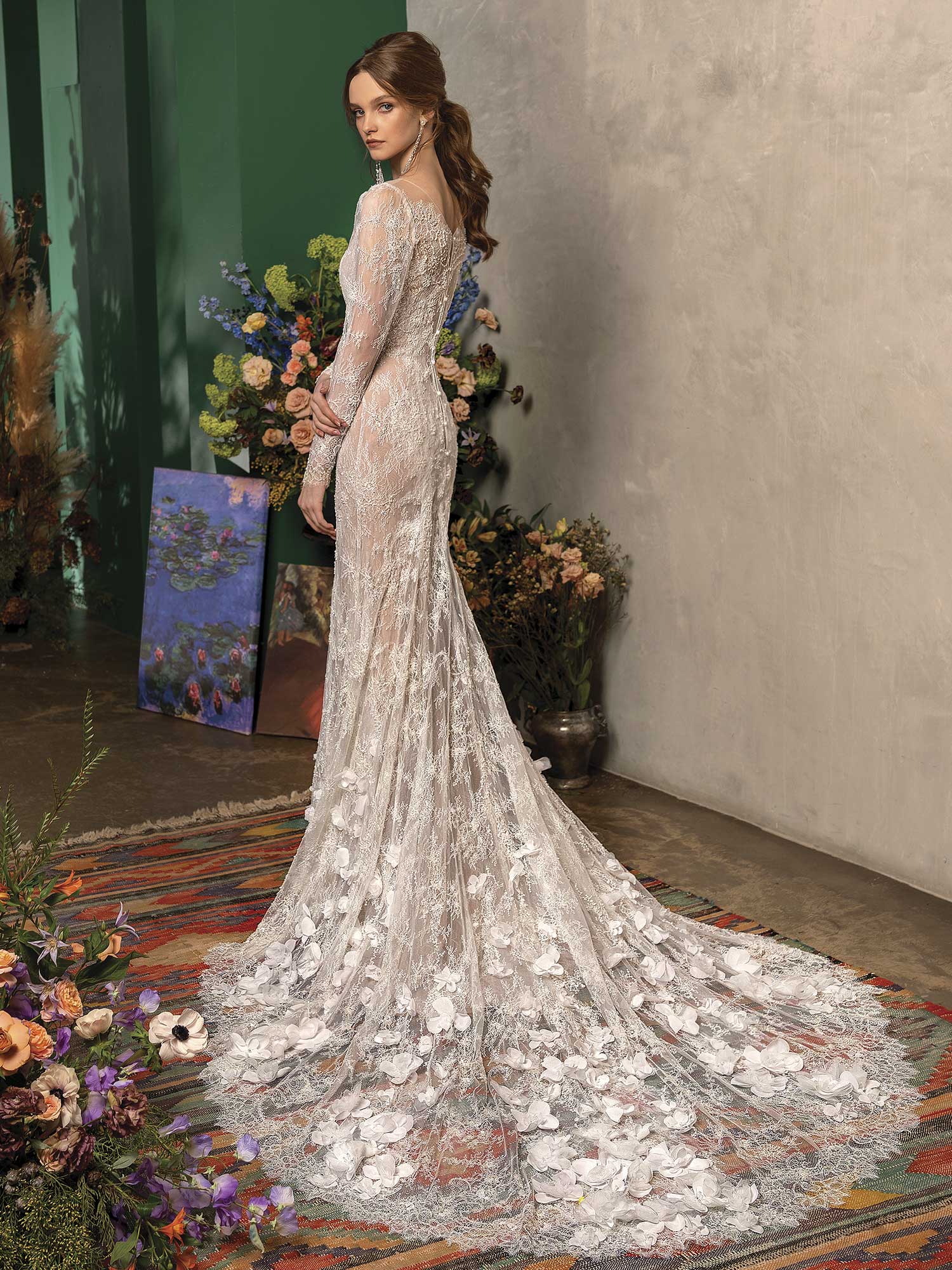 4. Determine what styles you like.
You should determine what features you want to see in your wedding dress. Those features include the type of neckline, waistline, sleeves, and train. Once you have decided which silhouette, color, fabric, and style you like the most, you can focus on embroidery and embellishment you want to see on your dress.
Do you like lace appliques? Do you like gentle beading? Or Do you like 3D flowers?
You should try on a variety of gowns to help you find what decor you like best as you bring your perfect dress into closer focus.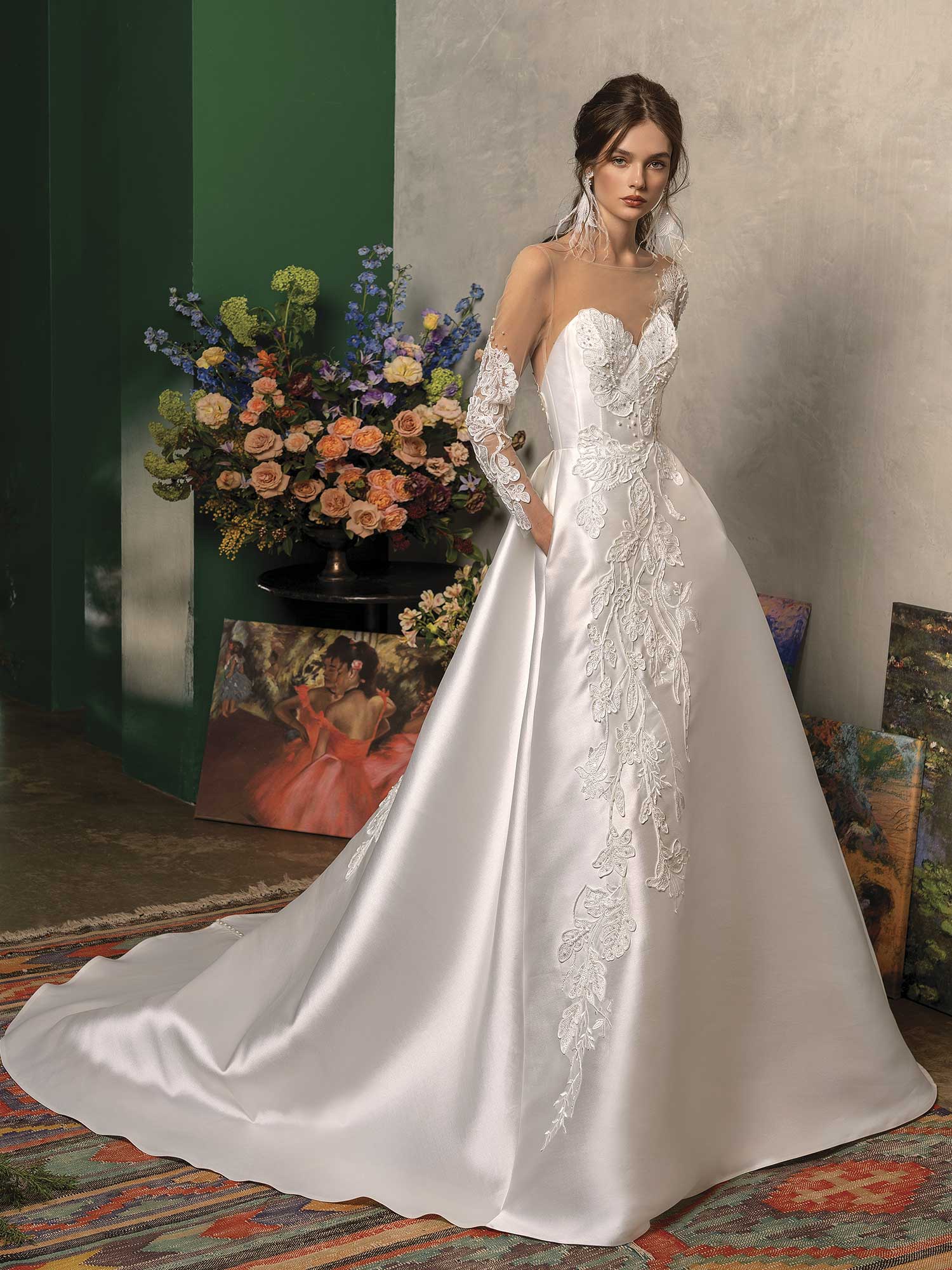 5. Work as a team with your bridal consultant!
Please accept all the help from knowledgeable and professional consultants. Our bridal consultants ask a lot of questions to get more clarity about your big day. They want to do their best and help you with recommendations. They have seen wedding gowns on many different women and will be able to suggest a dress that will look great on your body. The consultants can offer some shapes and styles you might have never imagined wearing.
Nevertheless, you should feel comfortable and free to express your own opinion working with a bridal consultant.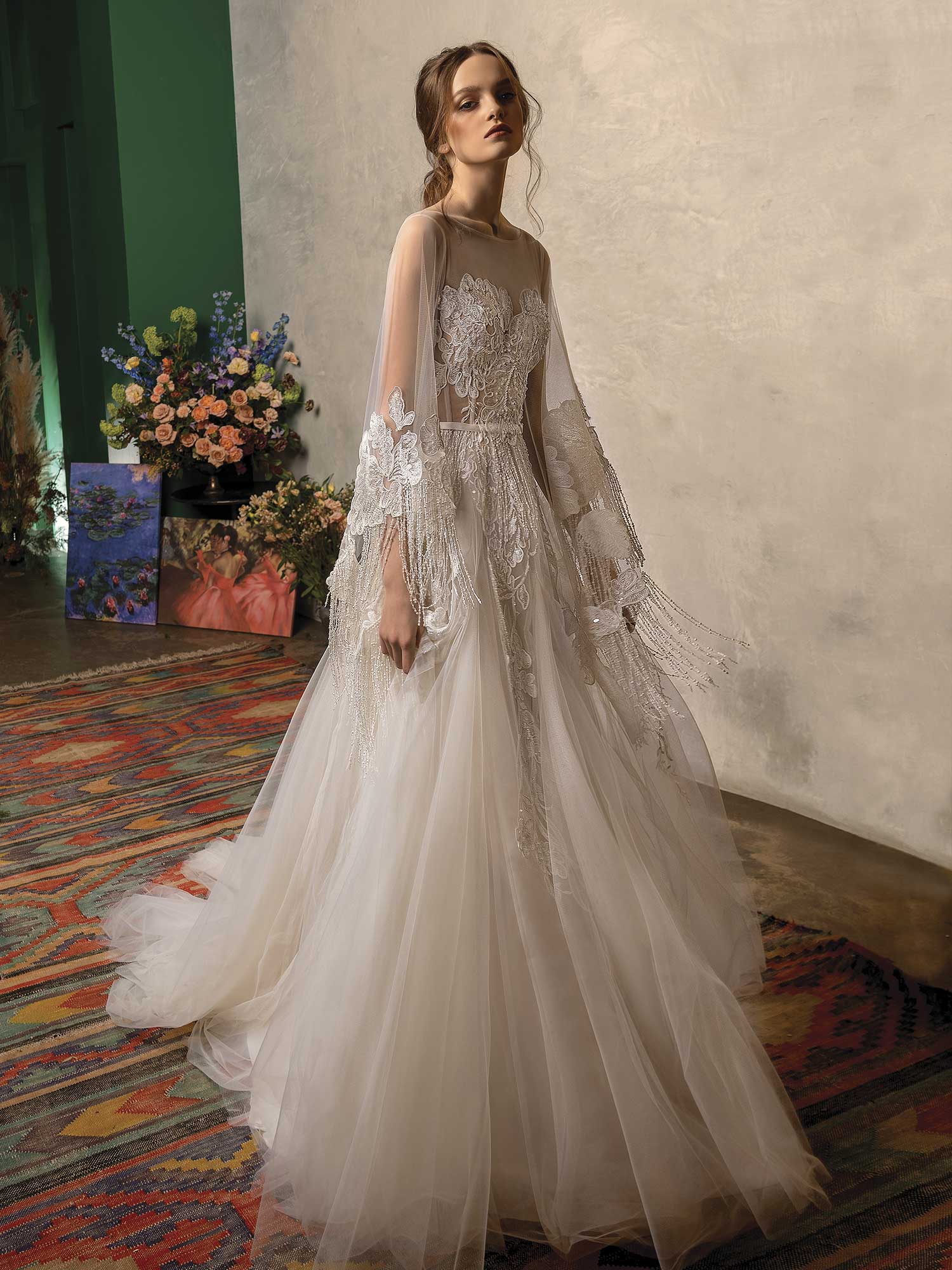 6. Factors that influence your wedding dress design.
For example, keep in mind the religious factors. Some customs require girls to cover head, legs, shoulders during their wedding ceremony. It will be better to discuss those factors with your officiant. He or she will give you a basic guideline to keep in mind while wedding dress shopping. It will prevent embarrassment on the part of you in front of your families and friends.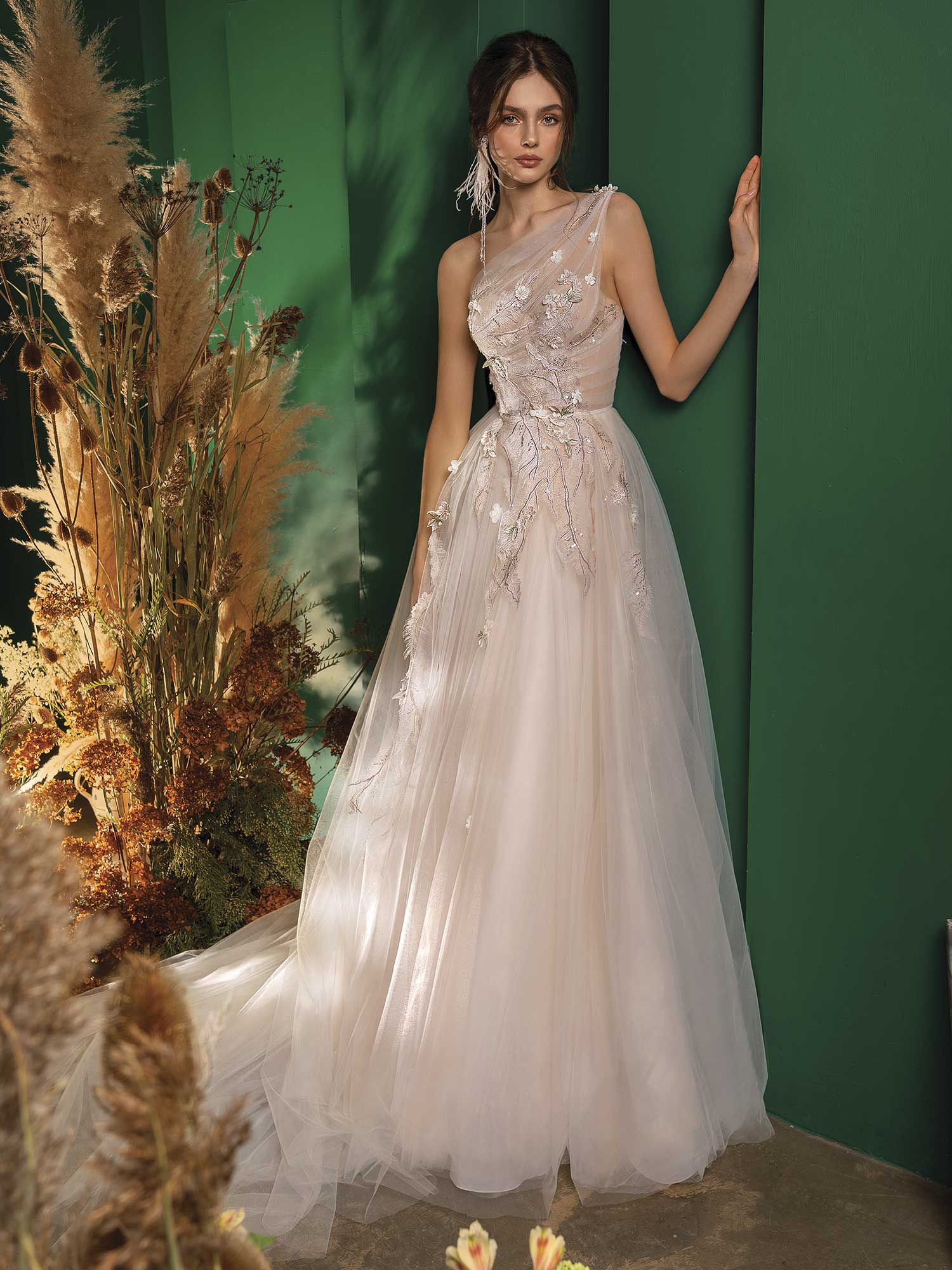 7. Look for your bridal accessories.
Deciding what accessories you are going to wear for your big day plays a huge role because it brings the whole bridal look together. The accessories you end by buying should match the style of your dress and complement your image.
If you inherit an accessory that you must wear on your wedding day, bring it to your appointment and try to pair it with the dress you like. Always remember not to overdo it! If you like the dress with intricate embellishments, go easy on your accessories. And if you want to showcase your statement accessories, try to choose a simple design.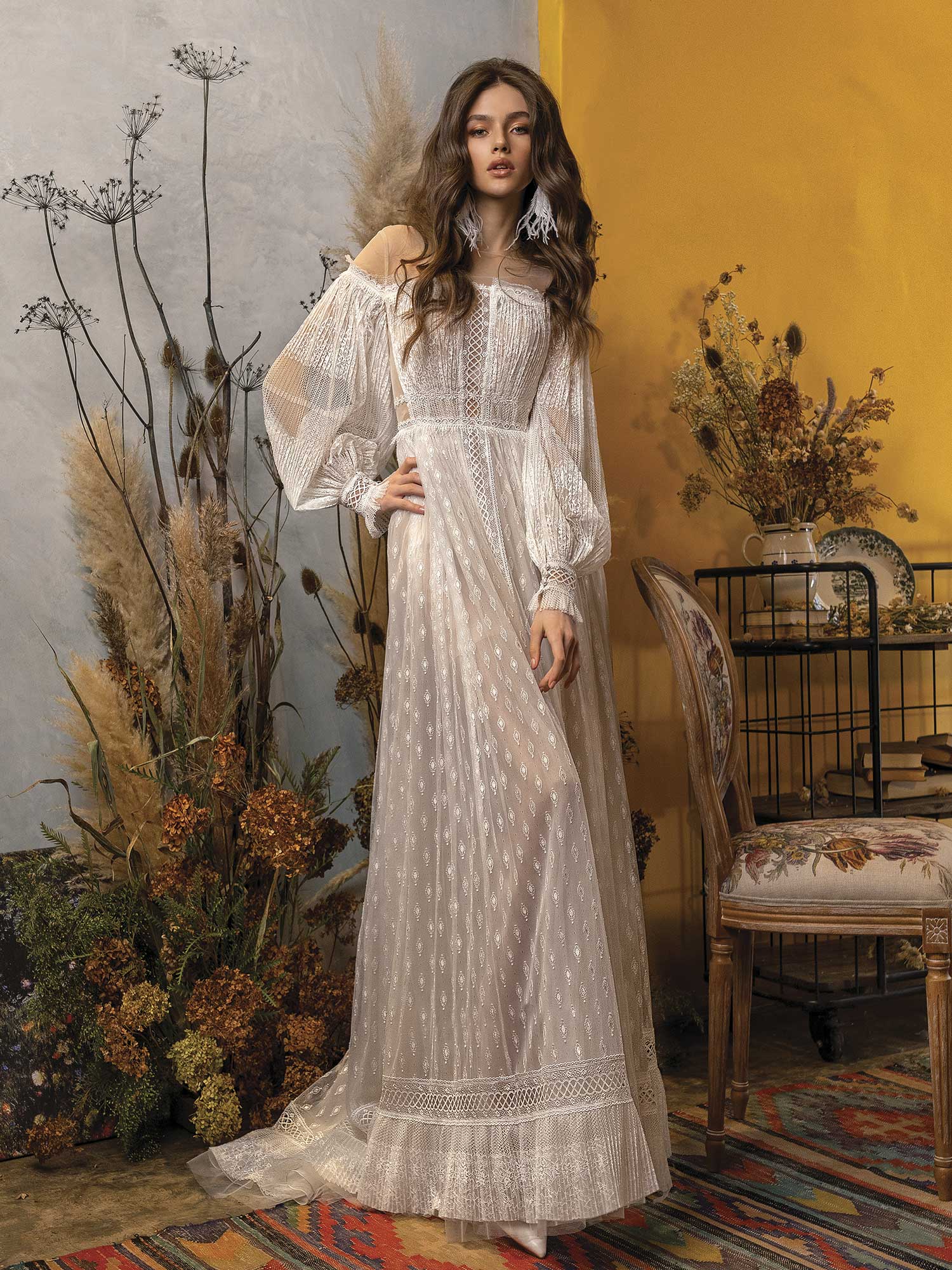 Try to keep an open mind when shopping for your wedding dress. You find yourself pleasantly surprised when you try something out of your comfort zone. That's why do not restrain yourself with too many specifics when you come for your bridal appointment. Some dresses do not look flattering on a hanger. When girls put them on, they look spectacular. Remember it is you who can make a dress!
Our bridal consultants will suggest to try on a variety of silhouettes based on their experience. So even if you are not convinced, have fun and try it anyways. Who knows, maybe your perfect wedding dress may be the one you least expected.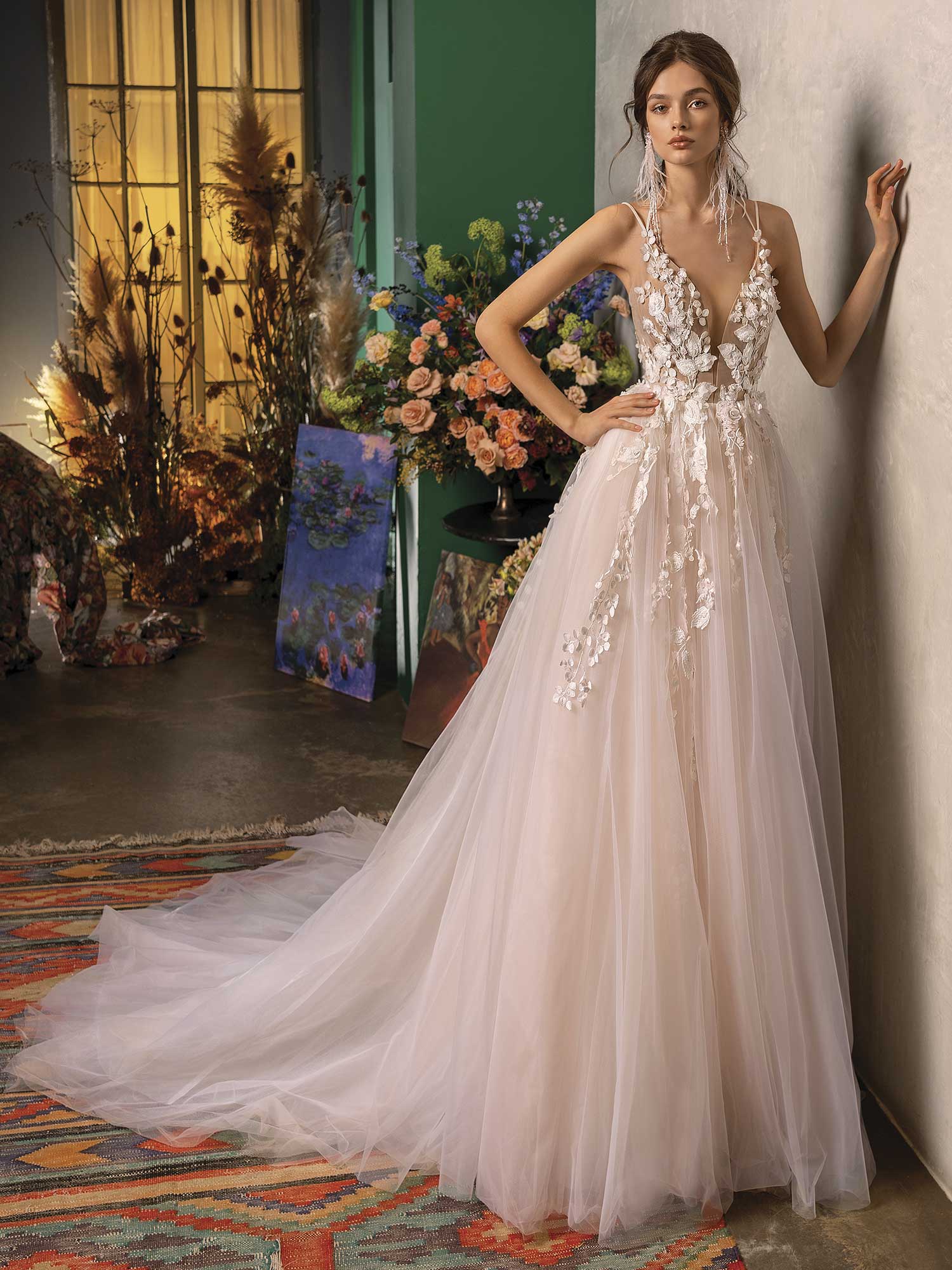 9. Stop looking at wedding dresses when you find the One!
Shopping for a wedding dress is not the same for everybody. Some girls may need hours of trying on different styles. But it is not always necessary. Your dress may be the first one you put on. Believe us that you will know right away when you find your dream wedding dress. After that, it can be tempting to keep looking and trying more dresses, but you need to stop yourself and focus on other details for your wedding.
Do not look further, trust your instincts, and believe that the dress you have chosen is the One.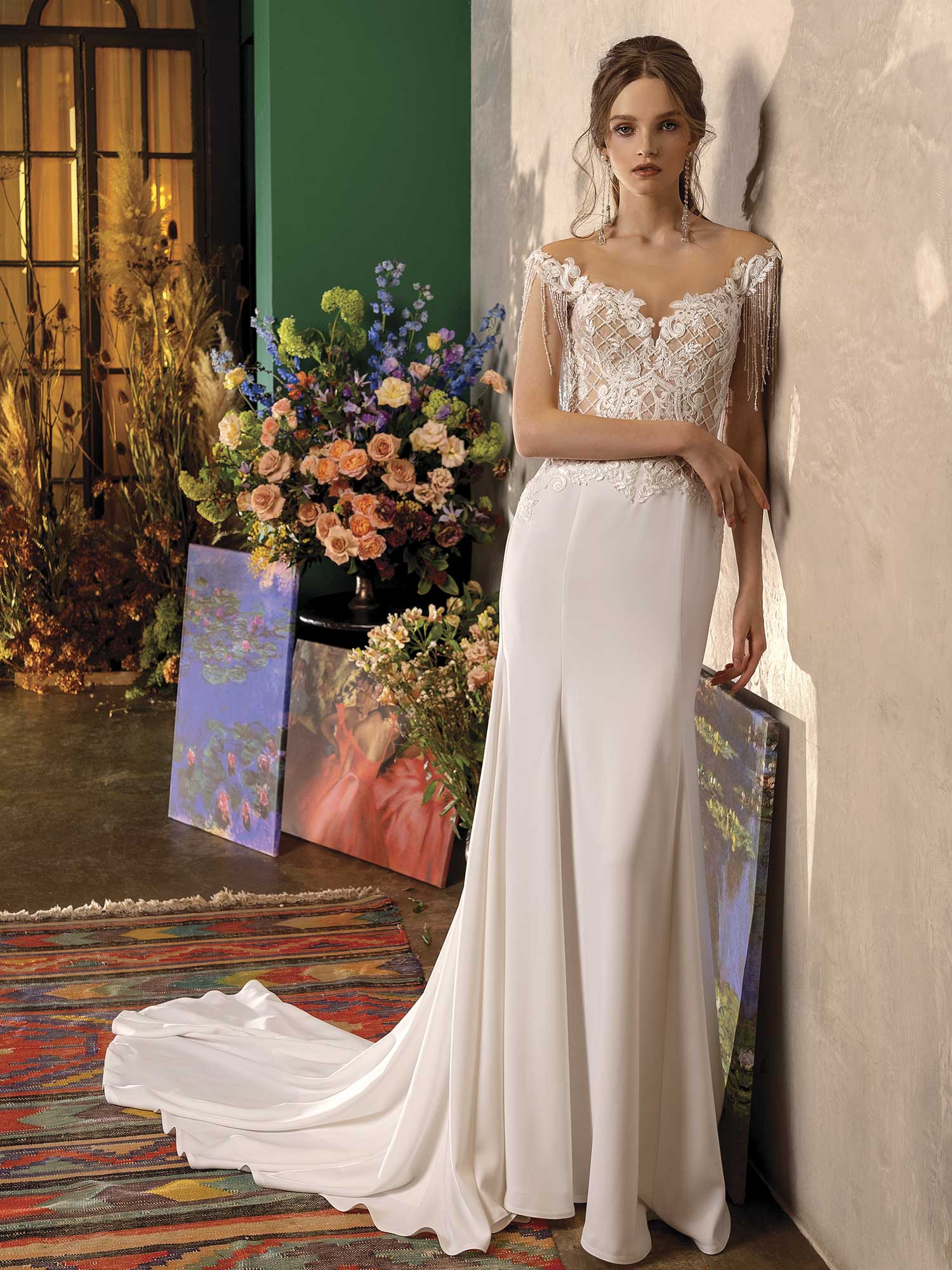 Bridal boutiques usually offer bridal accessories, dresses for bridesmaids, mother of the bride dresses and flower girls dresses, as well as bridal shoes. When you book an appointment to look for your wedding dress, do not look at other things. Do not rush and squeeze time to look for the others. You can always book another date to look for those things later. Let your bridal appointment to be all about you. It is essential to focus on choosing a wedding dress without any distractions.
We tried to cover all the basics of wedding dress shopping. You can visit our blog for more information on hot trends, styles, and colors.
Good luck on your beautiful journey!
Papilio Team