Wearing a bridal cape is a modern alternative to the traditional veil.
Not every girl wants to wear a wedding veil on her big day. If wearing a bridal veil is not for you, consider purchasing a dress with a wedding cape. It will add drama to your bridal look and make a fashion-forward statement. The effect is similar to a veil, and the bridal cape has the same stylish and romantic feel. It will complement your wedding dress, provide extra coverage and visual interest, and for sure, create an ultra-glamorous wedding vibe.
It is not a secret that bridal capes have been trending for a few seasons now. However, 2021 runway shows have shown that they are not going away any time soon. In fact, bridal designers are offering even more styles of bridal capes for the upcoming wedding season. Browsing 2021 bridal collections, you will find many variations, from showstopping floor-length cape silhouettes, minimalistic cropped capelets, ethereal wedding dresses with cape sleeves to serious statement cape dresses. From being just a wedding dress trend, the bridal cape has become an essential bridal accessory.
Get inspired by Papilio's unique designs of bridal capes!
Papilio designers are also fond of bridal capes. They offer a beautiful selection of this fashionable accessory. If you are searching for a wedding cape and want to add some drama to your bridal look, here are some of our favourites. No matter what you end up choosing, a classy style made of plain tulle fabric, an elegant cape with timeless lace, or maybe a boho-inspired model with a whimsical vibe, one of these bridal capes will help you to make an entrance.
If keeping it modern and simple is a central theme for your 2021 wedding, consider this wedding dress made of silky chiffon with a clean silhouette and flowy cape sleeves. Without a doubt, cape sleeves are a showstopping detail.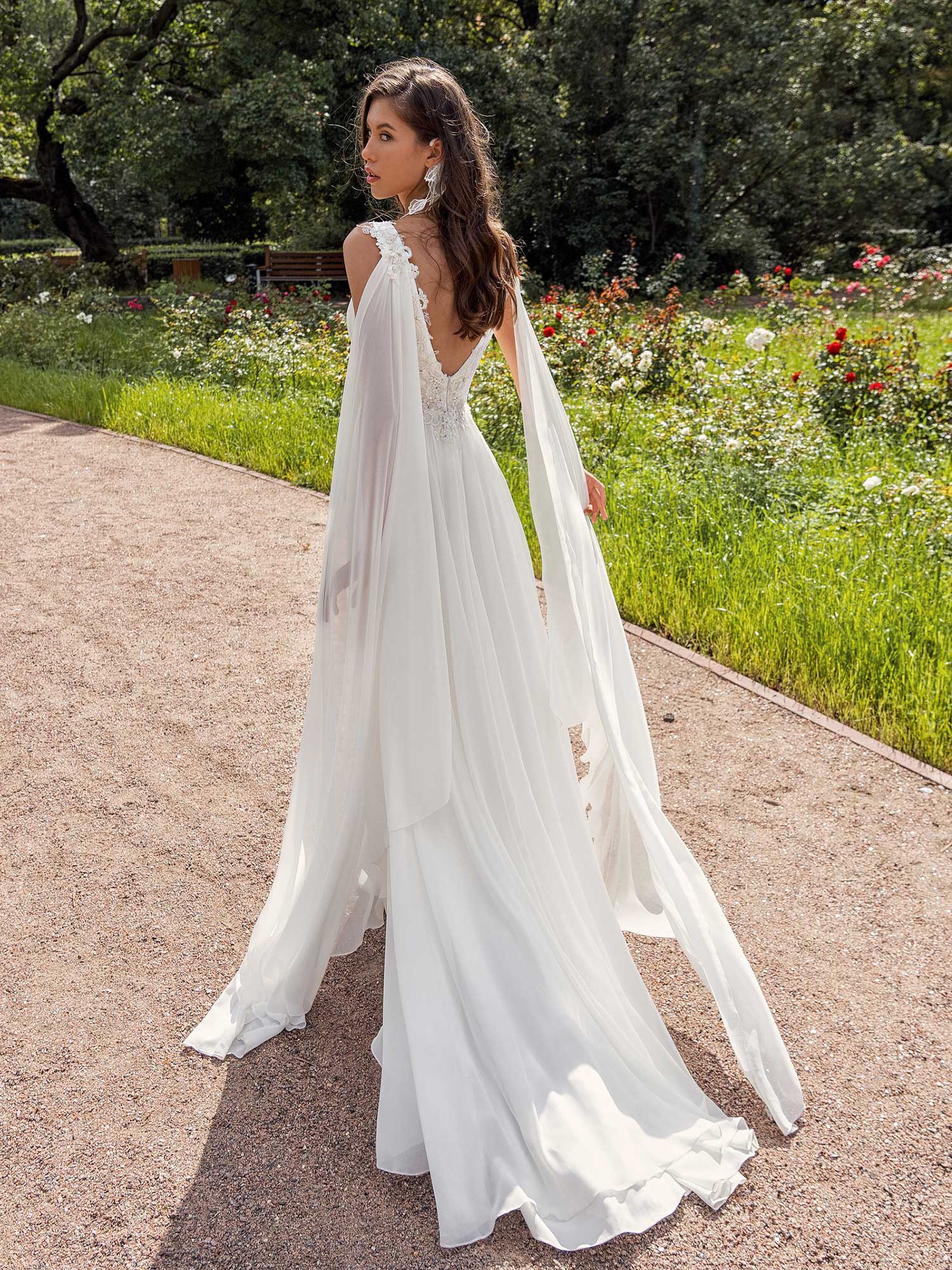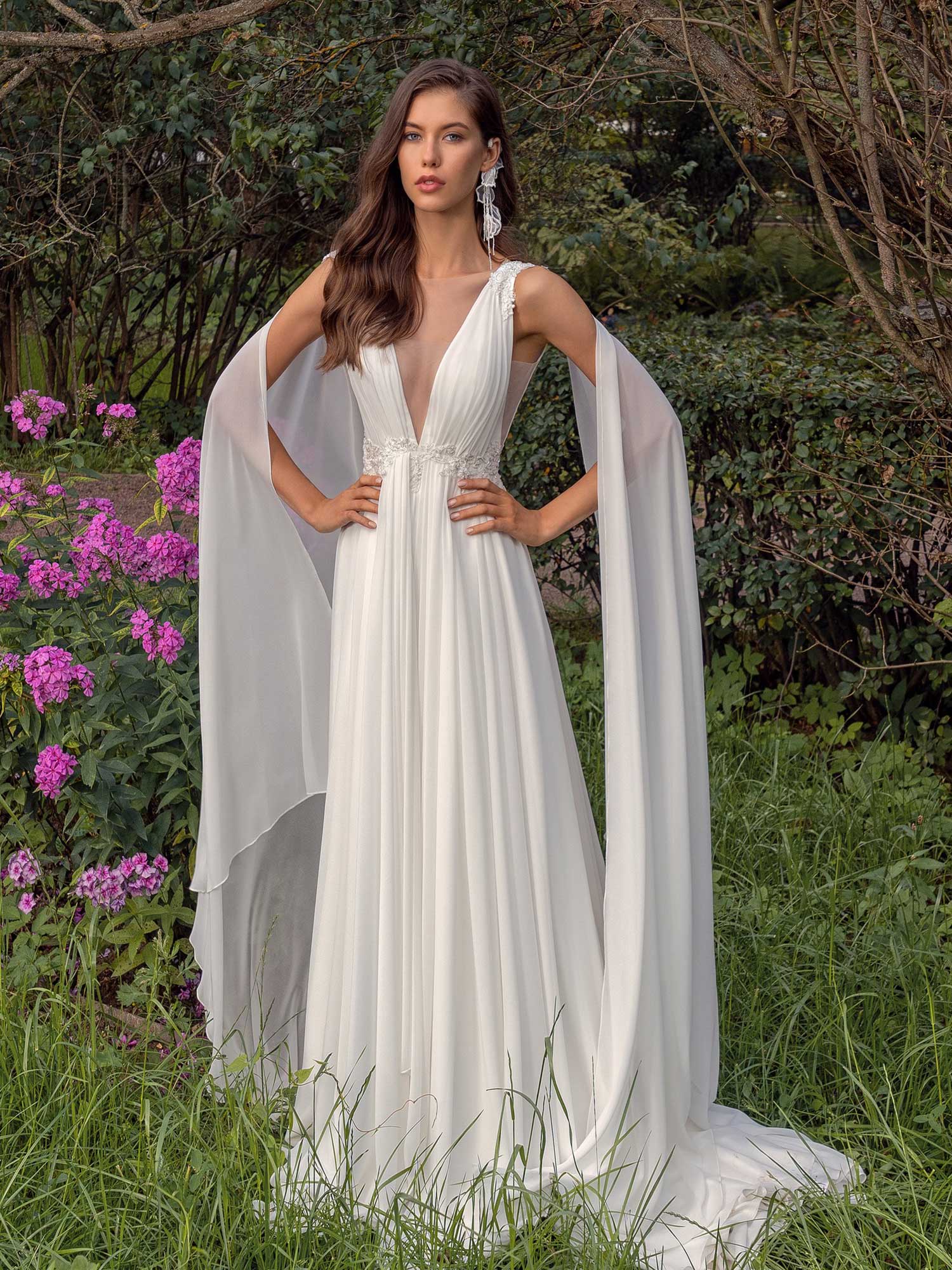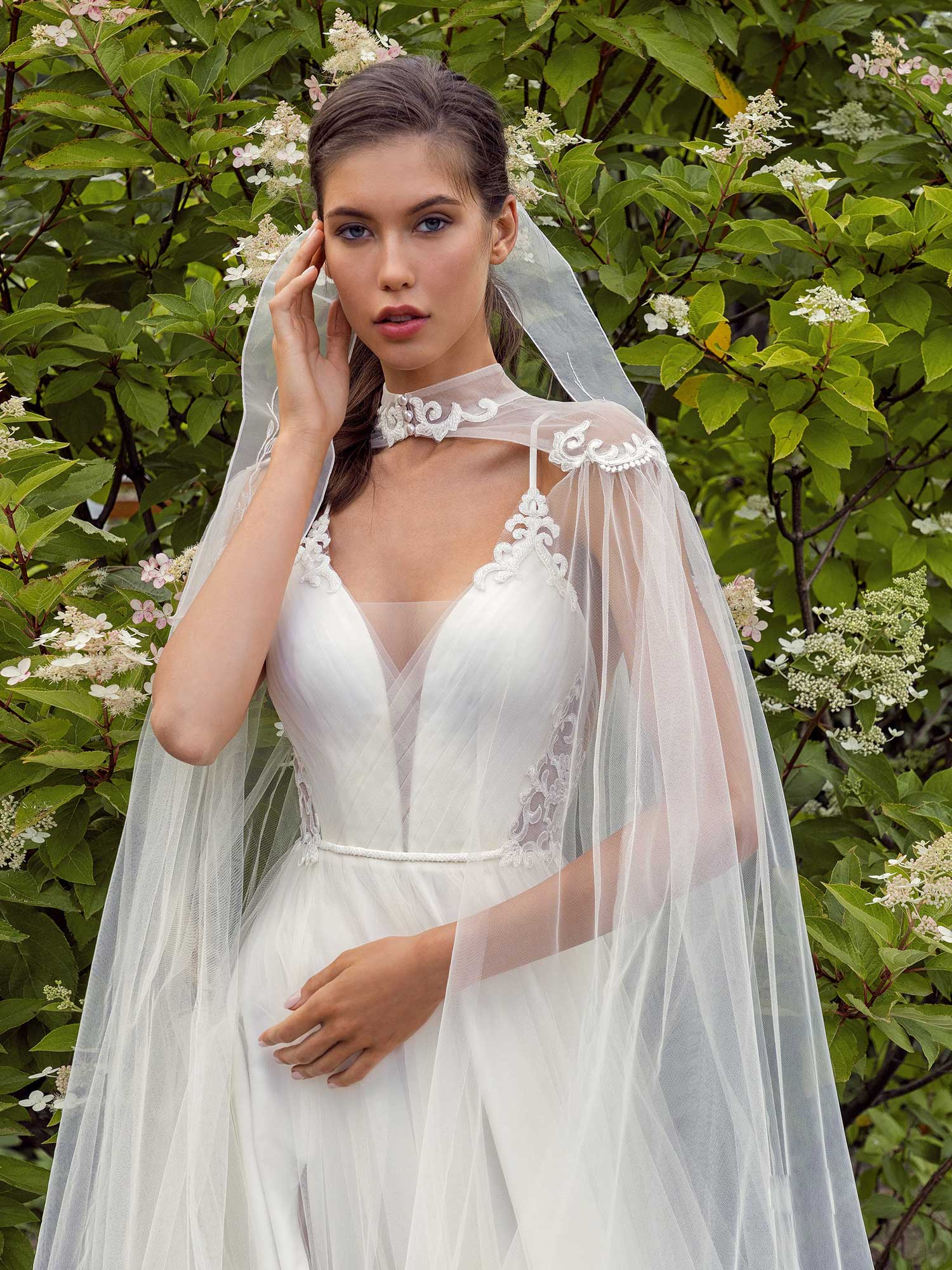 You will never go wrong with a tulle cape that is fastened at the neck and adorned with timeless lace. It will be a perfect addition to a simple wedding dress. Glide down the aisle in style!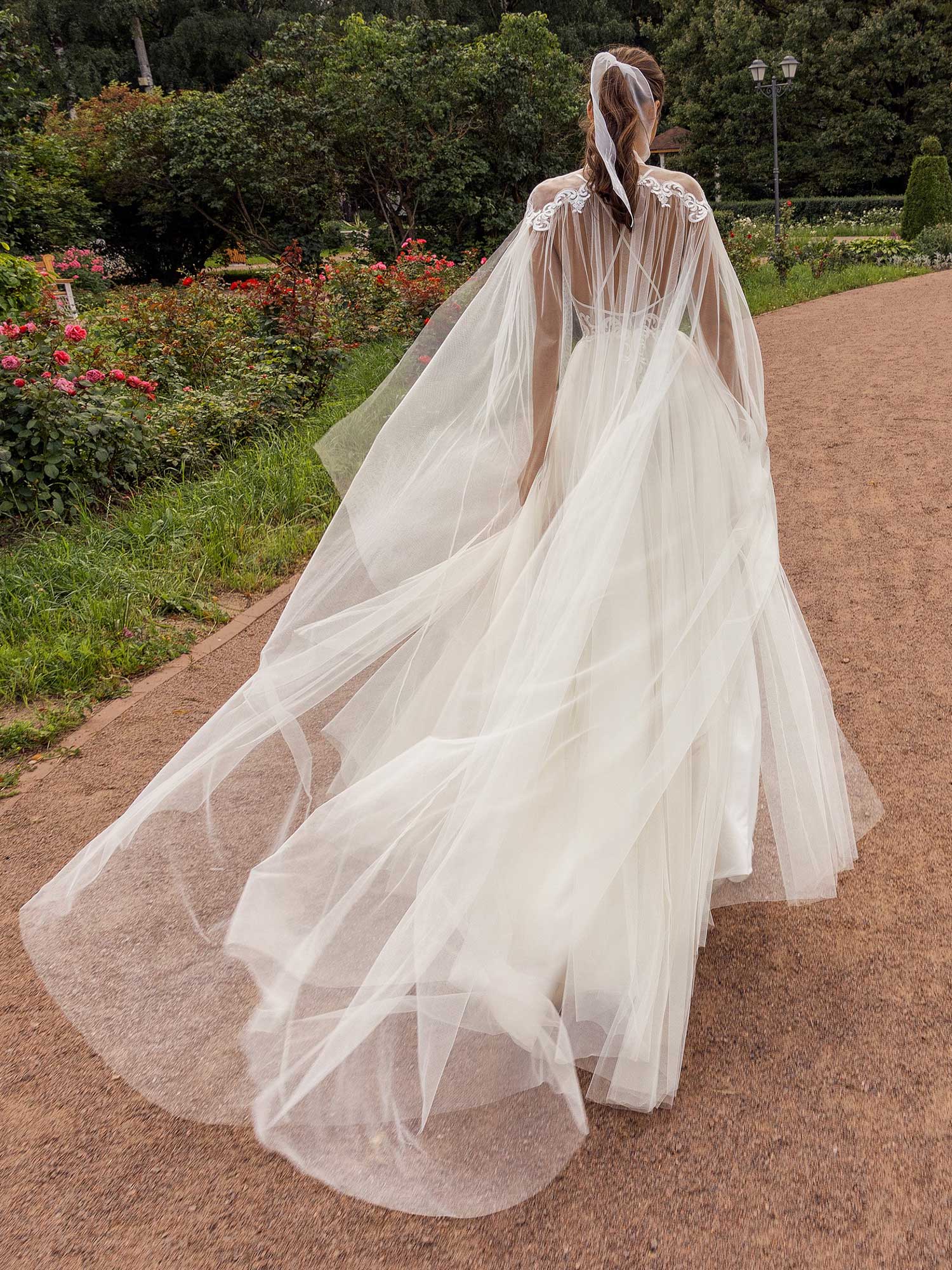 The bride, who is a real romantic at heart, will find this wedding dress with detachable cape sleeves a dream come true. This bridal look with its three-dimensional flowers has the essence of true couture.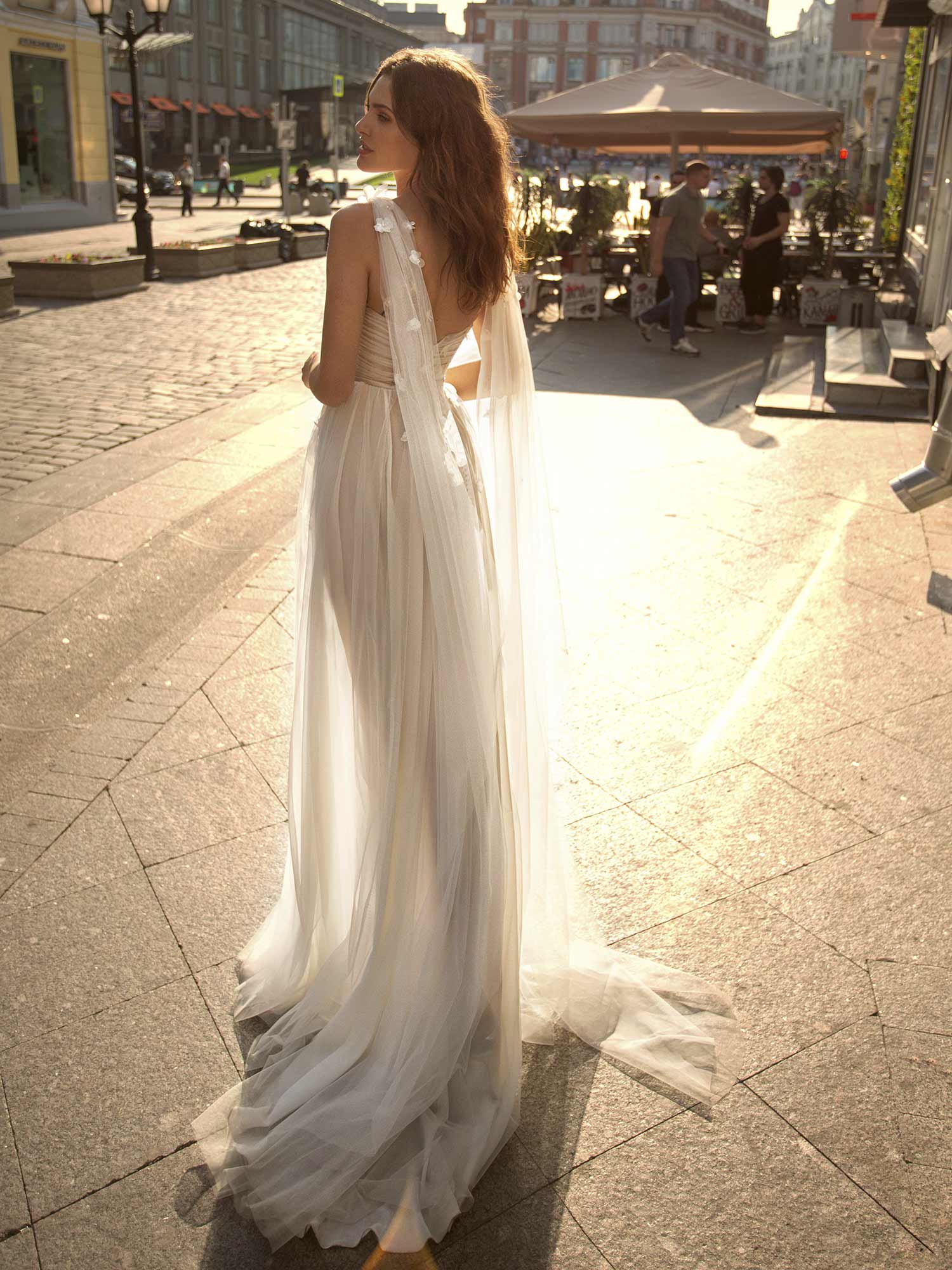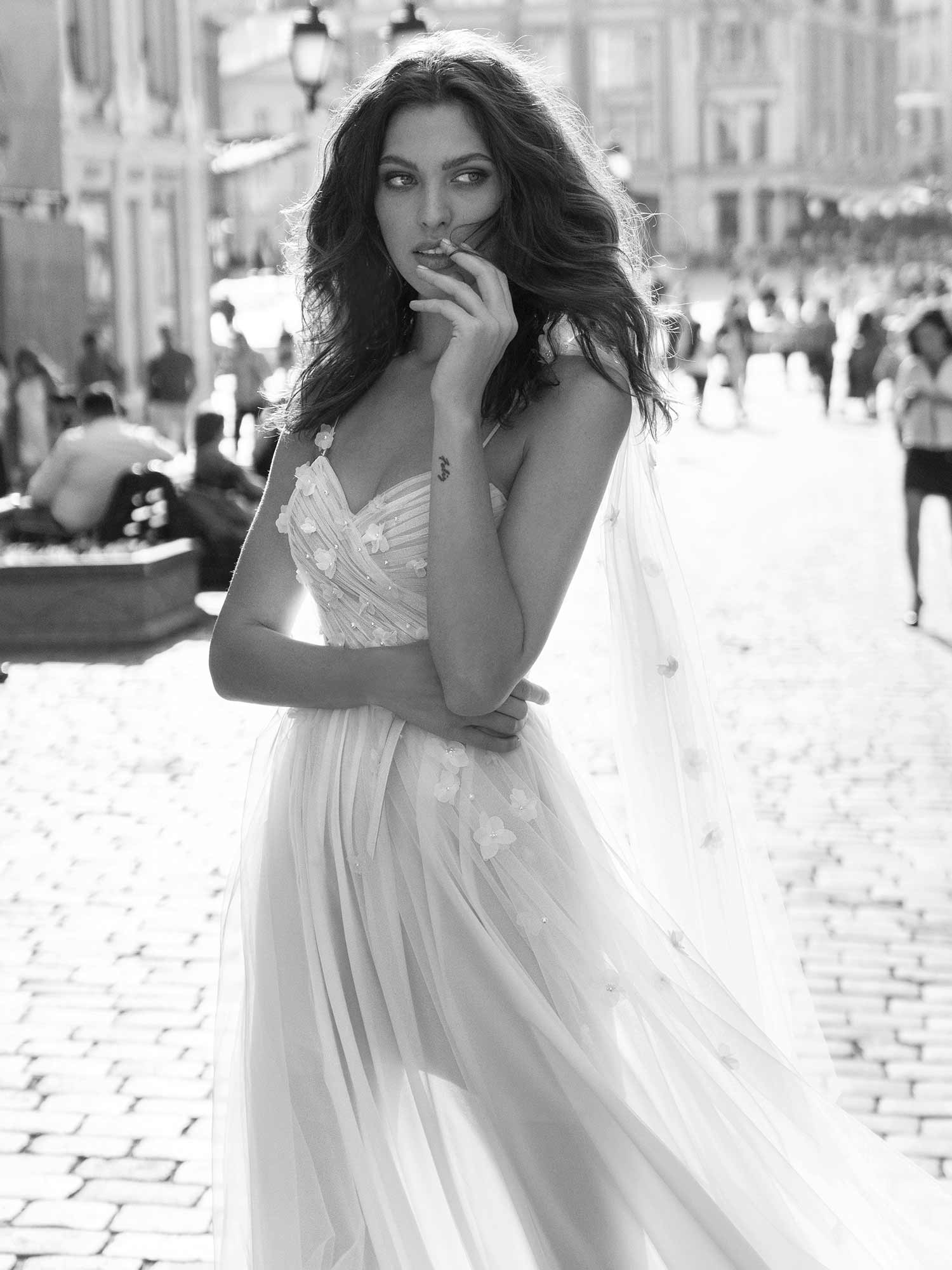 This cape wedding dress is worth your attention. Straight out of a fairy tale, this dress showcases whimsical romance. It is perfect for either a winter wonderland wedding or for a summer garden affair.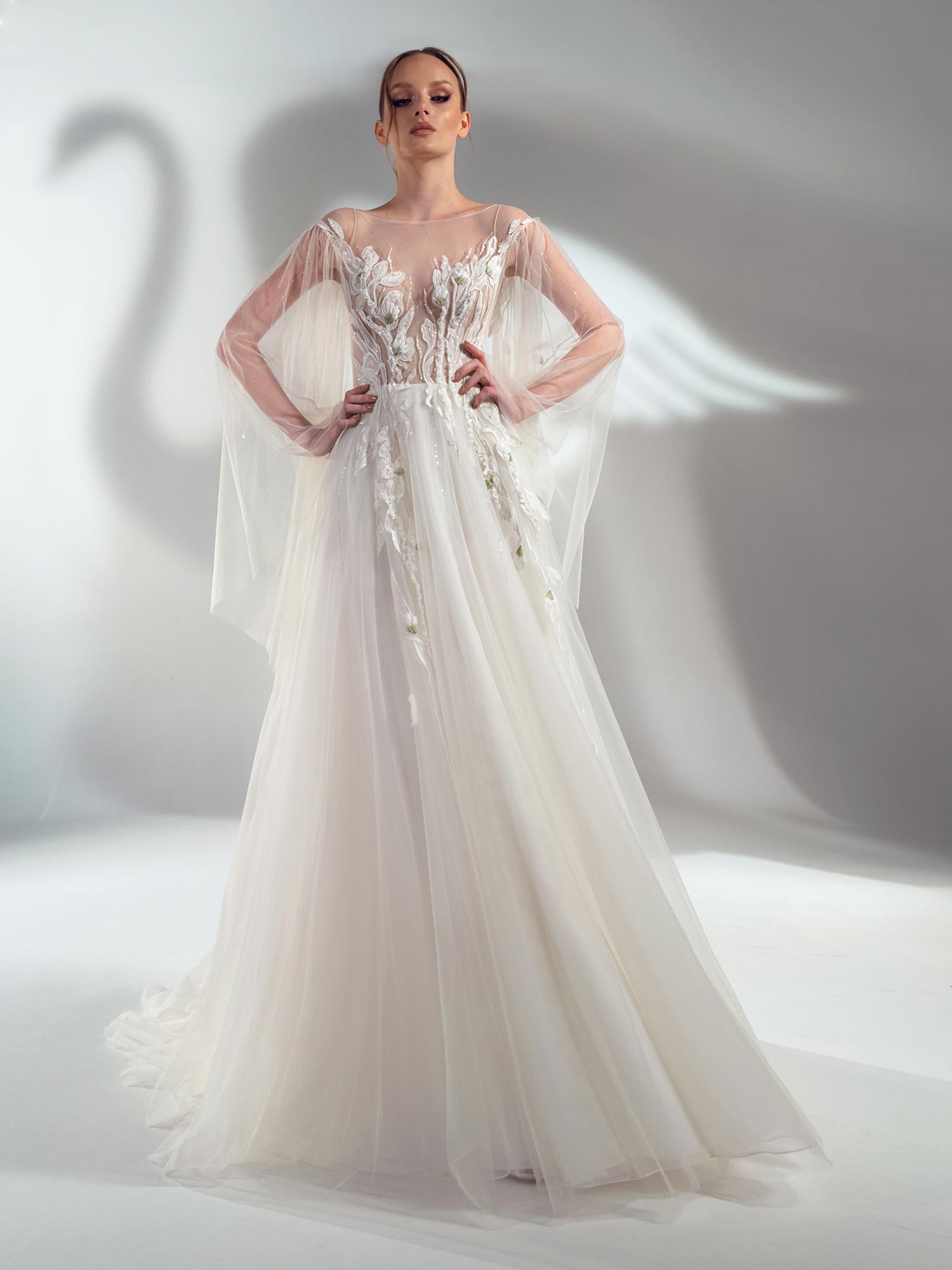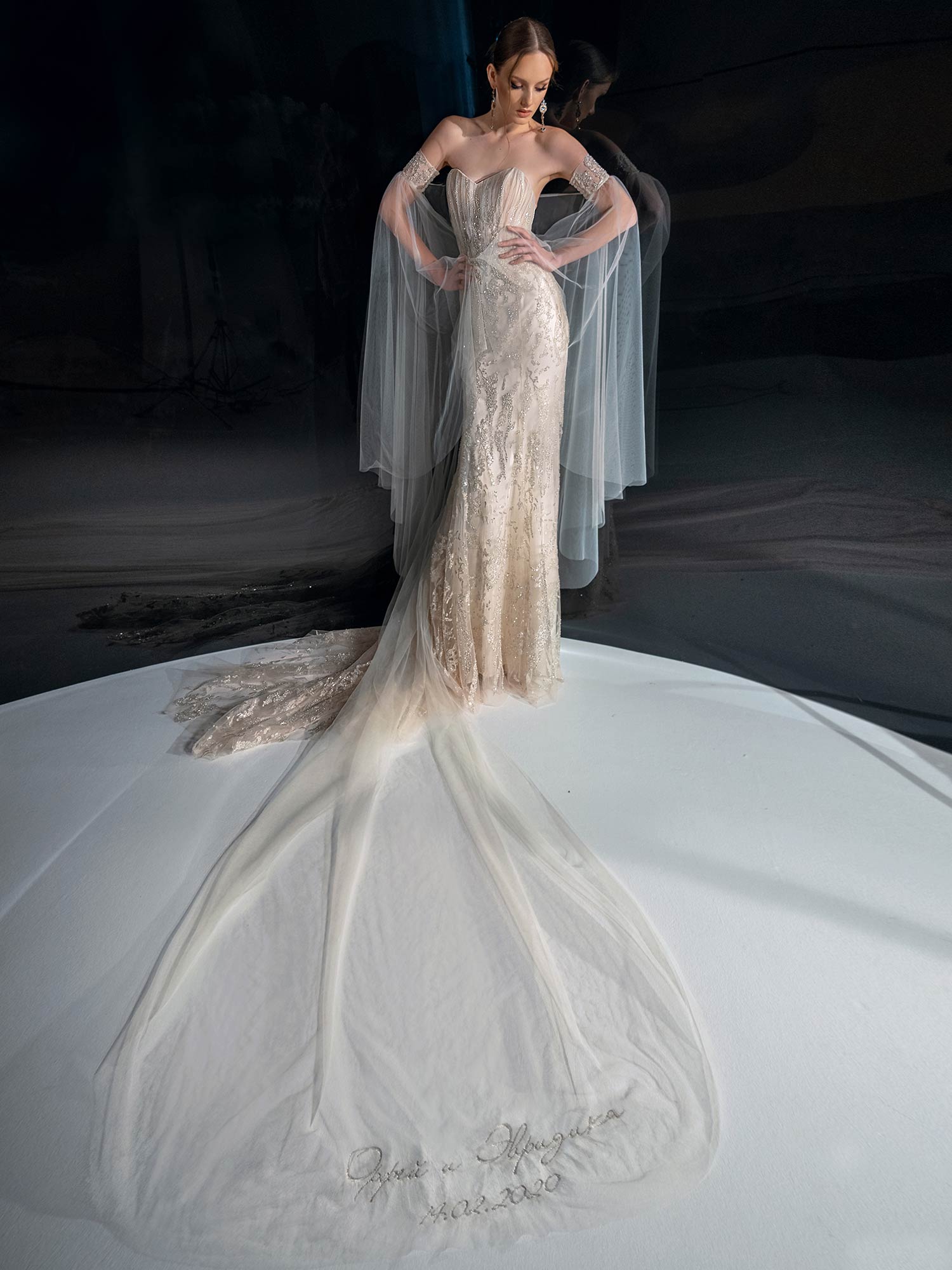 Here is a unique bridal cape design. Attached to the arms, this cape flows into the long train featuring personalized embroidery. It has a shimmering fabric that sure to catch the light and guarantee you stunning wedding pictures.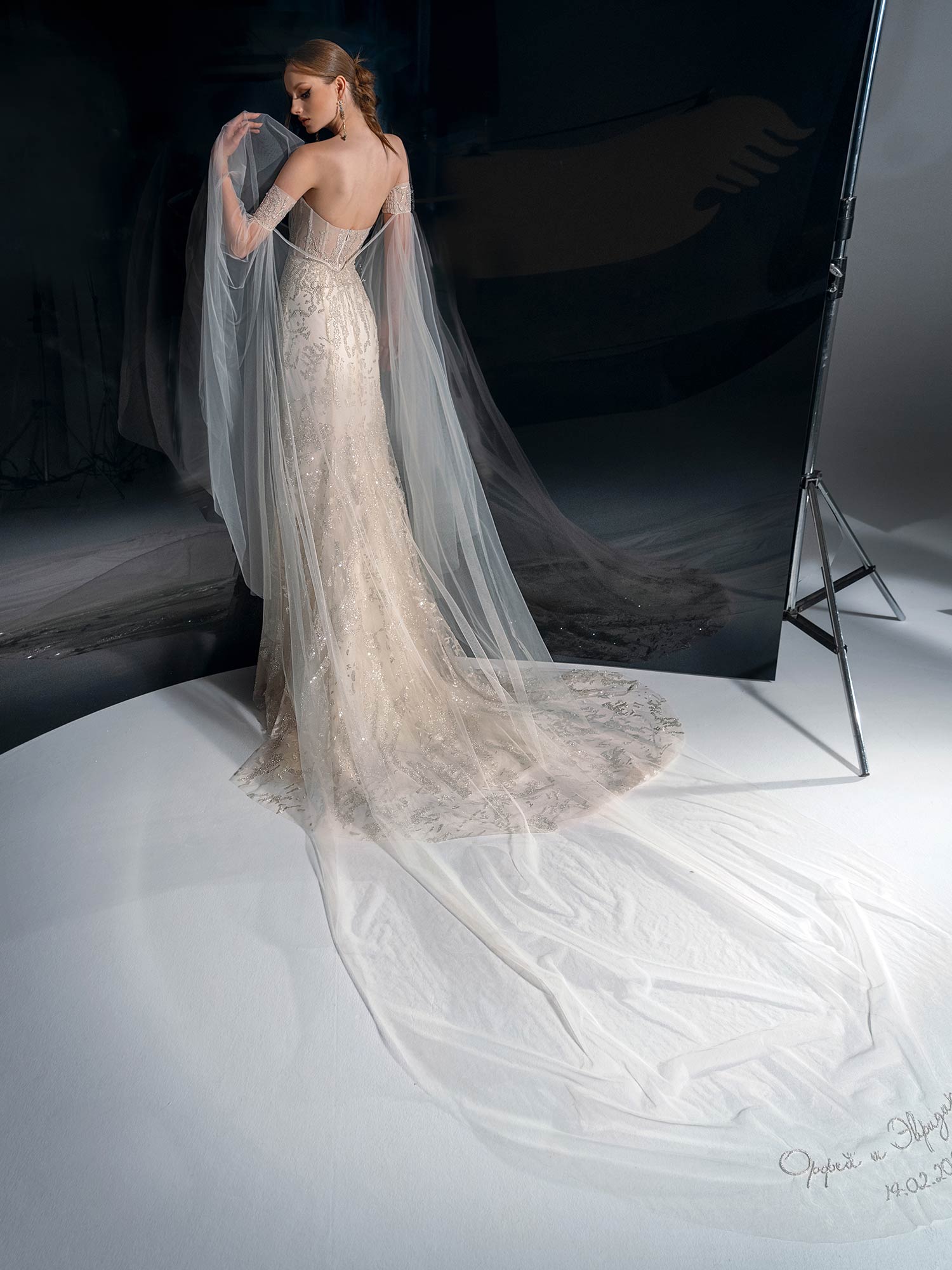 This bridal cape is made of soft tulle and is a perfect complement to a strapless lace wedding dress. It is incredible how such an elegant, simple bridal accessory can bring chic and glamour to the bridal look.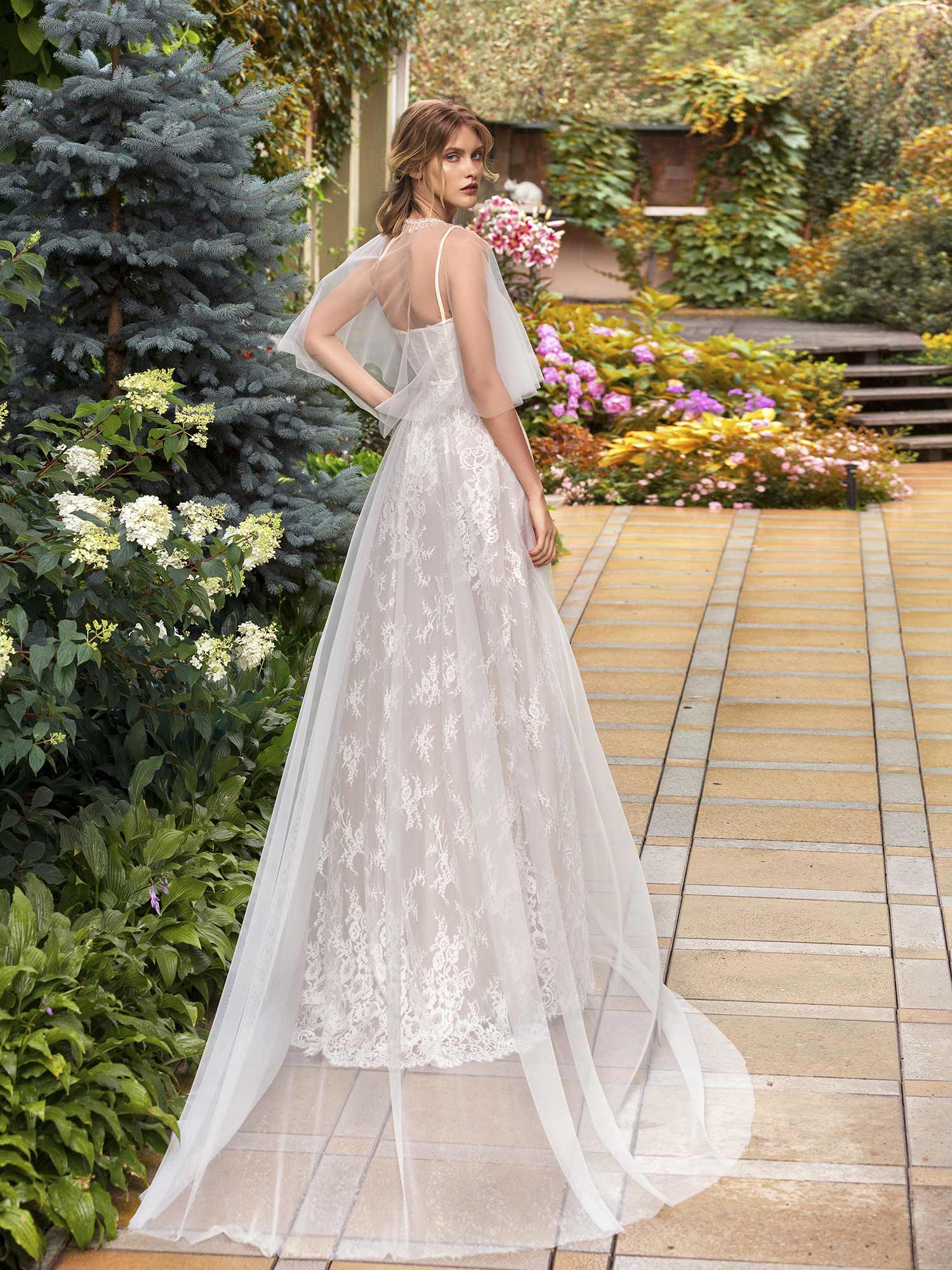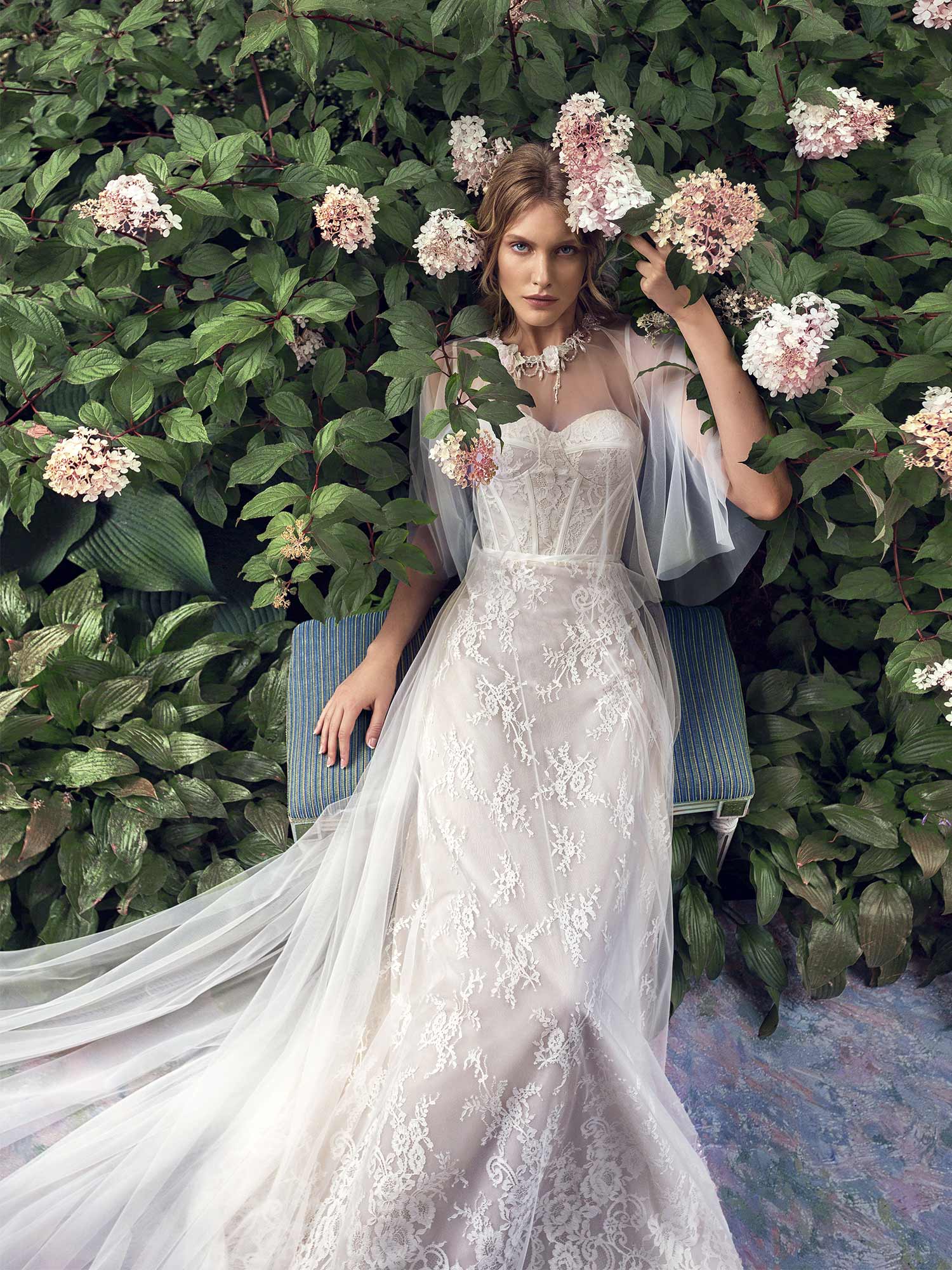 Featuring lovely vintage lace and a long train, this bridal cape has a classy retro design. It will look perfect in a convertible car with tin cans at the back of your bridal carriage. Make your wedding even more memorable with your bridal look and a reception departure that is one to remember!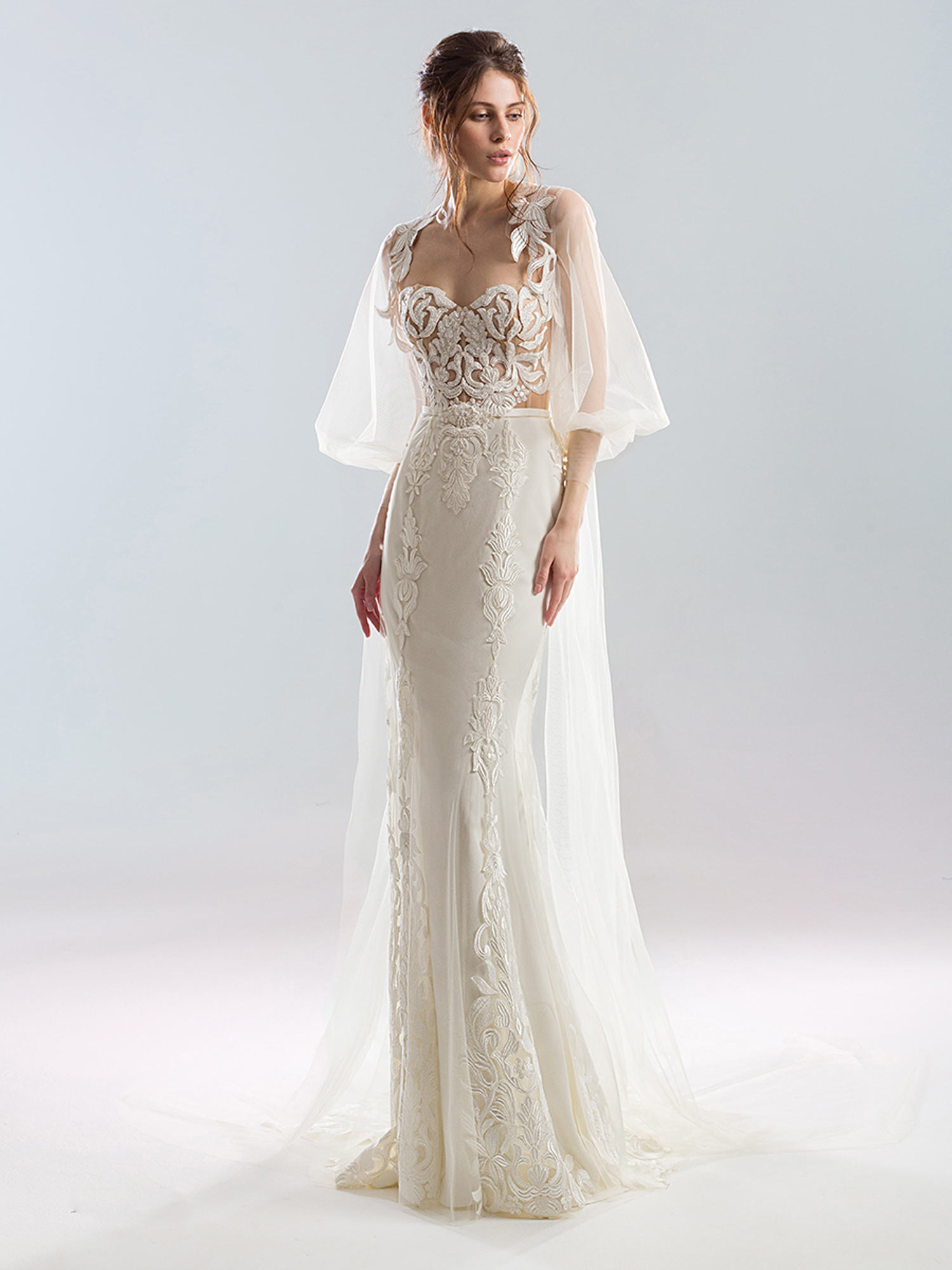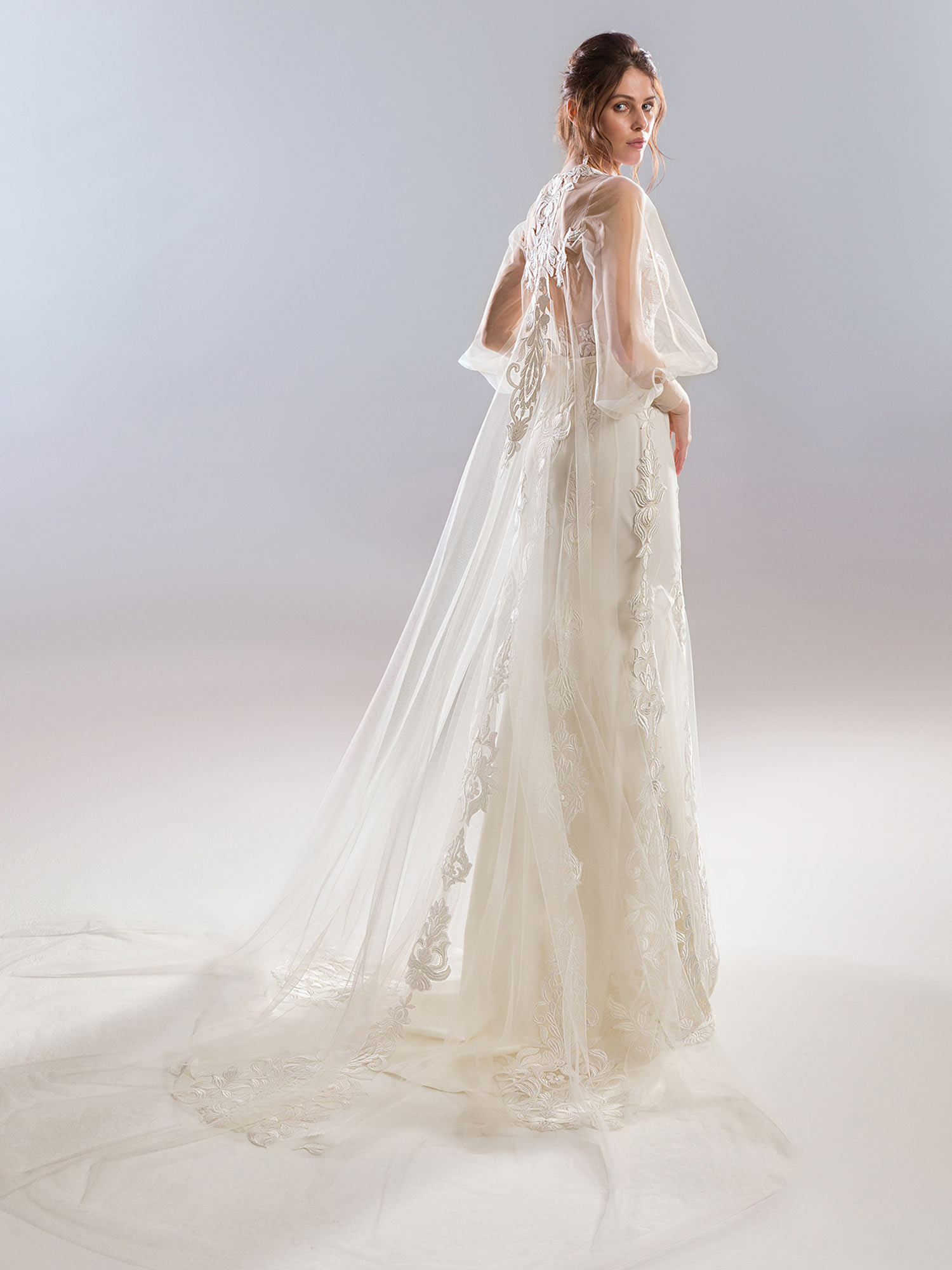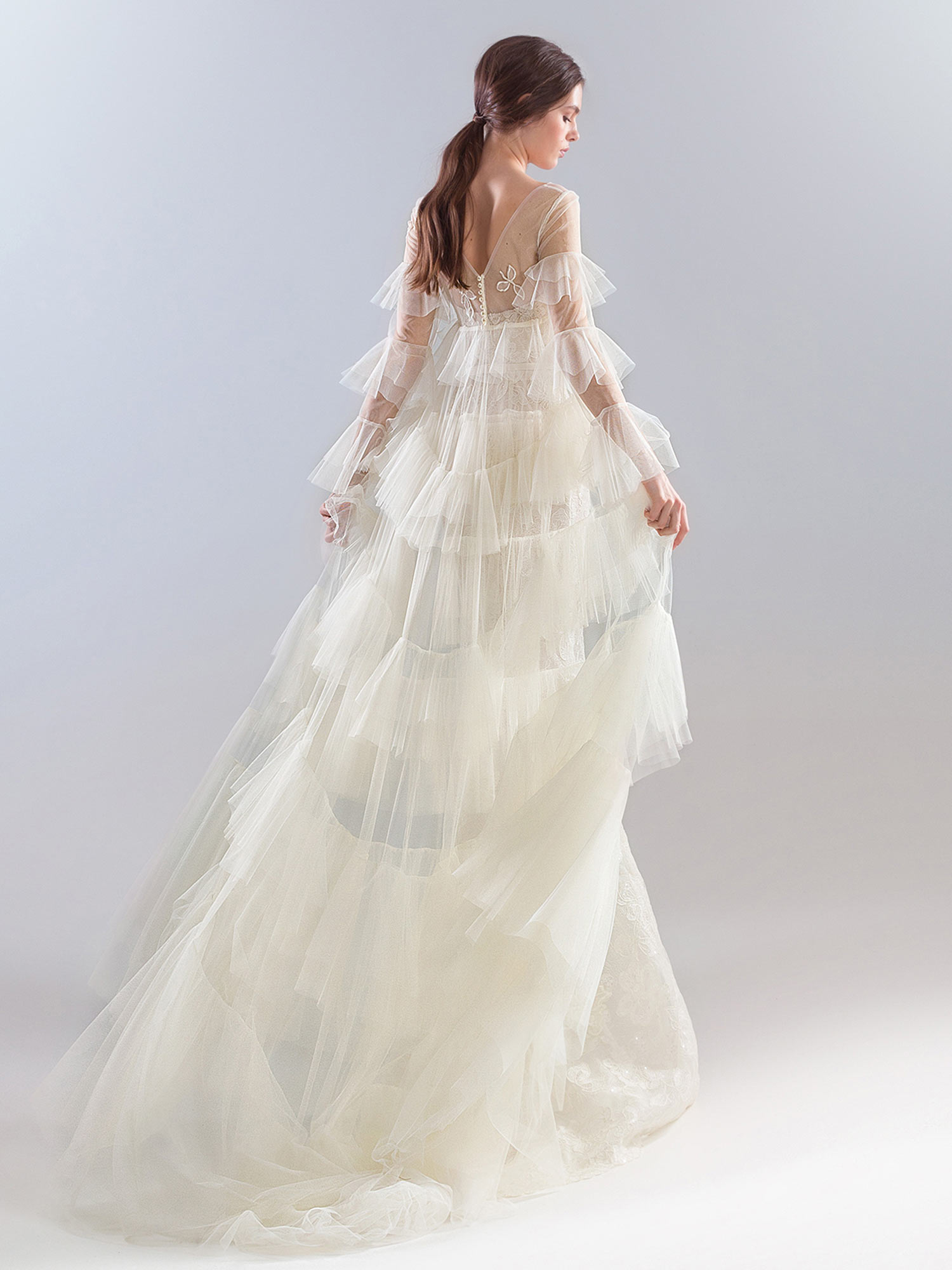 This long bridal cape is a serious fashion statement. It combines a few of the 2021 bridal trends, making this cape an ideal option for a fashion-forward bride-to-be. If you plan on saying 'I do' at city hall or in your backyard, this bridal cape works well with either a short wedding dress or a bridal suit.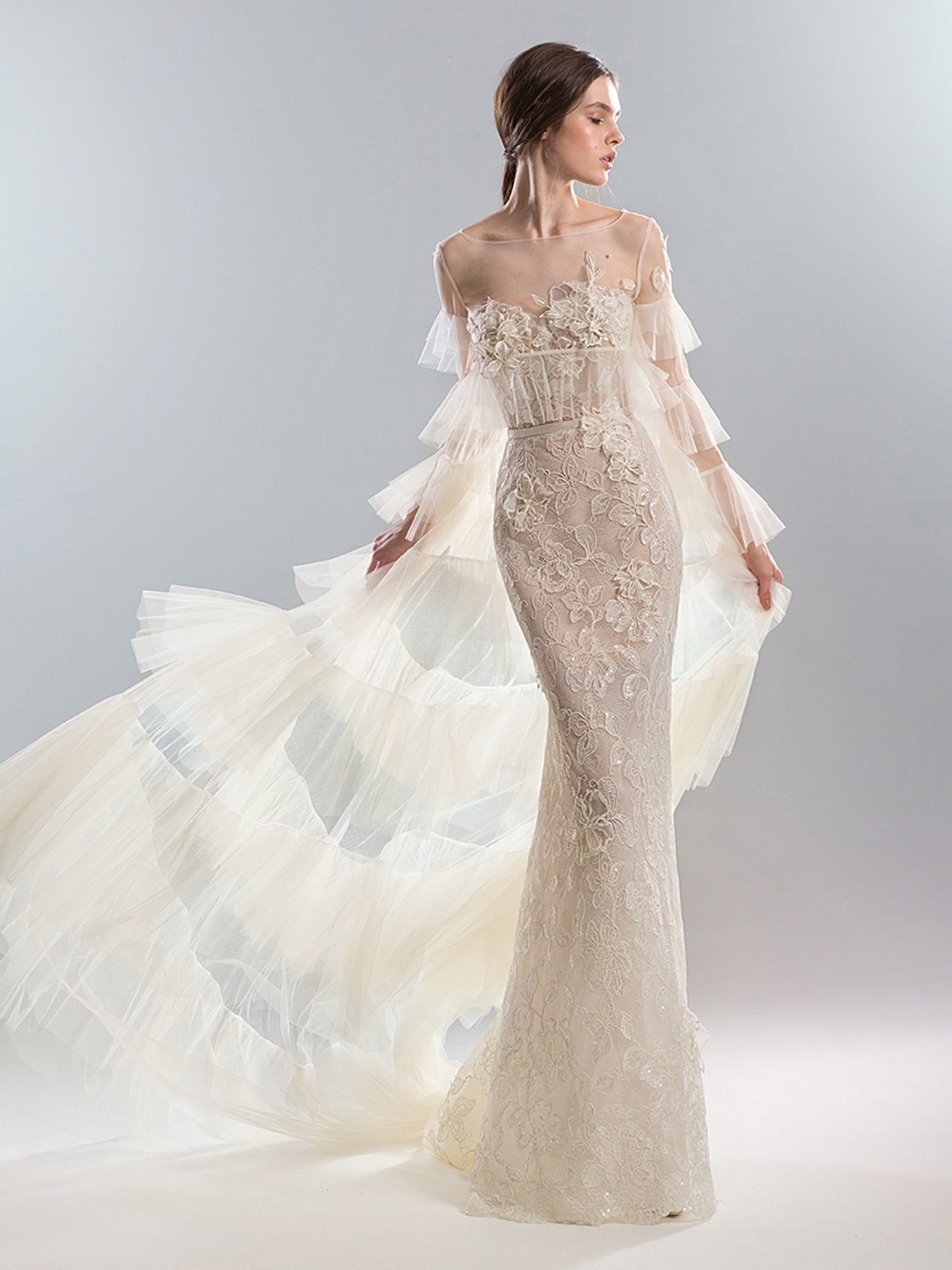 Bridal capes are impossibly chic. Choose a dramatic tulle cape, an embellished cape or a simple cape dress design. Without a doubt, it will add style to your wedding look and help you express your personality.