WEDDING GUEST DRESSES THAT WILL FIT ANY OCCASION
When you get an invitation to a wedding, first you may feel pretty excited, but after some time, many of us get overwhelmed by the thought of what to wear. We are here to rescue you with many wedding guest dress ideas that are in style this season, will make you stand out, and not overshadow a bride-to-be. 
At Papilio, we offer a variety of fashionable wedding guest dresses that can fit you if you are a mother-of-bride or groom, maid of honour, or just a special guest of the happy couple. Our evening fashion collections offer a beautiful range of designs, from elegant floor-length gowns appropriate for black-tie affairs to simple, sophisticated cocktail dresses for casual daytime weddings. Basically, we carry every style to fit any personality and memorable occasion. Our formal guest dresses are couture garments made-to-order and range in price anywhere from $650 to $1500. 
MOST SUITABLE DRESSES TO WEAR TO A WEDDING AS A GUEST
Every wedding is so different. Some weddings have very strict dress code requirements, especially when it is a black-tie event at an upscale venue. Some of them are more casual events. That's why before you start shopping for evening gowns or cocktail dresses, there are a few essential details to check. It will be helpful to know if it is an outdoor or indoor celebration, formal or semi-formal, church or city hall ceremony, etc. This will allow you to narrow down your style options and help you succeed while shopping for wedding guest dresses. For example, you can choose a light cocktail dress with a beautiful floral print or a mini dress in a bright colour for an outdoor wedding. If it is a religious wedding, it is better to keep things formal and buy a maxi dress with some sleeves, off-the-shoulder or 3/4 sleeves. Remember, all religious ceremonies are about modesty and classy looks. Of course, if you are not 100% sure about which way to go and what will be the most appropriate dress or outfit, you can always ask a bride-to-be or close family members for suggestions.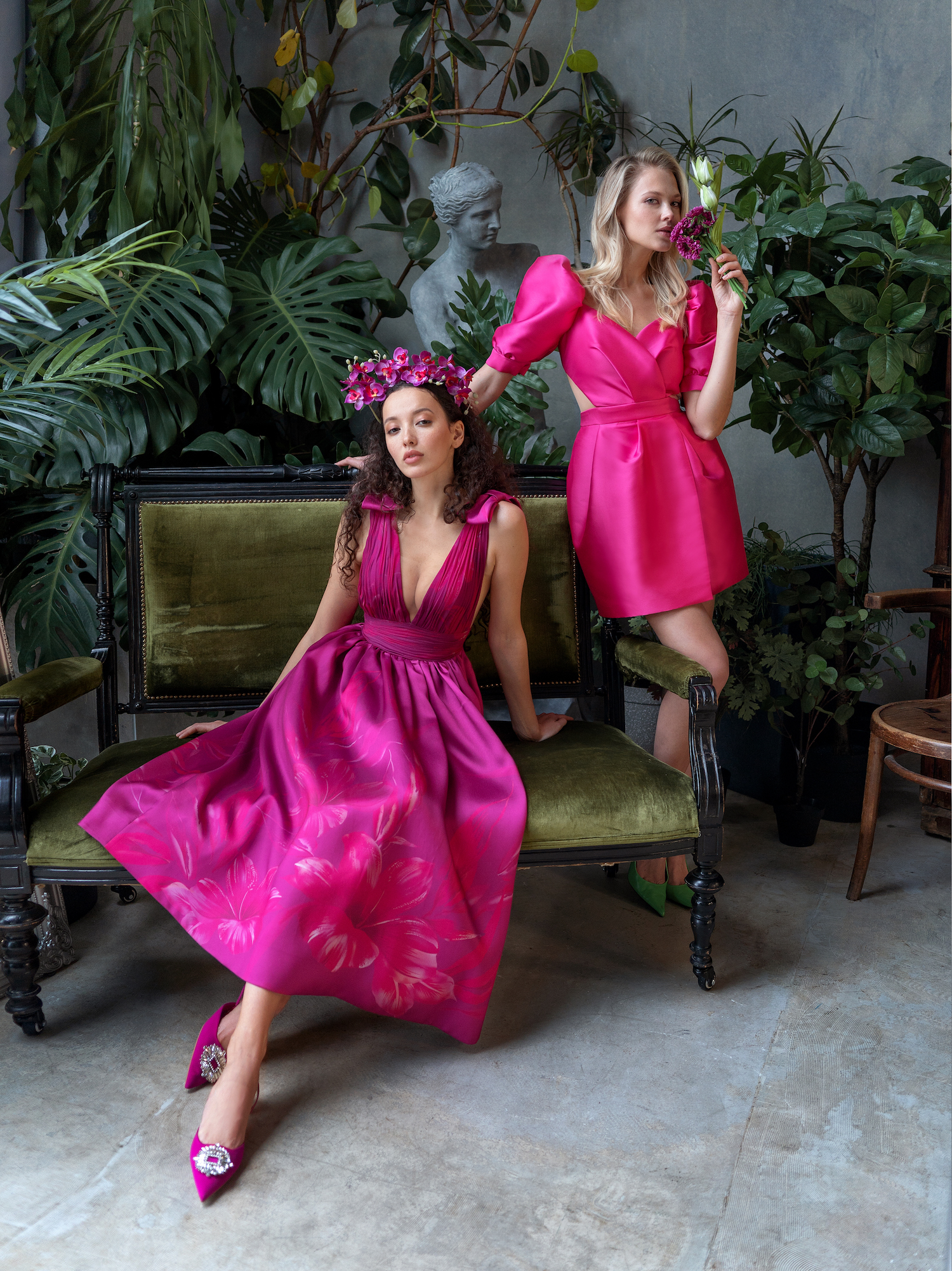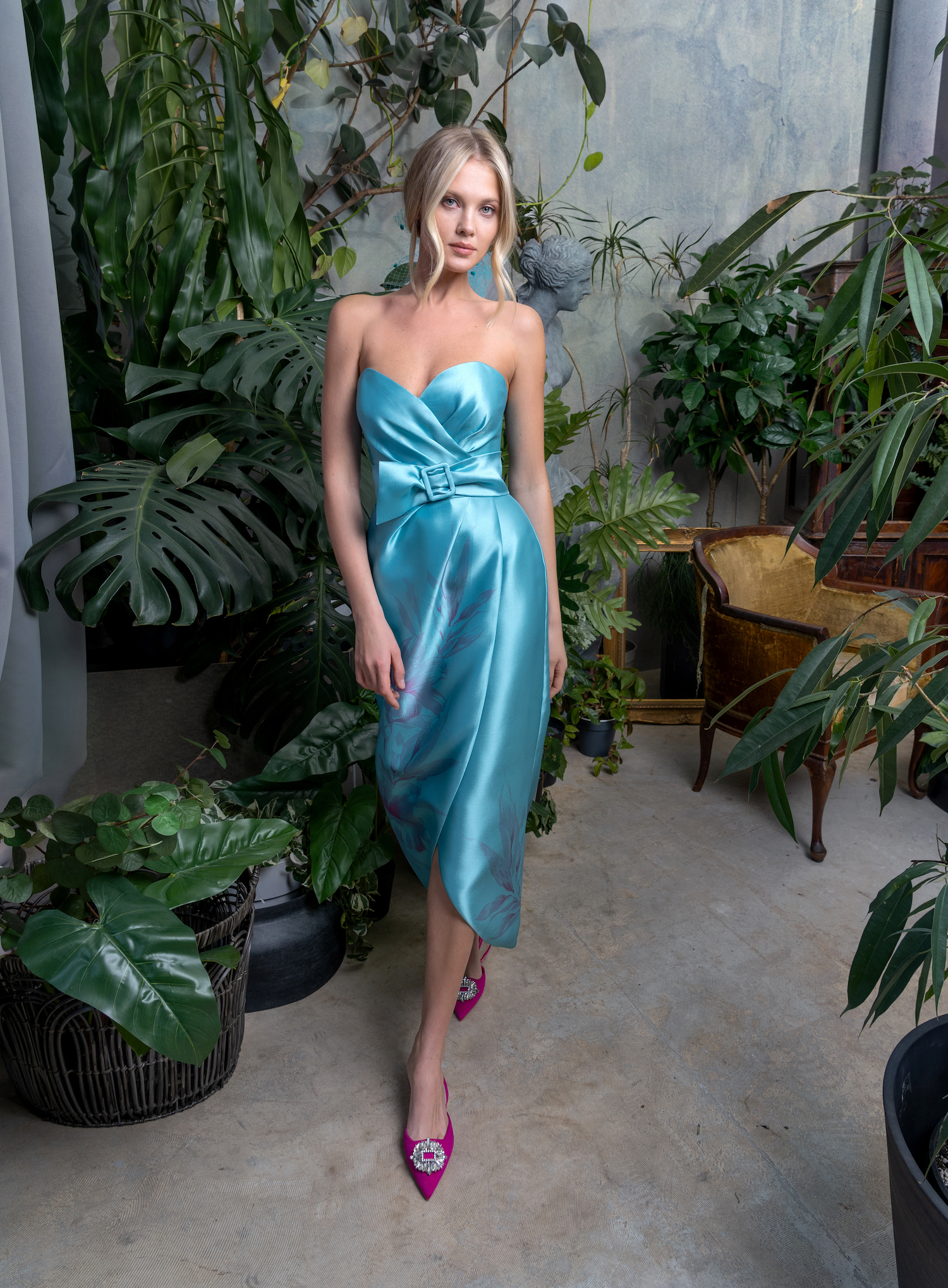 CHOOSE THIS SEASON'S HOT COLOURS FOR WEDDING GUEST DRESSES
Before presenting you with some wedding guest dress ideas, let's look into fashionable dress colours. First of all, the season of the wedding you attend will be a significant aspect when choosing the colour of your dress, but also there are a few other considerations to keep in mind. It will be perfect for fall or winter events to choose deep colours like navy blue, burgundy, or, so fashionable lately, forest green. Other trendy colour options are purple, eggplant, or dark caramel. When a wedding takes place in the spring or summer, you are welcome to choose lighter colours. The most popular shades for wedding guest dresses are blush pink, light gray, or pale blue. This summer's hottest pick will be a beautiful purple, lime or lilac. There are a few NOs. First, although wearing black for weddings has become more favoured in recent years, some people still feel very strongly about it due to their culture or religion. That's why make sure to check before buying a black wedding guest dress. A bride-to-be will most likely reserve white, ivory or cream. Unless your invitation states 'white party', do not even look at formal white dresses. You do not want to shock other guests and let your bride shine that day. One more thing, it is a good idea to check what colours bridesmaids will be wearing, because you do not match them as well.
PICK ACCESSORIES TO HIGHLIGHT YOUR STYLE
Selecting the right accessories will help you complete your look and feel stunning. For example, an elegant little clutch will keep your look classy and glamorous. Besides, it still gives you somewhere to put your phone or lipstick. If you plan to dance the night away, you may want to bring a pair of comfy shoes. What about sparkly flats? And, of course, do not forget about bling! A lot or just a little bling will depend on the complexity of your formal dress. Remember to keep it tasteful. If the event you are attending is more conservative, elegantly drape a shawl or fur over your shoulders for an ultra-sophisticated look.
Best wedding guest looks from Papilio's latest collections – 'Flora'
Style #706a & #706b: 
Here is a formal fuchsia dress that will be an excellent choice for the summer of 2022. This divine style is suitable for formal or semi-formal events as it comes in a floor or cocktail length. Its designer print will, without a doubt, help you to make a statement and win the best-dressed wedding guest. The plunging neckline adds glamour to this style and guarantees a remarkably flattering look.
Style #707: 
Talking about print evening gowns, they are back in fashion, and our clients absolutely love them. This style from our brand new evening fashion collection speaks elegance and grace. If you are looking for a floral dress in fresh pastel shades with pretty details like puff sleeves or a corset back, this exquisite frock is for you.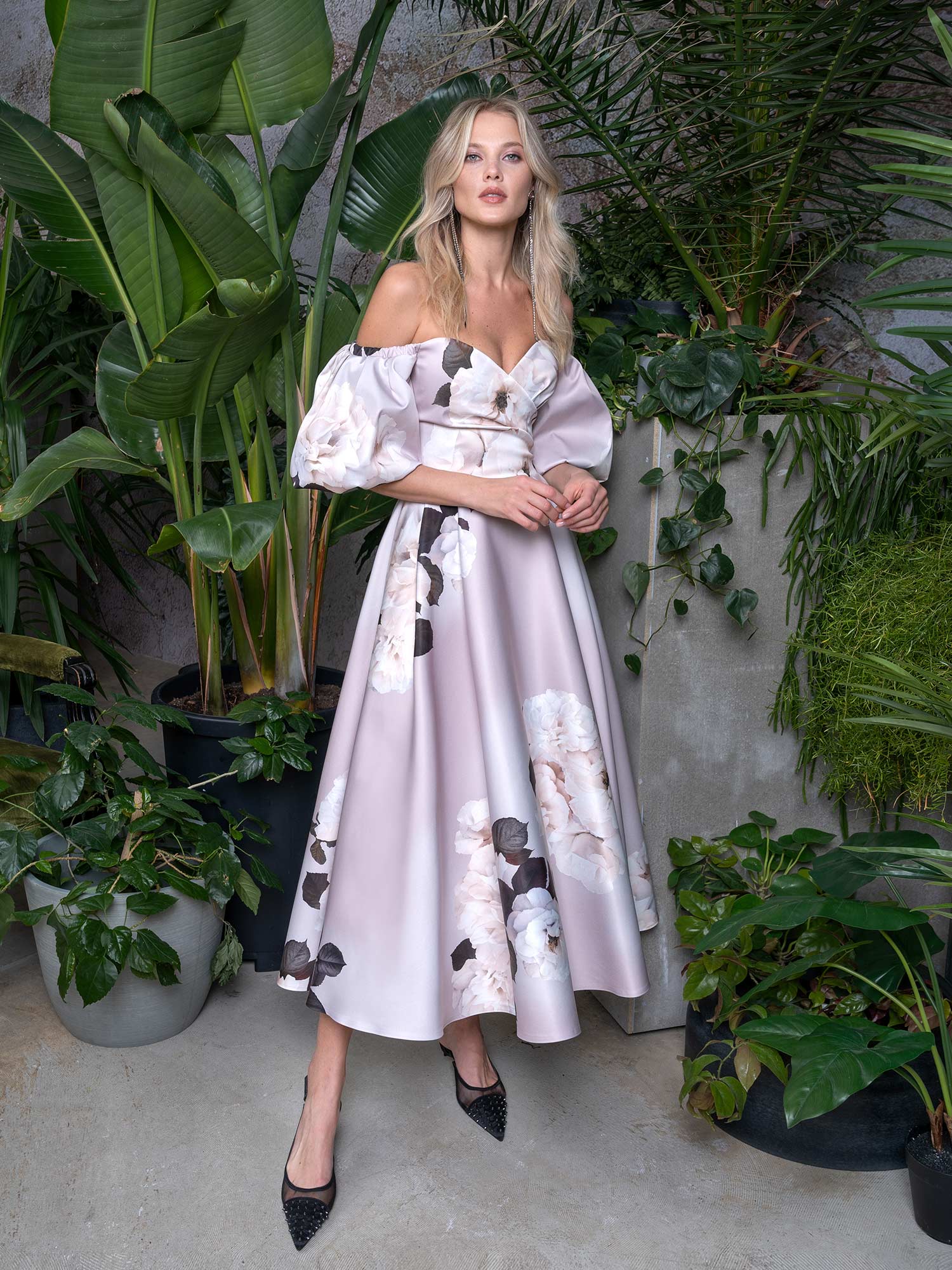 Style #717a, #717-1b & #717b:
For spring, summer, or destination weddings, it will be best to opt for wedding guest dresses in vibrant colours or lightweight gowns made of silk chiffon or tulle for such outdoor celebrations. This gorgeous design comes in many fashionable colour variations. Among them are trendy watermelon, mint, and this year's colour – lilac. You'll feel both effortless and elevated.
Style #719: 
Finding the perfect summer dress for a black-tie wedding can certainly be challenging. This delicate chiffon beauty features an ideal balance of elegance and sophistication. With its structured top, voluminous romantic sleeves and smocking hot skirt, you will look just fabulous. The dress comes in many different shades, and you will find the one that compliments your body the best.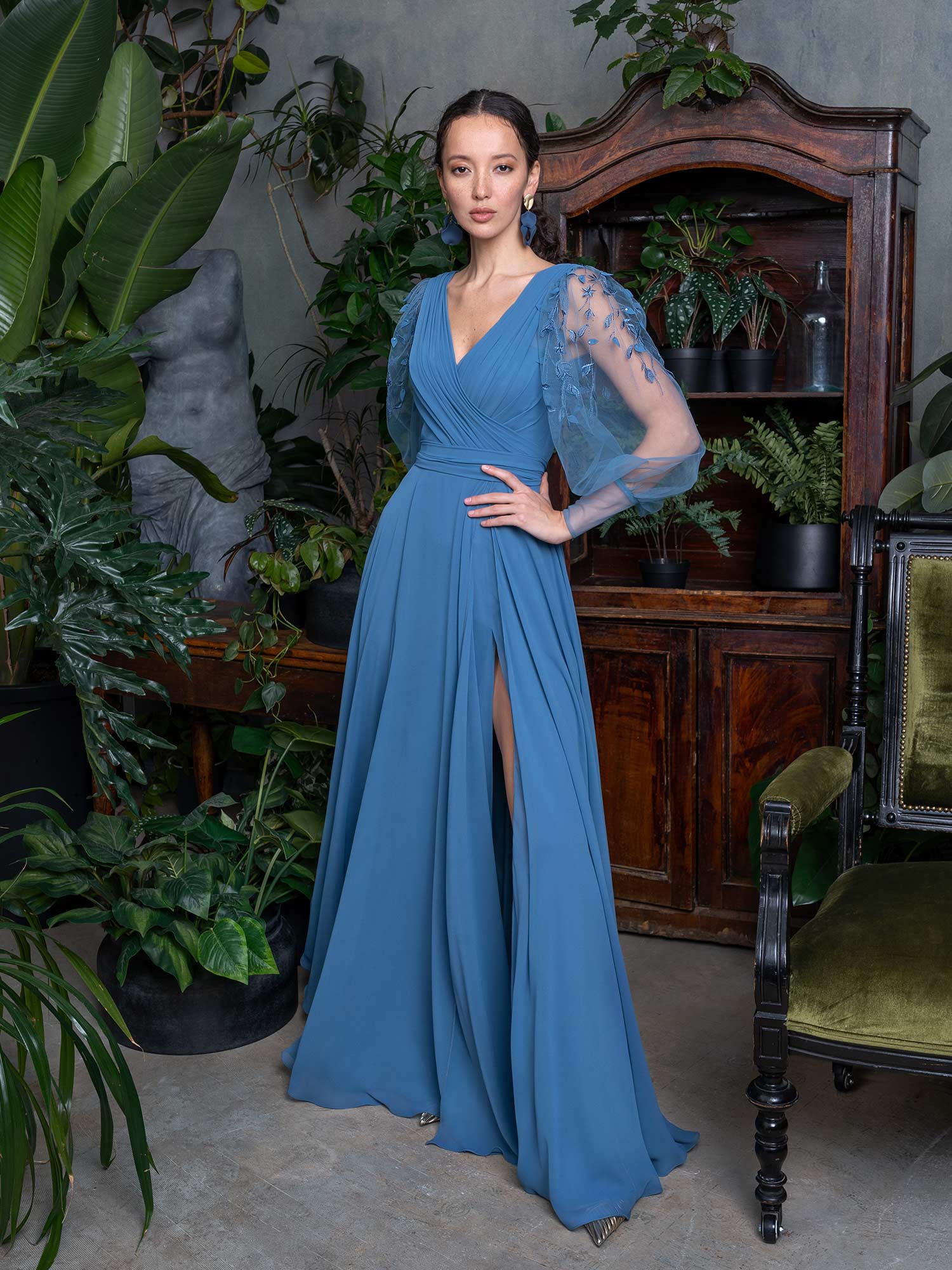 Style #721a & #721b: 
What about a genuinely girly wedding guest dress? It will be great for someone who is a part of a bridal party. This style features a modern floral bustier corset that adds a playful yet fashionable statement to an overall romantic look. Its defined waist is paired with the dress's puffed tulle skirt, adding another flattering and eye-catching element to this gorgeous design.
Style #723: 
Here is a moody and sophisticated option for a wedding guest dress. There is nothing not to love about this black and pink floral evening gown. It is a 100% epitome of feminine! Its fitted silhouette with the elegant plunge neckline and off-the-shoulder sleeves will surely be remembered.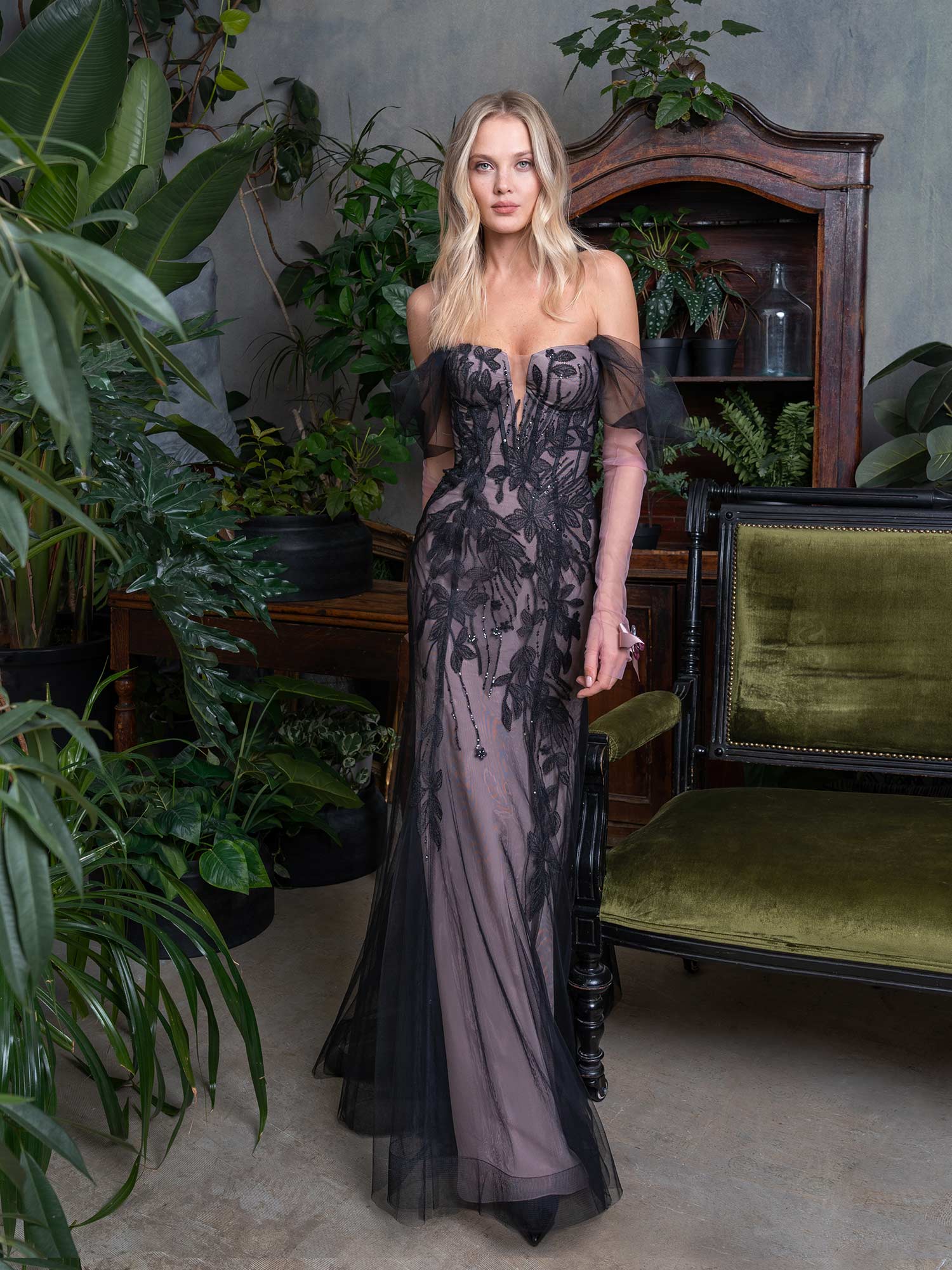 Style #732: 
The playful ombre colour and one-shoulder neckline strike a beautiful balance between whimsical and modern. We absolutely adore the free-spirited nature of this flowing organza gown for the wedding guest with a bohemian sensibility. If you plan to attend a late spring or summer wedding, this stylish option will be a luxurious pick for you.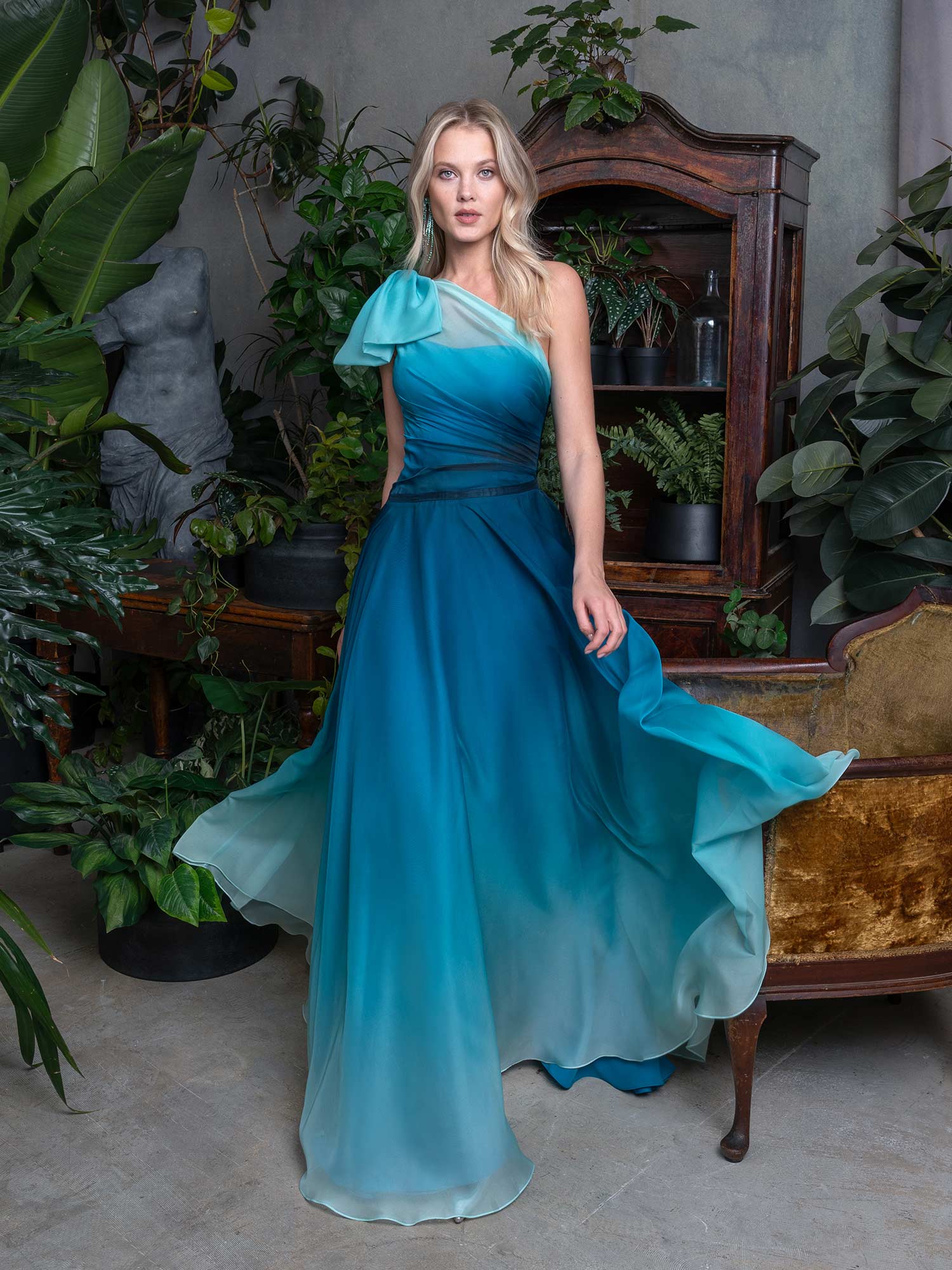 Style #735: 
It is easy to instantly fall in love with this stunning gown in such a vibrant green colour. Whether you are looking for a classic emerald gown or a shocking lime mini dress, going 
green
 never looked so good. Let's put it this way: green is fashionable this season. Besides, the striking cut of this dress's bodice makes up for any unique detail that will perfectly frame your bust area. You can simply add soft waves, natural makeup, and a glass of bubbly, and voila, your evening look is complete.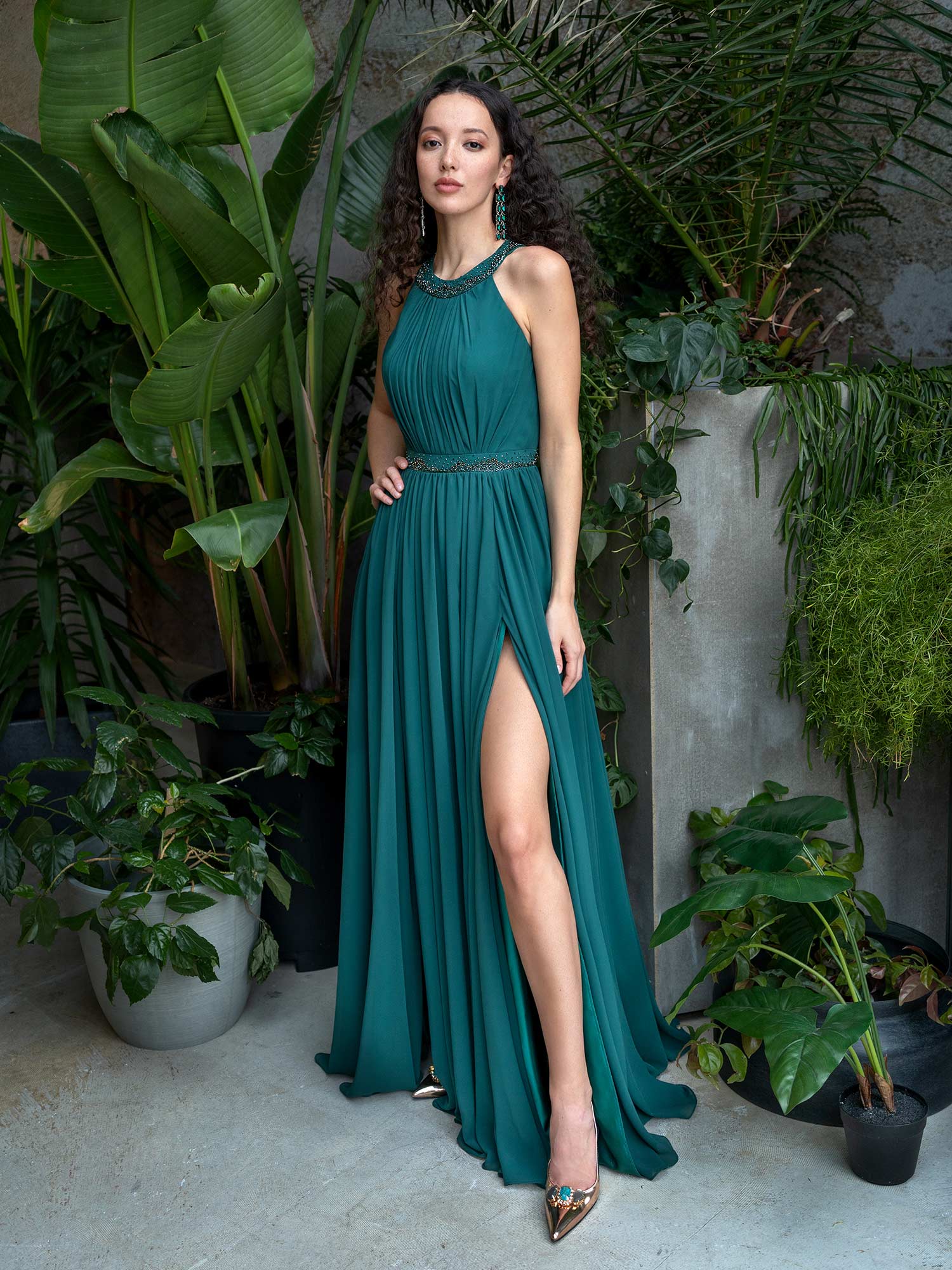 Browse our collections of evening fashion to discover perfect wedding guest dresses that will fit your personal style, season, special occasion, and most importantly, make you feel like a million bucks.