Behind the scenes of Papilio Fashion House
Learn how your Papilio wedding dress comes to life!
If you have been wondering, 'How long does it take to make a wedding dress?', you will very much enjoy reading this short article. We will highlight all the important steps in the process of creating wedding dresses and evening gowns at Papilio Fashion House. Being a European designer of wedding dresses, Papilio takes pride in producing high quality dresses that fit perfectly. The creative process takes up to 12 months before launching a bridal collection or evening fashion line. For over 15 years, Papilio has created dresses with innovative designs, fabrics, and design techniques.  Being a leader in the design of formal wear in Europe, Papilio does not outsource any of its production. Everything is made under the same roof of Papilio Fashion House, located in Eastern Europe, from the wedding dress's initial design to the custom decor and unique details. Papilio takes pride in delivering impeccable quality and the most exquisite designs.
Introducing a single wedding dress style to the world takes many steps. A professional team of almost 20 professionals, designers, pattern-makers, seamstresses and decorators, work together for months to create a design concept and detailed patterns, and construct a dress that fits perfectly.  Finally, developing exclusive, handmade decor will take more than 120 hours.  Let's dive into the process of making truly European wedding dresses and see how the magic is happening at Papilio.
From a designer's dream to runway reality.
STEP 1 – Wedding Dress Inspiration
Every bridal and evening fashion collection by Papilio has a particular theme. Our chief designer, Alena Goretskaya, gets inspired by nature, art, music, theatre and history. She travels a lot and brings ideas home from all over the world. For example, Papilio's latest bridal collection, 'Ballet', was inspired by classical ballet and the world's most famous performances, like Swan Lake and Romeo and Juliet. She attended the best ballet performances in St. Petersburg and Moscow and was inspired by the beautiful Russian ballerinas. She often gets inspired by her brides, their different personalities, and how each bride can transform a design and look so unique and incredible. Alena works closely with the team of designers to bring her ideas to life. So, the very first step in planning a new bridal collection and new styles is creating a mood board with details that will excite all the designers on her team.
STEP 2 – Wedding Dress Design Sketches
After a new collection has a visual concept, the designers start sketching new wedding dress styles. Every Papilio bridal line offer at least 30-40 different styles, including classic, boho and couture dress models. Although the first sketches come from the chief designer, the design team is responsible for finalizing all the drawings, choosing fabrics, envisioning decor and describing how a particular wedding dress will look. This creative process is the most exciting in a designer's life and takes many fun meetings before an actual dress design is born.
STEP 3 – Wedding Dress Pattern Making
After a design sketch is approved, Papilio's expert dress engineers go to work. Pattern-making is a complicated puzzle to be assembled and will be fitted on a mannequin for the first time. It is a laborious, hand-crafted process taking over 100 hours for a single dress. Professional dress construction is critical to creating a properly fitting dress for a bride. Pattern-makers make sure to check all proportions and adjust a design if it is required. During this meticulous process, they then test on actual models to guarantee the best possible fit of all Papilio creations. Before launching a new bridal collection into production, all patterns will be transferred into a computer program to generate different sizes.
Wedding Dress Assembly & Tailoring
Once a dress's pattern is finalized and approved, it is time to make the first sample of a dress design. Dress patterns are usually printed on large pieces of special paper used in tailoring. Papilio's experienced tailors lay the patterns on fabrics chosen by the designers. As the dress goes into production, Papilio's tailors will use a laser machine to cut fabrics, resulting in the precise piecing of materials which contributes to the production of a final garment of the highest quality. Finally, Papilio's seamstresses will pin the fabric and sew the dress with care. During this process, they try the dress on a mannequin several times to see how a wedding dress drapes, making adjustments as required, to ensure the best fit and shape.
Wedding Dress Decor Design
Developing intricate and unique decor is an artistic process inspired by the central theme of a bridal collection. Papilio's decor designers take a design sketch and create a detailed mapping of a dress's embellishments, including beads placements, embroidery, 3D flowers. All Papilio's decor is created in-house and is unique to the brand. Every single detail you see on your wedding dress is made by hand. Following the finalized blueprint, Papilio's decor technicians embroider and decorate a wedding dress. This process is very time-consuming and may take up to 4 weeks.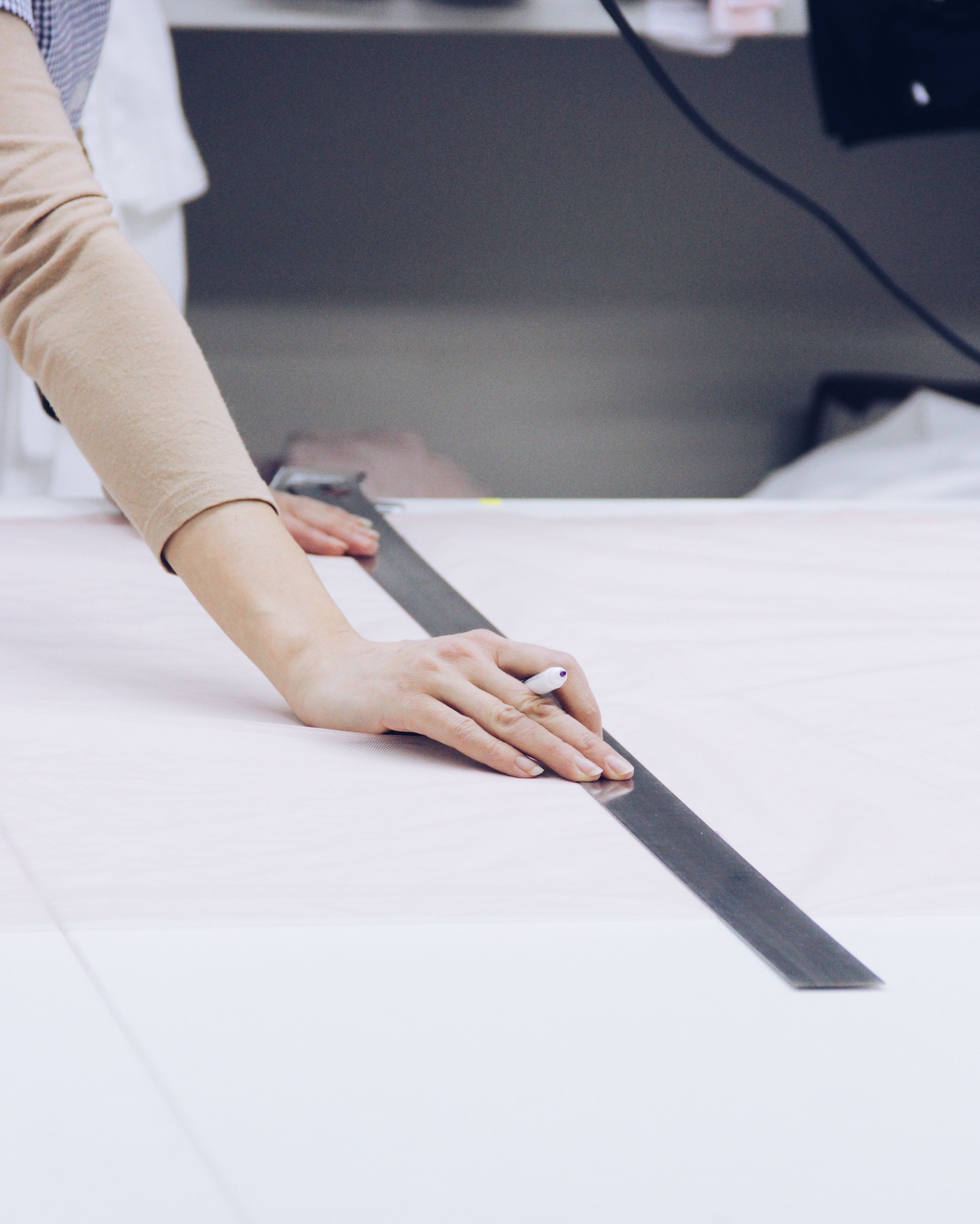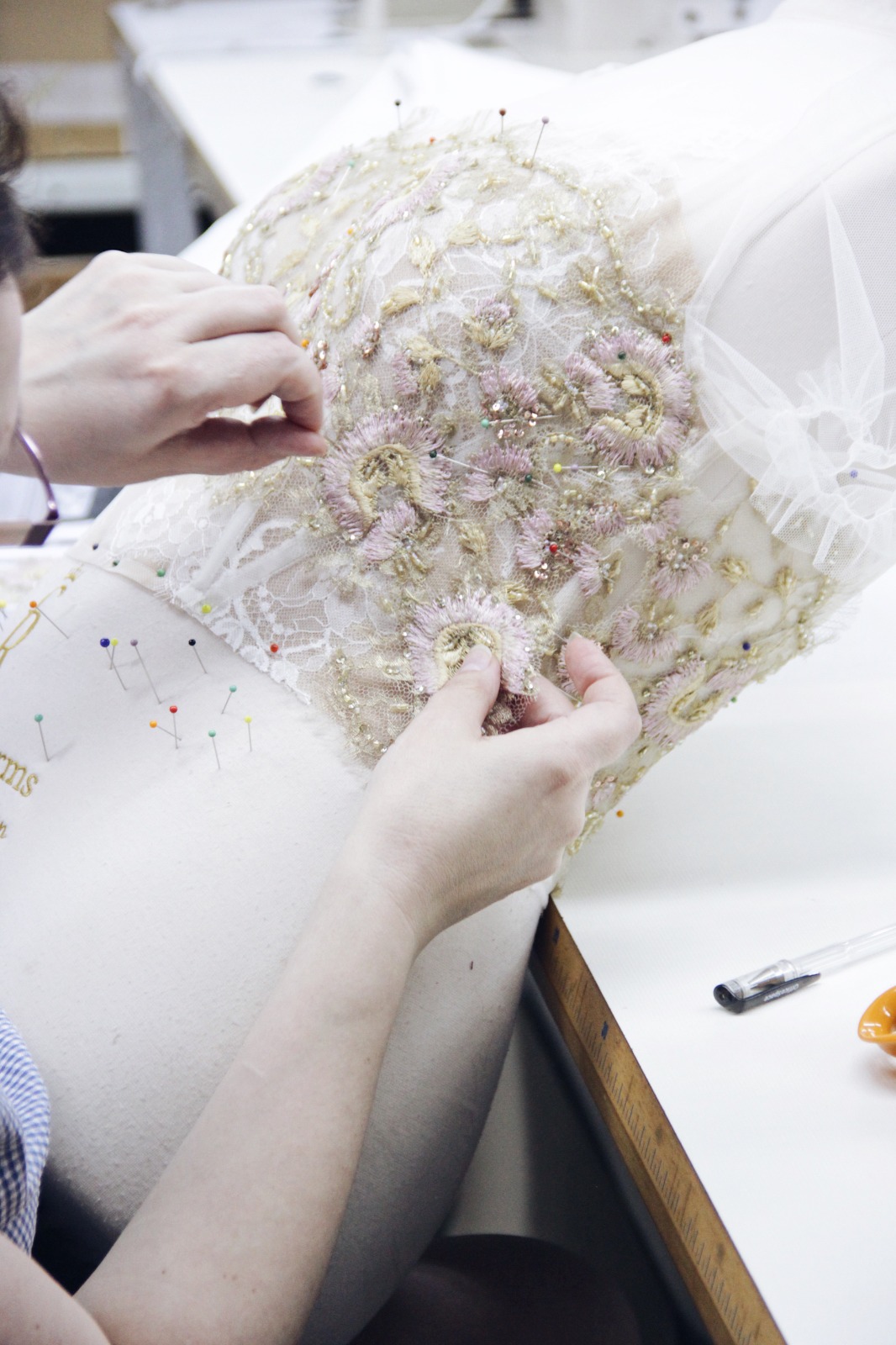 Wedding Dress Production Launch
After a wedding dress design is finalized and can be presented to the public, you may think that the work for Papilio's designers is done. However, that is not the case. The chief designer with her team start work on a professional photo shoot of a bridal collection. This process includes producing a concept for a photo shoot, model casting, dress colour variations prep, and designing decor and bridal accessories. The work does not really stop… As soon as Papilio's designers have launched and presented a new bridal collection on a runway in Milan and printed fresh lookbooks, they start packing their bags to go to France, where they will get trend books and select fabrics at the biggest expo in Europe for the next bridal collection.
We have shown you a wedding dress's evolution, from its idea, first sketch, to its catwalk debut. We hope it helps you understand the hard work behind every design Papilio presents and get inspired by your Papilio dress.
XOXO,
Papilio Team