Unveiling the Stunning Papilio 2024 Bridal Dresses Inspired by Art Nouveau Style and Timeless Beauty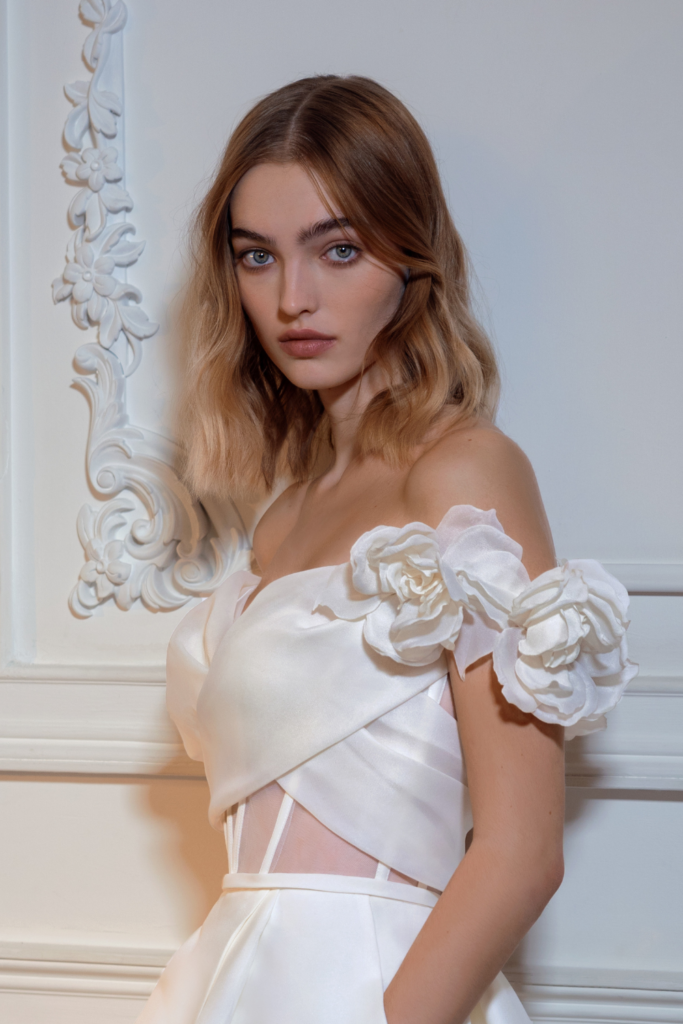 The Art Nouveau style is renowned for its delicate and romantic elements, making it a perfect source of inspiration for the 'Liberty' bridal collection. To truly capture the essence of this timeless aesthetic, it's essential to consider how your bridal hair, makeup, and jewelry can complement these intricate wedding dress designs. In this post, we present suggestions from our stylists for achieving a cohesive look that enhances the overall Art Nouveau-inspired bridal theme while embracing the delicate and romantic qualities of the 'Liberty' collection of 2024 bridal dresses.
Bridal Hair: Unlocking the Romantic Charm of the 2024 Bridal Dresses
---
Soft, romantic updo: For an ethereal and romantic hairstyle, opt for a loose, textured updo. Leave a few wisps of hair framing your face to create a soft and natural look. Consider adding delicate floral accents or jewelled hairpins to infuse a touch of Art Nouveau-inspired glamour. These subtle adornments will beautifully complement the intricate details of this new bridal collection.
Side-swept waves: Try creating soft, side-swept waves to evoke a vintage-inspired charm. This classic hairstyle exudes elegance and timelessness. Incorporate a bejewelled hair comb or a headband with intricate details to enhance the Art Nouveau aesthetic. These accessories will add a touch of sophistication and perfectly complement these wedding dress designs.
Bridal Makeup: Magnetic Makeup Trends to Complement the 2024 Bridal Dresses
---
Ethereal glow: To achieve a luminous complexion, opt for a lightweight foundation or tinted moisturizer that allows your natural beauty to shine through. Use a soft, shimmery eyeshadow palette in neutral or pastel shades to create a dreamy and romantic bridal look. This subtle shimmer will enhance the Art Nouveau-inspired theme, evoking a sense of ethereal beauty.
Winged eyeliner: Embrace the iconic Art Nouveau style with a subtle winged look. This classic technique will lend an air of sophistication to your overall bridal makeup. Pair it with long, fluttery lashes and nude or rosy lip colour to achieve a balanced and harmonious makeup look that accentuates the delicate details of these ethereal wedding gowns.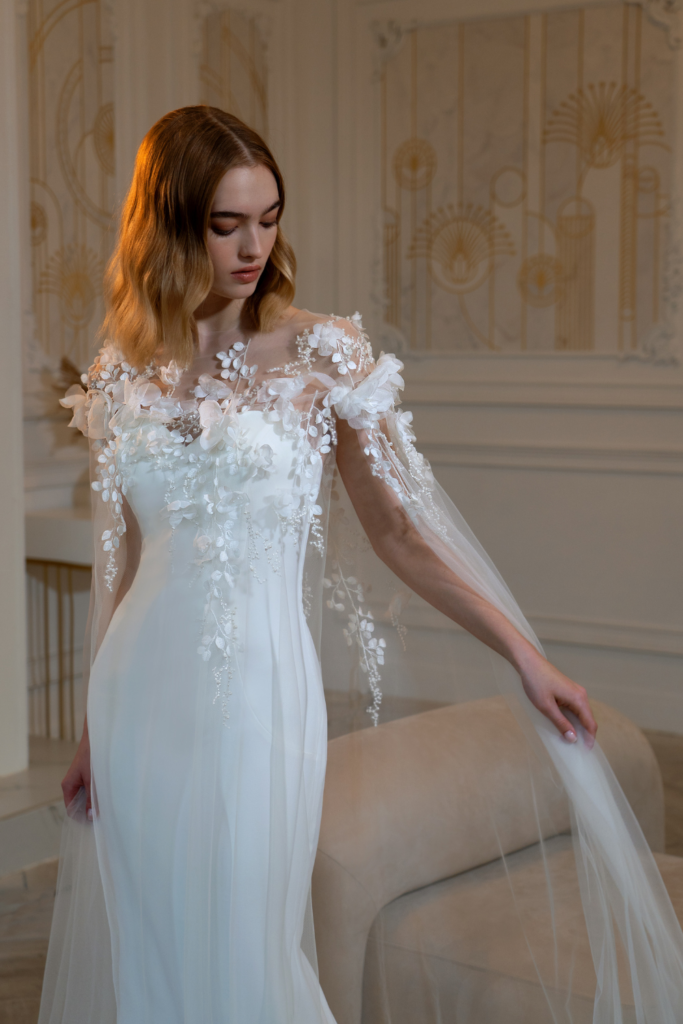 Bridal Jewelry: Adorned in Elegance – Enhancing the 2024 Bridal Dresses with Art Nouveau-Inspired Jewelry
Statement headpiece: Consider a statement headpiece adorned with intricate floral motifs, pearls, or crystals. Whether you choose a tiara, a headband, or a comb, this regal accessory will add a touch of magnificence to your bridal look. Look for designs that incorporate the flowing lines and nature-inspired motifs characteristic of Art Nouveau, thereby enhancing the overall aesthetic of the 'Liberty' collection.
Art Nouveau-inspired earrings: When selecting earrings, search for designs that feature nature-inspired motifs like leaves, flowers, or delicate work. Opt for earrings with pearls, coloured stones, or intricate metalwork to complement the Art Nouveau aesthetic. These elegant and eye-catching earrings will add a touch of sophistication and artistry to your bridal ensemble.
Delicate bracelets or cuffs: Complete your bridal look with dainty bracelets or cuffs featuring subtle Art Nouveau details. Look for pieces with flowing lines, floral patterns, or tiny crystals. These delicate accessories will add a touch of elegance to your wrist without overpowering the beauty of a wedding dress. The key is to strike a balance between the intricate details of the jewelry you choose and the overall theme of your bridal outfit.
When it comes to the 2024 bridal collection and its Art Nouveau-inspired designs of wedding dresses, your bridal hair, makeup, and jewelry choices play a significant role in enhancing the overall aesthetic and creating a perfect bridal look. By choosing soft, romantic updos or side-swept waves, achieving an ethereal glow with luminous makeup and adding statement accessories, you will definitely look like a stylish princess on her wedding day. Walk down the aisle in enchanting elegance, celebrating timeless beauty by wearing one of the bridal dresses in this magical bridal line.
XOXO,
Papilio Team
table of content