Attention 2022 Brides, here are 10+ Top Wedding Dress Trends
you need to know.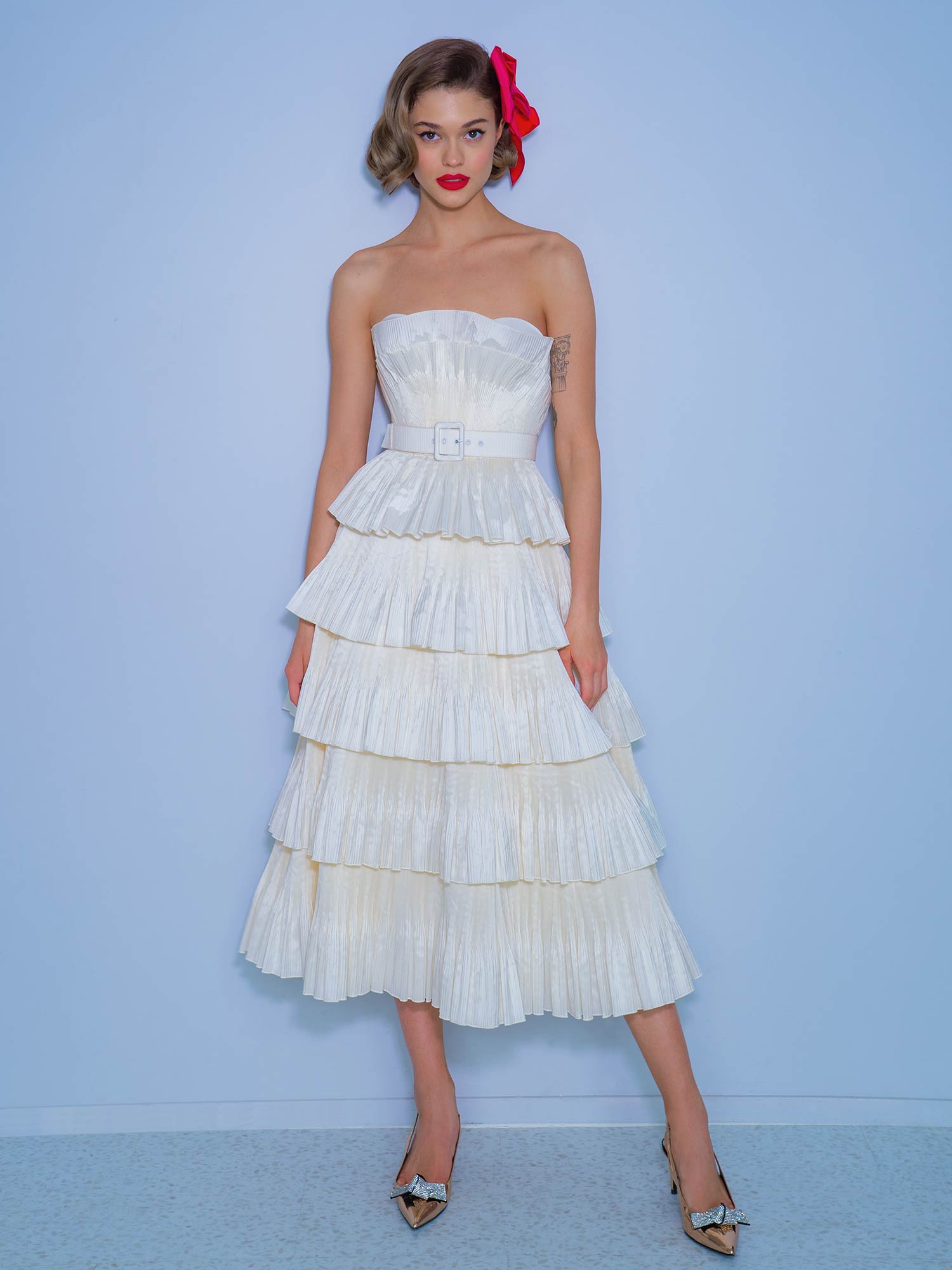 Short Wedding Dresses
2020 brought a lot of changes to the bridal fashion industry. Bridal designers and brides have adapted to a new age of wedding format. Many couples had smaller intimate weddings, and some brides-to-be chose to wear short wedding dresses for their special day. It looks like this wedding dress trend is staying for the following year. If you decide on having a casual ceremony or simply want to show off your beautiful legs, there are so many options of short and mini wedding dresses. For example, Style #2229a is a trendy choice from our new bridal collection – Vanilla Life.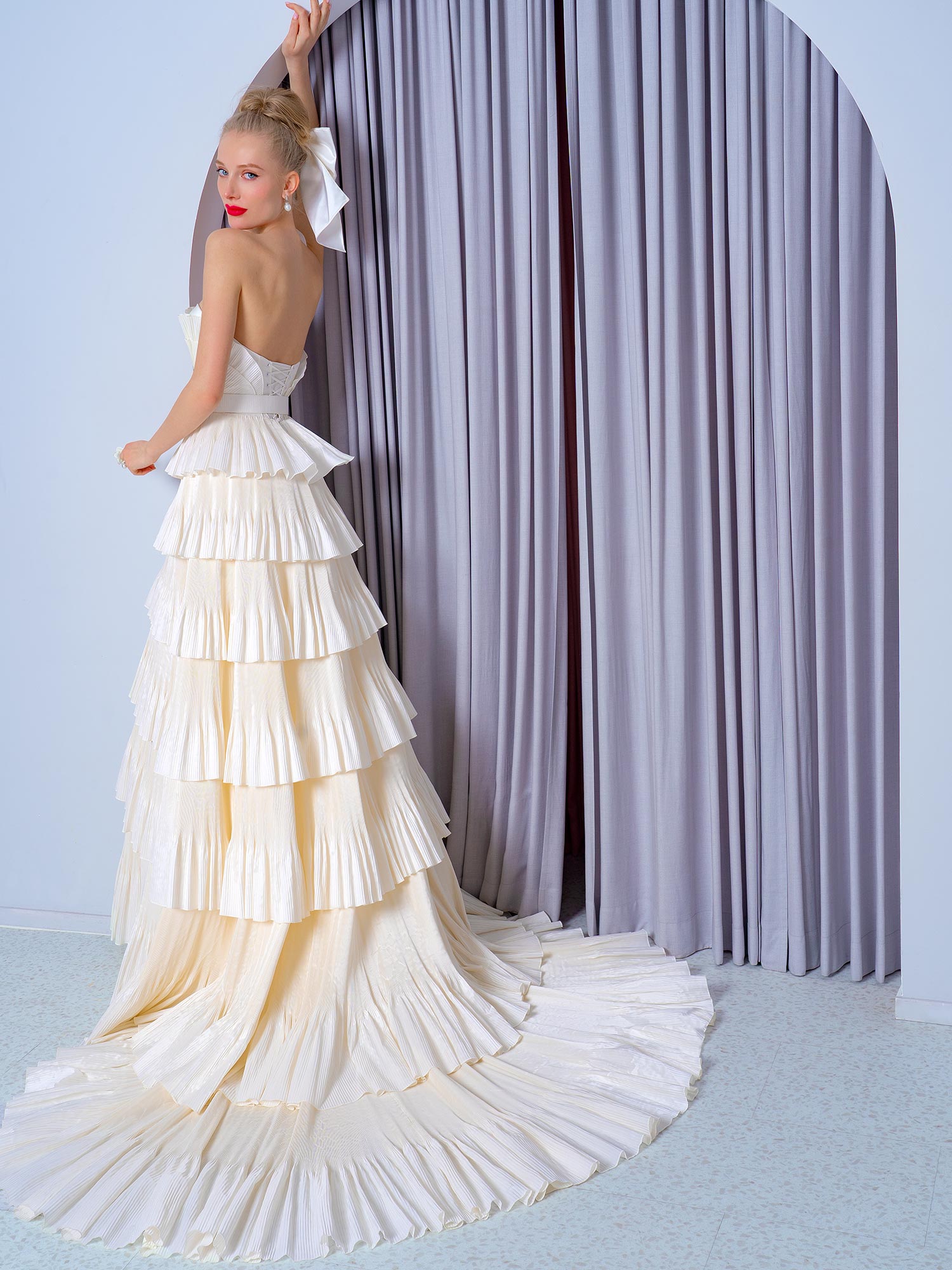 Ruffles and Tiers
Another 2022 popular trend is wedding dresses with ruffle details or tiered skirts. Bridal designers are very optimistic about 2022. What can be a better way than celebrating the return of larger weddings by indulging in a big ball gown with this extra detail? A ruffled skirt will add stunning dimensions to a wedding dress silhouette and create a fashion-forward bridal look. Style #2229Lb showcases this 2022 wedding dress trend tastefully.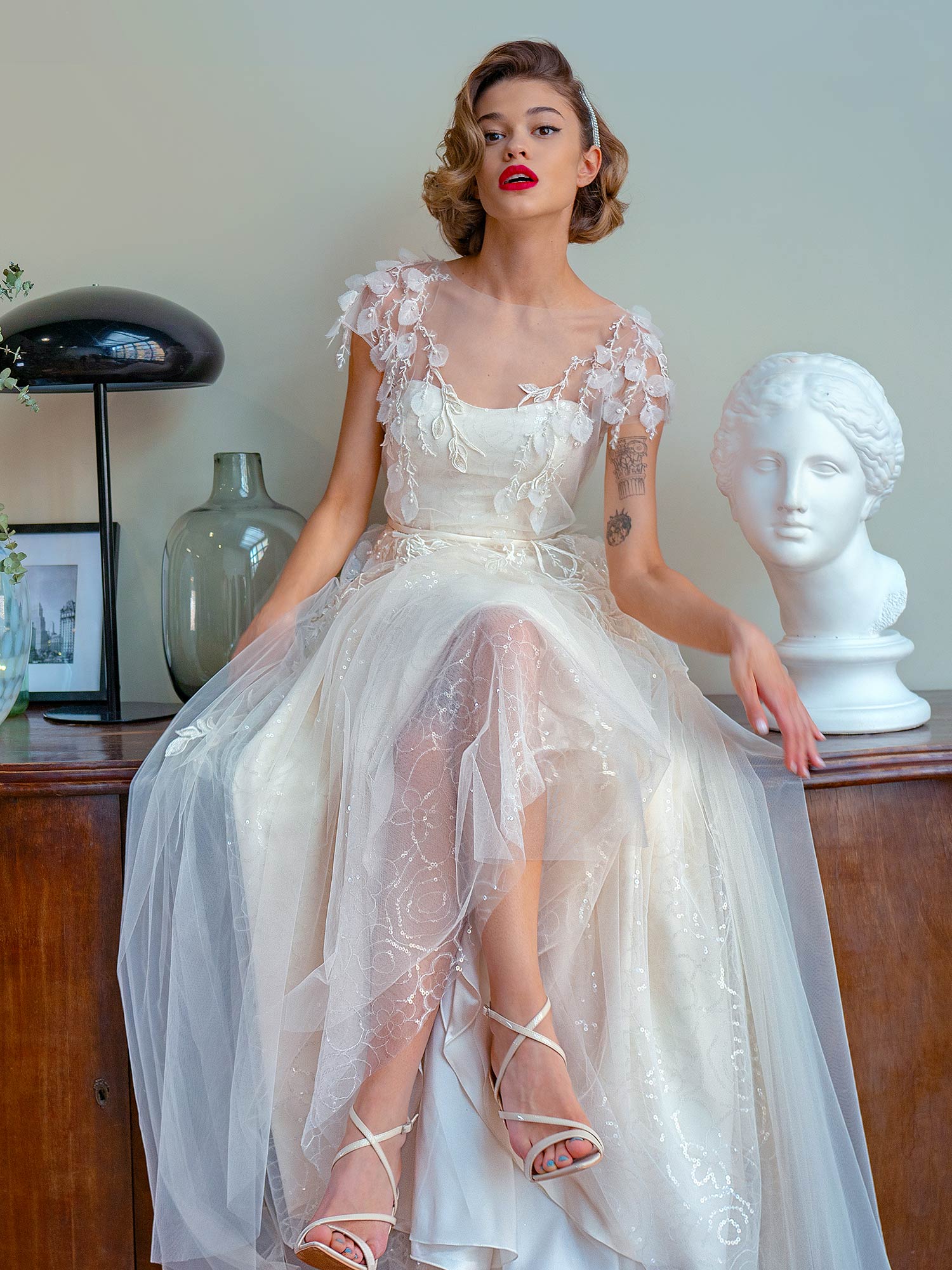 Florals
Floral motifs have been a signature of the Papilio brand for years. Florals and wedding dress is a classic combination that inspires bridal designers every season. It looks like they never stop surprising us with this breathtaking wedding dress trend to the next level. Three-dimensional floral appliques, flower embroidery or wedding gowns full of flowers with sequins and beads will add a romantic note to your bridal look. If you are looking for a subtle way to add florals to your wedding dress, check out Style #2222L.
Both traditional and non-traditional styles dominated
the Spring 2022 Bridal Fashion Week.
Puff Sleeves
This uber-chic bridal trend evolved. Many bridal designers embraced this trend and introduced several wedding dress styles with puffy balloon sleeves in their collections. If you are looking for a modern-day Princess-Diana-inspired dress, Style #2207L is a gorgeous wedding dress that is equally romantic and stylish. If you prefer a Bridgeton look more, why do not you check out Style #2218L?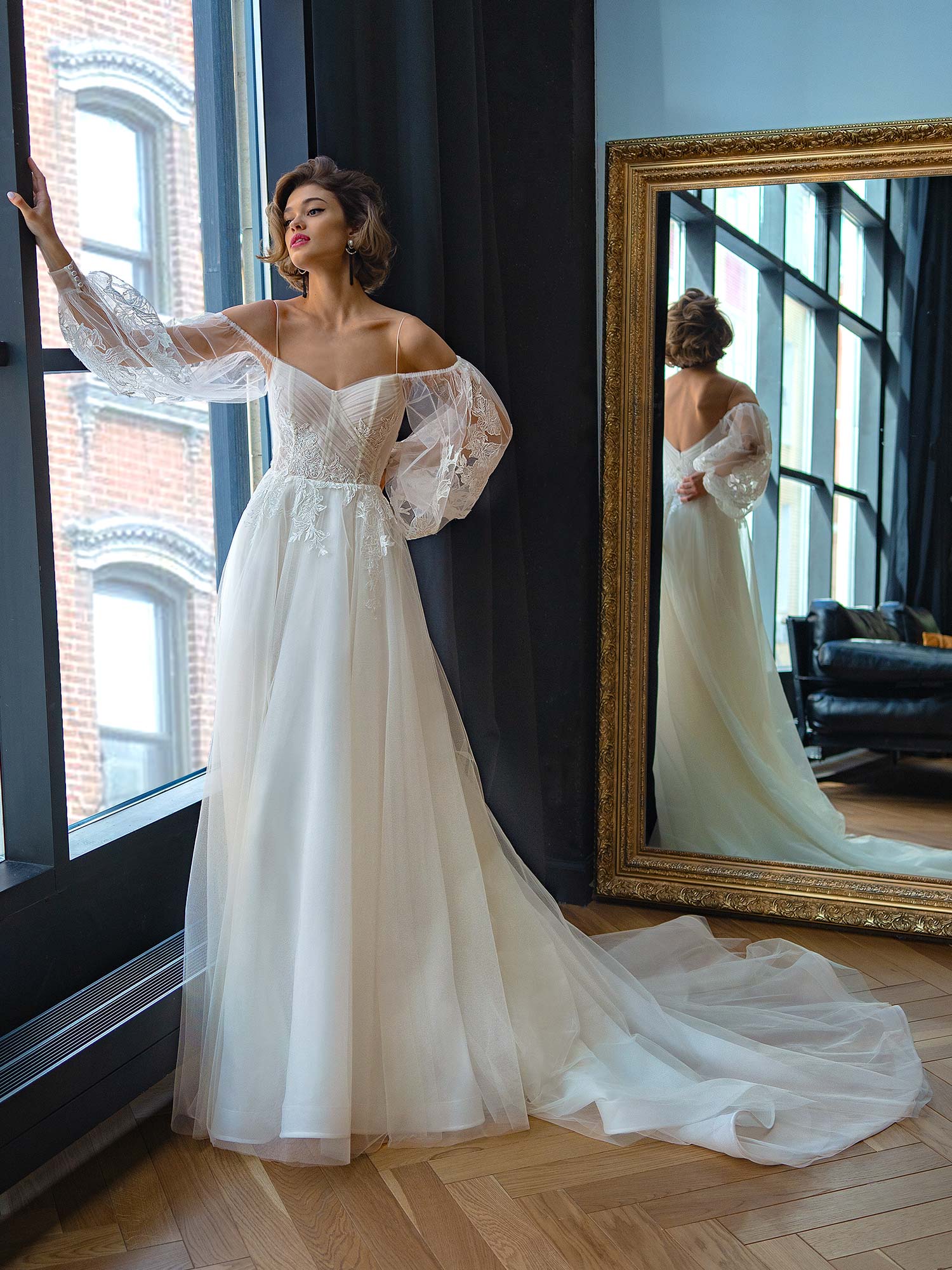 Slip Dresses
Sleek silhouettes made their mark during this Bridal Fashion Week. Do you remember the iconic look of a fashion model – Kate Moss? Her sexy wedding dress with bare back set a new bridal trend of slinky wedding dress silhouettes. Oh well, the trend is back this year, and a lot of brides are loving it. If you desire to add some coverage, you can pair this type of wedding dress with a long bridal cape or cute see-through bolero. Style #2228L is a moderate sexy dress that is comfortable, figure-flattering and totally of the moment. It will be an excellent choice for a smaller wedding or your Civil ceremony.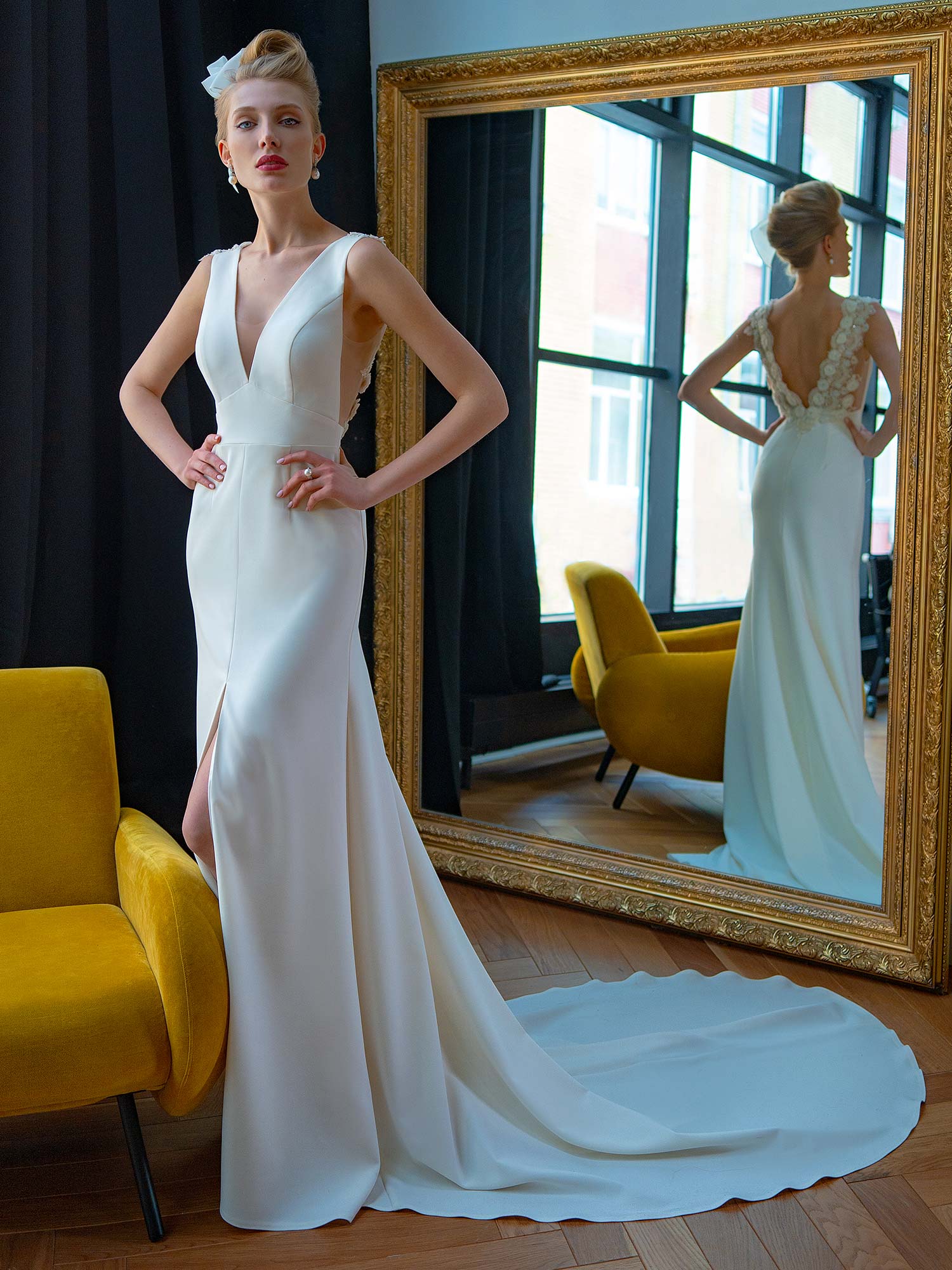 Pants
We cannot express enough how much we love a classic wedding pantsuit or jumpsuit. Non-traditional bridalwear, especially bridal suits or jumpsuits, has been gaining popularity in the past years. It is one of the biggest 2022 bridal trends. Bridal separates were heavily seen on all virtual bridal runways this year. So, if you are looking for a non-traditional, funky vibe, check out Style #2203. This 3-piece bridal outfit includes a sexy crop top, classy cigarette pants and a jacket with unique lace applique. It is definitely one of our favourites.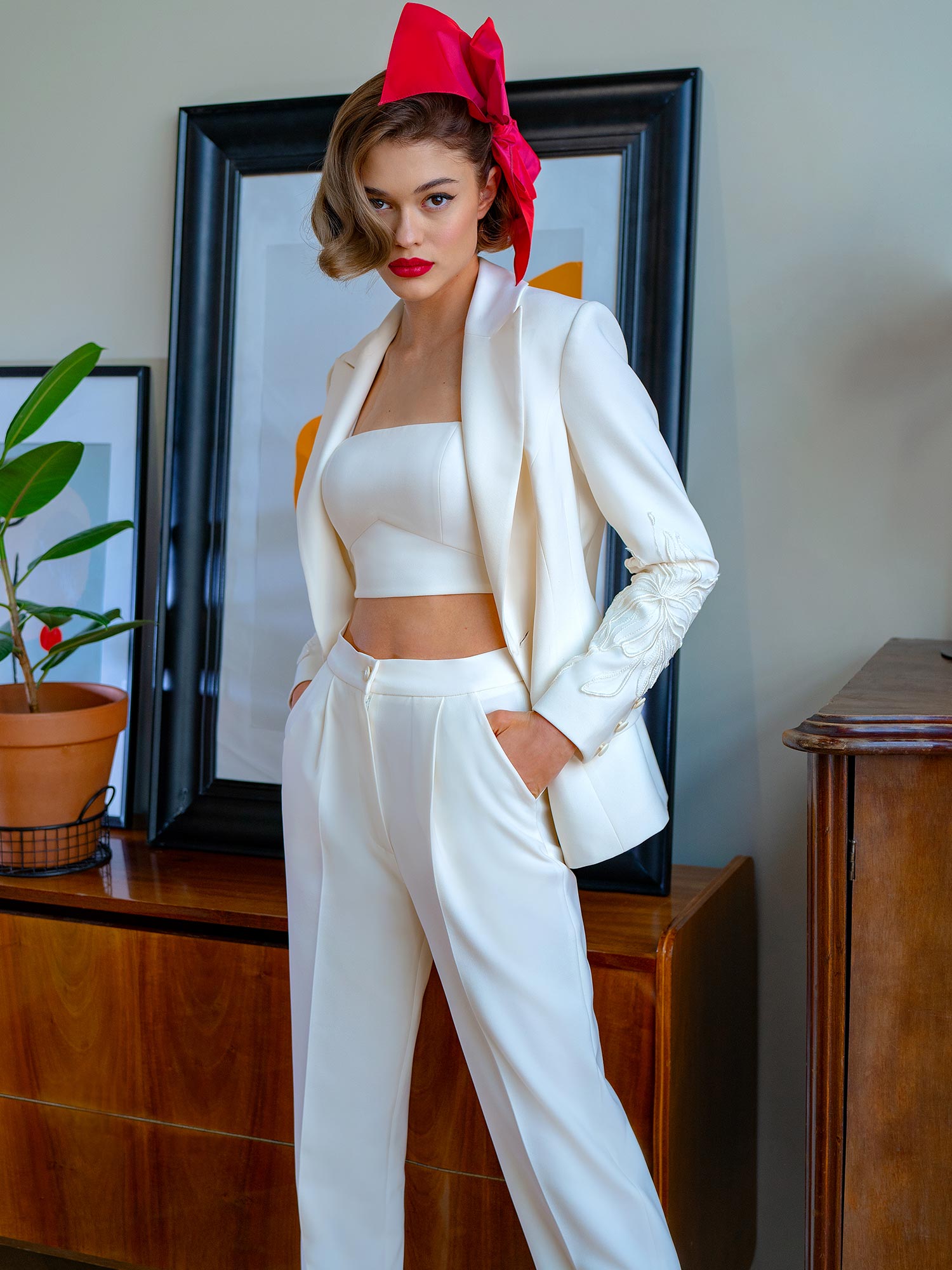 Short dresses, bridal separates, florals, statement sleeves
and many more exciting 2022 bridal trends.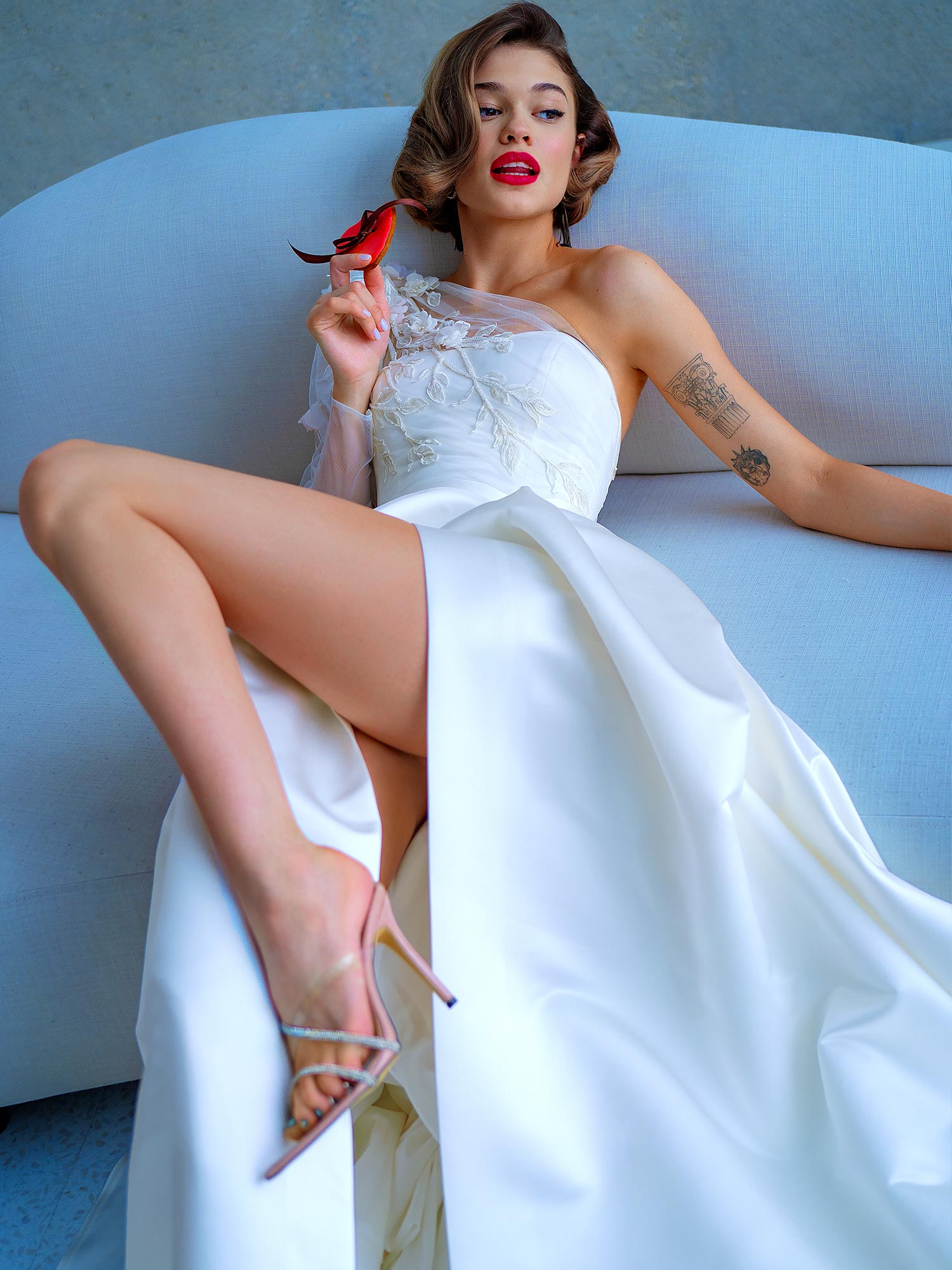 High Slits
Bridal designers brought sex appeal to even timeless ball gown dress silhouettes by incorporating thigh-high slits into their designs. This 2022 wedding dress trend is perfect if you want to step out and show off some skin while remaining a classy bride. After a year of COVID, we have noticed that brides are craving unique wedding dresses with a modern twist. Style #2215L combines a few 2022 wedding dress trends and presents an authentic wedding gown to say 'I do.'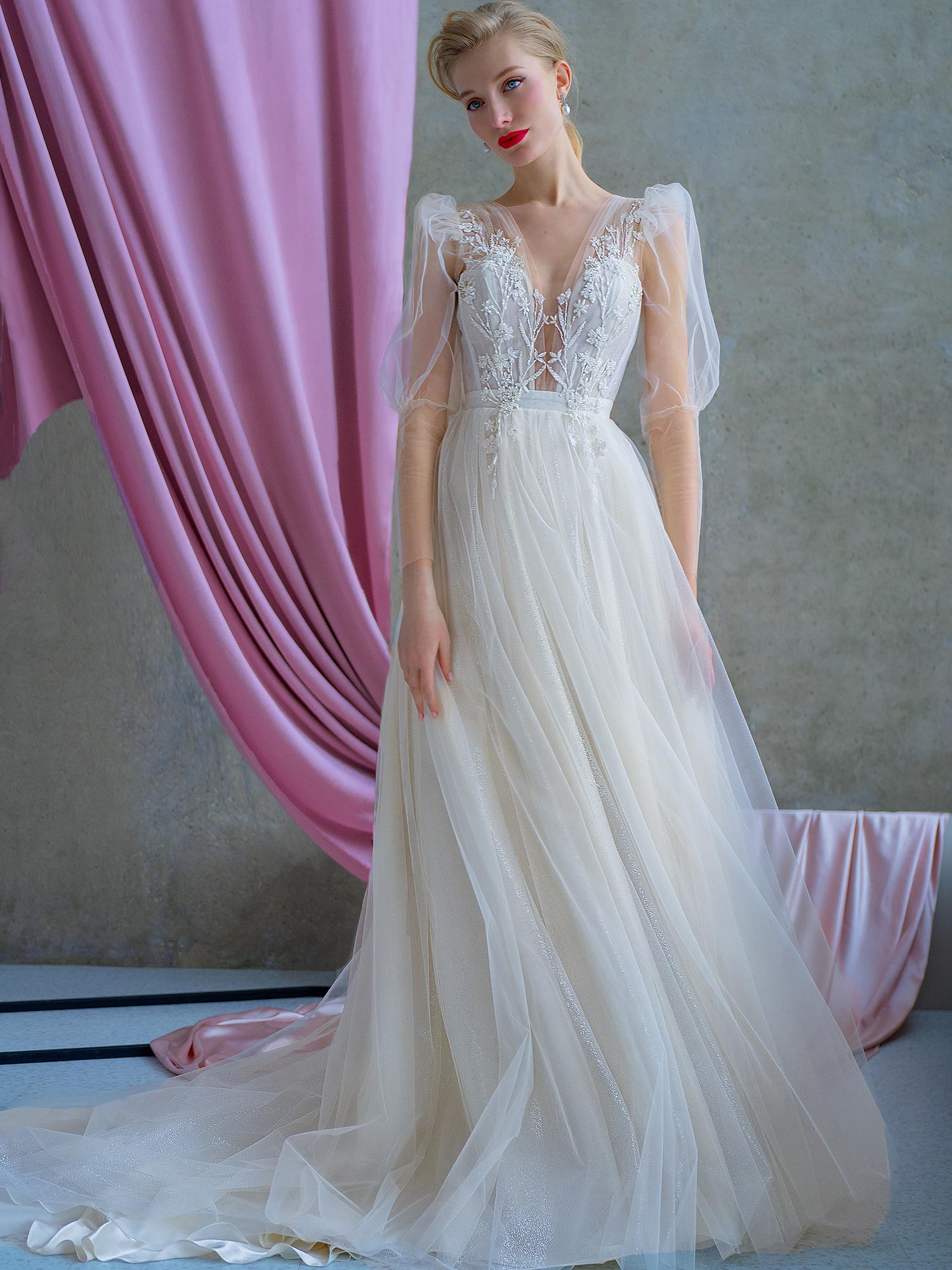 Deep V-Necklines
A wedding gown with a plunging neckline is a sophisticated choice if you crave something a little sexier. Bridal designers featured stunning silhouettes from deep V-neck shapes to down-to-there sweetheart, long, and short-sleeve. A plunging neckline creates a show-stopping focal point that emphasizes a bride's upper body and flatters all wedding dress styles, from ball gowns to mermaid dresses and slim, column styles. Style #2225L from our new 2022 bridal collection is extraordinarily chic!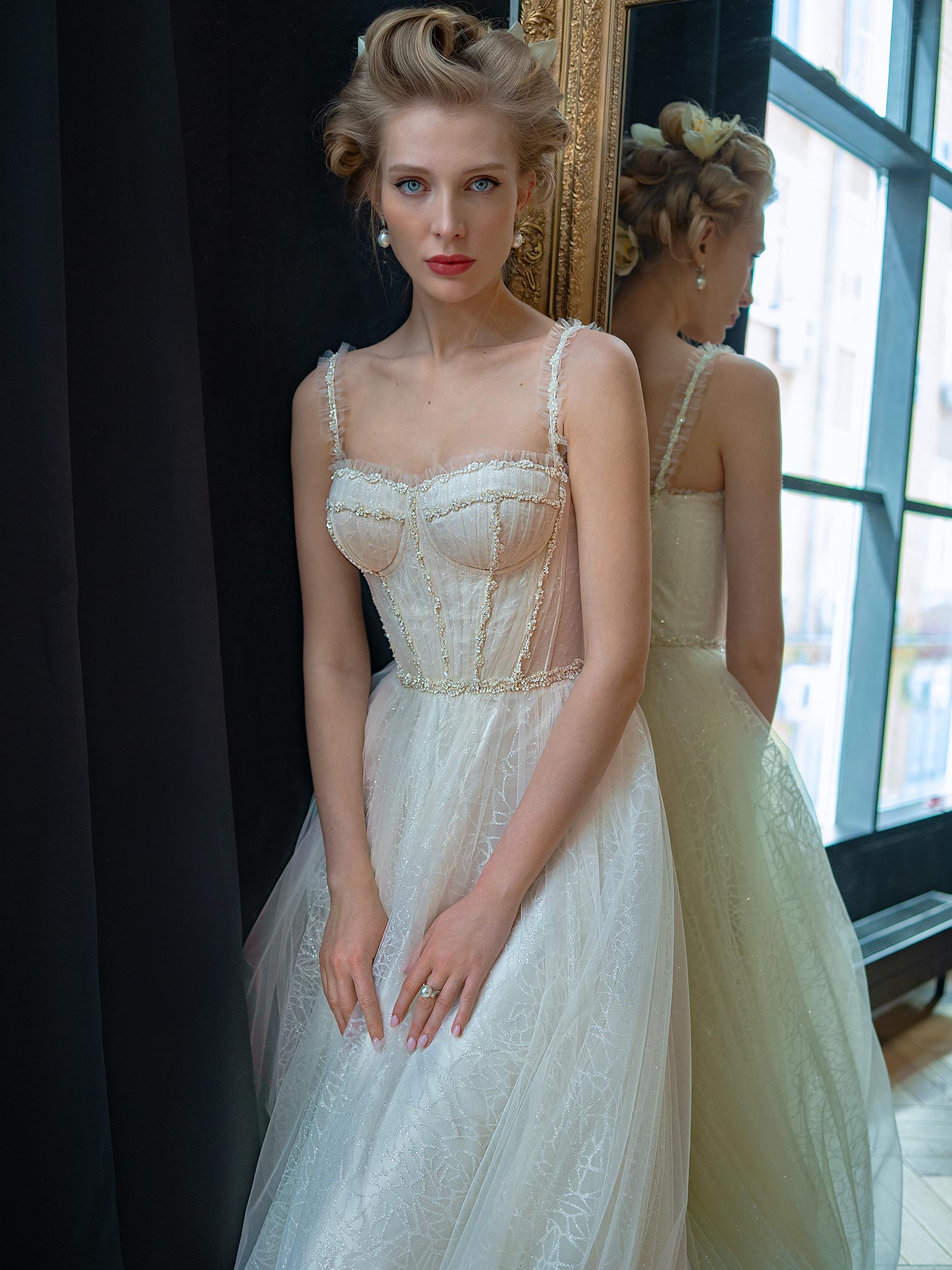 Corsets
Bridal designers love this old-world fashion detailing and offer many modern alternatives to traditional-looking corset wedding dresses. For example, check out Style #2230L. This boudoir-inspired silhouette immediately changes a bride's aesthetic in an elegant, charming direction with the simple addition of a structured corset bodice. 
If you are planning your wedding for 2022, these are the wedding dresses you must be aware of before shopping in-person or virtually.
Off-the-shoulder sleeves
Romantic vibes were definitely in the air at Bridal Fashion Week. And this most dreamy bridal trend proves it. Although you may think that wedding dresses with off-the-shoulder sleeves have become a classic in recent years. You are absolutely right bridal designers have introduced this trend a few seasons ago. However, this year they offered unexpected solutions while applying them to the bridal wardrobe. What about detachable off-the-shoulder sleeves? Style 2210L offers this creative alternative, and you can have two different bridal looks.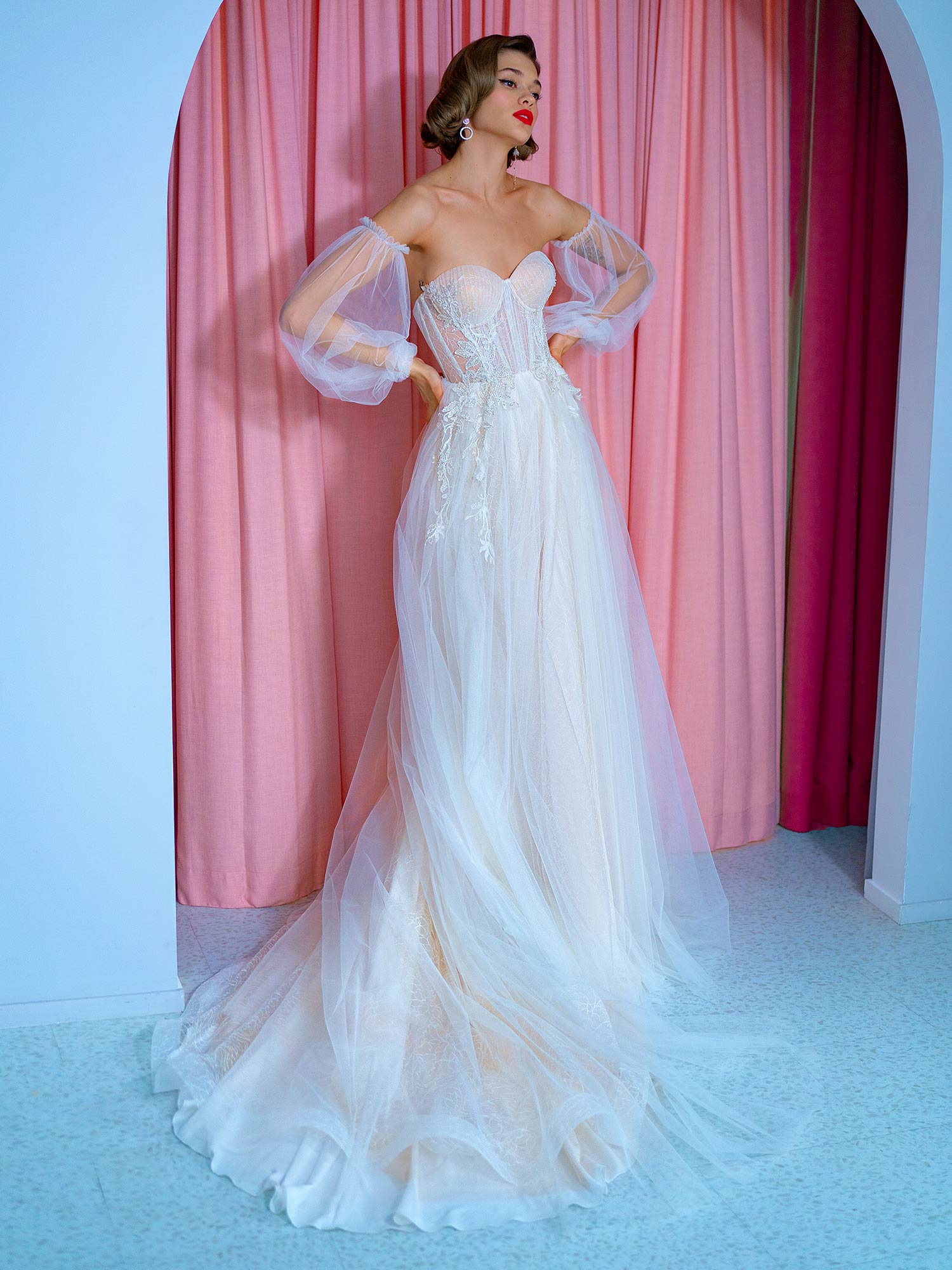 Square Necklines
This 2022 wedding trend is a true throwback to the Renaissance era. It draws attention to the geometrically shaped neckline of a dress that flatters the collarbones and shoulders. The square neckline works with pretty much every wedding dress silhouette and style. Whether you are looking for a ballgown with simple lines, or an A-line wedding dress, or a stylish mini, a square neckline instantly adds modern aesthetics to your bridal look. Bridal designers presented a lot of options of wedding dresses with square necklines, from really classy to superbly bohemian gowns. And here is a beautiful example, Style 2220L.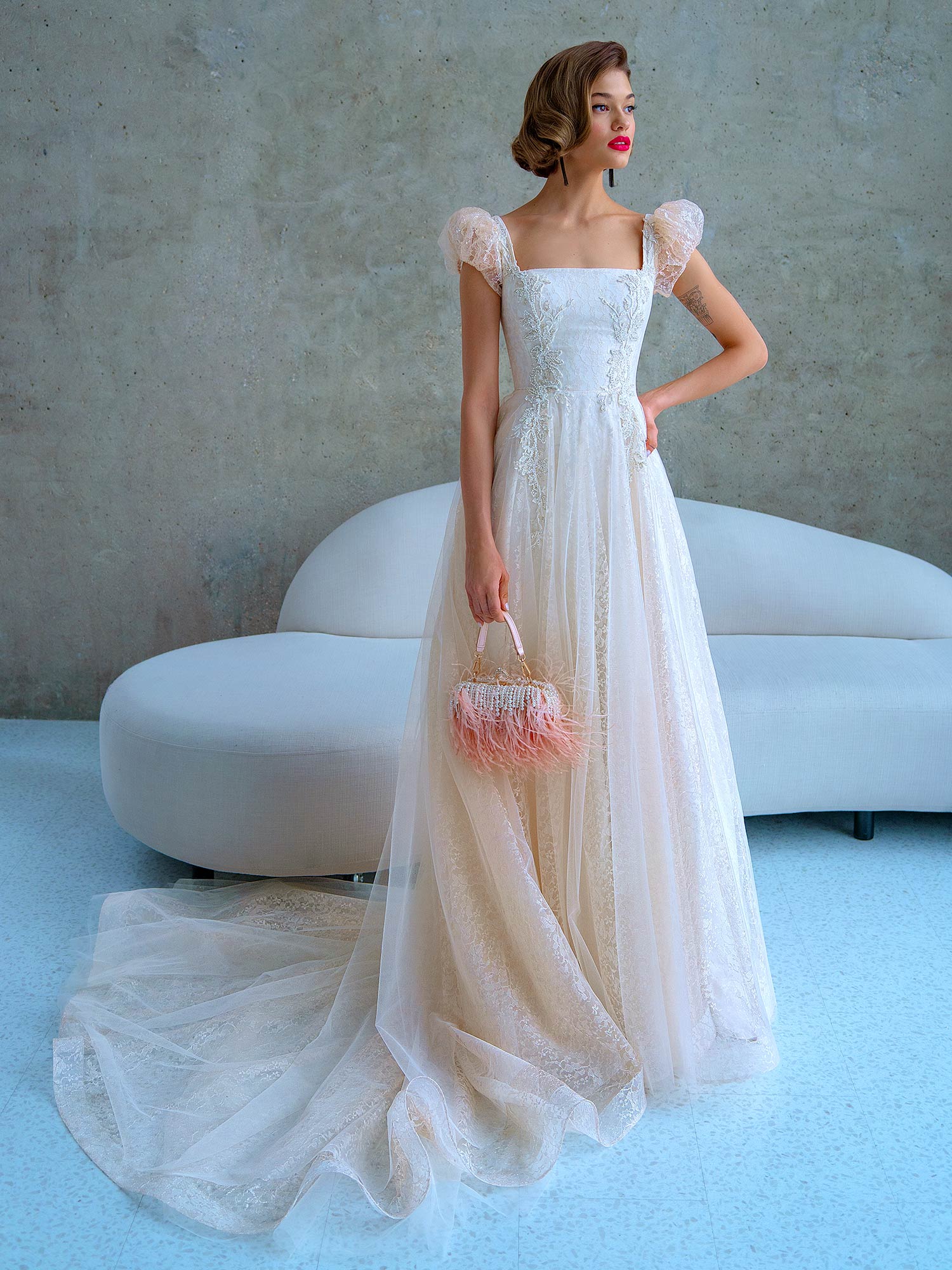 Transitional pieces
We may be repeating ourselves. A two-in-one bridal look is becoming very popular. Transitional pieces, like removable sleeves, capes, overskirts, capelets, toppers, coats, etc., are appearing in designer collections everywhere. We think it will be a huge wedding dress trend for the next few years. If you are on the market for two wedding looks, check out this versatile trend. Or if you are getting married in the fall or winter, those add-ons will be a great option for colder months. We absolutely adore Style #2209L which features two totally distinct bridal looks.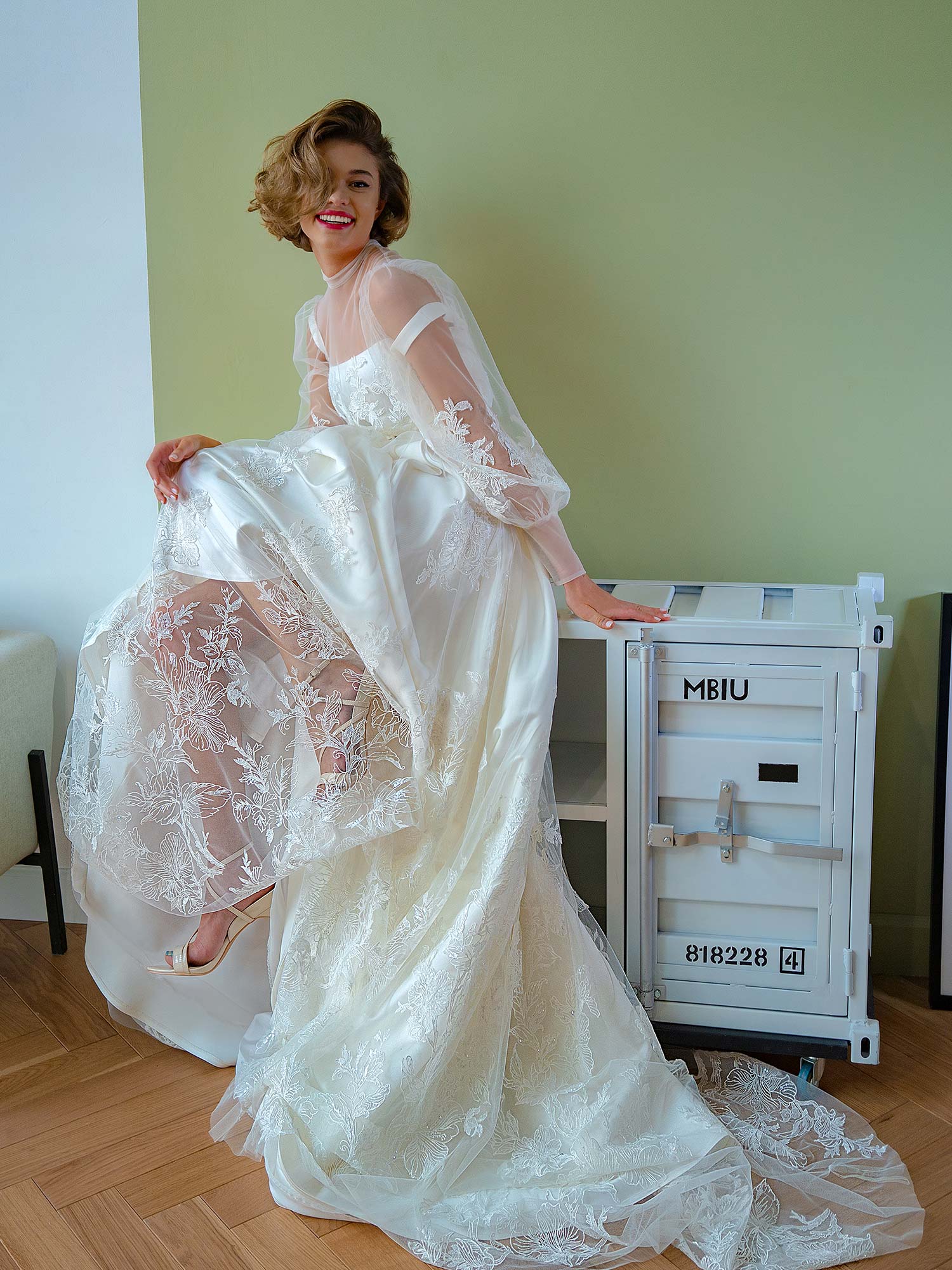 It looks like bridal designers are optimistic about the future of weddings.