Here is our overview of the most current wedding dress trends. If you are a bride who is planing 2020 or 2021 wedding, take a look before saying, "Yes to the Dress."
While the bridal runways of 2019 were all about the infusion of classicism by the royal weddings, we noticed a notable shift in 2020. Bridal trends 2020 & 2021 are all about breathing in a new life into wedding fashion with a more sophisticated and forward-thinking approach. From ultra-dramatic bows to uberchic brides in pants, the 2020/2021 bridal season's ever-evolving deluge of styles promises an experience of genuinely euphoric shopping fatigue. To avoid the actual exhaustion before your big day, this guide of the most current wedding trends displays only the vibrant takes on what bridal designers have to offer brides-to-be through the artful blend of elegance and unexpected spontaneity!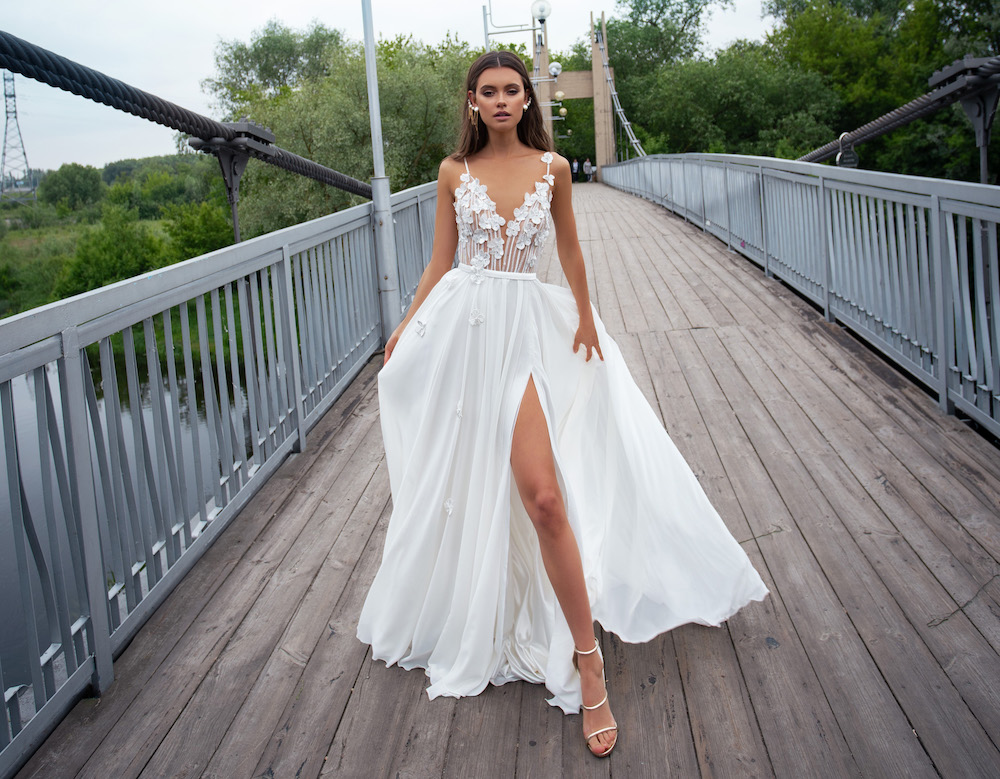 Wedding dresses with thigh-high slits
If you are a bride who is planning on tying the knot in a daringly sexy bridal outfit, then it is time to go full-on your biggest weapon – your legs! Wedding dresses with super high slits are not new to the bridal scene, but this season designers actually turned this bridal trend into a remix that seems to dominate the latest haute couture arena. Yet, being aware of the style's hot degree of sensuality, many 2020 & 2021 brides opt to pair it with informally arranged venues and destinations for their 'I do's.'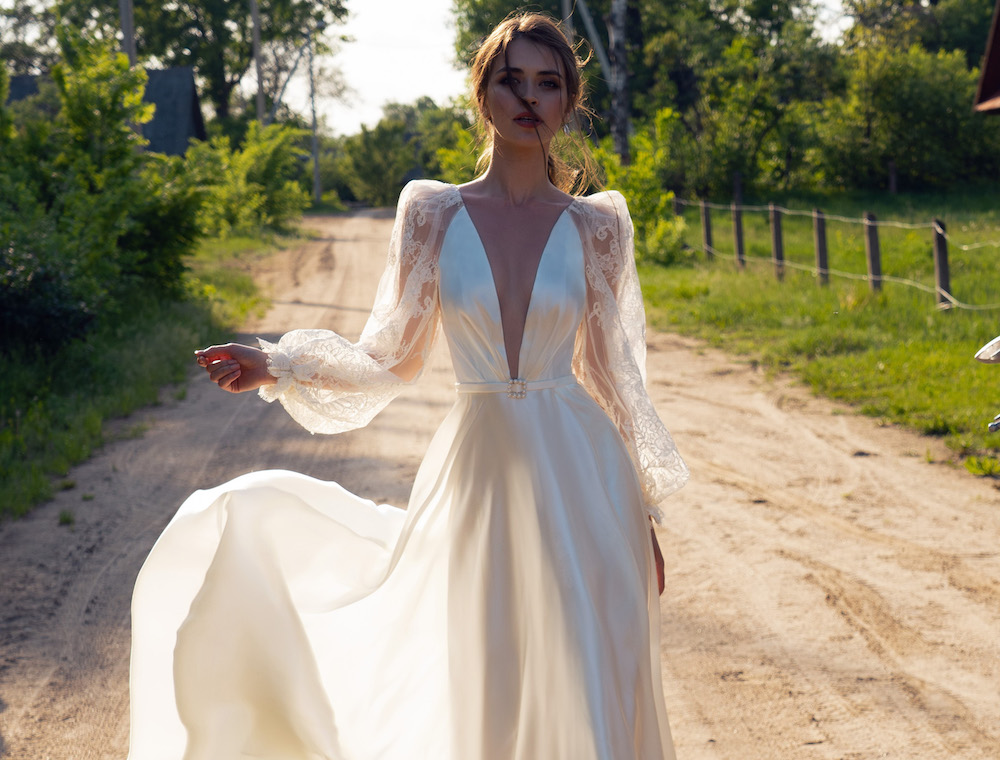 Puff sleeve wedding dresses
If there is ever a time to unleash your inner avant-garde, then the 2020/2021 bridal season is right for you when sleeves are getting puffier like never before. Allow this playfully romantic accent of your wedding dress to steal the show by making an entrance on the level of a contemporary Cinderella. And of course, if you admire the ultra-glam volume of this wedding trend, but do not want to go too extravagant on your fragile silhouette, consider lighter puff or even detachable sleeves to make that effortless switch in no time.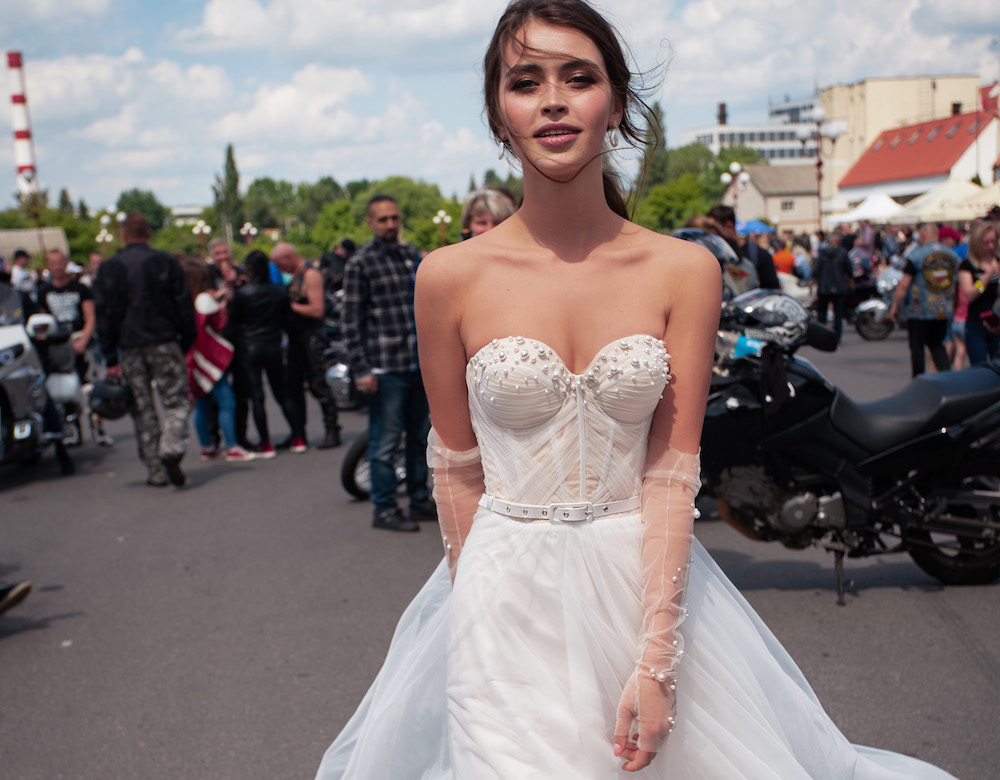 Wedding dresses with bustier corsets 
Before rejecting this moulin rouge inspired detail for your ceremony, rest easy as this 2020 & 2021 bridal trend is now making a more regal come back to the bridal stage. A touch of sheerness over the bustier-like cups, definitely leaves room for mystery, while having the corset lacing transform every inch of your torso into a delicate dream finding harmony virtually with any skirt style.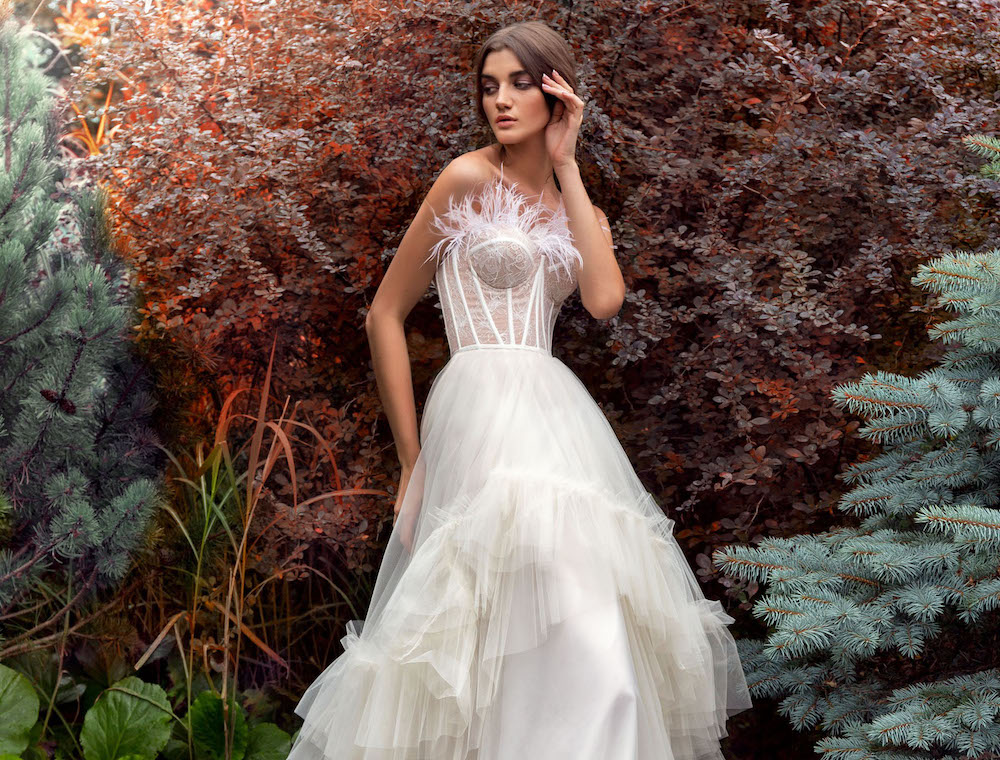 Feather accented wedding dresses 
Feathers made their way into the bridal fashion scene more than a decade ago. However, this season we see the bridal trend growing even stronger, and if not everywhere! With an escalating flair for drama, we are witnessing plume ornaments from all bridal designers of all walks and aspirations, from fully feathered wedding gowns, which are undoubtedly bold, to feather-trimmed mini or midi wedding dresses. This hot trend is not only seen in the bridal niche but also across the fashion industry, from hair accessories to shoes.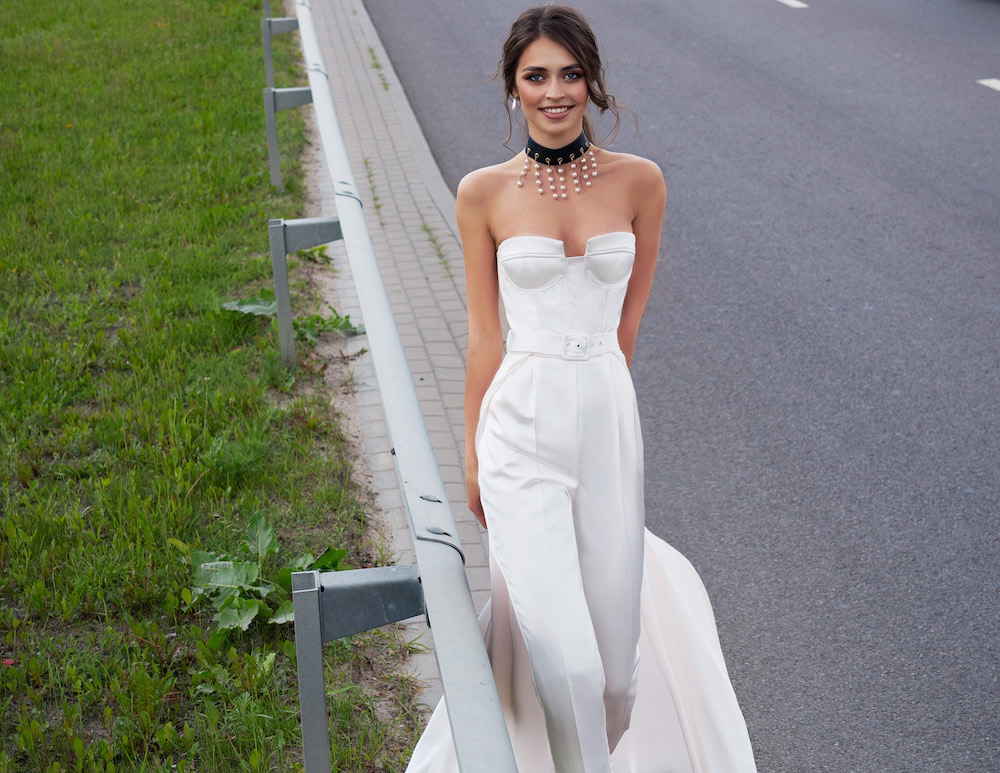 Wedding jumpsuits, pantsuits, & rompers 
For the game-changer brides-to-be, there is no other choice to be made, but opting out of the idea of an actual wedding dress. This vital creation of fashion engineering is especially popular among the 2020/2021 wedding trends, and here is why. It is perfect for a laid back, modern, and casually-cool bride who just wants to shake things up for the aisle moment and let loose on the dance floor at the same time. Your wedding may not involve a red carpet, but it is the same idea: be different, be unique, be you!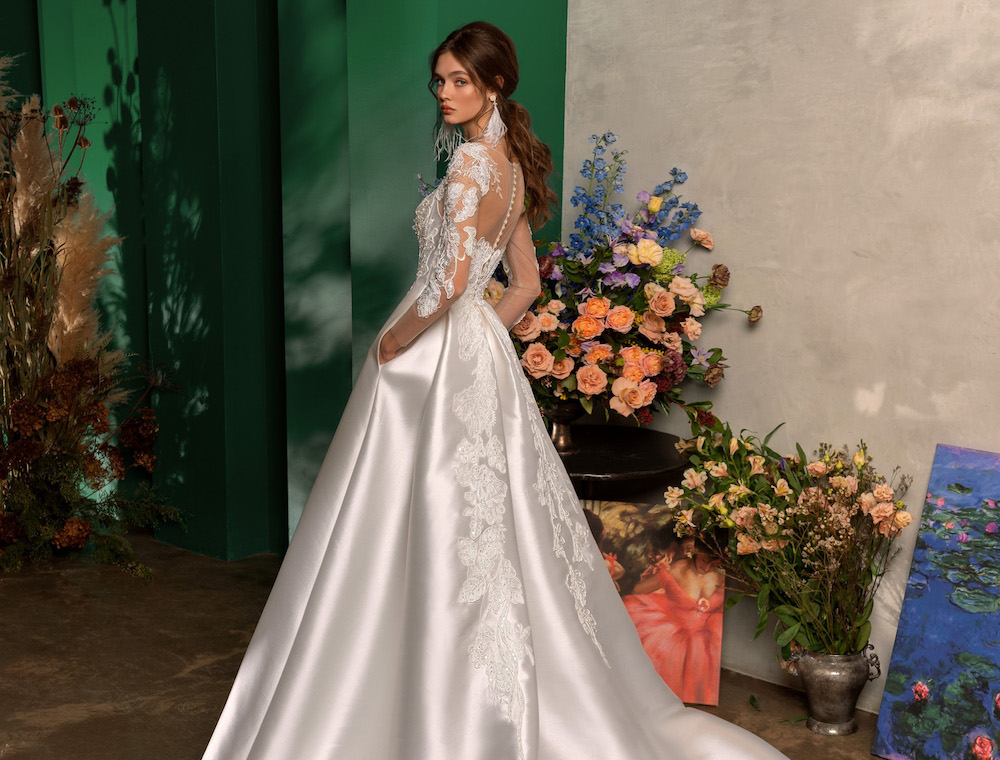 Wedding dresses with pockets
At first glance, this almost invisible fragment of a wedding gown has become a real needle mover, a page-turner in the bridal fashion. And this time, it was the brides who took the initiative of setting it as a new trend by themselves. Straddling the line between comfort and elegance, wedding dresses with pockets have become a new must-have alternative to traditional clutch bags, not leaving a single chance for a carefree bride to resist.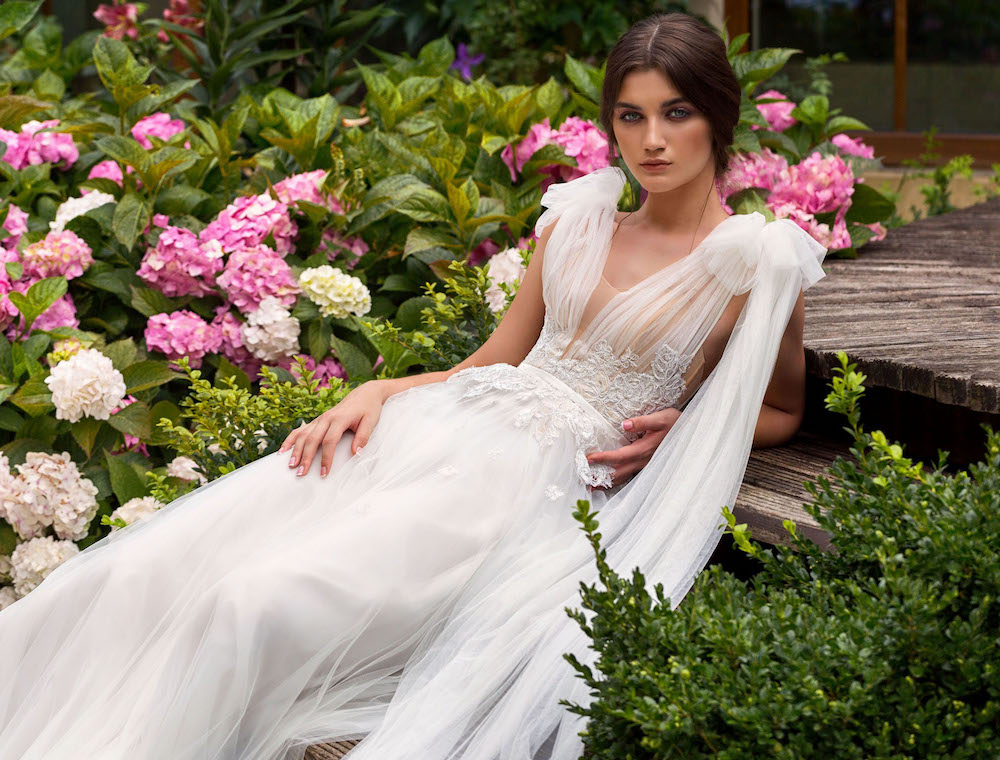 Wedding dresses with statement bow details
If there was a message to be relayed by the recent New York Bridal Fashion Week, then it was – "The bigger the bows, the better!" With its galore appearance on the bridal runways, this wedding trend is not just one of the typical details of your dress anymore. This time, bridal designers unanimously guaranteed that an oversized bow décor placed on the waistline or at the base of your back would make you look stunningly extra from every angle that it only takes.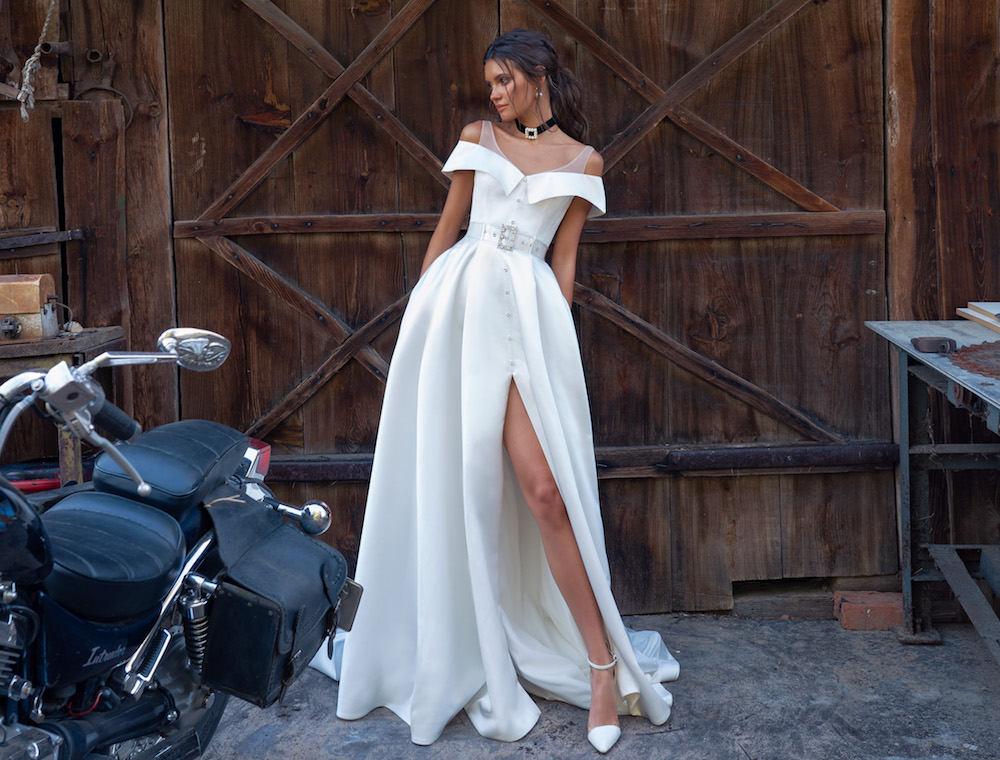 Black ribbons on wedding dresses 
Are you a boho-bridal enthusiast, but looking to take this trend a little further down the south? You are lucky! Because the bridal catwalks of 2020 were flooded with this wedding trend of all variations. We predict it will remain as strong in 2021 wedding dresses. While the black colour sounds like an irony for any nuptial, the latest bridal collections establish that a contradictory/spicy contrast of bridal ensemble creates a look that is no-one's but yours, allowing you to make a statement across the board, besides just being the bride.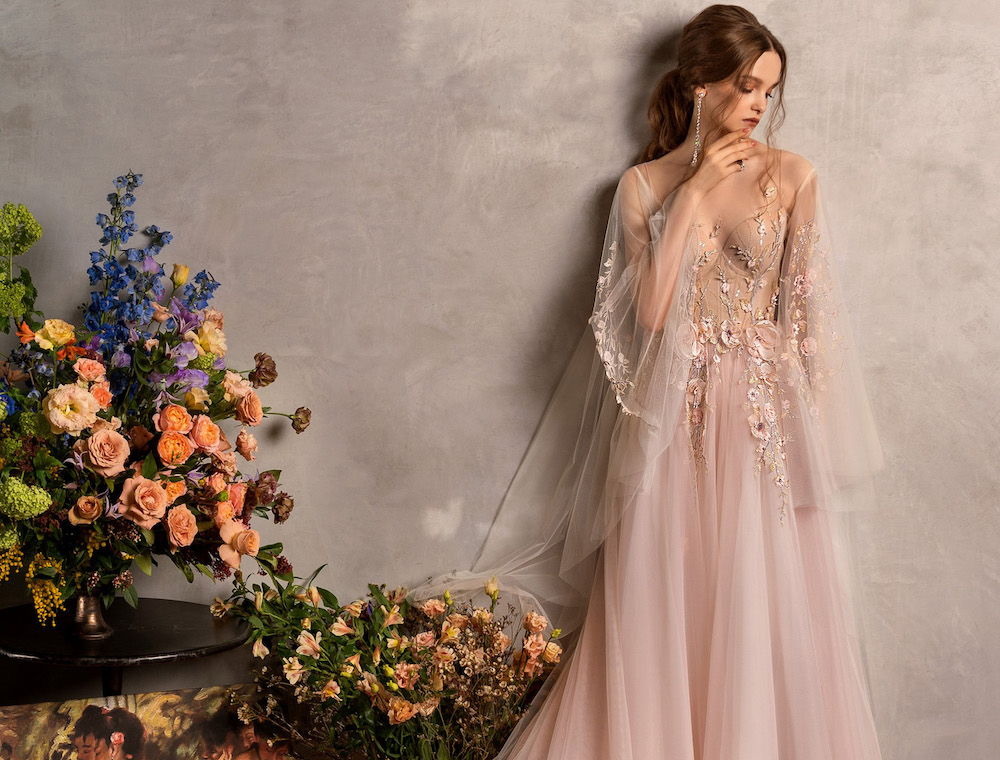 W

edding dresses with 3

D floral appliqués
While florals and blooms are quite perennial in the wedding world, 3D floral applique seems to be a real tone-setter for the 2020 spring and summer aisles. These botanic accents taken in synergy with sheer fabrics bring a burst of desired dimension and texture. It also makes an unparalleled catch for the brides with an eclectic taste, that can effortlessly create a solid tandem between a whimsical girliness and a hint of nobleness just in one gown.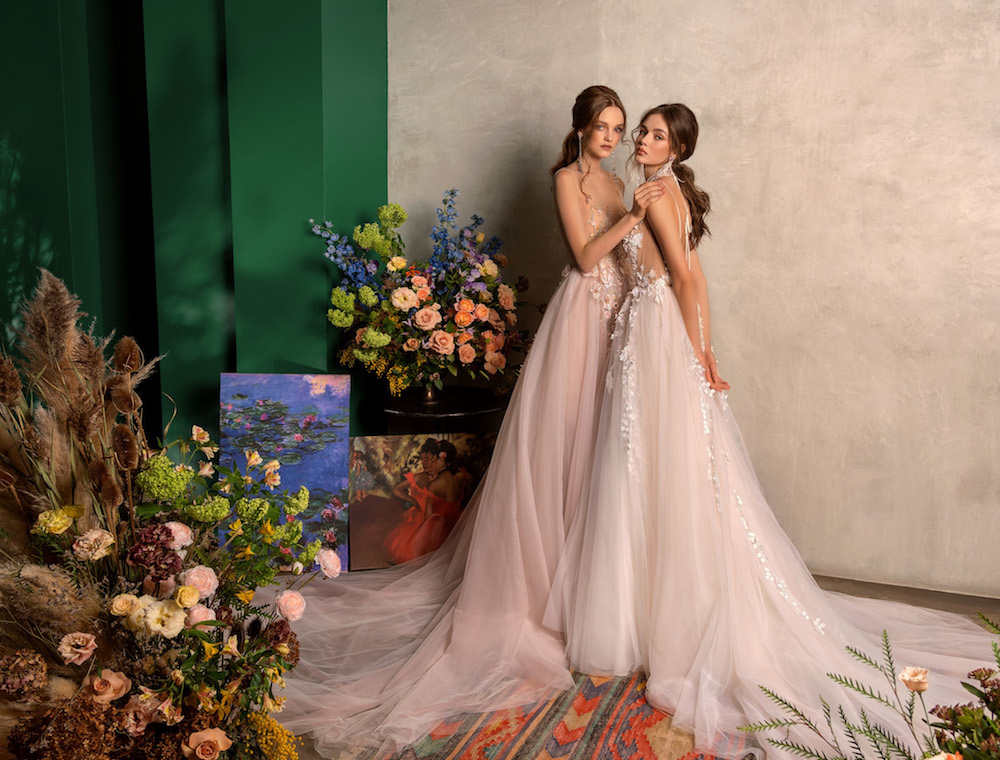 Blush / pink wedding dresses
Are you the bride who wants to feel beyond dreamy and ethereal on your wedding day? Then do not be afraid to throw down a challenge to a traditional white because blush pink is another headlining wedding trend that the gods of couture love even more for the upcoming 2020 and 2021 bridal seasons. While this shade is a bit of a reinterpretation of our favourite alabaster, the colour of pink would be even more of a statement by getting together with gold, silver, black, and ivory.