It is that special time of year again when the new bridal collections are premiering around the fashion world. New lines are always surprising, from new color trends to accessories that everyone will be talking for the next six months. Papilio is also excited to present its new 2019 bridal collection – White Wind which within the next couple of months will be available at our bridal store in Toronto. In anticipation of that, we have put together our thoughts on the top wedding trends for 2019. Whether you are getting married next year or browsing to prepare for your maid of honor duties, this list is the perfect place to start your search.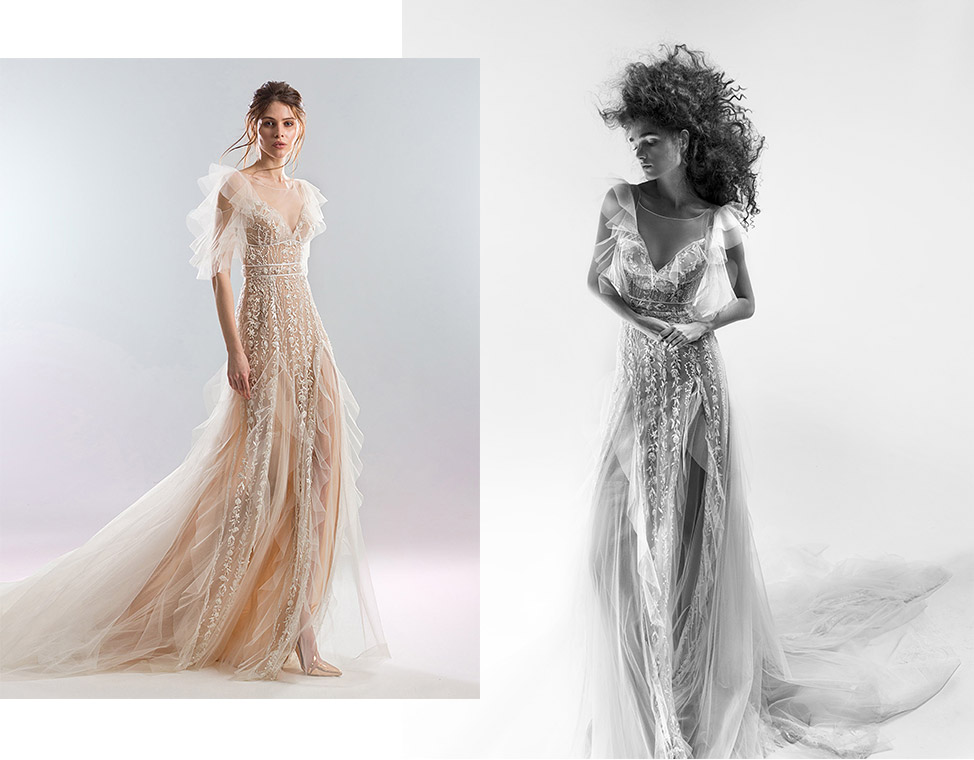 Ivory or white? No longer you have to choose between these essential colors as the top wedding shades for 2019 have debuted. They are fresh and updated. Designers are giving brides an option to expand their horizons with a dark blush or green accents. Even dark blue wedding dresses have been seen on runways! Papilio designers are fully embracing this wedding colors for 2019, focusing on new tones of blush, champagne, and blue. The fantastic thing about these shades is that they look magnificent on all skin tones. For example, paler skins look radiant in champagnes or blues. Brides with darker skin can pull off anything from white to green. We believe that all bold brides in 2019 will be rushing to embrace this wedding dress trend that will allow them to be set apart from the traditional ivory group of brides.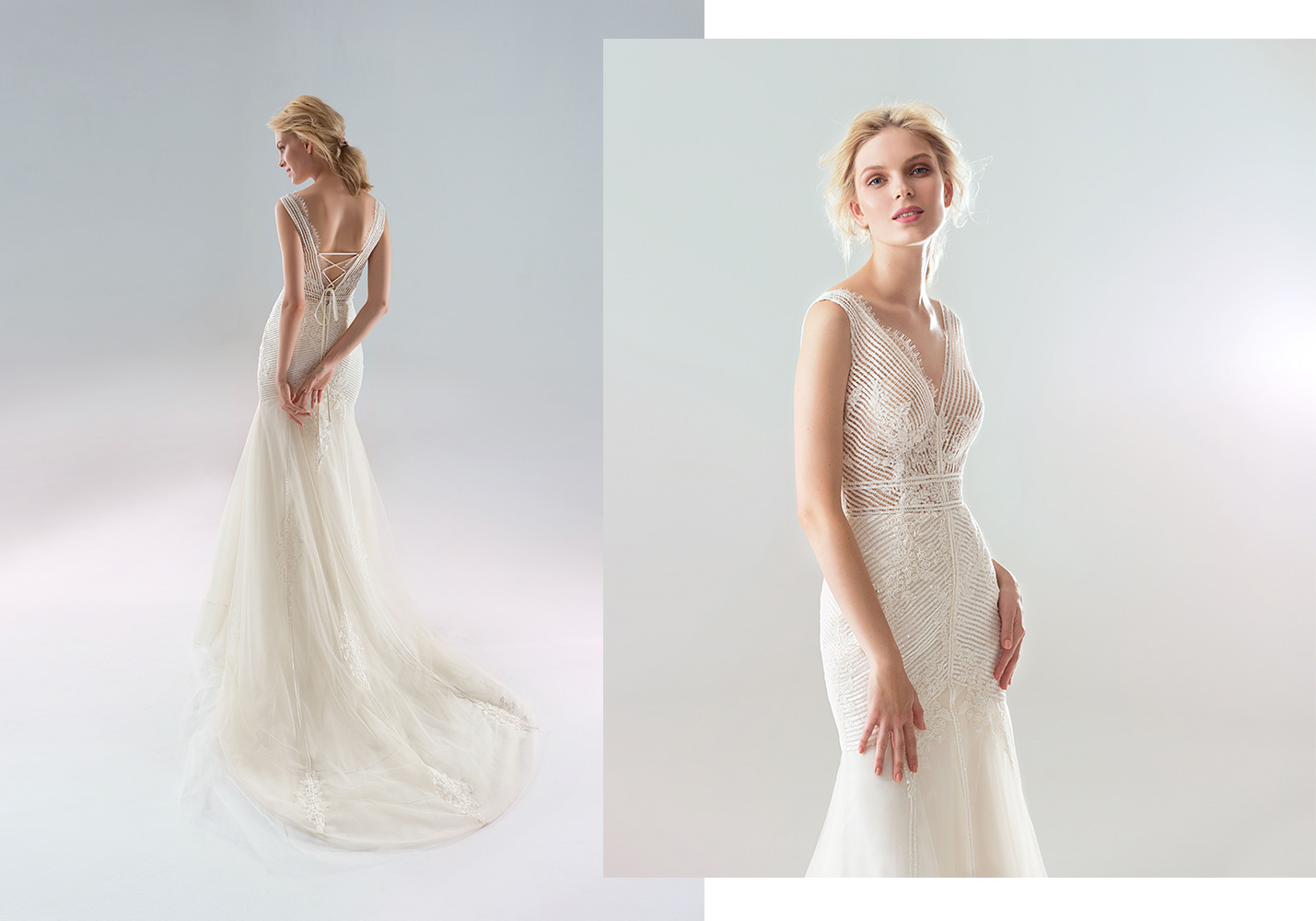 Having a touch of embellishments is nothing new for bridal wear, but metallics have taken over this past bridal fashion week. If you are the bride that wants the "wow" factor, this trend is for you. Some wedding dresses feature all over metallic look which contributes to the maximum amount of sparkle possible, as seen in Style #1903L. It is a beautiful mermaid dress made of gorgeous sequined lace. Meanwhile, some gowns from 2019 bridal collection have an understated metallic element, like in Style #1911. This dress features bold floral embroidery that highlights silver thread to make it shine in the sun. This fun wedding dress trend can be added to any simple wedding dress, with the option of adding uncomplicated embellishments or intricate embroidery.
Wedding dresses with structure and corsets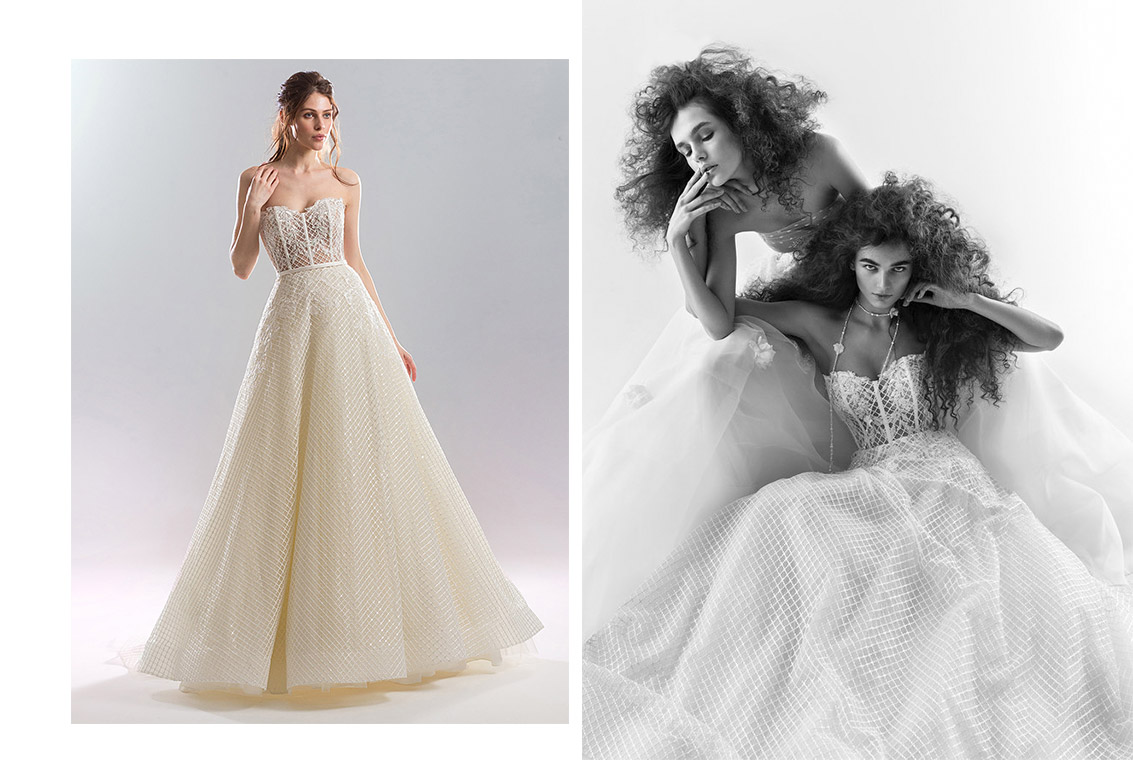 Looking at the European runways, a structured corset is a must for every fashion-forward bride. This 2019 wedding dress trend is both sexy and sophisticated. Structured wedding gowns work on any and every body type, creating a beautiful feminine silhouette regardless of if a corset boning is shown or covered in lace. Brides may think that the corset look evokes more of a lingerie look, but when the bodice is coated as in Style #1909L, it diminishes this look but still creates that desirable hourglass silhouette. We should admit that these gowns are unique, works of art, evoking an old-world feel in a modern fashion creation.
Simple and modern wedding dresses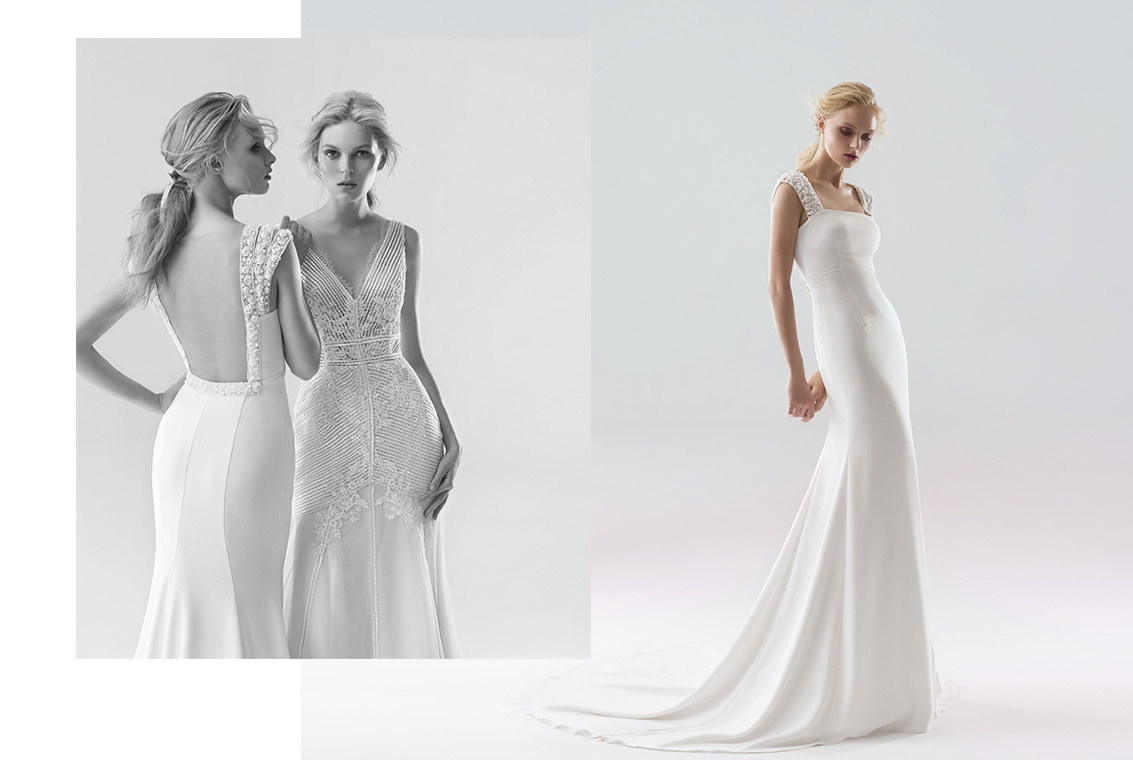 Most 2019 wedding dress trends tend to focus on extras or add on's, such as a metallic or color but this trend is the opposite of that. The minimalistic trend has come to bridal. Simple and modern lines are being embraced to create clean shapes and classic styles. Simple brides are opting for a no-fuss, uncomplicated silhouette like Style #1901L from Papilio new bridal line. With a touch of embellishments on its sleeves, this dress skims the silhouette and creates a super trendy but elegant look that fits right into city hall or an elaborate ceremony. 2019 wedding dress trends have gone back to basics, but keep in mind, a simple wedding dress can always be elevated with accessories like a chandelier veil or dramatic jewelry pieces.
Now, of course, a combination of these 2019 wedding dress trends can be seen spotted throughout our new collection, but there are so many other elements that we could not fit in here. Dramatic sleeves, high necklines, etc. We are anxiously anticipating new samples from Papilio new bridal collection, and looking forward to the 2019 bridal season! Hopefully, this rundown of 2019 bridal trends has given you some inspiration and excitement about shopping for your dream wedding dress!