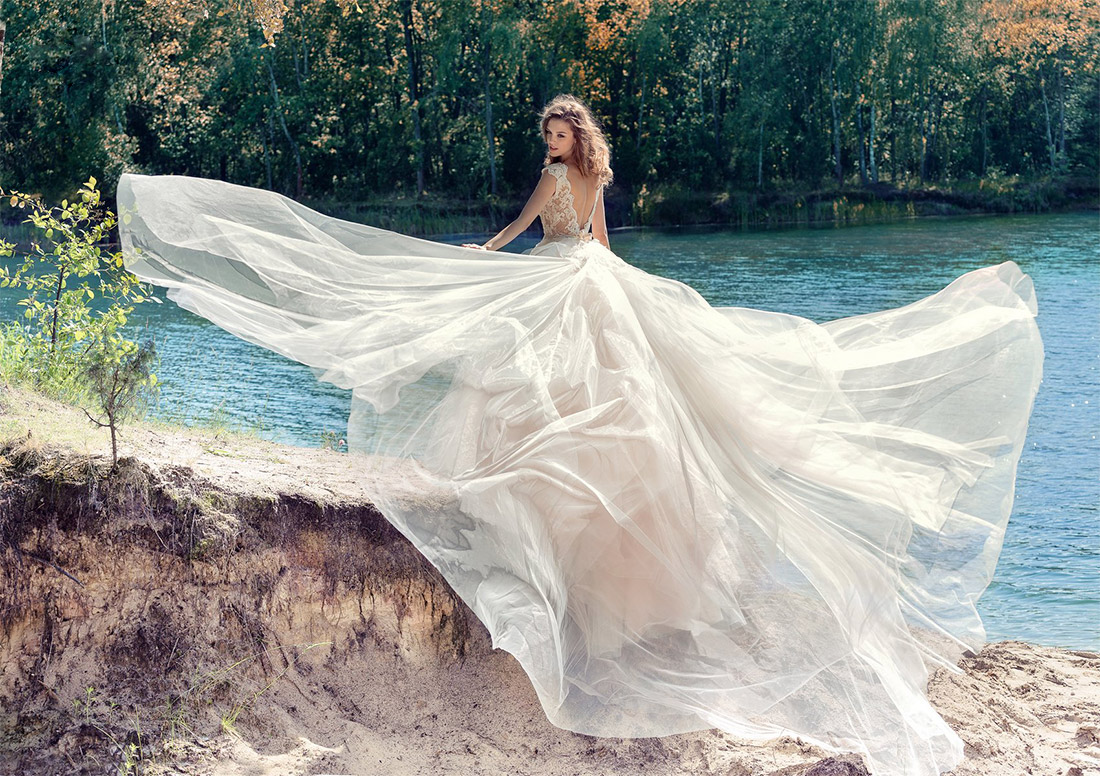 2017 Trends in Bridal Fashion
Fashion changes and evolves season by season. Bridal fashion is no different. This year at bridal shows across the world, we have noticed that fashion designers unveiled an amazing amount of new, inspiring bridal trends. From the top fashion houses in the world to the smallest, local designers and the new rising stars in the wedding fashion industry, everyone made sure to come out with something new. New to the eye bridal trends were popping up in every single collection. For our fashion-forward brides, we have compiled a list of the top ten 2017 trends in bridal fashion which we carefully selected from the latest collections from all over the world.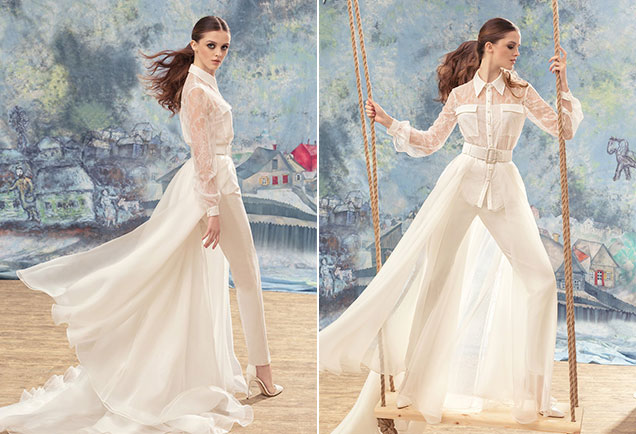 1. Pants
The most unexpected trend in the bridal season of 2017 was the amount of pants on the runway. Different shapes of pants carefully paired with beautiful tops and small accents which included simple white slacks can definitely look bridal!
1725: These simple white pants are paired with a blouse with lace and beautiful organza skirt. This outfit gives a bridal feeling to women that prefer pants.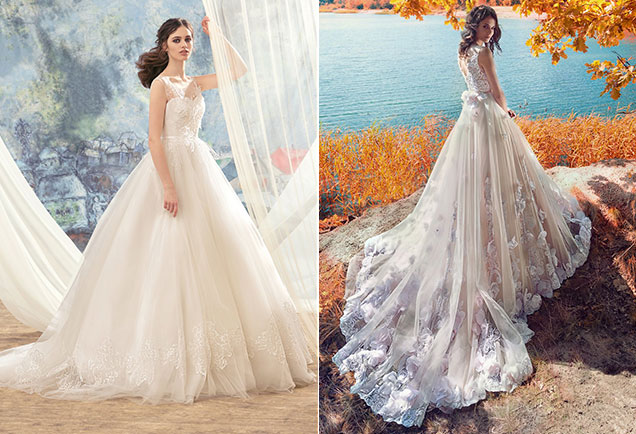 2. Florals: Bold and 3D
One trend in bridal fashion that is not going to leave bridal runways anytime soon is florals. This season, designers took this traditional feature and transformed it into a much modern look by simply emphasizing it. Bold floral prints and 3D details have brought new life to such a classy detail.
1743L: This ball gown features bold floral appliqués along the bodice and a floral lace trim along the skirts' hem. The most romantic look is guaranteed!
1751L: Bold 3D flowers in this wedding dress cascade down the skirt from the train to create a feeling of royalty and class.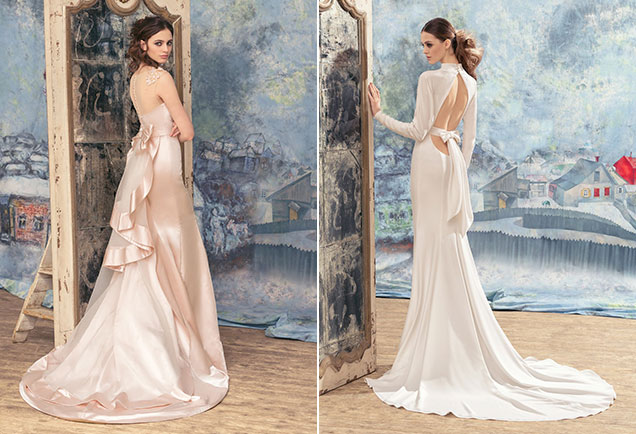 3. Bows
Bows add a sweet, feminine, and romantic touches to every look. These staple pieces, without any doubt, can be called the most desirable accent of a women's look on their wedding dresses. Therefore, it only made sense that they are trending in the 2017 wedding fashion.
1707L: The unique lace and sweet bow make this ball gown anything but ordinary.
1733L: This long sleeved sheath dress with an open back and a small bow detail at the waist, bring a classic elegance to the bride for that simple look. This dress will be perfect for understated weddings.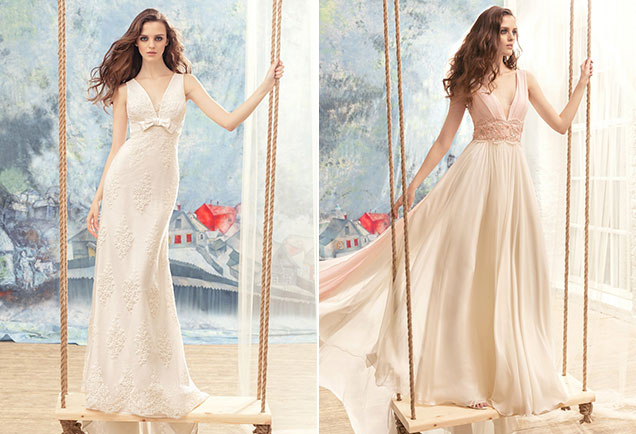 4. Plunging Necklines
Plunging necklines add a subtle amount of sex-appeal to an otherwise traditional wedding gown. These silhouettes can definitely be classy and elegant when fit perfectly to your body.
1708L: Lace sheath dress with a plunging neckline at the front and back bring a touch of risqué glamour to any wedding.
1720L: This tiered skirt ball gown with lace bodice and cascading beading is a modern day Cinderella gown.
1726L: Flowing chiffon dress with a wide beaded lace band at the waist. Available in two colours: milk and milk-pink.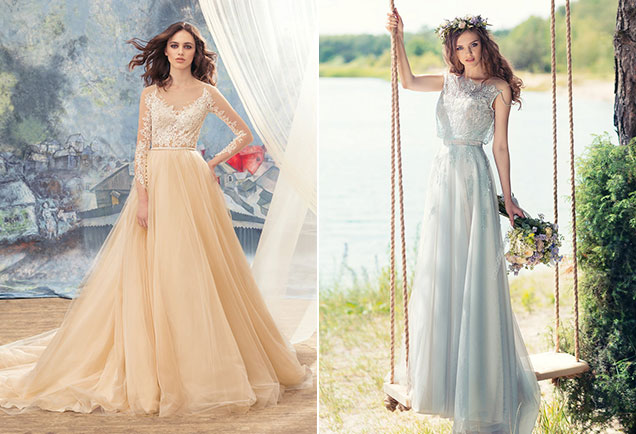 5. Colour
This hot trend in the 2017 wedding fashion is mixing up the bridal look by the introduction of colour. Pink, nude, champagne, and blue are all on trend right now and are ready to please every bride-to-be.
1706L: This fitted dress brings together multiple trends in bridal fashion. It features 3D floral appliqués on the shoulder, a large bow at the back, and a vibrant colour throughout. This wedding gown is available in four colour choices: white, cream, tea-rose, and gold.
1736L: For the more traditional look, try this cream coloured ball gown with an illusionary lace bodice. This dress is available in three colour choices: milk, dark cream, and milk with nude.
1750: Have your "something blue" be your wedding dress! This beautiful dress features a lace bodice with cascading lace appliqués down the skirt. The wedding gown is only available in the beautiful sky blue colour.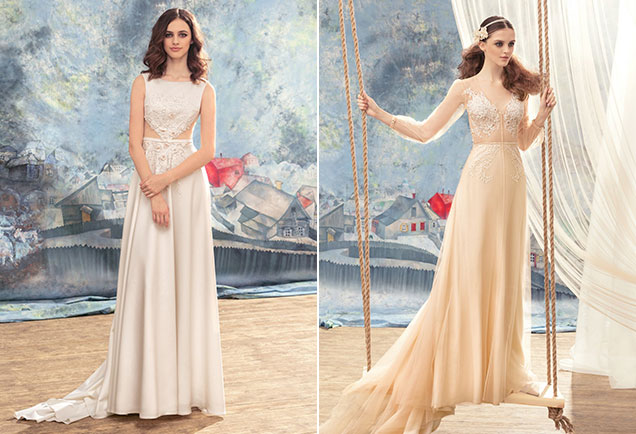 6. Cut Outs
The 2017 bridal season is the time for sexy and unexpected accents that everyone is still raving about today! Cut outs that bare some skin bring a subtle amount of sexy to any dress. They also allow for that much needed air on hot wedding days.
1719L: The triangular mesh cut outs at the waist paired with a modest neckline all together portray an image of a subtle, yet sexy wedding gown.
1740L: For a more daring look opt for this sheath dress with a sheer bodice. This wedding dress is available in two colour ways: cream and nude.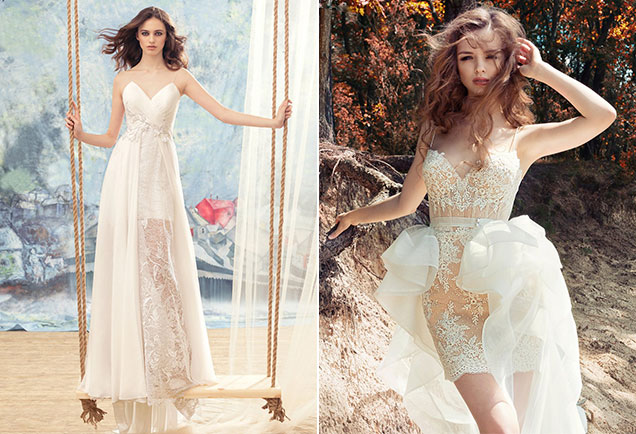 7. High Low Skirts
Show off those fancy wedding shoes in a dress with a high-low skirt! The 2017 runways were bursting with an amazing variety of different ideas to give you the high-low look.
1735L: This wedding dress is not your typical high-low. It features a shorter underskirt with a sheer lace overlay for a modern take on the trend.
1744: This short lace dress features a removable organza high low skirt. Have two bridal looks on your big day!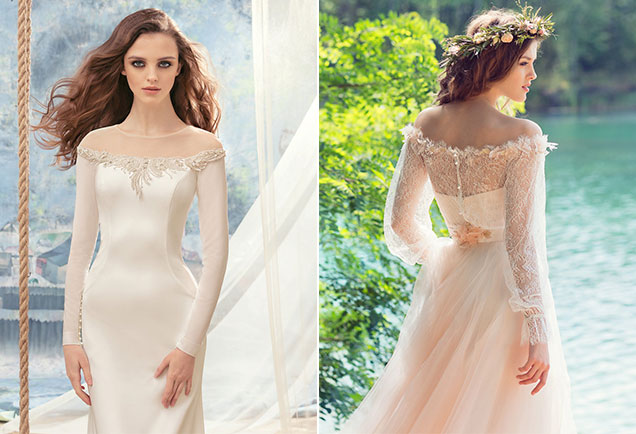 8. Off the shoulder
Off the shoulder sleeves brought a nice amount of soft romance to an otherwise modern runway. Try this look in full-length sleeves, with an illusion neckline, or simple straps.
1712L: This sleek, beaded wedding dress with an illusion of off the shoulder sleeves gives you a beautiful, soft look without having to worry about the sleeves falling off the whole day.
1749L: This boho inspired wedding dress has lace off the shoulder sleeves and a gorgeous airy skirt. This gown comes in two colour options: milk and peach.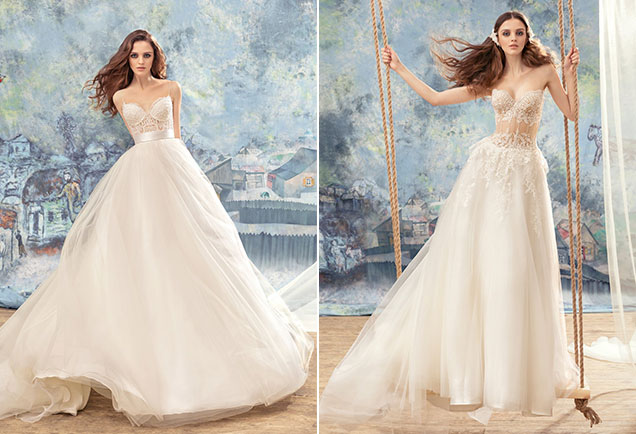 9. Underwear as bridal
The 2017 bridal fashion has gone minimal. Exposed corsets, bustier bodices, and sheer laces give a boudoir look to a bridal gown. This trend is definitely one to watch out for!
1723L: The bustier bodice on this tulle ball gown will bring sultry glamour to your wedding day.
1737L: Show some skin with the exposed corset on this jaw dropping A-line gown. The lace accents make this sexy dress a touch more romantic.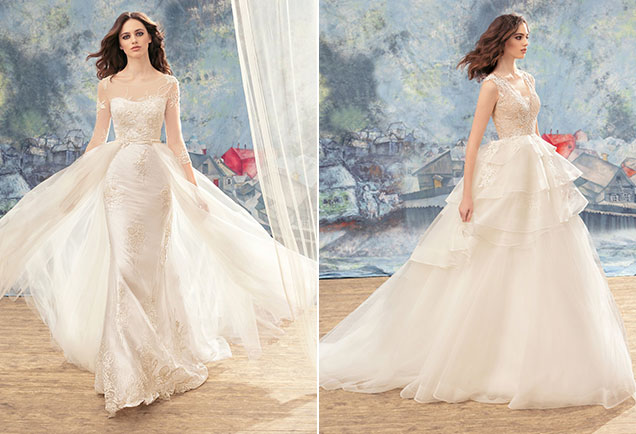 10. Convertible dresses
Why settle for one look when you can have two from the same wedding dress? Convertible details were popping up all over the runways for the collections of 2017. From convertible skirts and removable trains to boleros, making your bridal look your own is easier than ever.
1715: This fitted lace dress with ¾ length sleeves features a removable train. Make an entrance at the ceremony with the tulle train and then remove it for the party to make dancing all night a breeze.
1739L: The removable skirt on this dress gives you two completely different bridal looks. A tiered ball gown for the reception, and a short dress for the reception.